We're bringing together the best tents we've reviewed to give you one absolute list for 2023 so that your next could very well be your last. To capture most of the consumer market, the top five tents we've included reflect a wide variety of applications. From family camping excursions to Everest overnights, we've got you covered no matter how frightful the weather might be when camping.
Durability, capacity, and livability were the leading specifications used for comparison and review. Fabric, stitching, coatings, and hardware integration were assessed to define an initial durability rating which was then contrasted against comparable tents in the same class – significant variances between materials and methods of construction were scrutinized in a dead-focused effort to eliminate products with crap components, or sub-par craftsmanship. A variety of sizes are reflected to account for party capacity needs, and as far as general livability goes, we found that fourteen-and-a-half square feet per person was the sweet spot. Head space varies based on tent size, but generally a two to three-person tent should have about thirty-nine inches of vertical clearance, while larger family tents should allow for around five to six feet.
So what are the best tents this year? Our #1 Pick as Editor's Choice for the best rated tents of 2019 is the Nemo Equipment Losi ($390). It's lightweight (only 4 lbs 4 oz), has thirty-three square feet of floor space, forty-five inches of interior clearance, and is constructed from silicone-coated ripstop nylon to provide a decent amount of durability without compromising weight. The Losi also made our top spot since we believe its general-purpose appeals to a wider segment of consumers than more specialized tents on this list.
Best Tents for 2020
| | | | | | |
| --- | --- | --- | --- | --- | --- |
| | Nemo Equipment Losi | Kelty TN2 | Big Agnes Flying Diamond 8 | Hilleberg Tarra | Big Agnes Fly Creek HV UL2 |
| Rank | #1 – Editor's Choice for Best Camping Tents 2016 | #2 – Best Backpacking Tent | #3 – Best Family Tent | #4 – Best Best 4-Season Tent | #5 – Best Ultralight Tent |
| Amazon Rating | | | | | |
| 4-Season | | | | | |
| Usability | Superb | Superb | Superb | Superb | Superb |
| Occupancy | 2 | 2 | 8 | 2 | 2 |
| Weight | 4 lbs 4 oz | 4 lbs 4 oz | 19 lbs 14 oz | 8 lbs 6 oz | 1 lbs 15 oz |
| Price | $390 | $250 | $700 | $1,100 | $390 |
| | Buy Now | Buy Now | Buy Now | Buy Now | Buy Now |
| | | | | | |
#1 Pick

Nemo Equipment Losi Tent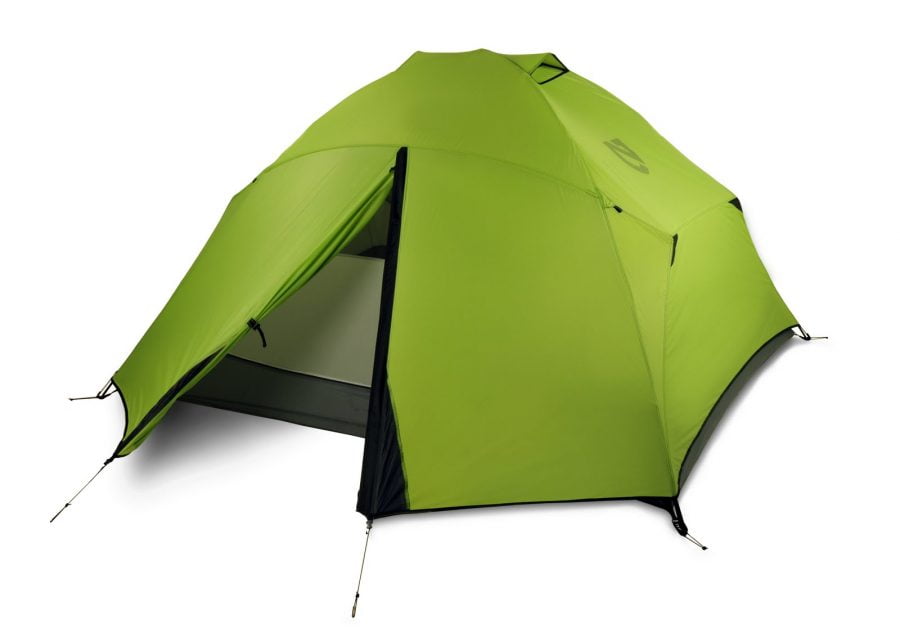 Award: Editor's Choice for Best Camping Tents 2020
Price: $390 | Weight: 4 lbs. 4 oz. | Type: 3-Season Backpacker | Occupancy: 2 Person | Read Full Review: Nemo Equipment Losi Tent
WHY IT'S A TOP PICK: Superb quality, wide appeal, and low cost of ownership.
Perfect for overnights in the brush, Nemo's Equipment Losi is an excellent choice that offers a wide appeal to most campers due to its versatility in use. It's lightweight, durable by comparison to other tents in its class, and has some unique features that show the attention to detail Nemo went through in designing this tent. For more durable tents that fit additional campers, check out our top-rated, two-person tent guide.
Thirty-two square feet of floor space makes it a comfortable two-person sleeper, and forty-six inches of head clearance should allow for most to comfortably sit up without brushing against the tent's roof. Two doors and a mesh upper body facilitate ventilation and reduction of vapor condensation.
Nemo claims that the Losi "has more [livable] space and superior strength to any other freestanding backpacking tent on the market" due to the company's pole design and tent architecture, and while we haven't been able to personally verify that claim, it wouldn't surprise us.
Let's talk details. Feet corner anchors help solo backpackers set up the Losi with ease, a small pocket with light-diffusing fabric at the apex of the tent is designed to hold a headlamp for nighttime illumination, and the included stuff sack is well-made and adds a nice final touch to the overall retail product.
Note: As in our Best Camping Tent reviews 2019, we suggest purchasing the footprint and gear loft to make one of our best rated tents truly versatile on the trail.
#2 Pick

Kelty TN2 Tent
Award: Best Backpacking Tent
Price: $250 | Weight: 4 lbs. 4 oz. | Type: 3-Season Backpacker | Occupancy: 2 Person | Read Full Review: Kelty TN2 Tent
WHY IT'S A TOP PICK: Award-winning, lightweight, and cost of ownership.
Our top pick as the best backpacking tent, the Kelty TN2 offers excellent protection and comfort for an awesome price. Kelty has received numerous design awards for this one, and it's obvious why when you compare it others on the market.
Its compactness and weight make it a breeze to travel with, unpack, breakdown, and repack. Interior floor space is measured at a little less than twenty-seven square feet, vertical clearance is forty-two inches, and the TN2 makes excellent use of its vestibule's usable area which comes in just above twenty square feet.
The roll-up fly offers stargazers a brilliant view while still providing protection with the no-see-um mesh, and the unit's unique windows on the vestibules come in handy for peeking out during inclement weather.
#3 Pick

Big Agnes Flying Diamond 8 Tent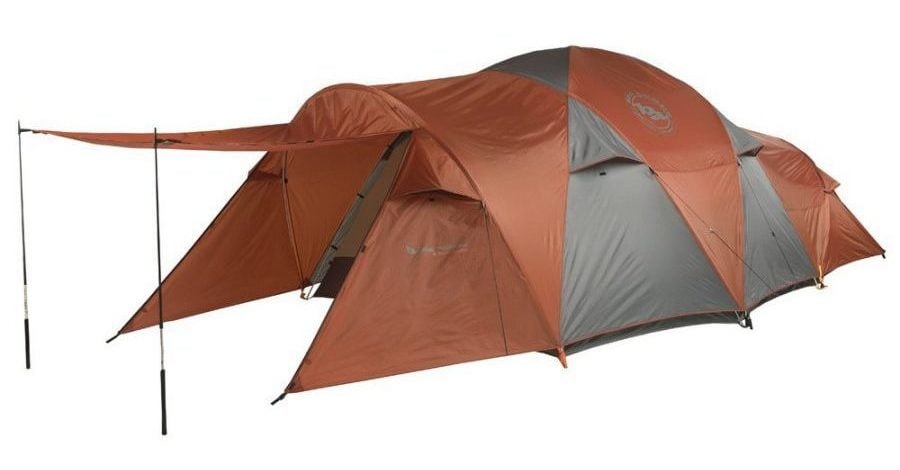 Award: Best Family Tent
Price: $700 | Weight: 19 lbs. 14 oz. | Type: 4-Season Base Camp/Family | Occupancy: 8 Person | Read Full Review: Big Agnes Flying Diamond 8
WHY IT'S A TOP PICK: It's a 4-Season monster, what's not "top pick" about it?
Named after the Flying Diamond Ranch in Routt County, Colorado, the Diamond 8 is an exceptional family tent that does well as a family, car camper, or base camp tent. This isn't your average family tent either, it's a 4-season beast rated for the likes of Everest.
A whopping 112 square feet of floor space can be used as one single room, or divided into two separate areas with an included partition wall. Head height in the main room is a comfortable six feet, and even still impressive four-and-a-half feet in the back room.
All the hardware is color-coded making setup a little less of a nightmare, and Big Agnes included reflective elements on the guy line so that accidental self-clotheslining is less of a hazard. One large access door on the front, and a smaller panel off the back work well for ingress and airing out. Mesh pockets line the interior, and the manufacturer sells separate gear lofts for additional storage space.
#4 Pick

Hilleberg Tarra Tent
Award: Best 4-Season Tent
Price: $1,100 | Weight: 8 lbs. 6 oz. | Type: 4-Season | Occupancy: 2 Person | Read Full Review: Hilleberg Tarra Review
WHY IT'S A TOP PICK:The ultimate 4-Season, versatility, and cost to value.
Diehard trekker with an eye for a great four-season, eh? The Hilleberg Tarra hits the mark when it comes to durability, livability, and cost to own. It's spacious for its size, and isn't only good for those January trips to Mount Washington.
Floor area is thirty square feet which leaves a little bit to be desired, but if you're camping out in -20°F we doubt you're going to complain about being too close to your camping companion. We really recommend using this as a comfy one-person in heavy snow. Changing clothes in the tent, organizing layers and pack gear, and just stretching out all work out well in the Tarra as a solo tent. Height at the apex is forty-one inches.
Multiple 10mm pole intersections coupled with the structure's dome design helps to keep this four-season standing strong in some of the most extreme conditions on the planet. Think base camping, polar expeditions, and mountaineering. Outer walls extend down to the ground, mesh areas include backing that's adjustable for insulation, and an apex vent helps keep things well-ventilated when cooking inside. Plus here's something your grandma's tent can't do: the outer and inner shells can be pitched separate from one another…giving you two tents in one.
#5 Pick

Big Agnes Fly Creek HV UL2 Tent
Award: Best Ultralight Tent
Price: $390 | Weight: 1 lbs. 15 oz. | Type: 3-Season | Occupancy: 2 Person | Read Full Review: Big Agnes Fly Creek HV UL2
WHY IT'S A TOP PICK:It's the lightest tent we've reviewed that meets our minimum performance standards.
An ultra-lightweight backing tent for the hiker that counts every ounce, the Big Agnes Fly Creek HV UL2 is the perfect addition to an arsenal of gear that will surely lighten the load the next time you hit the trail.
It offers a respectable twenty-eight square feet of floor area, forty inches of head room, and its packed weight comes in at just 1 lb 15 oz. Seams are taped with waterproofed (which isn't common among ultralights) polyurethane tape to provide maximum protection in wet conditions.
Features include webbing and guy lines with a reflective element for easy setup in low-light situations, integrated media pockets allow for easy pass-through of headphone cords from smartphones and media players, three interior mesh pockets, and gear loft loops.
Note: We recommend purchasing the triangle gear loft and footprint to maximize versatility and protection.
How We Choose the Best Tents
It's difficult to rank tents without grouping them into individual classes, so we've put together a list of the highest rated tents from each segment we've reviewed. This collection includes the best tents for lightweight backpacking, casual camping, and family tents for sleeping the whole crew. They're the very best in each of their respective categories based on the data that we've analyzed. If you need a tent you can easily transport, compare this to one of the best rooftop tents to find what's best for you.
A major portion of our research was focused on materials used in manufacturing processes. For us to measure durability concisely we needed to rank build quality in relation to something easily quantifiable, and tent material seemed like an obvious choice. Canvas, polycotton, polyester, and nylon all have advantages and disadvantages to consider. Coatings like acrylic, polyurethane, and silicone were also considered as well as fiber weave (such as rip-stop), and fiber weight (denier).
Weight is another important factor we considered. Backpacking tents for our reviews had to have a packed weight no greater than 5 lbs. Larger tents for family outings, or expedition base camps weren't rated based on weight as much since these aren't typically hauled in by 1 person.
Comfort was measured based on a combination of the ratio of floor area to capacity, head height, accessibility features, and ventilation.
Why You Should Buy a New Tent
Materials are constantly becoming more specialized year in and year out, lending themselves better to specific circumstances that backpackers and extreme hikers encounter during their outdoor excursions. Manufacturers want products that their customers rave about, so incorporating design changes that resolve common complaints in the industry is crucial to maintaining customer satisfaction. If you're buying for the first time, or upgrading, these are some of the things you should consider.
Also, look for brands that actively engage with customers online. Check the manufacturer's website, and check out how involved they are on social media – are customers generally happy with the customer service they're getting? Are flaws and defects quickly met with product replacements, or repairs? All of the manufacturers listed in our list below have excellent customer service departments that will happily answer questions.
Key Factors
Usability: We wanted to capture every segment of campers in our review, and as such, have included a wide variety of specialty tents to serve each niche. Weekend adventurers

and car campers

aren't going to require a tent capable of withstanding extreme environmental conditions. Likewise, trekkers heading to the Himalayas aren't going to benefit from anything less than a highly-rated, four-season shelter.
Material Durability: Hikers have a lot of options, and marketing hype can be misleading, so we wanted to ensure our top picks were the very best tents with respect to not only performance, but also fabric durability after repeated abuse. Ripstop Nylon was a baseline standard for most of the tents we reviewed, employing Nylon 6 at a minimum, with a denier of 10D and up based on overall tent weight. Lightweights were compared to others in their segment to see which offered the highest protection at the lowest weight.
Denier: Denier is the unit of weight which measures the fineness (or density) of textiles. The heavier the fabric, the more durable it usually is. Tent designers have to perform a balancing act, ensuring that tent weight doesn't become an issue as denier increases. For this reason, denier count on ultralights and lightweights is lower than larger, less specialized tents.
Features
Accessibility: We want options! Tents sleeping two or more were reviewed by door and vestibule design, storage compartments, fly configurations, window inclusions, and net usage.
Ergonomic Design: There's a science behind ergonomic engineering that we look for in everything we review. Some companies get this, and some don't. We wanted to ensure that our top picks demonstrated a level of engineering that clearly had the customer in mind. Zippers that were easy to operate and hard to foul up, setup difficulty, storage compartment placement, and other creature comfort features were considered in this part of our review.
Waterproofing:

Some lightweight and ultralight tents don't come pre-taped and sealed. We wanted to ensure that our absolute best rated tents were ready to hit the trails without the need for buyers to research how to waterproof a tent and apply tape themselves. Some tents come with a waterproof rain fly that goes over the top of your tent and helps keep water from reaching the inside of your tent.

Weight: Weight can really only be measured by intended use. If you're looking for an ultralight then weight is clearly a factor in your purchasing decision. On the other hand, if you're trying to find the perfect big tent for a family outing, weight probably isn't a huge factor for you. A good rule of thumb: If weight is a concern, shoot for something that's less than five pounds. If you're a die-hard backpacker that wants to trim every bit of the fat, our best ultralight tent is an excellent choice.
Peak height: The peak height of the tent is also another key factor to consider, and you would want a tent with a generous peak height to give you more head room especially if you're tall, or to give you an illusion of space if you're claustrophobic.
Interior Area: Comfort is a critical aspect of a great tent. Our research suggests that the most sought after two-person tents offer a minimum of twenty-eight square feet of floor space and forty inches of vertical clearance at their peaks. That said, tent size will vary based on capacity and application.

For car camping for example, the best tent would be the Big Agnes Flying Diamond 8 for its sheer size of

112 square feet, and a capacity of 8 people just like the Kingdom 6 which is spacious with large doors.

All of the tents that we've reviewed offer excellent living space relative to similar tents in each category.
Setup: We avoid tents that are overly complicated to setup, or lack design elements that help users identify component orientation.
Mistakes to Avoid
Don't settle. Purchasing a new tent is an investment that should pay for itself pretty quickly – even if you're only using it on those Boy Scout outings. Avoid slick marketing copy that offers little to no explanation of what's being described – "ultramega enviro flap" doesn't mean a thing to you, or me, if it isn't clearly defined and quantified. Tons of customer reviews are available online, so as a first step we recommend reading through buyer reviews to get an idea of performance, quality, and overall satisfaction.
What Else Should You Think About
So, you've decided on the perfect tent for the job. Two weeks from now you're headed to Vermont to see if you can hack it on top of Mt. Washington. Okay great, but are you sure the tent you've picked is the best one? Head on over to our best backpacking tent and best camping tent reviews to make sure you've thoroughly looked through all of the best options.
Our top pick, the Nemo Equipment Losi should more than satisfy most hikers and backpackers – although it's not going to do you much good on Mt. Washington (seriously, don't do that).