It doesn't matter whether you're talking about the best cars, sedans, trucks, SUVs, or even electric vehicles, there are several important features and distinctions to watch out for. During our research and while choosing the top 8 cars and vehicles, we were careful to measure reliability, performance, price, and general value in regards to what features and extras are included. In particular, we looked at the stock models of all major vehicles and manufacturers, to truly choose the best of the best.
Top 8 Best Cars
We have settled on the Mercedes Benz S-Class as not just one of the best luxury vehicles, but also our best car overall top pick. It offers best in class performance, comfort, style, and value. Coming in at a close second, the "honorable mention" is the Ford F-150 merely because of how reliable and versatile it truly is, far beyond its use as a service vehicle and as a daily driver, too. Keep reading to learn more about other fantastic automobiles available for purchase.
#1 Mercedes-Benz S-Class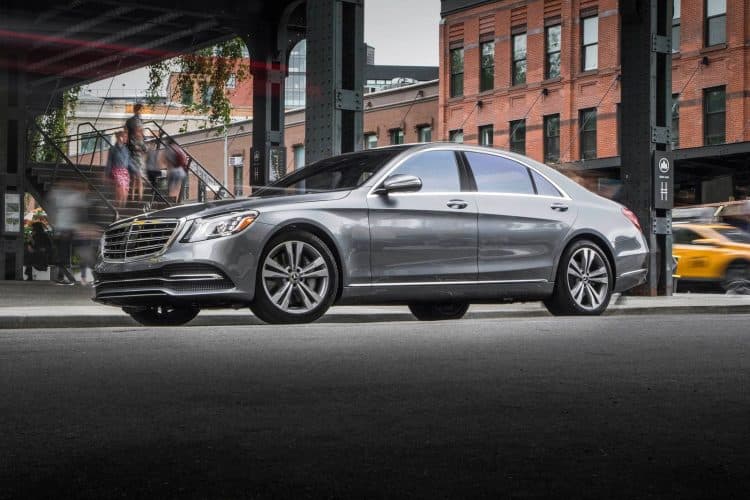 Award: TOP PICK
WHY WE LIKE IT: Although it's pricey, this luxury car has unmatched quality, especially the interior and included amenities. It's powerful, luxurious, comfortable, and extravagant, and it offers decent gas mileage and amazing value for the money.
Pros
Beautiful and elegant interior
Powerful and smooth ride
Exceptional amenities, including auto-driving feature
Cons
Expensive
V-12 model has a poor gas mileage
This edition comes in several body styles including sedan, coupe, and convertible for a more sporty look. There are 3 engine options, with a V-6, V-8, and V-12, the latter of which gets the worst gas mileage. It has rear or all-wheel drive and includes semi-autonomous self-driving features, which is new to the series. The brand and its cars have always been expensive and that's no different here, but they also offer the best value, bar none. The car looks and feels like an absolute treat, and it offers some incredible amenities even in the stock models. And you can add some personality to it with some of the best car accessories.
It is primarily meant to be a luxury and passenger car, as opposed to a workhorse or something sporty. Even so, performance is impressive, especially from the V-8 and V-12 powered variants. The company is also known for its high-quality interior design and sound system, both of which come with all versions of this car. Another reason why this is one of the best luxury cars around.
#2 Ford F-150
Award: HONORABLE MENTION
WHY WE LIKE IT: This truck series is one of the best and most reliable, bar none. It offers decent gas mileage even in the larger sizes, and impressive performance, especially with the 2.7L V-6 engine. A smooth, refined ride is always delivered, even with fast acceleration in the automatic variants.
Pros
Incredible performance even with V-6
Tow-ready with EcoBoost Turbo engine mode
Fast acceleration
Cons
Expensive high-end models
Limited features for base tiers
The truck series is a full-size pickup available with three different cab types, including a huge SuperCab. It comes in either 6-speed or 10-speed automatic transmissions, with exceptional acceleration for either variant. And speaking of speed, it would be a good idea to check out some of the best radar detectors, to find out which one suits this car best. There are 6 different engine choices, as well as a turbo-diesel model for those that want that added power. An off-road version of the truck is available too with everything necessary for such environments, like tires. Both rear and 4-wheel drive is available.
Related: Do you want to upgrade your braking system? Check the best car brakes in the market.
The ride is ultra-smooth, especially for a truck, even in the larger sizes. It offers reliable performance overall and doesn't sacrifice any of that power when carrying a load or towing a trailer. Even the smaller models offer decent legroom for the back seats, which is almost unheard of for these types of trucks. The interior is not elegant or luxurious, but it's not shabby either. Plus, you can always pimp up the interior with sleek gadgets such as the best car tablet mount. When it all boils down, you can't beat the price either.
#3 Toyota Prius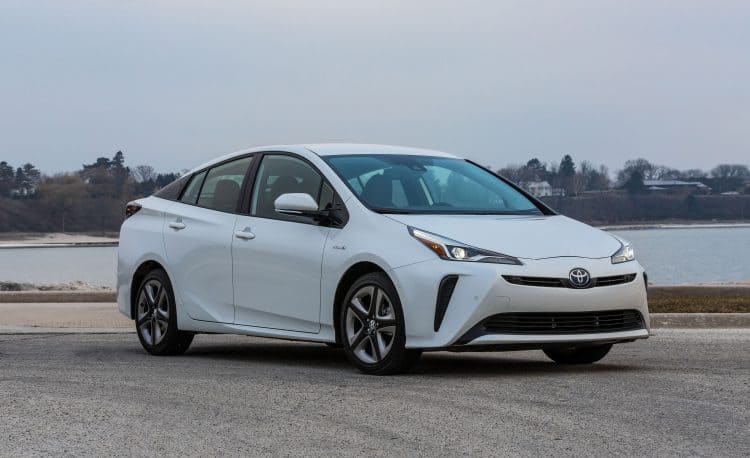 Award: BEST HYBRID
WHY WE LIKE IT: This car has long been one of the best hybrids on the market and the newest model continues that trend. Most importantly, it offers ridiculously good gas mileage. Despite its somewhat uninspired design and style, it's super roomy inside and has quite a bit of cargo space to boot.
Pros
Amazing gas mileage: 54mpg city, and 50mpg highway
Impressive cargo and storage space
Roomy passenger seating
Cons
No elegance or style, anywhere
Unexciting driving experience
This hybrid high-efficiency vehicle is not all that fun to ride, but it more than makes up for that in gas mileage, which is an industry best. The newer models come with a convenient and feature-rich infotainment system, which includes support for Apple's CarPlay hands-free platform. Still, you can always install one of the best satellite radio for cars, for more audio options. The inside is roomy for the driver and passengers alike, and although it's nothing elegant in terms of style, the seating is comfortable. For a smaller vehicle, it also offers quite a bit of cargo and storage space.
Related: Take a look at the best radiator stop leak.
It's not all that powerful, but it is outrageously safe and handles well on the open road. It has forward and all-wheel drive, with 121 horsepower total. It also has one of the lowest starting prices in the hybrid and electric-car category, while still offering plenty of amenities in the stock variant.
#4 Volkswagen Golf GTI
Award: BEST HATCHBACK
WHY WE LIKE IT: The best thing about a hatchback like this is that it's ultra-versatile. It has plenty of cargo and passenger room, and it's large enough to store items on top like a kayak or luggage. There's plenty of legroom for the drivers and passengers, it has a high-quality interior design, and both performs and handles well.
Pros
Excellent multimedia system
High-quality cabin materials and seating
Versatile thanks to the hatchback design
Cons
Poor steering feedback
Average gas mileage: 24mpg city, 32mpg highway
Available in a 4-door compact yet passenger-friendly hatchback, this vehicle is quite versatile thanks to its design. Buyers can choose between manual or automatic transmissions, alongside several engine upgrades, with a turbo 4-cylinder being the standard. The performance-heavy GTI version is the cream of the crop. High-grade materials make up the interior including durable yet comfortable seating and more. It comes with keyless entry in the base model, alongside a push-button start system. It's also probably best that you install one of the best car alarms on this baby. Built-in WiFi is also possible, thanks to the company's Car-Next telematics platform.
From the outside, the exterior styling is fantastic yet not overdone. It has a sporty look, which matches both the performance and handling. It's reliable, well designed, and offers exceptional value for the price. The gas mileage is average, but welcome, despite its poor steering feedback especially on tough roads.
#5 Honda Accord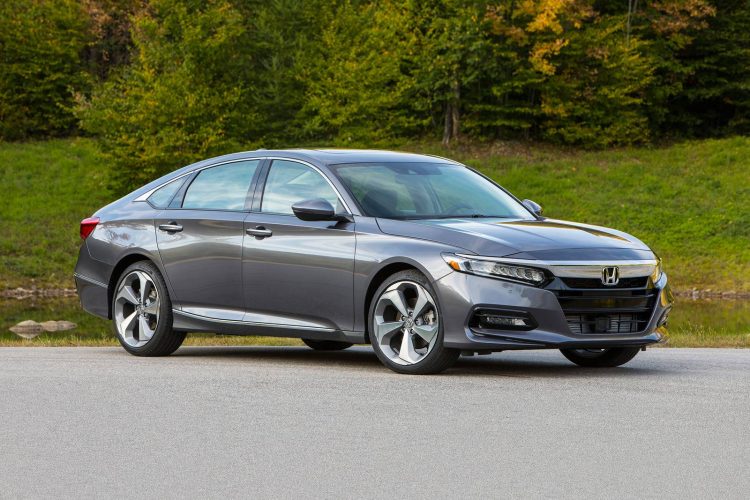 Award: BEST SEDAN
WHY WE LIKE IT: Topping luxury sedans, this car has an outstanding mashup of performance and efficiency, for the hybrid variant above all. Reliable, quick acceleration is possible thanks to the 2.0L turbo engine, with a smooth, almost gliding feel to the steering. The multimedia offerings are awesome, the trim models are as well-designed and attractive as the high-end ones, and it supports both Apple CarPlay and Android Auto.
Pros
Excellent multimedia system
Stand out trim models
Good acceleration from 2.0L turbo
Cons
Sub-par cabin materials
No V-6 engine model
This 5-seat midsize sedan comes in a variety of flavors, with either an automatic or manual transmission. There is a hybrid model available which offers incredible efficiency and performance. Standard models may include 1 of 2 turbo 4-cylinder engines. Automatic emergency braking comes standard in all models, which stops the car via automated technology. The multimedia and dash system is also exceptional in all models and includes support for both Apple's CarPlay and Android Auto. You'll definitely want to have installed the best car charger to juice up your multimedia connected devices.
Handling is super smooth and there's a wonderful feel to the steering. It accelerates reliably and fast thanks to the turbo engine. Moreover, the base model is well-designed and offers an elegant yet slightly sporty look — even as a more elongated sedan. Seating is roomy and comfortable, but the passenger seats have a limited range with lower seating and no height-adjustments.
#6 Porsche 911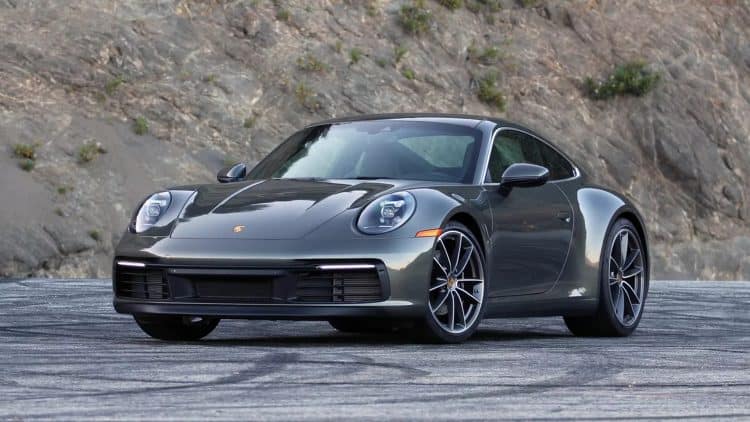 Award: BEST SPORTS CAR
WHY WE LIKE IT: Fast, compact, sporty, and a staple of elegance and grace, this car is packed to the brim with performance, comfort, and style-oriented features. The interior is particularly well-done with new screens, better climate controls, and beautiful upholstery, and seating.
Pros
Blazing fast, reliable acceleration, high-grade suspension
Remarkable handling around corners
Feature-rich interior design
Cons
Expensive, even more so with upgrades
Lacks many standard safety features
Thrills and chills are the names of the game here, as this car is fast, powerful, and absolutely stunning inside and out. It features an 8-speed PDK transmission that's a good mix of a manual and automatic transmission, but lots of fun to use. The car comes with rear or all-wheel drive, and a turbocharged 6-cylinder engine. Many multimedia and styling features are offered standard in this car, which would otherwise cost more in another brand. Interior screens with robust multimedia controls line the cabin, alongside physical climate controls, which is always a plus.
The exterior styling of all models is out of this world, including for the convertible model, yes there is one. Performance is high, power is high, handling is fantastic with highly-satisfying steering feedback. They are expensive, and prices can climb fast with upgrades, but the value for the money is high.
#7 Tesla Model 3
Award: BEST ELECTRIC
WHY WE LIKE IT: There's not a single person who hasn't heard of this car make and model, and for good reason, it offers an incredible ride that also happens to be highly efficient. It's one of the few high tech electric vehicles that can truly thrill drivers and passengers, much like the power-hungry beasts of old.
Pros
Powerful and thrilling ride
Pro-class handling
Beautiful, comfortable seating
Cons
Expensive for electric
Screen-centric controls are not safe to use while driving
Who says electric vehicles have to be dull to drive? This car — in any variant — offers the high-thrill of a sports car in an elegant, yet efficient design. They can be a ton of fun to drive when you're driving anyway. All models come standard with the company's autopilot self-driving system and a bevy of driver assistance features. It handles well, offers performance well above expected, and makes for a perfect daily driver, especially thanks to its low operating costs. This is definitely one of the best electric cars today.
The main screen is the key to controlling almost everything in this car, which can be unsafe when you're in control of the steering wheel. There's no denying the technology is impressive and surpasses what most comparable vehicles offer. The comfortable and aesthetically-pleasing upholstery and seating are welcome, too. You certainly can't go wrong with one of these, but they can be expensive, especially for an electric vehicle.
#8 Volvo XC40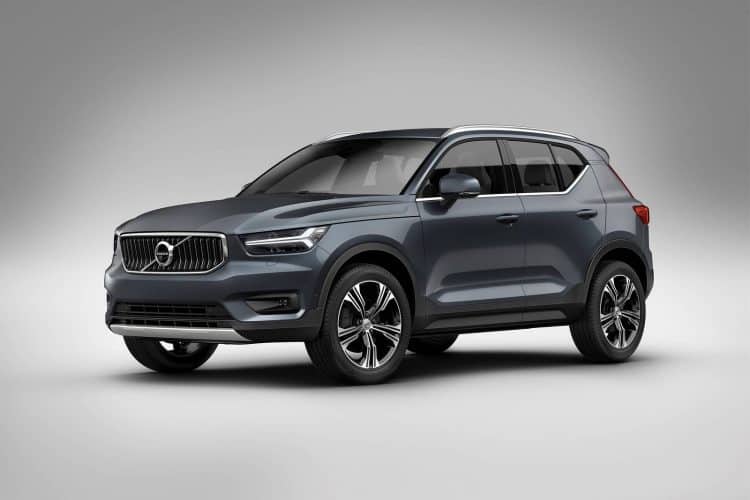 Award: BEST SUV
WHY WE LIKE IT: Packed to the brim with features and support, even in the base model, this car stands far above the rest. It offers reliable and super smooth rides, with excellent handling and delightful performance. The roomy exterior and cargo space, along with leather upholstery make every ride more enjoyable.
Pros
Reliably smooth ride with great handling
Impressive standard safety technology
Roomy interior and storage space
Cons
The engine can be loud and buzzy during use
Limited visibility in the rear
People buy SUVs because they offer the best of both worlds; they're more compact than a truck but they offer many of the same benefits, like roomy cargo space, and that's precisely what you'll find here. This 5-seater, more luxurious SUV, has front or all-wheel drive powered by a turbo 2.0L 4-cylinder engine. That engine provides plenty of power and acceleration, even in the 8-speed automatic model. Leather upholstery and a 9-inch touchscreen come standard, offering some excellent interior and multimedia support.
One of the best things about this make, however, is that several impressive safety features come standard, even in the base trim. Those include stability controls, front, overhead, knee, and side-impact airbags, and a robust security system.
How We Decided
Because there are many different categories here, we looked for slightly different features for each vehicle. The most important feature, however, was reliability, especially concerning the total cost. All of these vehicles will offer years of travel, spanning thousands of miles of usage, barring a severe defect or problem. No matter what type of vehicle it is, these days they require a substantial investment. No one wants to put that much money into a car, truck, or SUV that's going to die after a couple of years.
Another important factor was comfort, but not just the comfort that comes from well-designed and luxurious seating. We also considered internal features, like built-in dash systems, heating and cooling, and other similarly convenient additions. During a trip, especially a long one, the extra support features can make all the difference.
Another major consideration was, of course, the price. There's no question that some of these cars are expensive, and that price tags can vary wildly from vehicle to vehicle. Do they offer suitable value for the cost? Are they overpriced compared to what you get, and will they remain reliable for years to come? Rest assured, each vehicle we selected matches an appropriate price per value ratio for its category.
Finally, we also considered what features and options the vehicle includes without adding any extra packages. As you likely know, every car manufacturer allows you to add features, technology, and upgrades to a vehicle before you make a purchase. It's an excellent option for those with the budget and the desire to do so. However, we feel that it's more important to note what the stock model of each vehicle comes with and whether it's worth the value and cost.
Best Cars Buyer's Guide
The Most Important Features to Consider
Price
The price of a vehicle, it's upgrade packages, and the many variants, are going to be the most significant factors for most people when making a purchase. Rather than comparing value and price on a case by case basis, it makes sense to compile a list of your most wanted cars and then consider each one based on your needs. Does the price point match your budget? Will it have all the features you want or need? Is it the right size? Fuel efficiency is also part of the cost, as the fuel economy tends to fluctuate wildly these days. The higher the gas mileage the less you'll be spending on gas, further boosting the value of the car. Hybrid and electric vehicles are the standouts when it comes to limited fuel costs.
Stock Features
Every vehicle comes with a stock or factory level build, which can be upgraded based on a person's wants or needs. For example, most cars come with a sports package that upgrades performance through various component additions. Others might include a luxury package that offers an upgraded name-brand sound system or a more advanced dashboard. The base price will always be for the stock variant with no upgrades. It's important to find a vehicle that offers everything you want or need in a vanilla version. Of course, this is much easier to do when looking at used vehicles, as many come with upgrades and additions that were added by the previous owner.
Reliability and Performance
Both reliability and performance — depending on the type of vehicle — are major concerns when choosing a new or used car. For sports cars and work-related vehicles, like a truck, performance is going to matter much more. Reliability, on the other hand, always matters, as no one wants a car that's going to run into problems or die shortly after they spend money on it. When choosing, pay attention to the brand, make, model, and year of the vehicle and consider consumer reports and other public research opportunities that might reveal general guidance.
Warranty and Protections
New vehicles can cost upwards of 20K or more, and with an investment like that, you're going to want to make sure the purchase is protected. Most manufacturers and auto sales companies will offer a warranty with your purchase, and may even provide extended warranty options. It's definitely something to consider and factor into the overall value and price of the vehicle. Moreover, other protection plans might be a good idea, like roadside assistance, for example, especially for a vehicle that doesn't have room for a spare tire — it's more common than you think with newer cars.
Resale Value
No, you're probably not going to be concerned with selling a vehicle and recuperating costs right away, but it's still something to consider. Some vehicles and brands hold their value much better even after years of use. If you think you might want to sell the car later or trade it in for a small advance on your next vehicle, then be sure to check out the resale value of older models.
Passenger Room or Seating
If it's a personal vehicle and you don't plan to take anyone along for a ride, then the passenger room isn't a big deal. If you have a family, then you'll want to make sure there's enough room for everyone and then some.
Cargo Room
A van or truck is always going to offer more cargo and storage room than something like a small sports car, even when it comes to trunk space. If you need something with more room for long trips, luggage, and other hauls, then go with a vehicle that has more cargo space, like a truck.
Whether you are looking for the best electric cars or the best luxury cars, we feature all of the best car accessories.