Because no one wants to have to go to the office, or to Fed Ex every time you need to print something out, we've compiled this list of the best printers that are actually worth the money and easy to use. All the printers on our list are capable of at least 7 pages per minute, can be configured to print on multiple types of paper and use common, readily available cartridges, because cost per page is important. From printers intended to professional home office settings to wireless home printers designed for printing out your color photos on photo paper, here are some of the best printers you can buy online.
Our top pick, the HP OfficeJet 5255, is among the most versatile and convenient home printers thanks to its dual-band WiFi, easy online setup, and smartphone scanning and faxing features. At the end of the day, we chose printers that just did their job as soon as you click "print" on your computer, tablet, or smartphone.
Top 6 Best Printer for Home Compared
#1 HP OfficeJet 5255
Award: Top Pick
WHY WE LIKE IT: Fast, high-quality printing and easy set up with dual band wifi, plus the convenience of the HP app that lets you use your smartphone as a scanner or easily print from the cloud, make this one of the most well-rounded printers on the market. It's great for professionals, creatives, and students, basically, anyone who needs to fax, scan, and print documents with as little fuss as possible.
Read Full Review: HP OfficeJet 5255 Review
Pros
Four in one print, scan copy & fax
Prints from social media or the cloud
Pairs with HP Instant Ink or Amazon Dash Replenishment
Cons
Color output not as rich as with dedicated photo printers
Not as fast as the Brother HL, our #3 pick
Ink cartridge replacement finicky and error prone
This OfficeJet printer is designed to be an all-in-one model for those looking for maximum convenience. To that end, a major selling point is its ability to print wirelessly via mobile app. It can also pair with a mobile phone to scan documents, though the device does limit the format of scan outputs– no TIFF format is available. However, it's not designed primarily for photos. It does come with a 35-sheet auto loading feature and a clear, responsive touch screen. It has a 100-sheet input and 25-sheet output paper capacity and prints at up to 10 pages per minute in black and white or 7 ppm in color.
This printer also works with HP's Instant Ink, a scheduled ink cartridge replacement that theoretically ensures you never run out of ink. No need to look for the best home scanner with this one as it is included.
#2 HP Office Jet 3830
Award: Honorable Mention
WHY WE LIKE IT: A lower priced multifunctional home printer that supports mobile printing and the HP instant ink service, it's also compact enough to fit unobtrusively in your home office. It's great for those looking for a home printer that doesn't take up too much space, and those not needing to print out large volumes of pages or mostly photos.
Pros
Print from anywhere with HP app
Quiet mode reduces noise
2.2" touch screen
Cons
As with the HP 5255, cartridge loading can be tricky
Automatic document feeder not as fast as with the Brother HL-L2300D
Lacks the auto 2-sided printing feature found on the HP 5255
Though it's marginally slower than the HP OfficeJet 5255, our top pick, the HP 3830 is much less expensive and matches most of the 5255's features. It lets you print from anywhere with the HP app and like the 5255 it's compatible with HP's Instant Ink for automatic cartridge delivery. It's also compact, with a footprint of less than 18 by 15 inches, so it can fit neatly next to a laptop or desktop with keyboard. It supports auto feed of up to 35 sheets, and like our top pick, it allows you to use your mobile phone to scan documents.
The OfficeJet 3830 also functions as a copy machine and fax machine as well. It's Energy Star- certified and gives you the option, as with the pricer 5255, to use HP's high yield cartridges. Also like the 5255, our top pick, this OfficeJet functions as a scanner and lets you scan documents with your mobile device, too.
#3 Brother HL2300D
Award: Best Monochrome
WHY WE LIKE IT: Professional quality black and white laser printing for the home office, offering speeds of up to 27 pages per minute, more than twice that of the HP OfficeJet printers. It's great for writers and other professionals who need to reliably print larger documents with multiple pages and who don't need wifi or color prints.
Read Full Review: Brother HL2300D Review
Pros
Prints 27 pages per minute
Laser toner cartridges print from 700-1000 pages, much more than InkJet cartridges
250 sheet capacity paper tray, straight document path helps avoid paper jams
Cons
No wireless connectivity; USB 2.0 only
Limited to black and white
Doesn't come with USB cable
This is a compact personal laser printer designed to quickly print out black and white documents at a resolution of 2400×600 dpi. With a footprint of about 14 x 14 inches it's smaller than our top pick, and prints much faster (27 ppm vs 10 ppm for black and white) though it's not for everyone as it lacks color printing, mobile connectivity or built-in wifi. The only way to connect it is to use your USB cable. However, it can be made to print via wifi if connected to a wireless router or a wireless-enabled computer through the USB connection. Have a look at the best printer for computer for more options.
Its paper tray holds up to 250 pages, handles letter size or legal size paper and it features a more efficient straight through pathway. It also, like our top pick, the OfficeJet 5255, supports automatic double sided printing. The included toner cartridge is rated for 700 pages but may print more if you reset the page count. However, this is an inconvenient process. It must be noted also that laser toner is typically more expensive than inkjet ink.
#4 HP Envy 5055 Photo Printer
Award: Best Photo Printer
WHY WE LIKE IT: A low priced all-in-one inkjet printer that supports typical 4X6 photo sizes and borderless printing. It's great for those looking to print graphics, brochures, postcards or photos and wants the convenience of wireless mobile printing at a low cost.
Read Full Review: HP ENVY 5055 Review
Pros
Wireless photo printing
Supports 4×6 photos and borderless printing
Print, scan and copy functions
Cons
No fax function as with the HP 3830
Slower than the HP 5255
Lacks auto document feeder
Designed with small photo printing in mind, this "3-in-1" from HP features dual band wifi, a 2.2-inch touch screen and an input capacity of up to 100 sheets. While it lacks an auto-document feeder or high speed black and white printing, being limited to 10 ppm or 7 ppm with color, these are likely to be less of an issue for those looking to print photos and .PDFs containing graphics. A plus with the HP Envy 5055 is that it supports 4×6 photos as well as letter and legal size paper, something not all printers do. Have a look at the best inkjet printer while you are here.
It also works with the HP app to allow seamless mobile printing and it comes with the option of enrolling in HP's Instant Ink replenishment service, although the cost of this service, once any promotional periods expire, can quickly exceed the bargain initial price of the printer itself.
#5 Canon Pixma TS5120
Award: Best Cloud/ Mobile Printing
WHY WE LIKE IT: An all-in-one inkjet printer that supports photo printing, mobile printing and scanning, plus it works with Canon's PIXMA cloud print service. It's great for busy students and creative professionals who need convenient mobile scanning and printing options.
Read Full Review: Canon TS5120
Pros
Versatile mobile printing and scanning
Supports 4×6 photos and borderless printing
Wifi enabled
Cons
Lacks touchscreen
Set-up and pairing with computers involves a clunky CD-rom based process
Upright, extended paper tray not as robust as the straight-through paper feed of the Brother HL2300D
This is one of the most affordable all-in-one print, copy scan and fax machines for the home office on the market that also supports photo printing in common 4×6, 5×5 and 5×7 sizes. It's also WiFi-enabled and promises wireless and convenient mobile printing via PictBridge or Canon's PIXMA cloud print feature. The TS512 lets you scan and save documents to your mobile phone or laptop, send a fax, and print documents ranging from 5×5 to 8.5 x 14 legal size. It will also print on US #10 envelopes. It supports double-sided printing and borderless printing, though set up is a bit tricky, involving software installation and wifi set up on the printer itself, and it lacks a touchscreen.
It prints decent quality black and white as well, with an output speed of up to 13 ppm, slightly faster than our Top Pick, the HP 5255, though still far behind the Brother HL2300D's 27 ppm. It's definitely more of a budget all-in-one than a dedicated office printer. See what the best home printer has to offer for comparison.
#6 HP DeskJet 2622
Award: Best Budget
WHY WE LIKE IT: The most compact all-in-one wireless printer, copier, scanner and fax on our list, it's also about half the cost of the HP 5255, our top pick. It's great for anyone looking for an easy-to-use and unobtrusive printer that can fit just about anywhere.
Read Full Review: HP DeskJet 2622 Review
Pros
Supports smartphone and tablet printing
Easy wifi setup
Simplest control layout of any printer on our list
Cons
Only 7.5 pages per minute
Lacks automatic double-sided printing
Lower capacity–60 sheet input, 25 sheet output– than the HP 3830
This wireless printer is among the smallest all-in-one home printers on the market, with a footprint of only 16.74 x 11.97 inches. Input and output trays fold up when not in use, adding to its compact form factor. The DeskJet 2622 also has some features even the more expensive Canon Pixma TS512 lacks, such as fax capability. As with the other HP printers on our list, this wireless home printer lets you easily print from a smartphone or tablet, pairing with HP's Smart App for on the go printing, scanning and ink-level monitoring.
Compared to the more expensive HP 5255, this compact printer may be less suited to higher volume tasks, as it prints slower, 7.5 ppm vs 10 ppm, and its input tray is limited to 60 sheets rather than 100. If you are rocking a Chromebook, check out the best printer for Chromebook.
Beginner's Guide To Printers
While printers seem like an essential office supply, there's a lot to know about this helpful tool. For writers looking to present a school paper or families wanting to display their digital photos, having the correct type of printer is supremely important. In addition, to get the most out of the printer you choose, you'll want to know our tips to get the most out of your newest workspace accessory. While printers seem to be a fundamental tool of the business world, there's a lot to learn if you want to make the most of your projects or paper presentations.
What Is A Printer?
It seems obvious, but there's a proper answer to the question, "what is a printer?" Printers are devices used to translate digital data to the physical or analog realm, typically in the form of paper or resin. Modern printers are extremely useful and come in different designs, like compact designs, varying price ranges, and printing speeds. Plus, with the capability to print out documents that need to be signed and documents necessary for school projects. Consumers can also use modern color printers to make wall art and the modern all-in-one printer to scan, fax, and manipulate documents.
The history of printers, including the printing press and modern printer. While the printer might sound like a boring piece of office equipment, it is one of the most significant technological advancements of the human race. While printing through woodblock has been around since roughly 200 AD, the Gutenberg Press of 1440 AD began what historians call the "Printing Revolution." Thanks to the printing press, the Renaissance era saw literacy rates soar among the commoners. Fast forward to the 1950s, and printers start to resemble what we have today, with HP inkjet printing winning over the Cannon bubblejet from Japan. By the 1980s, early 3D printers were beginning to show up in prototype production models.
How Do Printers Work?
Printers turn digital documents or images into a physical form. Inkjet printers function by spraying and shaping small droplets of ink onto paper. These droplets are typically just 50 to 60 microns in diameter. Inkjet printers integrate nicely with a desktop PC, a business PC, smartphones, and tablets. Inkjet printers excel with photo printing tasks, borderless printing tasks, and more. Laser printers, on the other hand, emit highly focused beams of light that work to shape toner in order to create images and text. Laser printing technology is an excellent option for those who prioritize faster print speed, as this speed will range from 12 to 20 pages per minute (PPI). Laser printers also tend to be highly accurate, making them a great choice for reliable printing.
STAT: 62% of American households own a printer. (source)
What Do Printers Use To Print?
Printers mainly come in two forms. Inkjet printers use ink cartridges, and laser printers use toner cartridges. Depending on the amount of printing you do, you'll want to compare toner and ink cartridges to see which suits your needs. Ink cartridges are filled with ink and generally used by a traditional printer to make prints. Toner cartridges are filled with toner dust and are used by laser printers to make prints. Ink cartridges are known for excellent printed photo quality and toner cartridges are known for increased longevity. Laser toner cartridges typically offer reduced ink cost, speedier prints, and improved accuracy.
Is It Worth Buying The Latest Printer Models?
There are hundreds of newly designed printers released every day. It can be worth it to buy the latest printer models if you prioritize efficiency and advanced feature sets. The latest printer models can be more expensive than older printers. If printing costs are a concern for you, an upgraded model may offer more sheets per cartridge and cheaper cartridges, which could help drive those running costs down.
Choosing A Printer
While not necessarily the most exciting thing to shop for, choosing the right printer is essential. Chances are, you'll use the printer you choose for important documents for years to come. There's a wide selection of printer models, from cartridge-based printers to ink tank printers filled using ink bottles, which can make coming to a decision a bit confusing. Fortunately, we're here to help you narrow things down, so you can pick a printer that suits your needs and your budget. From inkjet models to laser printers to specialty printers, we're confident we can help you make the right choice.
Step 1. What Am I Using This Printer For?
The decision on the best type of printer to buy often relies on what you need to do. For example, if you're printing legal documents, you'll want a different printer than someone who publishes digital photos. Laser printers are often the best printer for the office by offering fast, accurate printing at scale. Inkjet printers are great for everyday printing and home use, and are also great for those who like to print out photos because of their excellent print quality. It's for this reason that an inkjet printer is often considered the best photo printer you pick up. If you are interested in making a borderless print, a feature-packed all-in-one inkjet printer may be the correct choice for you, and is generally regarded as the best printer for the home.
Step 2. How Fast Does Your Printer Need To Be?
The best printer speed will depend entirely on how often it will be used and what the printer is being used for. In general, laser printers operate at around 20 to 30 pages per minute (PPM), and inkjet printers operate at around five to 10 pages per minute. This is not set in stone, however, as you can fiddle with the printer's settings to change the speed.
Step 3. How Much Do You Need To Print?
A printer's page yield refers to how many pages it can reproduce before its ink or toner cartridge will need to be replaced. Generally speaking, ink cartridges average around 220 pages before needing a replacement while toner cartridges can last anywhere from 2,500 to 4,000 pages before needing to be replaced. If you're trying to choose ideal printers for the home, you'll almost always want something that has ink that lasts. While laser toner has great "mileage", it does so at the expense of lower quality photograph prints. If you're looking to print photos more often then not, you'll want to pick the best inkjet printer for your home.
STAT: Laser printers are almost twice as common as inkjet printers. (source)
Step 4. What Else Do You Want Your Printer To Do?
Sometimes your small business or company may need to produce other works like copies or independent magazines or brochures. If that's the case, you shouldn't spend on an extra device when multi-function printers exist. A multifunction printer (MFP) can do a whole host of jobs other than just printing. For example, most MFPs can use a flatbed scanner to scan documents on to tablets or computers and copy documents. If you're trying to scan a ton of documents and do so regularly, it would be worth it to looking into getting a printer with ADF (automatic document feeding), which will take papers loaded into a tray, pull them onto a scanner, scan them, and then move onto the next paper in the sequence. If you're looking to do two-sided printing, you'll want to grab a printer that features duplex printing.
STAT: Buyer beware: less expensive printers, on average, have more expensive ink, and vice versa. Printers for less than $200 dollars cost the user 5.5 cents on average for B&W pages, but printers over $200 cost an average of 3.9 cents a page. Saving 1.6 cents a page may not seem like much, but if you plan on doing a lot of printing, it may be worth it to bite the bullet, pick up a more expensive printer, and save money in the long term with cheaper ink prices. (source)
Step 5. How Much Do You Want To Spend?
Finding the proper budget for your printer is essential. Printers vary in price depending on type and quality. Generally speaking, inkjet printers can be purchased for anywhere from $30 to $1,300. Monochrome laser printers and color laser printers can be bought for anywhere from $70 to $3,000, and multi-function printers can be bought for anywhere from $350 to $15,000. In addition to the printer itself, consider the cost of replacing ink and possible standard maintenance. But, read our Brother Inkjet Printer review for a model that's just under the $300 mark.
Looking For Used Printers? If you're in the market for an expensive professional printer, you might be tempted to pick up a used model. After all, you might be able to save a ton of money but still end up with the type of printer you need. Unfortunately, the choice of picking up a used printer isn't that simple. Keep in mind that most used products fall outside their manufacturer warranty coverage. That means that while you may save money now, you may be out of luck if your new printer breaks down. In addition, a new model is guaranteed to have all original parts, and you can institute a return if you need to.
Types Of Printers
When picking a printer, there are multiple types to consider. Experts generally recommend inkjet printers for occasional printing from a small business or home office. Ink printers use ink cartridges, and they create documents by blasting tons of tiny dots of ink onto the page. Another type of printer, laser printer, uses toner cartridges that contain toner powder. Laser printers melt the toner onto the page to create documents. Experts recommend laser printers for high-volume professional printing. Lastly, you may consider a multi-function printer if you're looking to scan, copy, and print, or perhaps a portable printer if you're looking to print on the go.
Printers By Usage
Printers By Paper Size
Printers By Budget
Top Printer Brands
STAT: HP (42%), Canon (19%) and Epson (19%) dominate the worldwide hardcopy peripheral market. The remaining 19% of the global market is owned by Brother (7%), Kyocera (2%) and "Others" (10%). (source)
Owning A Printer
Owning a printer isn't all ink refills and paper jams. There are some essential things to know before and during owning a printer. First, you'll want to familiarize yourself with all the options you have to print, like over wifi or from a storage device plugged into the printer. In addition, if you're replacing a printer, you'll need to know what to do with your old printer so you dispose of it correctly. Read your manual and read this guide to understand the ins and outs of owning a printer fully.
Should you keep your printer on or off? While wasting power is never a good thing, it isn't always necessary to completely turn off your printer. Most modern printers have a low-power standby mode that lets you print what you need without worrying about booting it up. That said, if you are someone who doesn't print very often, you should probably turn your printer off unless you need to use it.
Interacting With Printer Features
Printers are far beyond a simple plug-and-play office tool. The printers of today come packed with features beyond just putting digital documents on the page. Modern printers, especially multi-function printers, are packed with features that give you expanded customization for your papers and work. For example, some printers can connect to tablets and smartphones, while others can print from storage devices. In addition, if you're printing photos, there are settings for color grades and resolution. Using the photocopier, however, is the most common non-printing feature people use printers for.
Common Printer Jobs
You may think the most common printer job is printing written documents but is that all? Of course not! We use printers for producing all kinds of projects like simple family photos or independent zines. In addition, digital photographers, they'll need specialized printers for producing high-quality images. For people with multi-function printers, typical jobs might include copying, scanning, or double-sided printing documents. In general, the regular jobs for your printer are determined by your printer's features and the types of jobs you need to accomplish. Printing from your phone has also become a common method to get documents you need, and whether you're printing from an android phone or printing from an iPhone, the job has been streamlined to make it fast and easy.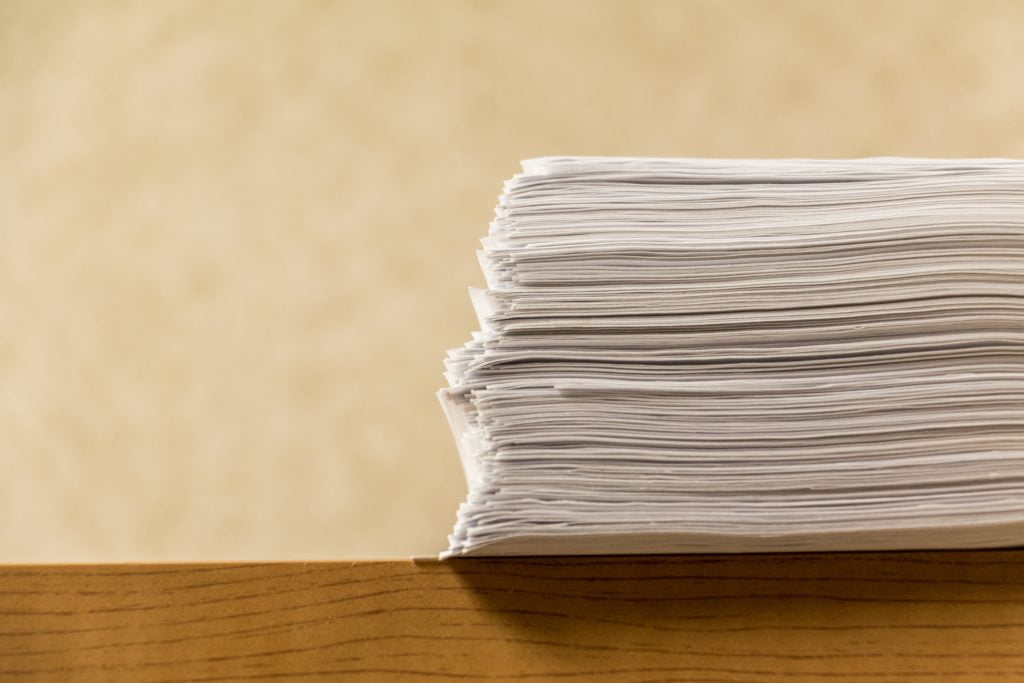 Buying The Best Printer Paper
It might not be something you think about all that often, but the paper you use in your printer makes a huge difference in the quality of the print job! When you're doing something like printing photographs, you'll want to use the best printer paper for the job, which typically means you'll want something high weight and glossy to really make that photo shine. Inexpensive, plain paper isn't necessarily bad, especially if quality isn't your first concern and volume matters more, but keep in mind that your paper will make an impact on how anything you print looks!
STAT: Around 1.3 billion inkjet cartridges are used annually, but less than 30% will be recycled. (source)
Buying The Best Printer Ink
It may be expensive, but the ink and toner you use in a printer has a huge impact on the quality of your printer's out. When you're looking to print off anything that is detailed and vibrant in color, like a high-resolution photograph, you'll want to be using the best printer ink you can to really make the photo pop. Quality ink in particular gets expensive when you start looking for the best kinds for photos, but we can help you narrow things down and make an informed decision. If you're just doing basic print jobs, however, then low-cost ink will get the job done.
Does OEM ink/toner void your warranty? If you've used a different brand's ink or toner, you might be worried about your printer warranty. That said, printer manufacturers cannot void your warranty for using third-party ink/toner.
Printer Maintenance
You should regularly perform common and standard printer maintenance tasks to increase the lifespan of the printer and to ensure that it continues to create high-quality prints. The settings menu of most modern printers includes a number of automated maintenance routines, such as nozzle checks, print head cleanings, and print head alignments. Make sure to clean your printer often, including the interior and exterior. If your documents misfeed and you're wondering how to fix a jammed printer, we can help you clear the jam with some useful tips. Alternatively, if your printer isn't printing true colors, you may want to check your ink tanks or toner, or check out our handy guide for further tips on what could be causing problems.
Does OEM ink clog printheads? While manufacturers want you to fear using third-party inks, you can rest easy. Printer ink from a third party is no more likely to cause clogs than first-party printer ink.
Printer Repair And Troubleshooting
So the worst has happened, and you just can't get your printer to work. Maybe the printer is jammed, or a new series of error messages have greeted you, or perhaps you're wondering why your printer is now making streaks on the page instead of lines or images. Fortunately, most printer problems are common, and you're not alone. You can repair most issues locally, either through the printer menu or "Device Management" on your PC. That said, when it comes to printer repair, some catastrophic cases may require professional repairs or a total replacement.