Finding the best TV for your money in 2023 can be a little misleading. With so many products on the market today, with all different features and resolutions, "best" can be an incredibly subjective term. So, we sifted through hundreds of TVs online, ranging from smart TVs to OLED TVs to 4K TVs in search of the best of the best.
| | | | | | |
| --- | --- | --- | --- | --- | --- |
| 1 | | | 93 | | |
| 2 | | Best for Computer Monitor | 93 | | |
| 3 | | | 92 | | |
| 4 | | | 92 | | |
| 5 | | | 91 | | |
| 6 | | | 91 | | |
| 7 | | | 91 | | |
Top TVs
LG

LG G2 OLED TV

Considering its fast response time, wide viewing angles, and excellent brightness and black levels, the LG G2 OLED TV is worth the premium price for movies and gaming. However, mediocre upscaling performance, aggressive ABL, and purple tints from bright reflections can be a nuisance.

Read Full Review →

: LG G2 OLED TV

Cosmic Wonder

Reasons to Buy

Great HDR peak brightness

120 Hz refresh rate and VRR support

Reasons to Avoid

ABL is extra strong in bright environments

Bright light reflections cause purple tints on the screen

Poor upscaling performance

| | | |
| --- | --- | --- |
| | Backlight Type | Full-Array |
| | Display Type | OLED |
| | HDMI Inputs | 4 |
| | HDR Format | Dolby Vision, HDR10, HLG |
| | HomeKit Compatible | Yes |
| | LED Panel Type | OLED |
| | Max Resolution | 3840 x 2160 |
| | Refresh Rate | 120 Hz |
| | Screen size | 55", 65", 77", 83" |
| | Smart Platform | webOS |
| | Sync Technology | AMD FreeSync, G-Sync |
| | VRR | Yes |

| | |
| --- | --- |
| Color Gamut % (DCI P3 xy) | 99.24 |
| Color Gamut % (Rec 2020 xy) | 72.98 |
| Color Gamut % (Rec 2020 xy) | 72.98 |
| Color Gamut % (Rec 2020 uv) | 78.2 |
| Color Gamut % (sRGB) | No Data |
| Color Gamut % (Rec 709) | 131.75 |
| Color Gamut % (BT.2020) | No Data |
| Color Gamut % (Adobe RGB) | No Data |
| Color Gamut % (BT.709) | No Data |
| Contrast Ratio (x:1) | No Data |
| Brightness (nits) | 405.885 |
| HDR Brightness (nits) | 915.3333333 |
| Input Lag (ms) | 11.61 |
| Response Time (ms) | 2.3 |
| Viewing Angle (Degrees) | No Data |
| Color Washout (Degrees) | 68 |
| Color Shift (Degrees) | 25 |
| Brightness Loss (Degrees) | 68 |
| Reflections (%) | 1.4 |
| Low-Freq Extension (Hz) | 75.51 |
| Freq Response StdDev @ 70db | 4.65 |
| Freq Response StdDev @ 80db | 4.37 |
| Weighted Total Harmonic Distortion @80db | 0.648 |

All Retailers

Availability

Not available

Our Verdict

Although the LG G2 OLED TV's ABL causes brightness fluctuations, its peak brightness (590.54 nits) is excellent for lit rooms.

All four HDMI ports support HDMI 2.1, which is perfect for connecting consoles, and the TV has movie-night-worthy black levels. However, despite the anti-reflective coating, bright lights appear as slightly purple tints.

The tested 2.3 ms response time and 120 Hz refresh rate breathe life into fast-paced gaming, while VRR prevents screen tearing. With an inf:1 contrast ratio, colors pop, but the processor is mediocre at upscaling 480p content.

The remote's hassle-free point-and-play function and voice command help navigate the user-friendly WebOS software, viewing angles are ultra-wide (color washout at 68°), and the low input lag (5.3 ms at 1080p) ensures responsive gaming.
Beginner's Guide To Televisions
Consumers who are considering new TVs often have a lot of factors to consider. However, most of us don't even understand the technology behind televisions. In order to understand many of the new features of TVs, it is important to understand how each feature impacts the TV. For example, certain production methods, like those for OLED and LCD TVs, can have a direct impact on the TV and its quality. Plasma was once a huge factor with a big price tag, but plasma TVs are old now, and the new hotness belongs to OLED and QLED units. Meanwhile, other features, like the audio return channel, enhance the TV.
What Is A TV And How Does It Work?
A television is an electronic device that interprets signals to create an image on the screen and the audio that goes along with it. TVs allow consumers to watch TV shows and movies created for entertainment. In addition to standard TVs, there are also "smart" TVs, which allow users to stream content from the internet directly to their TV.
What Is TV Resolution?
You probably hear about TV resolution all the time, and most people know it roughly refers to the resolution of the image the TV displays. But, you may be wondering, what exactly is TV resolution? In simple terms, resolution directly refers to the number of vertical pixels on a panel (and technically to the number of horizontal pixels as well.) When you see something like 1080p or "Full HD", that means the panel has 1080 vertical pixels per horizontal pixel. Since nearly all 1080p televisions have 1920 horizontal pixels, this means your typical FHD TV will have 2,073,600 pixels. As you move up in resolution, you increase the number of pixels going in both directions, and this means the television can accurately reproduce higher quality content with better accuracy, making for more stunning images and video quality.
What Kinds Of TV Displays Are There?
There are only a few types of displays being sold at the moment, including liquid crystal displays (LCD,) light-emitting diodes (LED,) which are actually a form of LCD TV, and organic light-emitting diode (OLED) TVs.
Some people still use cathode-ray tube (CRT) and plasma screen TVs, but they are no longer in production. The most common type of display you'll encounter will be LCD televisions, so it's worth knowing exactly what LCD TVs are and how they work. We can help!
What Makes A TV "Smart"?
Smart TVs have become almost ubiquitous in the world of televisions. You may be wondering what being a smart TV means. Simply put, smart televisions still do exactly what "dumb" TVs do, but come with extra features. Like your phone or computer, Smart TVs come with pre-installed apps and have the ability to download new ones. They can connect to the internet, access streaming services and content natively, and do it all over a connection to your home's internet connection, be it wired or wireless.
Should You Invest In New TV Technology?
If you're unsure about investing in new TV technology, it's worth considering what the premium you pay with give you. While newer flat-panel technologies such as 8K resolution and HDR (High Dynamic Range) offer unparalleled fidelity and performance, the content available to the average consumer largely hasn't caught up with this technology, meaning the high cost of such advanced television lines may not be justifiable until content catches up to the tech and starts to offer you something designed to take advantage of the newest technologies.
insider tip
How Long Should A TV Last? Buying a new TV is a considerable investment, so you're probably wondering how long your television will last. Luckily manufacturers make TVs to last up to a decade. The average life of a TV lasts around 5 to 7 years, but it can last even longer with proper maintenance and repair. That said, certain conditions like burn-in and screen dimming can occur; those issues should not be a factor until your TV is nearing the end of its life. In addition, certain factors like humidity and lack of ventilation can shorten the life of your TV.
Choosing A Television
Many consumers start looking for a new TV after putting some forethought into what they want. Since we can't always think of everything, however, here are some things that you should consider. We'll cover the most important aspect, like budget, size, panel technology and features like smart interface, picture processing tech, and audio performance to help you find that sweet spot.
Step 1. What's Your Budget For Your TV?
When it comes to buying a new TV, the marketplace has a wide variety options that it can be overwhelming to understand what you're getting for your money at any given price point. Add into the mix that TVs come in a huge price range and things start to get hazy. Knowing how much you should expect to spend on a TV is a matter of figuring out a budget and deciding what size, display resolution, and features you can and can't live without, and taking into consideration any peripherals or other components like a sound bar that you're going to be purchasing as well.
insider tip
Bigger is almost always better when it comes to TVs. If the room you're putting a TV in has room for a 60" TV but you had a 55" in mind, it's usually worth it to pay extra for the 60" TV.
Step 2. How Much Room Do You Have?
The size of a TV should depend on the size of the room it is being used in. This idea comes from both the appearance of the TV in the room and the angles that people would be sitting at. The TV should not look massive in a certain room unless that is what you are going for. Additionally, people sitting around the room may want to watch the TV, requiring viewing angle and distance consideration. Generally speaking, your screen size should be as large as you can possibly fit within your budget and the space you have available. Remember that "fit" also includes things like peripherals and cords, so a 65-inch model in a 70 inch nook might be a tight squeeze if you can't easily set up cables and media decks.
STAT: The average size of LCD TVs in the US has hit 50" as of 2020. It was less than 30" in 1997! (source)
Step 3. What Type Of TV Are You Looking For?
When you are considering different TVs, you should consider whether you want a higher resolution, sharper colors, darker black levels, or greater resilience. Certain types of TVs provide each of these features, though it may be difficult to find all four in one TV. However, many high-end TVs may be designed that have higher resolution, sharper colors, and deep blacks. A common comparison you might make are between LED and LCD TVs, though the increase in available OLED televisions means that you're also very likely to compare OLED and LED TVs. Some TVs also come with curved panels instead of traditional flat panels, which is supposed to improve viewing angles and immersion in the content on the screen.
CRTs are often held up as the gold standard for display tech when playing retro games. If you're interested in retro gaming, there are plenty of old picture tubes you can find on places like eBay – and you may want to consider making a purchase sooner rather than later.
Step 4. Are You Looking For A 4K TV?
4K TVs provide better image resolution than standard 1080p or high-definition TVs. These TVs typically have around 4,000 pixels along the horizontal axis, which leads to a greater pixel density and more details and offer about 8.6 million pixels in total. It's worth noting, however, that as size of the TV increases, the pixel density decreases, meaning less pixels in each spot. Keep that in mind when choosing a 4K TV.
Step 5. Do You Want A Smart TV?
Smart TVs allow users to connect to their streaming services through the TV itself and can help make for a smoother viewing experience. If you buy a standard TV, you will need at least one additional device to connect to these applications, like a gaming console. Fortunately, Smart TVs have become more common than "dumb" TVs, and you usually have to go out of your way to find a TV that doesn't have smart features baked into it. This means choosing a smart TV is less expensive than you might think, because they're the default type of television on the market now. Common smart TV features include things like pre-installed streaming apps, the ability to connect to Bluetooth and wireless internet, and custom smart platform operating systems, which all serve to round out the smart TV experience.
Step 6. What Features Do You Want?
Available features may make or break a TV choice. One common feature that gets compared in televisions is the type of panel the TV uses. VA (vertical alignment) and IPS (in-plane switching) are the two display techs you'll see compared most often. When comparing a VA panel against an IPS panel, the winner in most rounds is the VA display, which offers truer blacks and wide viewing angles, making it excellent for maintaining excellent picture quality even in dim rooms. IPS panels, on the other hand, offer improved native refresh rate or even variable refresh rate, vibrant colors and a lower price. Other features worth considering include the overall sound quality of the built-in speakers or a super slim design.
Step 7. Should You Consider Other Displays?
Certain types of displays work better for different situations. Gaming and sports, for example, may show up better on a TV with quicker processing. If you want to game, you should look for a gaming TV with low input lag, high resolution, and high refresh rates. High refresh rates help to reduce the input lag because the image updates more frequently. You may also find yourself comparing a monitor and TV, especially if you're looking for a smaller TV. Monitors and televisions may look extremely similar, but there are a number of differences when it comes to image quality, refresh rate and size. Monitors, for example, typically have lower screen resolution, and the image quality will be lower than a TV of the same size. They also have higher refresh rates and require less time to process an image than a television. On the other hand, TVs typically come in larger sizes than monitors.
There are dedicated outdoor TV sets, made by dedicated outdoor TV manufacturers!
Step 8. Are You Aware Of Common Misconceptions?
There is often a lot of confusion surrounding certain TV terms, such as 4K, OLED, and LED. For example, some consumers believe LED and LCD TVs to be different things, when LED refers to the backlight display being an array of LEDs used in an LCD panel. It becomes important to understand each of these terms when you are considering buying a new TV. Terms like "Neo QLED" and Neo QLED TV directly reference Samsung's take on LED displays, and are an iteration on Samsung's previous technology, QLED TV. The "Q" stands for quantum and otherwise simply refers to an LED television with proprietary tech.
insider tip
Should You Buy A Used Or Refurbished TV? Buying a used or refurbished TV is an excellent idea if you want to save some money. That said, buy from an authorized dealer that offers a warranty. If possible, buy refurbished from the original manufacturer so that you have a better guarantee. If you want the most protection possible, you should buy a new TV.
Types of Televisions
There are many different types of televisions. However, certain types are no longer on the market, such as plasma or cathode-ray tube TVs. The main type of TV currently on the market is liquid crystal display (LCD) TVs, which require backlighting. Light-emitting diodes (LEDs) often provide the lighting for LCD TVs.
Quantum dot light-emitting diodes (QLEDs) add an extra layer to the screen of an LED with the goal of better image quality. Organic light-emitting diode (OLED) TVs do not use LCDs, making them one of the few TVs available that does not use LCDs.
TVs By Size
TVs By Type
TVs By Resolution
TVs By Use Case
Top Television Brands
Owning A Television
Owning a TV often comes with its own set of responsibilities. From maintenance and repair to disposal of previous TVs, consumers have a lot to consider. This section covers everything you need to know to care for your purchase!
insider tip
Are Extended Warranties Worth It For TVs? If you buy a TV from a major vendor, whether on line or in a brick-and-mortar store, you'll more than likely be offered an "extended warranty" at an additional cost. Sometimes these warranties are fairly negligible in cost and some come with a bigger price tag, so you may be wondering whether they're worth the extra expense. The answer to that depends on a few factors- cost of the TV, what's covered, and the vendor itself. Before making the decision, know what you're paying for.
Cleaning Your TV's Screen
Cleaning your TV screen is very easy. You'll need a microfiber or a dry soft piece of cloth, dish soap, bowl, spray bottle, and a bowl. First, turn off your TV before you attempt cleaning. It's much easier to spot dirt and dust when the TV screen is off and cooled down. Next, with a lint-free dry cloth, begin to gently wipe the screen in a circular motion. If you have tough stains, use a wet cloth. Add a drop of dishwashing soap on one-fourth of the water and mix. Apply it onto a soft cloth. Lastly, re-wipe it with a dry microfiber cloth.
Casting To Your TV
Most smart TVs now support a useful little feature known as casting. You may have been wondering what that means, and how you cast to your TV. Fortunately, casting is usually as simple as using Bluetooth on your phone, your home's wireless connection, or plugging a dongle into the television. Casting using Bluetooth or WiFi simply requires you to turn on your own phone's Bluetooth or connect to your home's wireless internet. Then load an app that supports casting to televisions, like YouTube, and tap the "cast to TV" button the app provides. When you cast to your television using a dongle, you simply plug the dongle into your TV (usually into an HDMI port or a USB port) and then connect to the device over Bluetooth or WiFi, and then use the app dedicated to connect to and control the dongle.
Connecting Television Accessories And External Sources
Certain appliances are made to be used with TVs. However, some may find it difficult to connect to these devices. Fortunately, we can help. Connecting your phone to your television is actually pretty straightforward these days thanks to apps and native support for casting from you phone to TV. You simply need to have Bluetooth on or have both your TV and your phone connected to the same network. Connecting a laptop to a TV is a little more involved, since you might need to use a cable, but most computers come with native applications to help facilitate the entire process.
Television Maintenance And Repair
In some cases, you can troubleshoot problems with your TV using either the manual that comes with it or any additional resources found online. If you're not sure whether you can repair it on your own, however, it's best to just call a repairman. Otherwise, it could end up costing you more in the end. We have some useful tips on how to fix a broken TV screen, but the process is involved, so be aware. OLED burn-in, on the other hand, is more a thing you can use some best practices to avoid.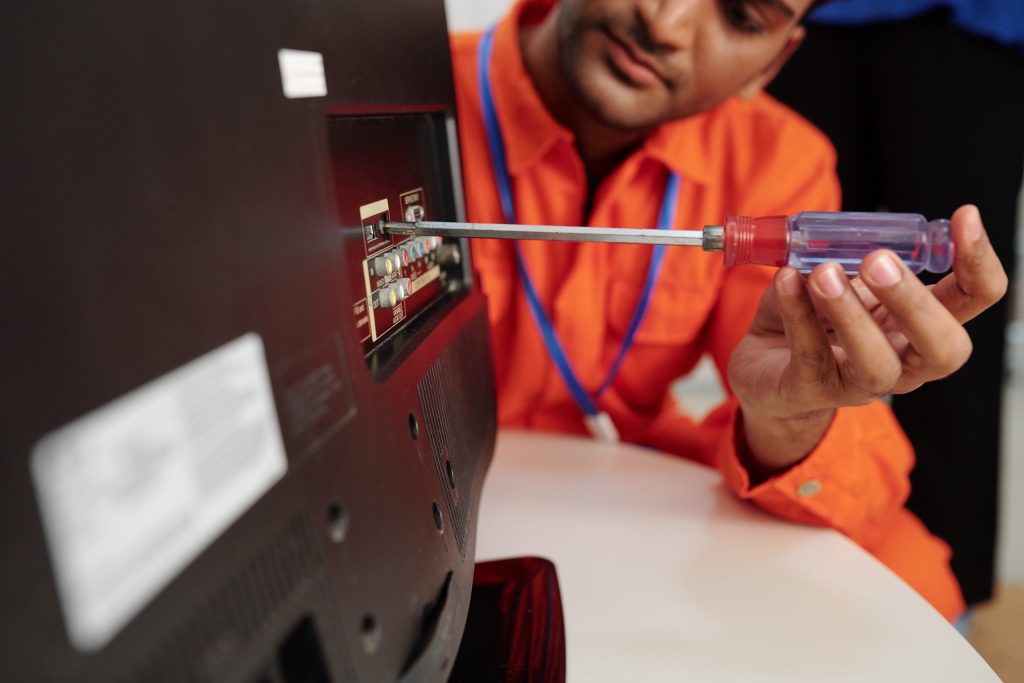 Calibrating Your TV
If you want to know how to calibrate your TV, it's easy! First, open your TV settings, and hover to the "Custom presets /User Mode" or "Cinema/Movie" preset. Next, disable all image manipulation features such as the Soap Opera effect or Black Frame Insertion. When you are done with TV calibration, you could activate these features to see their effect on the image quality. Adjust the contrast and brightness to get the maximum black while ensuring all the black bars remain visible. If you are looking to have a brighter image, it is best to adjust your TV's 'Backlight' setting.
insider tip
You may notice your TV has "Game Mode" – this feature speeds up the processing of video to reduce input lag and make playing games a much smoother experience. Make sure to turn it off when you're done gaming though, because it will also cut down your picture quality.