If you're in the market for the best digital SLR camera, then you want excellent image quality and a good selection of advanced features, such as continuous shooting mode, video capture, excellent autofocus, and built-in image stabilization. While DSLRs can represent a serious investment just for the camera body alone, they tend to be incredibly durable. You'll also find cameras suitable for professional photographers and entry-level models for beginners.
One of the most important things to consider is which accessories — if any — you want to use. If you're new to photography, you might consider a camera that comes with an accessory bundle. Otherwise, you'll have to confirm that any accessory you want is compatible with the specific brand and model of DSLR that you're planning to buy. This is especially true of lenses as most DSLRs are now designed to support interchangeable lenses but with a caveat.
Additionally, consider the type of DSLR you want and the image sensor size, which will impact the kind of photos you can take. Keep reading our best DSLR camera guide to learn more. And if you're still not sure if a DSLR is right for you, check out our best digital camera guide.
Top Digital SLR Cameras
#1 Canon EOS Rebel T7 DSLR Digital Camera
Award: TOP PICK
WHY WE LIKE IT: It is a Full HD camera that is very easy to use and allows users to share their pictures through WiFi and NFC technology. It also has a decent battery life. This may make it a great Canon DSLR camera.
Pros
Excellent options for media sharing
Easy to use
Decent picture quality in low light
The Canon EOS Rebel T7 camera has a 24.1 Megapixel sensor that delivers crystal clear image quality. Since it comes with built-in Wi-Fi and NFC, sharing media files is also very easy. The camera's optical viewfinder allows for up to 95% viewing coverage, and with support for remote shooting, owners will also be able to take pictures through the Camera Connect app on their smartphones. The camera is also pretty easy to use and can capture Full HD video at 30 frames per second. However, some might not be satisfied with its lack of support for 4K video.
The camera also takes pretty good pictures even in low light and comes with image stabilization to reduce blurriness when taking photos on the move. It has a nine-point autofocus system that works great in high-contrast scenes and a battery life long enough to sustain 600 shots per charge when using the viewfinder. Those who opt to use its Live View might have to be content with only 260 shots before the battery runs out.
#2 Nikon D5300 24.2MP CMOS Digital Camera
Award: HONORABLE MENTION
WHY WE LIKE IT: It takes a very short period to get ready for a shot and has a decent 500-shot battery life. It also comes with an onboard mic for stereo sound.
Pros
Impressive autofocus system
Features a built-in mic for stereo sound
Decent battery life
Cons
Live View autofocus is pretty slow
The Nikon D5300 is a 24.2 Megapixel Full HD camera whose stand-out feature is the 3.2-inch swiveling display that makes it perfect for self-shots. It has WiFi connectivity for easy file sharing and features a built-in GPS for automatic geotagging. Its focus is also pretty impressive since it comes with a 39-point high-density autofocus system that quickly locks into the subject. Touted as a fine Nikon digital camera and a favorite for the advanced beginner, the D5300 also comes with a built-in stereo microphone for decent audio and a battery that'll have it going for up to 500 shots. Still, some have complained that its Live View autofocus feature is very slow to use. With that said, you might want to compare cameras including the Leica Q (TYP-116) digital camera vs FujiFilm X100F, and see if these might be better for you.
As you'll find on most top-rated 3D cameras, the image quality on the D5300 is noticeably better than that of its predecessor, and with a start-up to shooting time of only 0.3 seconds, the camera is perfect for capturing spontaneous moments. Handling it is also quite comfortable thanks to the amount of room around the grip, and with a continuous shooting speed of 5 frames per second, its speed is pretty decent for both personal and professional use.
#3 Pentax K10D 10.2MP Digital Camera
Award: BEST FOR OUTDOOR PHOTOGRAPHY
WHY WE LIKE IT: It is dust, scratch, and splash resistant, making it ideal for outdoor photography. It also has a solid construction and is also easy to handle.
Pros
Very sturdy construction
Dust, scratch and splash resistant
Has a dedicated RAW button for reduced image processing
Cons
Difficulty when autofocusing in dim light conditions
The Pentax K10D is a 10.2 MP digital SLR camera with a 2.5-inch LCD display for Live View and features such as shake and dust reduction for taking good shots while on the move. The camera's continuous mode is capable of up to three frames per second, and since it is both scratch-resistant and splash-resistant, it'll be an excellent alternative for owners who want to take pictures and videos of their adventures outdoors without having to worry about whether or not the camera will remain in good condition. Unfortunately, previous users have reported difficulty when autofocusing in dim lighting conditions.
Although it was released in 2006, the K10D still has what it takes to deliver excellent image quality while also being pretty easy to handle. It also comes with a moving-sensor image stabilization system for shots in motion and a dedicated RAW button for users who would want to capture more detail in their photography.
#4 Canon EOS 5D Mark IV Full Frame Digital Camera
Award: BEST FOR PROFESSIONAL USE
WHY WE LIKE IT: It is excellent for professionals thanks to its high Megapixel count and advanced Autofocus features. It supports 4K video and supports both WiFi and NFC connectivity for easy file sharing.
Pros
Very high image quality
Has a touchscreen rear LCD
Supports 4K video capture
The Canon EOS 5D Mark IV is a premium DSLR that boats a 30.4 Megapixel full-frame CMOS sensor for vivid picture quality and comes with support for 4K Motion video at 30 frames per second. The camera's seven frames per second continuous shooting speed are nothing but superb, and its Auto Focus system does not struggle even in low light. Its got a large 3.2-inch display on its back for Live View, and since this is a touchscreen, using it feels a lot more intuitive. However, it does not have a built-in flash.
The 5D also comes with microphone and headphone ports and support for both WiFi and NFC connectivity for convenient file sharing. Its got a built-in GPS for geotagging and a customizable button that can be configured according to user preference for added convenience. Its viewfinder is also large and bright, and since its rear LCD screen has a very high resolution, images are sharp and concise.
#5 Nikon D3200 24.2 MP CMOS Digital Camera
Award: BEST FOR BEGINNERS
WHY WE LIKE IT: Aimed at beginners, it is pretty easy to use and features a pop-up flash for low-light photography. It is also very light and has a decent battery life.
Pros
Very easy to use
Decent continuous shooting speed of four frames per second
Has a pop-up flash
Cons
Build quality is not ideal for harsh weather conditions
Released in 2012, the Nikon D3200 is a capable DSLR camera aimed at beginners that features a 24.2 Megapixel sensor for high-resolution pictures and Full HD video. The camera has a decent continuous shooting speed of four frames per second, and since it has a pretty small size, handling it shouldn't be difficult. The D3200 is also ultralightweight compared to other models in its line and comes with a 3-inch monitor on its rear for Live View and movie capture. Still, its build quality does not allow it to withstand harsh weather conditions.
The D3200 features a built-in pop flash for improved lighting in low light conditions and allows for in-camera image editing. It has a built-in mono mic for sound capture and a 3.5mm stereo mic jack for private listening. Files can be transferred or shared through a USB or HDMI connection, and its battery will last about 540 shots or 270 shots with flash.
#6 Panasonic LUMIX FZ300 Long Zoom Digital Camera
Award: BEST FOR LONG DISTANCE PHOTOGRAPHY
WHY WE LIKE IT: It has a very impressive zoom capability, as well as a 3-inch touchscreen that is very easy to navigate. Image quality is also pretty good, and its array of settings allows for very intricate adjustments.
Pros
Very quick autofocus system
Supports 4K video capture
Varied settings for deep level of adjustments
The Lumix FZ300 from Panasonic features a decent 12.1 Megapixel sensor for good image quality and support for 4K video. Its highlight feature is its 24x superzoom lens, which is designed in such a way that owners won't even have to shoot in full sun or with high ISO settings for good pictures. Also, thanks to Panasonic's Depth from Defocus technology, it can accurately lock into a subject in motion at a very high speed. However, it does not have a headphone jack.
The FZ300 also boasts an impressive continuous shooting speed of up to 12 pictures per second, and since it also comes with a special 4K photo mode, owners will be able to enjoy the clarity that is brought about by added extras such as HDR for good color balancing. Its handheld night option is also great for minimizing both noise and blur, and on its rear, the camera has a 3-inch touchscreen that is also very user-friendly.
Beginner's Guide to DSLR Cameras
Understanding How a DSLR Camera Functions
DSLRs, or digital single-lens reflex cameras, utilize a variety of internal components such as a lens, reflex mirror, and optical sensor to capture images. The mirror reflects what the lens sees to the optical viewfinder, so you can capture exactly what you want. Once you press the shutter button, the mirror moves out of the way and allows light to hit the digital image sensor, which records the image and writes it to a memory card.
But, if you're interested in a mirrorless camera, read about the one in our Sony a7R IV review.
What Exactly is a DSLR Camera?
Simply put, a DSLR camera is a digital SLR camera. But what exactly is an SLR camera? SLR stands for single-lens reflex, which refers to how the camera uses a reflex mirror to reflect the lens's point of view through the viewfinder so you can see what you want to capture. SLR cameras use film to capture images, whereas DSLR cameras utilize an image sensor and memory card to capture images. DSLR cameras are sometimes also called interchangeable lens cameras.
Some additional questions to consider when looking at DSLR cameras include the following:
What does "full frame" mean for DSLR? Full frame refers to the size of the image sensor in your camera. Full-frame camera sensors typically produce sharper images with more detail.
What is ISO on DSLR cameras? ISO is a setting on cameras that indicates and measures light sensitivity. A low ISO is better for taking photos in bright environments, whereas a high ISO is better for low-light environments.
How Long Do DSLR Cameras Last?
DSLR cameras from most consumer brands will last anywhere between five and ten years with the proper care and usage. However, professional DSLR cameras can often last longer than that. There are a number of different factors that affect a camera's lifespan, such as how often you use it and whether you properly store it when not in use. You may also find that certain components of your camera wear out faster than the camera itself, such as neck straps, shutter buttons, etc.
How to Choose a DSLR Camera
Step 1. What Kind of Photography Are You Going to Do?
The type of photography you plan on doing can have a huge impact on the specific type of DSLR camera you purchase. The needs of a photographer shooting landscape photography on a large scale will differ vastly from a photographer shooting portraits at a close distance. The lens you purchase will also differ vastly depending on the type of photography you plan on doing. For example, zoom lenses are better for sports photography, whereas a fixed focal length lens is better for portrait photography. There is a wide range of lenses available today, so you'll need to do some research to understand what you need.
Let's take a look at some common comparisons between types of cameras and where a DSLR might be better:
Step 2. What Features Do You Want from Your Camera?
There is a huge range of digital SLR cameras available on the market today, with a wide range of different features and performances. The specific types of features you need your camera to offer typically rely on the type of photography you plan on doing, but they can also depend on personal preferences. Things like bokeh, ISO settings, shutter speed, and Wi-Fi can all change the overall quality of photos and user experience. When it comes to image sensors, you'll also want to compare medium-format digital cameras and full-frame DSLRs, as well as compare full-frame and DSLR cameras.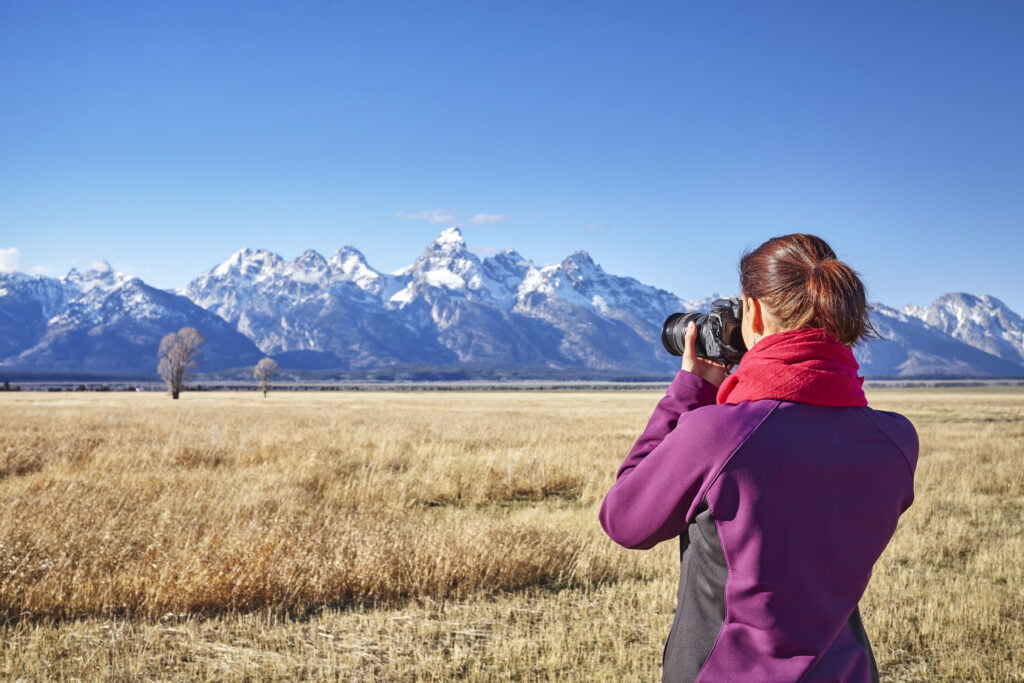 Step 3. Are You Going to Use Your DSLR for Video?
If you plan on using your DSLR for video capabilities, you'll also need to consider video resolution on top of the aforementioned features and functionalities. Although, should you get a DSLR or a point and shoot? It's up to you, depending on how you'll use the camera and the quality you're looking for. Plus, you'll want to know how to use DSLR for streaming. Most modern DSLR cameras offer a video mode with high-definition video recording capabilities, but many are starting to offer 4K, ultra-HD resolution video recording capabilities. However, if you're experiencing white screen issues with your device, you'll want to know how to fix a digital camera that has a white screen.
Step 4. Should I Worry about Lens Adapters and Mounts?
It's important to understand that from an out-of-the-box perspective, DSLR cameras can only work with interchangeable lenses from the same manufacturer that made the camera body. For example, Canon DSLR cameras only work with Canon lenses. Fortunately, with accessories like lens adapters and mounts, you can use all types of DSLR lenses from different companies on your camera body. What is a lens adapter, you may ask? These helpful accessories attach directly to the front of your camera body and make the lens mount compatible with a different brand. There are many types of camera mounts to consider, so make sure you do the proper research ahead of purchasing.
Step 5. Are Size and Weight Important to You?
Cameras come in all shapes and sizes, so you'll need to take some time to determine how big or small of a camera you're willing to purchase. If you travel a lot for photography, you may be tempted to purchase a compact camera. However, this isn't always the best choice. When you compare micro 4/3 and full-frame DSLR cameras, for example, you'll find that micro 4/3 cameras offer a smaller body but just as large an aperture as DSLR. However, a full-frame DSLR will still give you excellent image quality.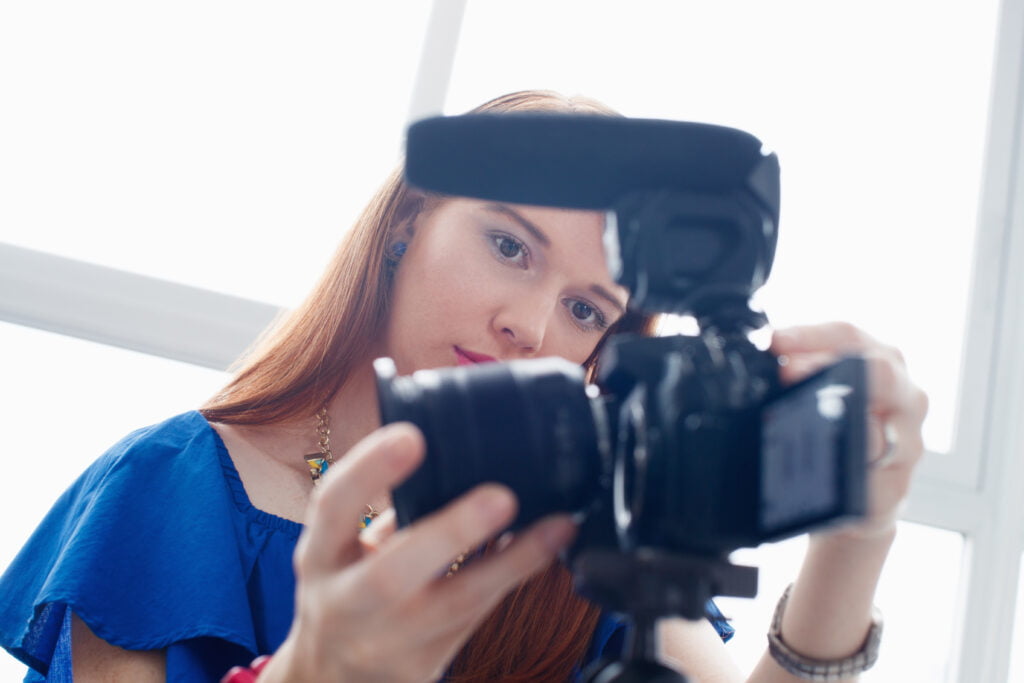 Step 6. How Are You Showing Off Your Photographs?
The way you plan on printing and displaying your photographs can help you determine which model you should purchase. Your DSLR camera's resolution determines how large of a picture you can print without losing image quality. So, if you have an EOS Rebel T100 cam, the resolution is exceedingly pleasant. If you plan on printing photos less than 11" x 14" in size, you'll only need a camera with a 12-megapixel resolution sensor. However, if you're planning on printing your photos in large sizes, you should consider an option with at least a 24-megapixel sensor or higher.
Step 7. How Much Should You Expect to Spend on a DSLR Camera?
As you start shopping for a new DSLR camera, there are a few different price ranges to consider. For entry-level models, expect to spend $500 or less. For mid-range models, expect to spend between $500 and $1500. For professional models, expect to spend thousands of dollars. You'll also need to consider the cost of additional lenses, camera bags, and more, which can cost you hundreds of more dollars. The high cost may cause you to consider purchasing a used DSLR camera. This can be a good option, but you'll need to understand the important things to watch for on used DSLRs before you buy.
You may also want to compare rangefinder cameras and DSLRs, compare phone and DSLR cameras, compare iPhone and DSLR cameras, and compare mirrorless and DSLR cameras to find the best deals.
Types of DSLR Cameras
DSLR Cameras for All Skill Levels
DSLR Cameras for Specialized Photography
STAT: Digital camera sales have dropped dramatically since the smartphone unless your camera has a detachable lens. Sales of such cameras (like DSLRs) have stayed consistent because their use is more specialized.
DSLR Cameras for Alternate Uses
Top DSLR Camera Brands
Owning a DSLR Camera
Using a DSLR Camera
If you've never used a DSLR camera before, you may be surprised at how easy it can be to get started. We recommend always reading through the user manual to get a good idea of how each button works and what they all do. You'll also want to familiarize yourself with the different shooting modes on your camera. If you're interested in advanced techniques, like turning your DSLR camera into a webcam, then understanding the fundamentals of your camera first is necessary.
Setting Up Your DSLR
Before you can properly use your DSLR camera, you'll first need to get it set up and configured properly. Make sure you charge the battery so you have plenty of battery life for your first session. You'll also want to attach the proper camera lens, select your shooting mode, and adjust the rear screen to your liking. Finally, take a few test shots and review the photo quality to ensure your settings are working, and then make any necessary adjustments.
You can also use the following links to learn how to set up your DSLR for specific scenarios:
Repairing a DSLR Camera
Knowing how to fully repair a DSLR camera is a difficult task and one that many people have chosen as a dedicated career. A DSLR is a complicated piece of electronics and machinery that requires years of experience and knowledge to repair correctly. However, some repairs can be performed on your own, which will save you money and effort in the long run. Repairing the lenses on your DSLR could be a simple matter of updating software or replacing the housing. Fixing scratches on your DSLR could be as simple as buffing it out with rubbing alcohol or a pencil eraser.
Cleaning a DSLR Camera
Keeping your DSLR clean is one of the best ways to maintain it for years. Cleaning the outside of your camera is as simple as wiping it down with a damp microfiber cloth. Cleaning the sensor on a DSLR is a little more complicated, and you'll need to open the mirror lock first through the camera menu. Then use a bulb blower to clear dust and a camera cleaning solution to clean anything else. To clean the lenses on your DSLR, use a lens-cleaning solution and a microfiber cloth. To clean the mirror on your DSLR, remove the dust with a bulb blower, then wipe the mirror free using a lens tissue or microfiber cloth.