Sony Adds New 10 Megapixel Camera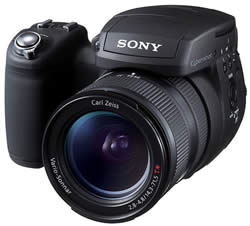 Come November Sony will add the Cyber-shot DSC-R1 10.3 MegaPixel digital camera to its line up. Apparently the camera uses a CMOS chip instead of a CCD, which supposedly offers a higher quality pic. The camera also features a 24mm – 120mm Carl Zeiss lens, a fold out 2″ LCD screen, a 1 second "shot-to-shot" time, and a battery life of about 500 shots. The camera supports not only Sony's proprietary format, but Compact flash cards, too. Sony plans to sell the device for around $1000.
CMOS: An emerging light sensor technology offered as an alternative to CCD (Charged Coupled Device). CMOS offers more dense light sensors per square centimeter than CCD and has a broader dynamic light range than CCD, thus it will yield more shadow detail and more highlight detail with less color distortion from uncontrolled light sources. As the technology matures, CMOS will eventually be less expensive to produce than CCD.
CCD (Charge Coupled Device): One of the two main types of image sensors used in digital cameras. When a picture is taken, the CCD is struck by light coming through the camera's lens. Each of the thousands or millions of tiny pixels that make up the CCD converts this light into electrons. The number of electrons, usually described as the pixel's accumulated charge, is measured, and then converted to a digital value. This last step occurs outside the CCD, in a camera component called an analog-to-digital converter.
Grew up back East, got sick of the cold and headed West. Since I was small I have been pushing buttons - both electronic and human. With an insatiable need for tech I thought "why not start a blog focusing on technology, and use my dislikes and likes to post on gadgets."