Is your favorite scene of the entire Star Wars franchise when Han Solo is frozen in carbonite in Episode V: The Empire Strikes Back? You're not alone if it is! It's definitely one of the most memorable moments of the entire Star Wars Saga. Now you can literally add your own Han Solo Frozen in Carbonite Life-Size Figure to your vast Star Wars collection. It'll be the ultimate item in your entire collection, trust us!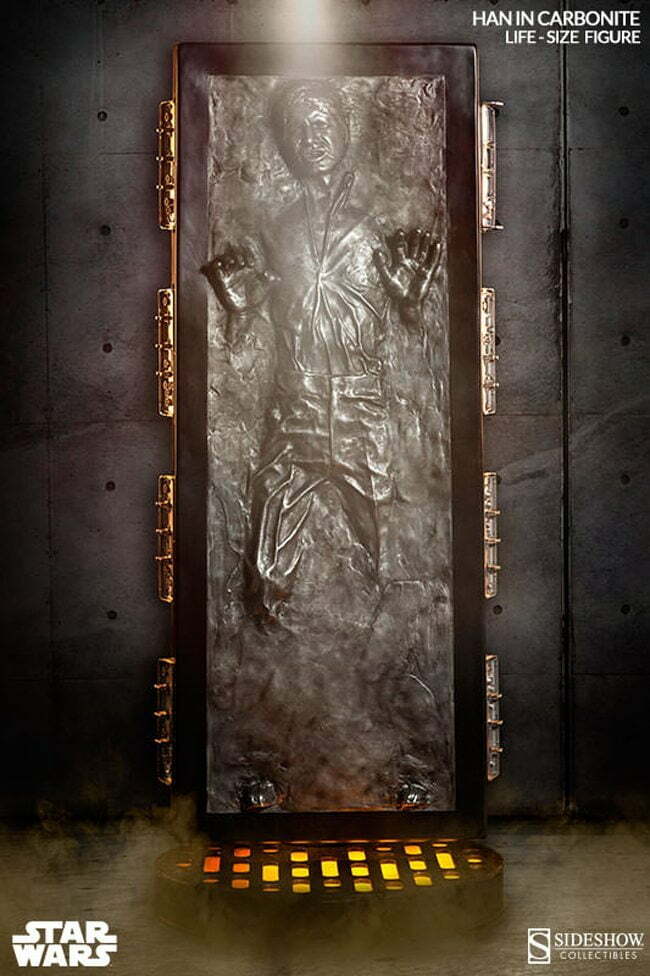 This massive life-size figure will be the envy of all your Star Wars friends, standing at 7″ 6′ (it's bigger than some NBA basketball players). The figure first made its debut at Comic Con and fans have eagerly been anticipating the release date of the huge figure. Made by Slideshow Collectibles, the replica seriously captures all the intricate details of the frozen smuggler with amazing realism. You can practically hear Harrison Ford whispering his last words, "I know." The figure is made with fiberglass and other high-quality materials, including film-accurate light effects in the base, side panels and rear power canisters – which all provide added authenticity to Solo's carbonite encasing.
Read: Best Star Wars Gifts
When it comes to your home, you'll have to put some of it together, but don't worry since it comes with full-color detailed instructions. Now for the big wow factor…the price. A collectible item like this won't come cheap. The Limited Edition figure goes for $6,999. That's a lot of money that can possibly buy you the entire Star Wars LEGO collection, but then again everyone else has that and not many will boast this gigantic thing. If you NEED to have it, Sideshow Collectibles does have a payment plan of $629 a month.