Based on our research, we found the best gaming headset to be the HyperX Cloud II; this excellent option provides a comfortable gaming experience thanks to memory foam ear cushions and a padded leatherette headband. The 53mm drivers deliver stellar audio quality in 7.1 Surround Sound, while the noise-canceling microphone makes your voice loud and clear. Best of all, the Cloud II works with most computers and game consoles. If you're looking for the set of best headphones to go with your best gaming console, take a look at this list to find what's best for you.
To find the best gaming headset, we identified the critical factors that lead to a great product, including each headset's sound quality, microphone, comfort, and durability. If you're gaming in a busy or loud environment, you may want to focus on a headset that has a microphone with excellent noise-canceling abilities, so it doesn't pick up any background noise. On the other hand, if your primary concern is comfort level over a long gaming session, we've got options for you, including headsets assembled with memory foam. Whether you game on a PC, Mac, PlayStation 4, Xbox One, or Nintendo Switch, we've got the best gaming headset for you. Keep reading to learn more about the best gaming headsets you can buy.
Top 9 Best Gaming Headsets
#1 HyperX Cloud II Gaming Headset
Award: TOP PICK
WHY WE LIKE IT: This excellent option provides gamers with top-notch sound quality thanks to its large 52mm drivers and integrated 7.1 surround sound abilities; it also features comfortable memory foam ear cushions and a leatherette headband.
Pros
Best for Playstation
Comfortable memory foam ear cushions
Works with PC, PS4, & Xbox One
Cons
USB sound card is lackluster
HyperX is a company that has made a dent in the world of gaming headsets; they provide consistent quality across their lineup of products. The Cloud II is no different from any other HyperX offering, as it delivers stellar sound quality thanks to its large 52mm drivers and integrated 7.1 surround sound capability. You'll love wearing the Cloud II headset with its memory foam ear cushions and leatherette headband — a perfect match for long gaming sessions.
The Cloud II is compatible with Windows PCs, PlayStation 4, and Xbox One, so you can jump between your favorite platforms and still bring your HyperX headset. The one thing we would like to see improved is the included USB sound card as it left a bit of quality to be desired. Overall, the HyperX Cloud II is our favorite choice for a gaming headset and is also the best gaming headset (PS4).
#2 ASTRO A50 Gaming Headset
Award: HONORABLE MENTION
WHY WE LIKE IT: It's an excellent wireless option that offers incredible sound and an exceptional mic; it features an edgy design with audio that has been fine tuned for gamers.
Pros
Incredible immersive sound quality
Audio fine-tuned for gaming
Flip-to-mute microphone
Cons
Expensive price tag for some
ASTRO Gaming loves to design edgy and angular products that look like they belong in tournaments. You need to know that it has incredible sound quality and the much-valued ASTRO Audio V2 tuner, which delivers premium audio that's explicitly fine-tuned for gaming. Spend some time tinkering with this headset if you want to customize your sound levels.
The ear cups are quite comfortable and eschew the "pleather" look that's so popular, which we found to be refreshing. The microphone uses leading technology for excellent, never-annoying communication and flip-to-mute functionality. The Astro also sounds great when listening to tunes, making it the best gaming headset for music.
#3 SteelSeries Arctis 7 Gaming Headset
Award: BEST WITHOUT WIRES
WHY WE LIKE IT: This headset delivers a premium wireless experience with lossless audio quality, so you'll never miss out on the details; it also features surround sound capabilities thanks to the integrated DTS technology.
Pros
2.4Ghz signal for ultra-low latency
S1 speakers reduce audio distortion
24-hours of battery life
Cons
Wireless headset requires recharge
SteelSeries delivers the Arctis 7, a wireless game headset, designed to keep you untangled from your setup. Equipped with a 2.4Ghz connection, you can ensure that your headset stays connected without worry or interference. Once the audio gets to your headset, it sounds excellent, thanks to SteelSeries' S1 speaker drivers, which have been engineered to produce ultra-low distortion.
The Arctis 7 also features DTS surround sound for immersing yourself in your game, and you won't need to worry about battery life thanks to the 24-hour run time on a single charge. That being said, a wireless headset will require recharging, a factor that may come as a negative to those used to always-ready wired headsets. Otherwise, the Arctis 7 is the best gaming headset wireless option. If you prefer to stick to Sony, take a look at the best PS4 headset too.
#4 Razer Kraken Tournament Edition Gaming Headset
Award: BEST FOR PROFESSIONAL ESPORTS
WHY WE LIKE IT: THX 7.1 surround sound and solid controls make this headset stand out; we also love the wild neon green coloring; it is our pick for the best gaming headset (Xbox One).
Pros
3rd party certified sonics for unparalleled accuracy
Razer neon green styling
Works well with Xbox One
Cons
Build quality is a bit flimsy
If you're looking for the best Xbox One headset with the looks to match, then the Razer Kraken Tournament Edition headset is for you. The Kraken features THX 7.1 surround sound and a retractable noise-canceling microphone that really puts this one ahead of the pack. Plus, the alien green aesthetics certainly don't hurt.
You get a great sounding headset, broad compatibility for different platforms, and some very admirable low latency. The mic is a little gimmicky, but I like how easy it was to switch between team and solo play modes. You will likely experience some pretty weak highs on the audio, and the lightweight build sometimes feels too flimsy, but these are relatively small quibbles for a headset that provides terrific sound. You'll be adding these headphones to your best gaming desk before you know it.
#5 RUNMUS Gaming Headset
We're sorry, this product is temporarily out of stock
Award: BEST FOR ELIMINATING BACKGROUND AUDIO
WHY WE LIKE IT: This option delivers solid performance and an eye-catching design, thanks to its built-in RGB lighting. What you won't be catching is unwanted background interference, thanks to the inbuilt noise canceling microphone.
Pros
Features pinpoint positional accuracy
Large soft leather-style ear cups
160-degree flexible microphone
Cons
No PC USB dongles included
RUNMUS has created a gaming headset that begs for your attention with its blacked-out design and integrated RGB lights, but this headset is more than style. It features 50mm neodymium drivers, allowing for detailed audio with pinpoint positional accuracy. The large soft leather-style ear cups also make for a comfortable gaming experience, and you can play your favorite PC games for hours without needing a break.
We also liked the inclusion of a flexible microphone that can bend up to 160-degrees for optimal placement. The star of the show is the excellent noise-canceling capability, which removes background audio to highlight your voice better. The only downside is that no PC USB adapter is included, so you will need a 3.5mm headphone and 3.5mm microphone jack for this to work on your PC. This may be the best wireless microphone headset that you can buy for gaming.
#6 ZIUMIER Z66 Gaming Headset
Award: MOST COMFORTABLE
WHY WE LIKE IT: You don't want to stop gaming because of an uncomfortable headset, and ZIUMIER makes sure you can game for a while with its lightweight design and breathable over-ear pads; it even includes a flexible headband with thick padding.
Pros
Lightweight design reduces strain
Breathable over-ear pads
Flexible, adjustable headband
Cons
Microphone picks up background noise
If you're looking for a headset that you can wear for hours without worry, look no further than the ZIUMIER Z66. This gaming headset is the most comfortable we have found, thanks to its lightweight design and breathable over-ear pads. The Z66 also features a flexible headband with thick padding that can be adjusted. We also like the addition of in-line controls for the headset, allowing you to easily change volume or turn on/off the microphone.
High-quality 50mm drivers power your experience so that you can immerse yourself in your favorite games. The only downside we found is that despite the ZIUMIER advertising the microphone as having noise cancelation, it does tend to pick background noise and thus may not be suitable for use in loud environments.
#7 VANKYO CM7000 Gaming Headset
We're sorry, this product is temporarily out of stock
Award: BEST ON A BUDGET
WHY WE LIKE IT: Powered by 50mm speaker drivers, this gaming headset delivers a powerful 7.1 surround sound experience. Plus, the included 2-in-1 split cable allows for wide compatibility with computers, game consoles, and handhelds.
Pros
Included controllerfor sound effect manipulation
2-in-1 split cable for widened compatibility
Volume control & mute on headset
Cons
Microphone quality could be improved
The VANKYO CM7000 headset offers a complete 7.1 surround sound experience for gamers, all powered by sizable 50mm speaker drivers that help to bring out detail and clarity. The included control pad allows for easy control over the surround sound feature, volume, microphone, and lighting. We also quite like the 2-in-1 splittable cable that's included in the box for broad compatibility with computers, game consoles, and mobile devices.
What we like most of all are the included volume controls and mute button, placed directly on the headset's side; they don't require you to fiddle around with finding a control pad on your headset's wire. . An improvement we would like to see is a better quality microphone, but it's hard to complain based on how great the rest of the CM7000 performs.
#8 Mpow EG3 Pro Gaming Headset
We're sorry, this product is temporarily out of stock
Award: BEST DURABILITY
WHY WE LIKE IT: The first thing you'll notice about this Mpow headset is its sharp industrial styling and LED lights, but the true attraction is the metal frame. Crafted from aluminum, you won't need to worry about this headset breaking on you any time soon.
Pros
Headband crafted from sturdy metal
Auto-adjusting headband
Modern industrial styling
Cons
LEDs cannot be switched off
If you need a gaming headset that could survive a potential battle zone, theMpow EG3 delivers with an extra level of durability. With a frame crafted from metal, the headset manages to be lightweight, yet strong enough to survive a bit of roughhousing. The auto-adjusting headband is also a nice touch, leading to a product that is comfortable to wear for hours at a time.
The modern industrial styling sticks out well among a sea of similar-looking headphones, and the LEDs create an interesting light show while you battle your virtual enemies. However, the LED lights cannot be switched off, and that factor may be a deal-break for some individuals. You will be definitely be adding these headphones to your collection of best gaming accessories.
#9 Beexcellent Gaming Headset
We're sorry, this product is temporarily out of stock
Award: EST AUDIO DETAIL
WHY WE LIKE IT: Coming in at an ultra-affordable price range, this headset provides a gaming experience that rivals more expensive options, thanks to its surround sound capability, built-in LED lights, and noise-isolation microphone.
Pros
High-precision magnetic drivers
Ergonomic soft earmuff design
Durable reinforced audio cable
Cons
Microphone isn't flexible
With the high prices of some gaming gear, you'll feel as though you need a credit check before purchasing. Beexcellent comes to the rescue with a gaming headset that is not only well-built but offered at an attractive price. The included high-precision magnetic drivers do a great job at bringing out detail, so you can hear key information, such as an approaching enemy, while gaming. The ergonomic soft earmuff design is also a nice addition, allowing for long gaming sessions that don't stress your ears.
We also enjoyed the inclusion of a durable, reinforced audio cable, so tears are less of an issue. We didn't love the rigid plastic microphone boom, which isn't flexible, preventing you from getting the mic perfectly distanced from your mouth. However, we still recommend the Beexcellent for its excellent price.
Beginner's Guide To Gaming Headsets
Whether you're a pro player or a casual gamer, a gaming headset can be a massive benefit to your gaming experience. In addition to increasing your immersion, a gaming headset will offer positional 3D audio that helps you locate enemies via sound cues. They also offer microphones so you can party chat with friends or communicate with your team. That said, there are many gaming headset features you should understand before making your final choice. For example, do you want a 3.5mm jack or Bluetooth connectivity? You'll also need to make sure the headset you want works with the console or computer that you have.
What Exactly Is A Gaming Headset?
A gaming headset is a dedicated system that relays audio signals from the video game playing on your computer or console to your ears. They come in both wired and wireless models. That said, you might wonder just how are gaming and computer headsets different? Well, the answer is pretty simple. Gaming headsets are made with extra features that heighten your gaming experience. For example, noise-canceling gaming headsets use microphones to detect ambient noise and counteract the frequency. This "cancels" the noise, letting you hear the game and chat audio more clearly. Conversely, computer headsets cater to a more general audience.
Why Should You Use A Gaming Headset?
Are you a gamer? Then you need a gaming headset. These devices not only provide superior audio overall but also higher clarity for chat audio. A lot of gamers use them to up the ante in every match, especially if their headset can make use of spatial audio or surround sound.
Wearing A Gaming Headset Correctly
In a nutshell, knowing how to wear a gaming headset correctly helps protect you from all kinds of problems. The most common issue many people experience is pain or discomfort around their ears, which can be alleviated with a good fit. Of course, wearing them properly will not only be easier on your ears, but it'll also provide excellent sound quality and increase their longevity.
How Do Gaming Headsets Work?
Gaming headsets work the same way other headsets do. An audio signal is sent from your console or computer to the drivers in the ear cups that translate it into audible sound. The most significant difference between gaming headsets and standard models, though, is in the features they provide, like spatial audio and a built-in microphone. And if you're wondering do gaming headsets use the same signal as Wi-Fi, the answer is yes! Many models use a 2.4GHz Wi-Fi connection — rather than Bluetooth — to connect to your gaming console or computer, in large part because audio over Wi-Fi is far superior.
Properly Storing A Gaming Headset
The best place to store your headphones is right on your desk. Some desks come with built-in hooks, but if not, you can install some or buy a headset stand. Whether you decide to hang it on a stand, simply set it on your desk or place it in the storage bag some headsets come with, make sure you keep your headset away from something that could fall on it and break it.
How Long Should A Gaming Headset Last? We want our gaming headsets to last, and this is especially true if you've invested in a premium brand. While entry-level headsets may only last six months to a year, models for audiophiles should last much longer. A premium gaming headset should last 2 to 3 years on average. You can squeeze in 5 to 7 years if you perform regular maintenance. To get your money's worth, make sure to clean your headset and replace the earphone pads every six months or so. Of course, just like any electronic device, you'll have to replace your headset eventually. Still, the better you treat your headset, the longer it'll stay around.
Choosing A Gaming Headset
Step 1. What Is The Right Headset For Your Hardware?
The best gaming headset should be versatile in terms of what it will connect to. If you're a gamer with multiple consoles, you'll want a headset with various connection options. While the world is becoming increasingly wireless, a premium pair of headphones let you choose whether or not to cut the cord. Most brands allow you to use a wired or wireless connection. Currently, the most common wireless headset connection is via Bluetooth, which means they can also connect to your mobile phone. Still, some game consoles require an additional USB dongle for wireless headphones to work. Of course, modern game controllers usually have 3.5mm audio jacks, so you can use a wired headset without being tethered to your game console.
Pick A Headset Based On Hardware Compatibility
Unfortunately, not all headsets are plug-and-play. Sometimes, a gaming headset only works with a specific console. For example, both Sony and Microsoft offer models that only work on their respective games consoles, so PlayStation 4 headsets aren't interchangeable with Xbox One headsets, for example. In addition, some USB gaming headsets will only wirelessly connect to a console when using an additional USB dongle. As for wired headsets, most will work with the 3.5mm jack in a PC or game controller, but some will lose features when connected via an audio jack. Lastly, if you want your new headset for a surround sound audio experience, make sure it is compatible with Dolby Atmos or DTS.
Step 2. What Type Of Connector Do You Want?
Although the connectors we use change over time, the 3.5mm audio jack still has a place in the headphone market. That said, modern gaming headsets can form a wired connection in a variety of ways, whether it's via Bluetooth, USB-C, or 3.5mm analog connectors. Take inventory of your devices and see which connector type you'd benefit from most. We recommend comparing USB and 3.5mm gaming headsets, as they're the most widespread and easiest to connect to your computer.
Step 3. Do You Want Stereo Or Surround Sound?
A stereo gaming headset offers left and right audio channels. While stereo will give you an approximation of the game world, headsets with surround sound give you proper spatial awareness. While some game consoles require additional software licenses for Dolby Atmos or DTS, most experts agree that the extra cost is worth it for the increased immersion. Compare 7.1 gaming headsets and stereo headsets and see which are more attractive to your budget. We'll say, however, that the positional audio from 7.1 headsets is excellent for giving games more immersive audio.
Step 4. Do You Want A Wired Or Wireless Gaming Headset?
The convenience of a wireless world is hard to argue with, and that's especially true with headphones. Choosing between wired and wireless gaming headsets comes down to what you value. Modern wireless connectivity creates solid sound over Bluetooth and keeps you from getting tangled in cords. However, you can still find RF headsets instead of Bluetooth ones, which have slightly different setups. That said, you may want the convenient plug-and-play, battery-free wired gaming headset. Also, consider a headset that has wired and wireless connectivity, which allows you to change on the fly.
Fake leather ear cups don't breathe, but real leather and fabric ear cups do. If your ears get hot easily, or you live somewhere with hot weather, keep this in mind!
Step 5. What Comfort Features Do You Want?
While headsets are meant to be one-size-fits-all, there are times we need additional comfort. Look for a model with adjustable straps and a lightweight design, which help alleviate gaming headset clamp. In addition, consider what material your earbuds or headphone cups are made of. Lastly, you want customizable earphone cups, so you can swap them out over time. Finding the right ear cup material is a crucial step in finding the perfect gaming headset. You want a headset that features a comfortable design but is sturdy enough to stay in place, and you want to compare over-ear and on-ear cups.
Step 6. Do You Want Detachable Cords?
The worst thing about wired headsets is the added clutter from cords. Thankfully, manufacturers have created headsets where the audio cable disconnects from the base unit. This potentially allows for wireless connectivity, but at minimum, you'll be able to store your headset in a more aesthetically pleasing way. Detachable cords are also extremely useful in speeding up repairs. If your cord tears or kinks, you can simply swap the cord out instead of losing the actual headset if you have to RMA it.
Step 7. What Other Features Are You Looking For?
Sometimes, you need more than a plug-and-play experience from your gaming headset. While most models can handle game audio and voice chat, you may want higher quality. For example, if you plan on watching movies or listening to music, you want to consider a headset focused on sound quality and compare open and closed back headsets. If you use your headset to record, you might want to consider one with voice monitoring tech. For the streamers out there, you may consider headphones and buying a separate standing mic.
Step 8. Are You Considering Alternatives?
Gamers want a gaming headset, but is that the best choice? There are other types of headphones that don't fit the gamer aesthetic but still deliver fantastic results for audio, which makes comparing headphones and headsets for gaming worth it. While sometimes non-gaming headsets skip on features like mute buttons and audio mixers, you still may find fantastic value outside the gaming sphere. Compare gaming headsets and office headsets, for example, and you might be surprised! Also be sure to take a look at using headphones and a microphone and compare it with just a headset. These setups are good if you've got room in the budget and want to invest in a good pair of cans and a good recording mic.
Step 9. Do You Need A Soundcard For Your Headset?
A soundcard is a necessary part of your computer that lets it turn digital signals into sound. Most modern computers include an integrated soundcard in the motherboard. Although some headsets connect through USB and don't necessarily require one, all other models require a soundcard to process any kind of audio or mic signals.
Step 10. How Much Should You Expect To Pay For A Gaming Headset?
For a basic gaming headset, expect to pay a rather reasonable $40 to $60. That budget price should net you a wired stereo headset for game audio with a mic for chat. The space from budget to premium features a slowly expanding set of features, increases in audio quality, build quality and microphone quality, and peaks in competitive price-to-performance ratios around $80 to $100. If you want more premium wireless headsets with features like noise-canceling and audio mixing, expect to pay a premium price, usually between $150 and $200. The most expensive headsets have features like Dolby Atmos support and dual connections so you can listen to game audio and phone audio simultaneously.
Types of Gaming Headsets
Gaming Headsets By Feature
Gaming Headsets By Platform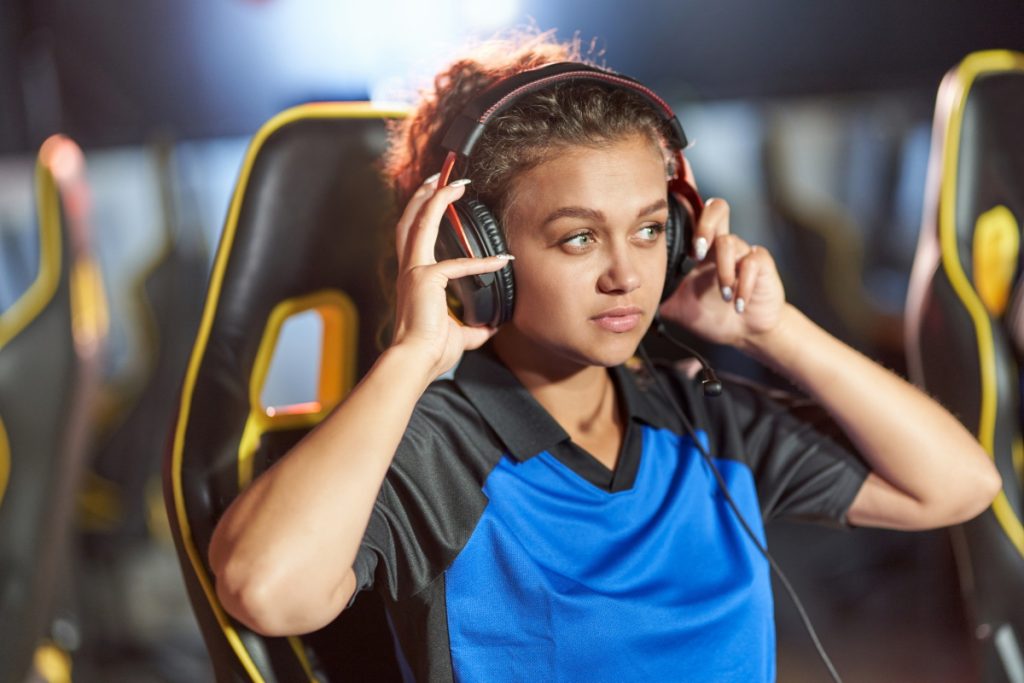 Game Specific Gaming Headsets
Gaming Headsets By Type
Gaming Headset Alternatives And Accessories
Top Gaming Headset Brands
While brand name isn't everything, there's no doubt different companies specialize in certain features. For example, if you're looking for excellent noise-canceling, you may consider Bose or JBL. If, instead, you want a feature-rich headset for gaming, look for a cheaper and less-established brand. While legacy audio brands offer great headsets, you may wish to have the "gamer aesthetic." For RGB lighting and streamer-specific features, you may consider brands like Razer or Alien. The gaming headset industry is very competitive, and each company offers slightly different value propositions. There's no wrong brand, but you should investigate them all to find the right fit.
Owning A Gaming Headset
Purchasing your headset is only the beginning. While top-tier gaming headsets are user-friendly, some models require extra configuration for the best results. For example, each platform, be it PC, android, or console, requires its own steps to connect to peripherals. In addition, once connected, you'll want to familiarize yourself with the ins and outs of how to operate it. Knowing how to use your gaming headset will result in better gameplay and maximum immersion. For example, most headsets have EQ settings and buttons for independent mic control. Lastly, you should know how to troubleshoot fundamental issues to keep your headset around for longer.
Setting Up Your Gaming Headset
Setting up your headset for gaming takes a few adjustments to audio settings. Ensure that you have an audio cable compatible with your gaming system of choice, such as when you set up your headset for your xbox. From there, all you need to do is plug in your headset and adjust volume sliders and other aspects to fit your preferences. If your headset doesn't have a splitter, you can check out our guide for how to setup a gaming headset without a splitter.
Configuring Your Gaming Headset
The initial setup for your gaming headset is the most essential part of getting great sound. Once you've connected it to your device, your next step will be to make adjustments in your PC or console settings. For example, some headsets have EQ adjustment software and microphone settings. Look into adjusting the sensitivity of your headset so you don't have your mic peaking constantly when you speak. However, if you find that your microphone is instead too quiet, you may need to increase the gain. If you can hear yourself speaking through your own headset, like an "echo", and don't like it, you might want to disable your headset's voice monitoring.
Peripherals can be weird when it comes to where they work and where they don't. Checking compatibility is never a bad idea when you're looking for a gaming headset. You never know when that USB headset you're eyeing might not support your device of choice.
Using Your Gaming Headset
There's more to using your headset than just unboxing it and turning it on. While using a gaming headset isn't difficult, there are slight differences across different platforms. You should familiarize yourself with how your headset works and how to pair it with the devices you own, such as using it for your PC, using it for your Xbox One, using it for your PS4 or using it for your Switch.
Cleaning Your Gaming Headset
If you were wondering how to clean your gaming headset, it's quite easy! As you use your headset, the headband and earcups will get dirty, but cleaning them needs little more than a cloth and soapy water. Simply wipe down your headset and take care not to get the cleaning cloth any wetter than slightly damp. Ear cups can be wiped down if they're made of vinyl or leather, but if they're made of mesh or cloth you'll have to run them through the wash.
Proper Care For A Gaming Headset
Caring correctly for your headset keeps audio going strong for years to come, so taking good care of your gaming headset is very important. Clean your headphones regularly, using isopropyl alcohol or a brand-recognized cleaning solution. Inspect your earpads regularly for tears and keep them cleaning. As you use your headset, the ear pads will wear out and tear, indicating it's time to replace them. If your headset uses batteries, you'll need to eventually replace the batteries when you headset stops holding a charge, even if they're not normally replaceable. Make sure you keep your cords in order as well. You don't have to wind them up when you're using your headset but you should be mindful of where they are so you don't tug and pull on the cords.
Troubleshooting Your Gaming Headset
To test gaming headsets, you should run a few different tests. The first is to make sure the headset correctly connects to the gaming platform you're using. If you're connecting wirelessly, keep in mind that you might see issues with latency crop up, and that may require you to move closer or reconnect the headset. Ensure that you enable 3D audio to get the best positional sound possible. Listen to the sound coming from your headset and see if you need to remove background noise coming in from your microphone. After this, check the microphone and see if it's working correctly. If your headset mic and headphones aren't working, we have some handy troubleshooting tips that can help. Getting in front of these issues will keep your headset from breaking before its time.
Repairing Broken Gaming Headsets
The first thing to do is check if a warranty exists on your headset. If not, you can proceed with some of our guides for how to repair your gaming headset. Troubleshoot the problem to see what's happening with your headset, such as whether it's a problem with the headphone jack or signal wire. If you need to repair a broken gaming headset plug, you'll need to cut the old one off the headset cable and then use a soldering iron to attach the new audio jack. Similarly, if you have nicks, small tears, or even a totally severed wire, replacing the cable on your gaming headset will require stripping and soldering. If you have mic issues, some gaming headsets allow you to replace the microphone. These models have a mic that plugs into an aux cord, allowing you to pop them out and easily plug in a new one.
Improving Sound Quality With Headphone Amps
A sound amplifier is attractive for a couple of reasons. For one, many amps are also DACs (digital-to-analog converter) which means the unit processes audio signals for you and provides generally better-quality audio than using your computer's onboard DAC. Amps also boost the actual sound output for your headset, meaning your headset can get really loud, so you can keep it at a lower overall volume without sacrificing detail.
You can use gaming headsets for work. They'll work just fine for taking calls.
Making Your Gaming Headset More Comfortable To Wear
If your headset is clamping or sitting weird, we can help you make your gaming headset more comfortable. The first step can also help with making it easier to wear a gaming headset with glasses: adjust your headband width and the height of your earcups. The headband of the actual headset is where the majority of the weight is meant to sit. If your headset is clamping, you may need to widen the headband a bit and flatten it out with a stack of books or a large mannequin head – but only try this if your headband is made of a material that isn't brittle. If you've got long hair and it keeps getting caught in your gaming headset, you can place your headband and the adjustment sections in a sleeve of cloth. A soft pair of long socks, cut down to look like a simple tube of cloth, can do the job.
Disposing Of Your Gaming Headset
In most cases, it's okay to throw your old or broken gaming headset in the garbage. That said, it isn't necessarily the best choice, especially if your headset has an internal battery. Instead, experts recommend taking your old e-waste, along with your broken headset, to a recycling center or e-waste collection site.