There was a time when a high-definition monitor and a large monitor were two separate issues to consider: you bought a monitor that had one of these attributes only because the price would otherwise be astronomical. That was then — now we've 24-inch monitors which cost less than an Apple iPad, while giving you a much larger canvas to work on. Which is why our best gaming monitors under 200 is a great read by the way. You know what else is a great read? Our review of the best computer monitors.
Case in point: Viewsonic's 24-inch VX2460h-led monitor. $292 retail gives you a full 1080p image set in a 16:9 configuration. That's killer right there.
But there's more to the VX2460H-LED monitor than just affordability, a large screen and 1920 x 1080 pixel high-resolution (as if that wasn't enough!). This model is an updated version of one that had similar features, but here they've been adapted a bit to make the bezel even thinner. In fact, you can pick it up with one hand, easy. That's good because you do have to attach the base — although you won't have to worry about tilting or swiveling it because that's out of the question. The base, by the way, is the easiest to attach that I've run across in a long time: partly because the monitor is light enough for gripping upside down with one hand while attaching the single nub into the already-attached stand on its back. A few simple twists tightens the nub and that's the end of it.
Another reason for the lightweight nature is that the power supply is external — and it's much smaller than what most are used to. That makes it very portable, should you be wanting to take the VX2460h-led from one computer to another or even in the car for a joyride (but cover the screen if you do that, ok?). There used to be a time when few would consider a 24-inch monitor "portable" but those days are long gone.
Related: If you like this monitor, take a look at our ViewSonic VX2478 SMHD frameless widescreen DisplayPort review.
Since there's two HDMI inputs (that's unusual, although the VGA also there is not), I'll plug one into my Mac Pro, but connect my Dish Satellite receiver's HDMI output into the other. The reason for doing this is that I'm curious to see how good a TV picture I can get — keeping in mind that the monitor is not being sold as a "TV monitor." What I notice is that the TV image isn't as sharp as it could be — and that's regardless of whether I'm playing SD or a high-definition picture. I tooled around the menus (more on that in a bit) but this continued. But when I ran a TV signal through the Belkin @TV Plus into the Mac Pro later, the image on the monitor looked good. So it seems fair to say that this monitor is not really designed for use as a stand-alone video monitor, but to be used as, well what it is — a monitor for a signal being generated from a computer.
Related: Also check out our ViewSonic VX2457 MHD review.
Now since Viewsonic says the VX2460h-led monitor is both PC and Mac compatible, just like other ViewSonic's including the ViewSonic VX2252MH 22 Full HD LED display. I'm expecting an easy ride through the Monitor setting in my Mac's Preferences pane. It is. My Mac sees the VX2460h-led Monitor and I've a usable image from the get-go. And for those who prefer such things, there's a "Wizard" disc to use that can take care of the settings on a PC: good use here is getting the "Timing" speed to be correct as regards the resolution in play. As for Mac users, forget the provided program as it's PowerPC-based (sheesh).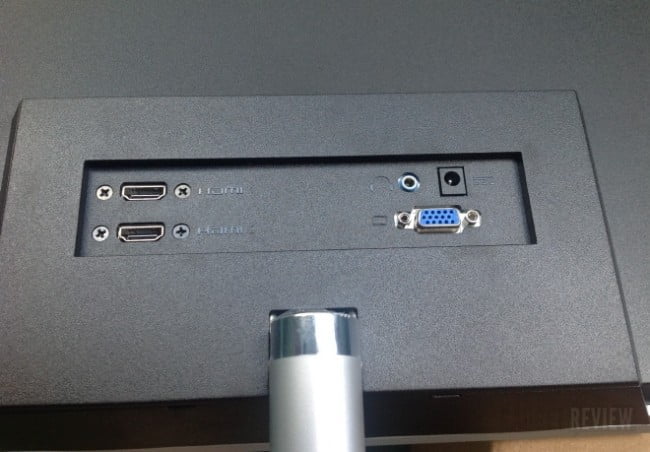 The Menus are similar to previous models and, in general, you won't find anything out of the ordinary: adjusting the colors, the aspect ratio, the brightness level, etc. Are all there. The addition of a manual adjustment for image characteristics is something that a few users will find worthwhile: most won't need it but you can't do something if it's not there in the first place. So be glad for this, power users. And there's a factory reset if you end up bumbling too much and need to start from "scratch" (since Viewsonic gives you a default to work from). None of this will come across as new to pretty much anyone who has ever fiddled with a computer monitor, such as selecting different color temperatures to affect the image (I tend to prefer the cooler white 7500K as my home office is situated against a bank of fluorescent lights). Manual adjustments are also possible, but I suggest using the manual fine-tuning with great care as it's easy to screw things up here. In most cases, the auto image adjusts function will do the trick. I also should note that if you decide to change the power consumption mode (which affects the visual illumination of the image being monitored) to a lower setting than Standard, that you go back into the menus and readjust all the settings. And believe me, it never hurts to go analog and write down the settings on a piece of paper for your records in case things go horribly awry.
But I'm less than pleased with the control buttons on the monitor — they're touch-sensitive and placed at the front for easy access, but — there's no nub to identify when you're pressing at it correctly. So you have to double-check the lightly-printed icon to be sure your finger is at the right place. This is not my favorite way of doing things.
Now I will say this once and mean it twice: dynamic contrast is a crock. The real contrast of a monitor is what's given — talking about how it can be raised hundreds of thousands of points seems nonsensical to me (Viewsonic says the dynamic contrast ratio is 40,000,000:1– as in forty million). The 1,000:1 contrast ratio that the Viewsonic puts out is more than adequate for everything that is going to wash over the screen and will give you better than expected blacks (a dimming function helps with this). Still, like in all things, personal preferences rely on adjustments being made.
Now I'm used to monitors with quick response time — hey, when was the last time you actually saw a mouse "trail" on a monitor? The 2ms response time of the VX2460h-led monitor is more than fast enough to keep up with what is on the screen and I didn't see any time where an image seemed to smear or choke up.
However, monitors that don't choke up on image quality have OLED capabilities. So, you'll want to know where's the best place to buy OLED computer monitor, especially if LED isn't doing it for you.
I ripped some DVDs and tried playing them — having already verified that HD digital files come across in the expected high-resolution. But what might surprise some is that, while LED technology is far superior to LCDs when it comes to color purity, it also presents black and white quite handily. My example is the first season of the Get Smart TV show. No complaints running the recently released standard-def Get a Life (Chris Elliot) color series either — the 4:3 aspect ratio was centered on the screen and looked good despite its age.
Editor's Rating:
[rating:4/5]
Great
Bottom line: The Viewsonic VX2460h-led monitor sets up easily, performs well and costs under $300. Those looking for a bigger view for their primary monitor — or needing plenty of space in a second monitor — will find both value and usability here.
Pros
Anti-glare panel surface
Monitor reboots automatically after a power failure
Audio output for use with HDMI input
Cons
No indentations on bezel for quickly locating the front-mounted touch controls
Disc-based "Wizard" for Macintosh computers outdated
Related Articles: