To determine the best self monitored home security system with cameras on the market, we spent over 100 hours researching and testing the top rated professionally monitored and self monitored systems available to consumers today.
Need help? Dial 844-263-9655 to speak with a live Frontpoint customer service rep who can answer all of your questions.
And after extensive testing, our #1 pick for the best home security systems is Frontpoint. Frontpoint not only offers all the best and latest security features a family would want, but includes 3G connectivity in the event the land line is cut, HD cameras, glass break sensors, top rated customer service, ultra easy installation and a 3-year warranty on all the best equipments.
Top 5 Home Security Systems 2023
#1 Pick

Frontpoint Security System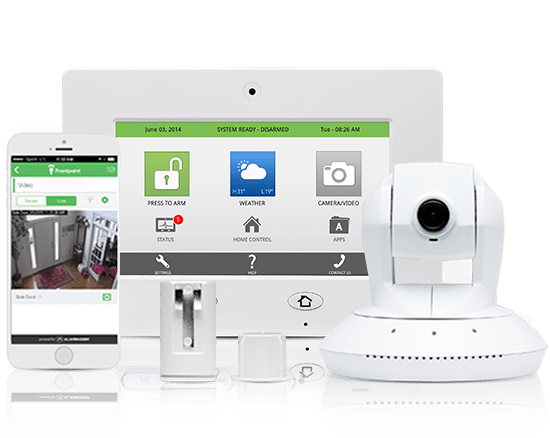 Price: Check Price | Read Full Review: FrontPoint Home Security Review | Features: Intuitive DIY setup, 30-day trial, smoke and heat monitors
WHY IT'S A TOP PICK: An extremely simple setup process and stellar customer service set FrontPoint head and shoulders above the rest.
Need help? Dial 844-263-9655 to speak with a live Frontpoint customer service rep who can answer all of your questions.
Across the board, Frontpoint is our number one choice for the best security systems of 2023. It has great ratings with Consumer Affairs, Yelp, and Angie's list, and the features offered by this security system are so spectacular, it's hard to list them all here. Get more security features to protect your home, especially if you live in Vegas with our best home security in Las Vegas.
Its smoke detector monitors a sharp rise in the temperature of the room and smoke associated with fires. Moreover, its carbon monoxide detector will keep you and your loved ones safe from harm. Additionally, the Frontpoint system offers "Crash And Smash" protection, utilized through Alarm.com. This means that even if someone breaks in and smashes the GE Simon XT control panel, the alarm system won't stop working—once the active sensor has been activated, the monitoring station is alerted.
But, what makes Frontpoint home alarm system really stand out from the competition is not only their excellent customer service, and streamlined setup process that's been honed to a T. They have also perfected the art of blending a 100% wireless and cellular connection, which means that regardless of if the landline is down, the system can still send a distress call to authorities, making it the top-notch home security system of 2023.
In addition, you can easily connect to quality home automation equipment, allowing you to have command over your door locks, thermostat, and lights. And if for some reason the alarm goes into a "not responding" state, Frontpoint will send an alert to your device.
The Frontpoint home alarm system is relatively inexpensive because it is a DIY device, which means no installation fees. Although Frointpoint does not offer a lifetime warranty on their equipment or a two-way intercom, they still remain our number one choice because we know their customer service is equipped to help you troubleshoot any problem you may have.
Pros
Amazing customer service
Smoke and heat monitoring
Carbon monoxide monitoring
Customizable alarms
100% wireless home surveillance
Pets under 40 pounds will not trip the alarm
Live streaming to your device
30-Day Risk-Free trial
Automation capabilities
Opt-in Geo Services
"Crash and Smash" protection
DIY system
Compatible with smart locks
A rating from the Better Business Bureau
Cons
No snapshot pictures or recording available
Monitored outsourced though one company (Rapid Response)
2-Way intercom not available
Contract must be at least three years
Doesn't work if you live in a rural area with no wireless reception
Only a 3-year warranty
Service isn't offered in Las Vegas, NV; Henderson, NV, and Quebec, Canada
#2 Pick

Protect America Home Security System
Price: Check Price | Full Review: Protect America Home Security Review | Features: No upfront cost for equipment, smash-and-crash protection, HD camera
WHY IT'S A TOP PICK: Protect America is a budget-conscious home security option – with a catch.
Need help? Dial 888-305-0244 to speak with a live Protect America customer service rep who can answer all of your questions.
Protect America isn't necessarily the "best" choice for anything really, but what it does it does well, with an interesting pricing structure that's unique to this industry to back it up.
See, unlike most home security solutions on this list which may have some kind of activation fee or upfront cost for equipment attached to their overall price, Protect America adopts a more "Netflixian" model, where everything you need to get started is included right in the subscription cost. If you want another subscription-based security system but live in Atlanta, you can visit our guide to the best home security system in Atlanta.
The company has three tiers of subscription, which all come with varying amounts of equipment depending on the size of your home. The $19.99 baseline option comes with 3 door/window sensors (more than enough for an apartment or 1-bedroom home), 1 motion detector, and the control panel. The options and available equipment go up from here at $37.99/mo and $42.99/mo respectively, but no matter which package you go with you'll never be expected to cover the upfront cost of getting the equipment or installing it in your home (except the $99 flat charge for the control panel).
The catch is that of all the subscription models here Protect America has the lengthiest contract to lock you into: 3-years, minimum. If you know you're going to want to keep your home security solutions around for awhile this is a good option, but for the more transient buyer, a 36-month commitment could push the boundaries of acceptability.
Pros
No activation or installation fees
Lifetime Warranty
Little upfront cost for equipment
Easily to relocate with the help of Velcro backing
Backup 3G network
HD camera has great quality
Integrates with Alexa and home automation software
Great customer service
Money back guarantee
Cons
Not many equipment options
Three-year contract commitment is lengthy
No glass break detectors (Update: they now offer Glass Break detectors)
#3 Pick

LiveWatch Security System
Price: Check Price | Read Full Review: LiveWatch Home Security Review | Features: Android-enabled touchpad, image and motion sensing, Crash-n-smash protection
WHY IT'S A TOP PICK: Live Watch makes it simple for you to protect your whole home from the comfort of your smartphone.
From what we've been told, Live Watch will offer a Lifetime Warranty on their equipment. But you'll need to ask. Unfortunately, we don't have any additional info at this point, but we are waiting to hear back from a rep.
Previously known as SafeMart before 2013, if you like DIY systems, LiveWatch may be the perfect home security system for you. One of the reasons LiveWatch made it to our top five is because it's an all-wireless system, which are more affordable than other home security monitoring services.
LiveWatch provides less pricey monitoring services than other home security systems, yet charges more for equipment. But, in the end, this tradeoff is more cost-effective. There are four monitoring packages ranging from $19.95 to $49.95, and every package includes a connection to up to 40 detectors, sensors, and smart home appliances to tack on.
Related: Canary Home Security Review
Other than the affordability of LiveWatch, what sets them apart from the competition is that the system allows you to monitor your children or family members with medical conditions. It also has its own original feature, called an ASAPer, which may be key to keeping you and your family safe.
In case of an emergency, the ASAPer sends rapid notifications to the contacts of your choice all at once, instead of one at a time like other home alarm systems. LiveWatch is a leader in "Plug and Play" devices, and these devices offer both the ASAPer function and "Crash and Smash" protection. LiveWatch is rapidly gaining notability as a privately owned security system company, and there's no wonder why when it offers all of these great features, which is why it made it onto our list of the best home security systems of 2023.
Pros
Foolproof setup process
Lifetime Warranty (you must ask for this)
Nest integration is enabled
Performance was solid during break-in scenarios
Mobile app is missing functionality
Self-installation only
Cons
Expensive to buy additional equipment
Minimal equipment included
Website isn't super user-friendly

Confusion around the consistency of the LiveWatch brand name

2-year warranty (but we hear if you ask, they'll offer a lifetime warranty)
#4 Pick

SimpliSafe Home Security System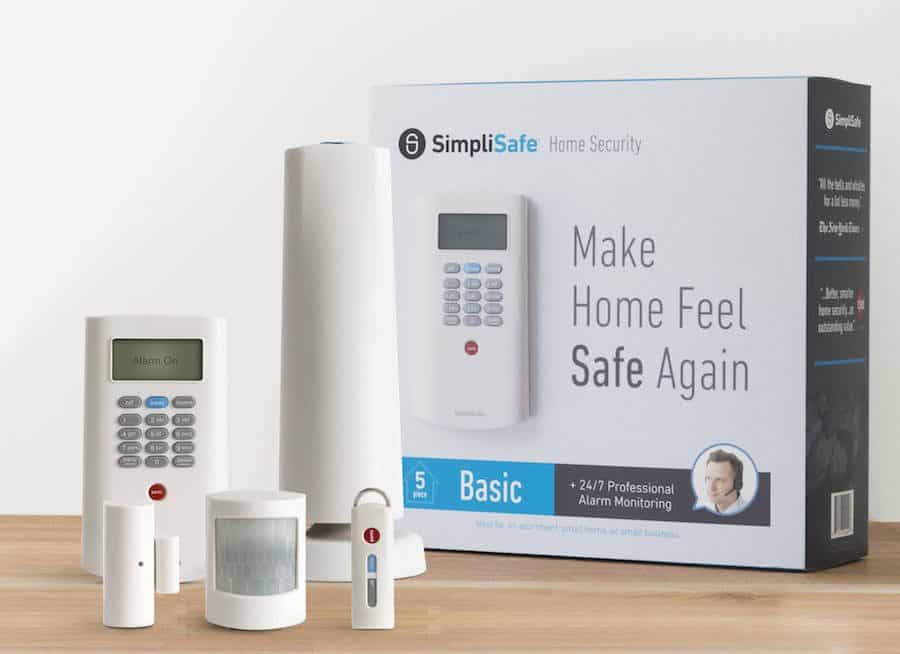 Price: Check Price | Read Full Review: SimpliSafe Home Security Review | Features: Manual keypad and keychain, smoke and motion alarms, USB key
WHY IT'S A TOP PICK: If you want as simple as simple home security gets, SimpliSafe is the one for you.
SimpliSafe, like its name implies, really is one simple system to get set up. SimpliSafe is a hybrid of the old and the new, featuring big gray/blue/red buttons (not unlike something you might see in a Life Alert commercial), and no touchscreen to speak of.
Even the app is painfully simple, with just three buttons that let you enable the alarm (home or away), or disable it – that's it. SimpliSafe then takes all the complicated technological jargon out of the way and just gets down to basic, simple protection, a feat that on its own can't be overstated. This industry is brimming with upstarts that are tacking on features to their systems left and right, almost as though they're trying to "out-feature" each other to the top.
SimpliSafe goes the other direction with it, instead opting to streamline every step of the process from setup to live monitoring in 15 minutes or less (depending on how long your connection take to download the new firmware).
This is a system that also has an element of physicality to it, thanks to the addition of the base station and included USB de-activation keychain. In case you can't remember your code, you can simply insert the USB key to disable any alarms. If you're older or not as technically skilled with your phone, trying to get your alarm shut off while it's screeching at you is much better handled by a physical key than the press of a virtual button on your phone.
SimpliSafe is a great system if you have elderly parents who still want to maintain some of their independence, without having to worry about getting their Android OS touchpad to work correctly or launch a confusing smartphone app. Everything here is straight and to the point, which is just fine for their home and yours too.
Pros
Simple setup and operation
$24.99 24/7 monitoring plan
Customizable setup
Excellent customer service
Cons
Expensive for a complete system
IP Camera is $99 extra
App is too simplistic
No friends and family Trusted Circle options
#5 Pick

Scout Security
Price: Check Price |Full Review: Scout Home Security Review | Features: Smartphone monitoring, 3G connection, $19.99/mo
WHY IT'S A TOP PICK: Scout is simple to setup and comes with an intuitive mobile app.
Purchase an Annual Monitoring plan and receive 10% off today.
With a sleek and modern design available in three aesthetically pleasing color options—"wood," "arctic," and "midnight," Scout is one of the best DIY home security systems to date, and it doesn't require any activation or installation fees. What makes this Chicago-based business stand out is that they used crowdfunding and pre-ordering to offset the initial cost and production. Although it is less expensive than other home security systems, it still performs exceptionally well for the price. It should also be noted that they use professional monitoring, yet do not require contracts, which is a scarce feature among other home alarm systems on this list.
If you're concerned with the question of "how much is a home security system", you'll be happy to know that to appease your needs and fit your preferences, you can build your own equipment Scout Alarm package, and there are two monitoring plans you can choose from. The first package is $9.99 a month and offers e-mail notifications, a Scout mobile app with push notifications, 3G cellular with a battery backup, and text alerts. The second plan is $19.99 a month and offers all features of the first plan, in addition to 24/7 professional monitoring with UL-certified monitoring centers that will dispatch the police on your behalf.
Keep in mind that these are professionally monitoring available, which means you don't have to select one of these plans to use the Scout system. If you so opt, you can monitor the system yourself, provided you're willing to rely on your phone and its push notifications.
Pros
No activation or installation fees
Easily to relocate
Backup 3G network
Integrates with Nest and Nest Cam
Excellent customer service
Money back guarantee
No contract despite using professional monitoring
Cons
Not many equipment options
Upfront payment for equipment
Does not include cameras, flood, break glass, or temperature units
Not registered with the Better Business Bureau
Limited motion sensor range
Inadequate battery life
#6 Pick

Piper nv Home Security System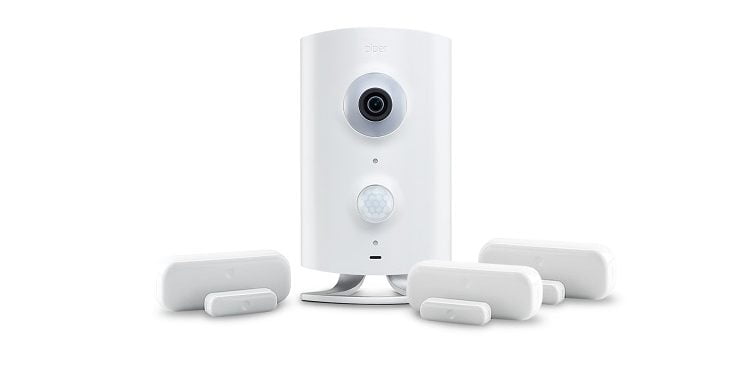 Price: $349.00 | Read Full Review: Piper nv Home Security Camera Review | Features: 720p 180° night-vision enabled recording,
WHY IT'S A TOP PICK: The Piper nv is perfect for small home or apartment owners who only have one or two entries to cover
The Piper nv may not be one of the more classic DIY home security solutions, but that doesn't mean that two or three of these base stations around your house won't keep you just as secure (if not more so) than any other system on this list.
The Piper nv is a 180° night vision-enhanced home security IP camera, with the option to connect to one or multiple door sensors of your choosing. By combining just two elements of an otherwise complete system (the door/window sensors and the camera), the Piper strips down your security to the bare essentials, but still protects most apartments at a fraction of what you'd pay for the competition.
I wouldn't recommend using the Piper nv for a full home solution though, especially if you have two or more floors of potential entryways to protect. Although you can add an unlimited number of extra sensors, Piper sells them for $39.95 a'la carte, a price which can quickly add up if you're adding multiple windows and doors at a time.
The Piper nv is a 720p HD camera that records clips to your phone whenever an intrusion is detected and will sound a 105dB siren if triggered by an event. You can also set it to text anyone in your Trusted Circle, as well as call them and leave voicemails if anything changes while the system is armed. Unfortunately, all monitoring must be done through your smartphone since there's no 24/7 option available, so if that's important to you, you might want to look elsewhere instead.
Pros
High-quality IP camera
Both live and recorded video monitoring available
No monthly subscription
No contracts
Intuitive mobile app
Unlimited door sensors
Night vision
Crash-n-smash protection
Power outage protection
Excellent customer service through forums, videos, phone support, and live chat
30-day money-back guarantee
Cons
Not a full-home solution
No 24/7 monitoring
No cellular monitoring option
Cancellation policy with a $79 restocking fee
Video streaming only available on wireless and broadband monitoring
We realize that not only specific features will dictate your good decision on which home security system to buy, but also the cost of monthly monitoring and equipment. For this exact reason, we've thought ahead and made a cost comparison table, so you know what to anticipate from different monthly monitoring prices of good security system. Differentiated by the costs and benefits, this table will help you compare and contrast our top reviewed best home security systems. Here you will see a side-by-side evaluation of five different price points, so you can easily view what each of these top home security systems will provide based on your budget.
In the following section, you will find our ratings, comprehensive reviews, and the features offered by national home security system companies that we believe are the best of the best. A pros and cons list is also available, which delineates what we believe are the strongest points and weakest points of each home security system.
How We Choose the Best Home Security Systems
When it comes to the best home security systems, we didn't waste any time getting down to the nitty-gritty of evaluating these products from every angle and have spent around 100 hours collectively reviewing all picks that made it into the annual roundup. When researching for which systems to review, we looked at a wide variety of factors – everything from how they get to your door, to what kind of warranty they offer in case the unit that shows up is defunct. What is the best home security systems in terms of DIY?
The big trend with top DIY home security setups is that through your smartphone, you can set up and manage almost all of the same aspects of a security system that used to require entire teams of people to handle (before the magic of technology stepped in to help). This makes it so all the sensors, cameras, and extra appliances that would normally network back to a monitoring station can all be piped back straight to your pocket, giving you a level of control over your home security unlike ever before. Wireless home security systems available here.
What We Looked For in Best Home Security System to Make Our Top List
To get more specific on exactly what we looked for in creating this list, we wanted to include a variety of different styles of best home security; a different system to suit every type of home or apartment. The best home security systems come with three critical components: a great smartphone app, the option to integrate with smart home hardware, and a huge amount of customization available when it comes to creating the perfect system for your situation.
Any systems that included cameras with 720p or above resolution, had at least one door/window sensor to communicate with the base station, a motion sensor, featured "Crash-n-Smash" protection, and let you stream live video back to your phone were considered as a part of this home security list.
Other crucial components include (but weren't limited to): 24/7 monitoring option that doesn't lock you into an annual contract, night vision on the IP cameras, a variety of different sensors (motion, image, and environmental), as well as the option to add friends or family to the Trusted Circle of people who should be notified while a break-in is in progress.
Where's Bay or ADT in the field of top home security systems?
The more keen-eyed readers among you may have noticed that in all this talk about good home security systems, so far there's been no mention of why bigger companies like Bay or ADT haven't made this best security system list. For starters, since both Bay and ADT have massive amounts of overhead to sustain their style of best home security (they own their 24/7 monitoring centers, rather than lease the service out to a third-party), much of that cost gets shouldered onto the customer and the eventual cost of their contract. That said ADT security, and others like Brinks, do offer a very thorough security system that is time tested. Though they've had to adapt in the last few years because of our top picks.
Both companies also need to send a live rep to your location to install their systems, whereas alternatives like LiveWatch or Frontpoint can be installed by the user on their own. Again, these techs cost money, which all eventually gets folded into the amount you pay the company for your subscription or contract. The old ways of doing home security just aren't as efficient as they used to be, which means they're too expensive and too feature-limited to grab any spots on this year's list.
Other DIY companies like Link Interactive are also absent from this list, mostly due to malfunctioning equipment and uncommunicative customer support.
What Is A Glass Break Sensor Or Motion Detector?
For anyone curious with questions like "what is a motion detector" or "what is a glass break sensor", the answers are both basically the same. Each are designed to monitor different areas of your home – the hallway and bathroom window, for example – and use proprietary technology to communicate any movement or sound back to the base station when an intruder is trying to get in.
We Found the Security Systems that We're the Easiest to Setup
Lastly, we took special time to look at just how "DIY" these DIY systems are. I've personally reviewed all the systems seen on this list, and know the ins and outs of how streamlined (or frustratingly hair-pulling) getting them set up to full capacity can be. While some systems like FrontPoint nail the setup process, others like LiveWatch might be slightly prohibitive to users who aren't as tech-savvy or don't understand home networking as well as the rest of us.
How We Tested
To test each security system after it was installed in both our home and apartment testing grounds, we ran them through a series of break-in scenarios that the average customer is trying to protect themselves against.
This includes standard tests like opening/closing windows and doors with sensors installed, as well as rating the response times and how well the support staff handled each call. The features for each system vary slightly, which means that we couldn't keep all our tests 100% consistent across the board (Scout Alarm doesn't have glass break detectors to test, for example), but for any holes, we've marked them in our chart above.
Other tests included the quality of the cameras used to capture burglar's faces during a break-in (for any systems that could support one), as well as smaller notes like how loud a siren was (could it be heard from next door? Down the street?), and how easy it was to arm/disarm the system in a minute or less. Motion sensors were triggered at variable distances between 5-30ft away, while any cameras that claimed to have night-vision sensor capability were tested with different clothing types ranging from all black to bright neon orange to rate just how far it could see in ideal or non-ideal conditions.

Why You Should Buy a New Home Security System
If not many of the names on this list sound familiar to you when it comes to the best home security systems – don't worry about it, the past few years in this category have been a whirlwind for everybody. And no security kit is perfect, so just make sure to do your research before you buy, hence why you're reading this website.
Today DIY Security Is Cheaper and Just as Effective as the Big Guys
In a market that only used to be occupied by a dominant few companies like Bay, Brinks, or ADT, in recent years the advent of smartphones has opened up the playing field to dozens of young, hungry startups, many of which are innovating circles around the old guard and adding on new features by the day.
All this is to say that right now, DIY home security systems are solving many of the same problems as the big guys, all while integrating much of your security and your smart home into the same place, allowing full control over your home or apartment like never before. Home security used to be a privilege reserved for people who could afford the high upfront cost of having someone come out to their house and professionally install an array of cameras and sensors, but now with our smartphones, the price has been brought way down and all the benefits have remained exactly the same.

Features Compared
| | | | | | | |
| --- | --- | --- | --- | --- | --- | --- |
| | #1 | #2 | #3 | #4 | #5 | #6 |
| Cellular Connection | | | | | | |
| Control Panel | | | | | | |
| Motion Detection | | | | | | |
| Door or Windows Sensors | | | | | | |
| Smoke, Carbon Monoxide | | | | | | |
| Mobile App/Remote Access | | | | | | |
| Home Automation | | | | | | |
| Crash and Smash Tech | | | | | | |
| Power Outage Protection | | | | | | |
| Pet Friendly | Up to 40 lbs | Up to 40 lbs | Up to 40 lbs | Up to 50 lbs | | |
| Take It With You | | | | | | |
| Installation Process | DIY | DIY | DIY | DIY | DIY | DIY |
| Warranty | 3 Years | Lifetime | Lifetime | 3 Years | 1 Year | 1 Year |
| | Buy Now | Buy Now | Buy Now | Buy Now | Buy Now | Buy Now |
What's more important than the cost, is the safety of you and your loved ones. Don't let your budget dictate your decision—your family members' lives may depend on it. When you decide on which best features you want – whether those features include a lifetime warranty on the equipment, or "Crash and Smash" protection – then you can decide if a particular home security system is the right price based on those needs. Many home alarm systems offer multiple packages, and they all have different facets, making this choice is easier than ever.
This is a choice that should not be rushed but thoughtfully considered. Your own sense of well-being and the protection of your family are commanded by this outcome, so make sure you "feel at home" with this decision.

Features You Should Look for on the Best Home Security System
Wireless Versus Cellular Monitoring
Wireless monitoring in a home security system indicates the constant wireless communication between the security system panel and the sensors in your home. This form of monitoring is used in the place of wired monitoring, where the signal travels through wires, which are connected through the security panel, sensors, and power supply.
Cellular monitoring in a home security system refers to the constant wireless communication between the security system panel and the home alarm monitoring center. This wireless communication is implemented through cellular technology, instead of landlines or broadband Internet connections.
Wireless and cellular monitoring can be used together, and compliment each other. Additionally, wires cannot be cut if there are none, and if there is a power outage, your home security system will not be affected.
"Crash and Smash" Protection
Even if an intruder breaks into your home, smashing the security system panel, your home alarm monitoring center will be alerted of the emergency.
This protection is utilized when an intrusion sensor is triggered, sending a notification to the monitoring center, and instead of the alarm being turned off from the security system panel, the intruder smashes it all together.
However, smashing the panel will not withdraw the alarm notification. And until the authorities arrive to investigate, the intruder will believe that they have disengaged the alarm system because it will stay silent.
Home Automation Technology
Through a mobile device, this type of technology allows you to have control over your home alarm system, and any sensors or devices you have hooked up to it. These sensors and devices include but are not limited to: door and window sensors, temperature and water sensors, smart locks, security cameras, and smoke detectors, carbon monoxide detectors, and glass break detectors.
You can also program the lighting in your home, thermostats, and electrical outlets, to name a few, to run on a schedule to fit your lifestyle. This will not only help to conserve energy but help you save money on your gas and electric bills. Through your remote control or mobile device, you have complete control these sensors or devices even if you're not at home.
Google Nest, Alexa, Google assistant are excellent home automation devices and they should all work with our top picks. Alternatively, you can consider, and perhaps should consider Amazon's offering, Ring Alarm. This latter one is a more DIY, but you can add on professional monitoring much like Scout and others on the list. Ring was one of the first to offer a very compitent and tech forward doorbell camera, which saves all recordings to cloud storage. Just note you'll have to pay a monthly fee that starts at $3 per month. That said, Vivint Smart Home has many features like this.
DIY Home Security Systems and "Plug and Play" Sensors
If you are willing to install a top rated home security system (and all its included sensors) on your own, these devices can be more cost-effective than spending money on a home security system that requires professional installation.
Many of the sensors included with the picks on this list only have a sticky-backed adhesive to apply, however, others like FrontPoint's in-line bolt system will take major power tools in order to get installed properly.
These sensors can be controlled through a smartphone app, are generally easy to relocate, and will protect you regardless if you live in an apartment or house.
ASAPer
In case of an emergency, an ASAPer system allows you to customize who you want contacted in case of an emergency and how you want those people to be contacted—through phone call, text, or email.
These people, as well as the central monitoring station, are contacted all at once instead of one at a time.
Centralized Monitoring
Typically, a home alarm system works with a centralized monitoring station that is constantly communicating with your home security system's control panel to ensure your safety. If something were to go wrong, whether there's evidence of a fire or intruder, both the station and the authorities will be notified.
Being able to access the live monitoring through a centralized monitoring station ensures that any video of a break-in will always be saved to the cloud immediately, so it can't be tampered with after.
Backup Power
If the power goes out, and your home alarm panel is unable to communicate with the centralized monitoring station, a back-up battery can be utilized to ensure that you and your loved ones will continue to be protected.
These back-up power supplies usually last at least 24 hours, and will often be rechargeable AA or AAA batteries that can be replaced at your local hardware store.
Smartphone App
Many DIY home security systems these days (including the majority of those on this list) use centralized systems and apps like Alarm.com to help you remotely manage your security needs at home.
A good app will let you pipe into the IP camera, trigger/set/disarm your alarm, and keep a detailed timeline of events in case the system is disarmed or tripped without your knowledge.
Certain apps will even directly connect you to the authorities from your smartphone in case of an event, which can shave critical seconds off their response time during an emergency.
2-Way Voice
If the home alarm system is triggered by an intruder or another emergency, an operator from your central monitoring station can listen inside your home, and intimidate the intruder into leaving.
You can also speak to the operator directly if an alarm is triggered—they will initiate the 2-way monitoring in order to make sure you and your loved ones are safe, and ask if there is anything more they can do to assist you.
Mistakes to Avoid
Don't install if you don't know what you're doing: It's important that when you install your DIY home security system, it's done by someone who understands technology well enough to the point that nothing will slip by unnoticed the first time around. Many of these systems come with sensitive sensors that won't work unless they're placed perfectly, and the last place you want to encounter a system "glitch" is when your home is in the middle of an intrusion.
Only add close family or friends to your Trusted Circle: This is for a number of reasons, not least of which is that sometimes you're going to forget to disarm your alarm late at night, or your dog is going to set it off and every one of your family members and half your neighborhood will be texting you to see if you're okay. Look for alarm systems that let you customize exactly how the system reacts to different circumstances, i.e- only texts you when motion is detected but sounds the real alarm if a loud noise goes off (the Piper NV is perfect for this sort of thing).
Get the right system for your home: There's such a thing as being "too secure" when it comes to home security, and overbuying more sensors and gizmos than you actually need. Stick to protecting the areas of your home or apartment that you know will be vulnerable. For example, if you live on the fifth floor of your building with no fire escape access, you probably won't need to buy a window sensor unless your burglars have very tall ladders and a true sense of bravery.

Home Security System FAQs
What about Abode IOTA?
Abode is a fairly new entrant in the home security space and offers an all in one solution. It includes a single price for the hardware and the monitoring, though the latter only last for up to 1 year, where upon you'll have to resubscribe.
How much are monitoring fees?
Generally speaking you will pay at a minimum of $10/month, which is the average monitoring fees. These are sometimes referred to as monthly fees, though some companies will charge a monthly fee for the equipment and a fee for monitoring. Regardless, purchasing monitoring is a good choice and a nice peace of mind.
Can you use these systems outside?
Yes, but largely for the cameras. All of our alarm security choices are for indoor security, though there are plenty of home security equipment companies that have cameras and sensors that can work outdoors, they're just more on the speciality side.
Is a contract required for all these systems?
No and no. But again, it's recommended that you consider or at least test out the monitoring services, though steer away or don't' be shy to negotiate on these contracts because each company is desperate for your business. And when it comes to a contract don't be shy to leverage the security equipment to get a better deal. That said, some of these systems will have an installation fee, but it is one time. Though, some can be installed, which is great for the DIY installation. Brinks Home Security is not one of those and only offers professionally installed systems.
Are video doorbells reliable?
Yes, but we much prefer the one that are hard wired and not battery dependent. But if you rent the latter is a good choice. And they can serve as an excellent outdoor camera, though we would opt for a Nest or some equivalent there of if you're looking for a camera to place above your garage door.
What other security company or security companies do you recommend?
The bulk if not all the top picks are covered on this list. But that isn't to say there aren't others. There are always new companies emerging by way of Indiegogo and Kickstarter. Also, has home automation becomes a larger part of the eco system we should see some new entrants or some that become just that, home security companies and vice verse.
What Else You Should Think About
Although researching the best home security system reviews of 2023 may seem daunting, knowing what each home alarm system offers is an important precautionary measure. Choosing the right home security system is choosing the ultimate form of safety. If you want a system that will be conducive to protecting you in a way that fits your lifestyle, you have to know about all of the facts and features offered by different home alarm systems first.
Of course, you may not even have to go with a full-fledged security system if you don't want to (or don't have that much cash to spare). There are alternative home security options that can be cheaper to operate and simpler to use, like the Netgear Arlo Q or the Canary, both of which have many of the same features as the home security options above at a quarter of the price.
Moreover, to improve your home security, getting window films for privacy can reduce how much people can see into your home.