To find the best Shark vacuum, we first found the top models online, including customer sentiment and reviews. We then researched the top 10 models on our dirty floors, spilling cereal, sucking up marbles, coins, and other challenging debris derived from our pantry, dogs, and workshop. From there, we measured cleaning capacity, suction power, filtering options, Shark vacuum registration, warranty, and more.

And after cleaning our floors with a variety of Shark vacuums, we can easily say that the
Shark Navigator NV532 is our #1 pick
. With powerful suction capacity, a solid build, and a highly affordable price tag, this vacuum will keep your floors clean without a problem. Keep reading to learn more about our top 3 Shark vacuums and the features you should consider when buying one. And after you are done, take a look at our review of the
best vacuum cleaner
.
Top Shark Vacuums
How We Chose the Best Shark Vacuum
Shark has several different primary models with many variations on each. Here are the top factors we took into consideration when making our picks.
Suction Power and Capabilities: There are many ways to gauge the suction of a vacuum cleaner. Some specs look at how high a vacuum cleaner can lift water – called water lift and measured in inches – to study power and sealing. Other specs look at cubic feet per minute to study suction, or "air watts," which combines airflow and water lift. No matter the method, the important part is knowing how vacuum cleaners compare to each other in terms of powerful suction – and making sure that dust stays inside.
Add-Ons: Want to know how good Shark vacuums are? Take a look at the add-ons. Shark's typical approach is to create a solid model – like the Rotator – and offer a number of different bundles that feature different tools or components that allow that model to specialize in a variety of different cleaning jobs, like an upholstery tool. We looked at these variations and how they compared to each other.
Dust Canisters or Bags: Curious about how to empty Shark vacuum models? So are we! We take a look if these vacuums use canisters or bags (Shark is overwhelming a canister brand), and how easy these are to empty or replace after some floor cleaning. Canisters with a bottom release to dump right into the trash are particularly useful once you get the hang of them. Size is also important – it's annoying to use a canister that you need to dump after only cleaning half a room, so we like to see extra-large canister capacities. Our third pick, for example, can hold 2.2 dry quarts, especially large size for this type of upright and ideal for larger homes. Around 1.3 quarts is a more common – but still satisfactory – size. But, it's still a good idea to compare canisters vs upright vacuums to see which one works best for you.
Weight: When it comes to "traditional" vacs designed for home use, weight is very important – especially when you need to carry vacuum cleaners upstairs or around furniture. Fortunately, modern materials allow the entire vacuum to be much lighter than ever before. As a general rule, we look for models that don't go much above 15 pounds, at least not without making up for it with an extra-high level of power or versatility.
Steering: For uprights especially, we are interested in how well the vacuum cleaner steers; this refers not only to how easily it pivots around corners but also to how large the cleaning path is and how easily it can deal with typical household furniture and objects. The world's greatest vacuum cleaner won't be great for you if it keeps banging into walls or chairs. So we look for swiveling or pivoting features at the base of the vacuum to make sure it can turn easily.
Read More: Best vacuum cleaner for carpets
Why You Should Buy a New Shark Vacuum
In addition to their adaptability and bundles, Shark vacuums tend to be excellent all-purpose appliances. Many of their models can convert into different types of vacuums for different purposes, allowing you to snap between modes when tackling different floors, or when your ceiling corners and tight spaces need a good vacuuming as well. Few other brands offer so many whole-house cleaning opportunities.
Also, when it comes to Shark vacuum vs. Dyson vacuum models (two of the most popular options), the cost is one of the biggest differences. Shark vacuums tend to offer many powerful residential features, but they are usually $100 to $200 less expensive (and come with much shorter warranties and guarantees as well). Shark may be the brand for you if you want to save money but still get a powerful vacuum.
#1 Pick

Shark Navigator Upright Vacuum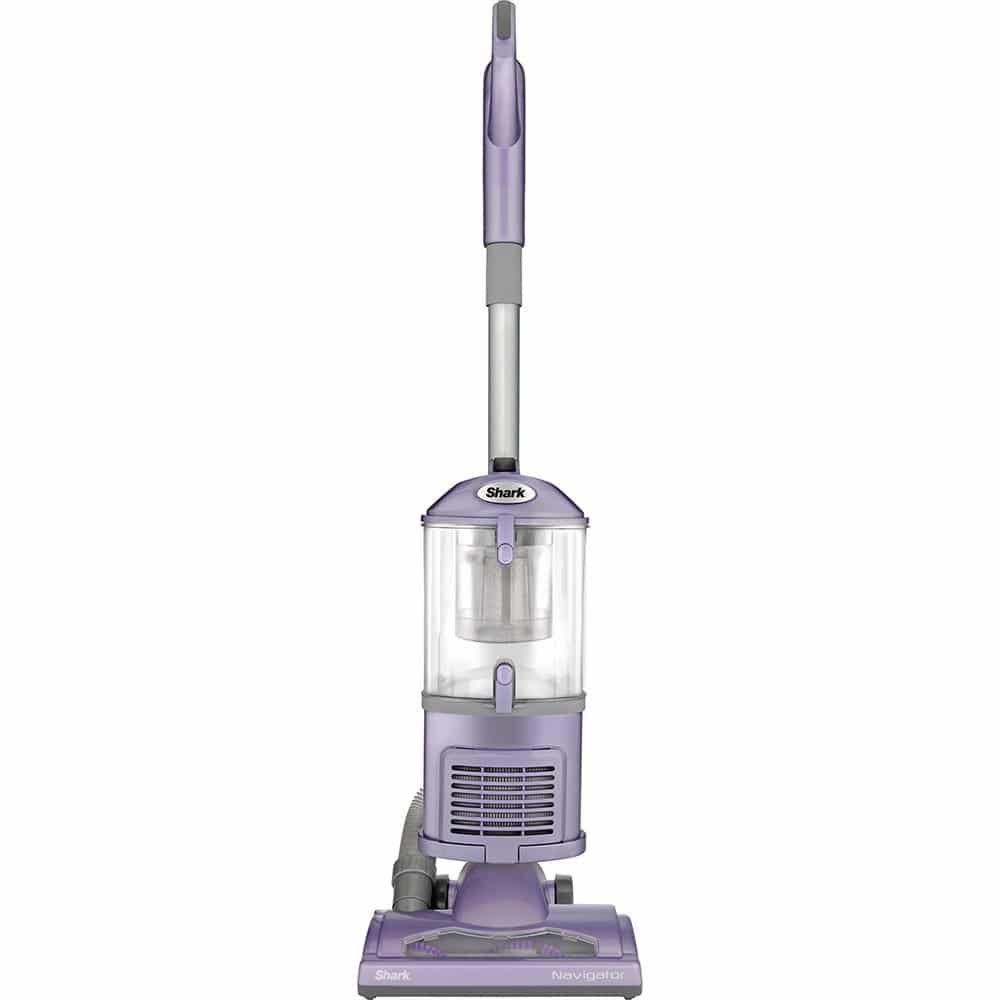 Award: Editor's Choice/Best Shark Vacuum
Price: $169.99 | Brush Roll: Turbo | Dust Trapping: HEPA Filter | Container: 2.2 quart canister| On Board Accessories: Wide, Pet, Upholstery | Weight: 12.5 pounds
WHY IT'S A TOP PICK: A reasonable price, a ton of features, and the option to convert to canister mode.
Picking the best Shark vacuum model is a tough choice, but the Navigator NV352 has too many advantages to ignore, making this upright vacuum the best overall Shark model and one of the best upright vacuums. For those who want to control dust and allergens, the vacuum has an anti-allergen complete seal technology, an effective HEPA filter (one of the washable versions), and plenty of suction power to pick up every trace of dirt and debris and trap allergens inside the vacuum. For those who have a problem with pet hair or other tangles, the brush roll is designed to quickly snatch up tangles using its strong suction – and to let you quickly remove them if necessary.
For those who want to clean absolutely everything, the variety of attachments lets you tackle any surface or corner. You get a wide brush,  crevice tool, pet hairbrush, and upholstery dusting brush included. Unfortunately, it doesn't include a powered brush. We like that this model doesn't overwhelm you with half a dozen accessory options like some Shark models, but it gives you just enough to get things done. However, if you prefer something stronger, especially for busy work areas, check out our guide to the best shop vacs.
And let's not forget that this Navigator is convertible as well. Anytime you want, you can pluck out the roller and hose to transform it into a canister model, which we found useful for cleaning larger messes or vacuuming under especially deep sofas or tables. The 2.2-quart canister is perfect for such a powerful vacuum, and it is easy to pull out and dump when necessary. And like other upright vacuums, this model is equipped with Swivel Steering for excellent control when maneuvering around furniture.
So, how much is the Shark Navigator vacuum cleaner? You can get this professional model for only $170, an excellent deal for a vacuum packed with this many features. We wish it could have been a little lighter, but around 13 pounds isn't bad for a full upright model, especially one that can convert. It has a lot of great features and is a contender for the best vacuum cleaner. For a similar model with a few more added features, check out the Shark Rotator Professional Lift-Away.  The Rotater Professional features a brush roll indicator light and more advanced accessories. But, the Shark Navigator is slightly cheaper than the Shark Rotator. Either way, it is not for those who want the best robot vacuum.
#2 Pick

SharkNinja HV382 Rocket with TruePet Vacuum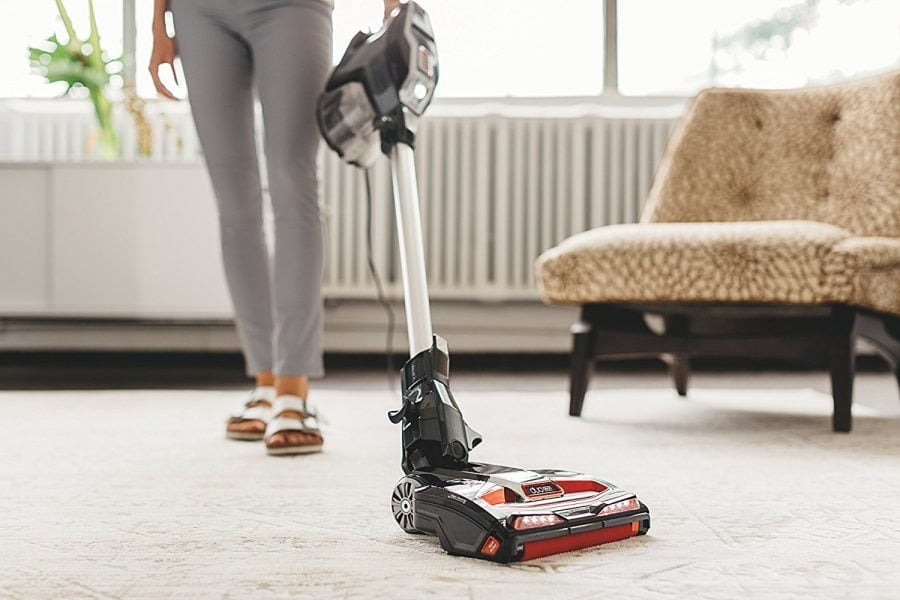 Award: Best Shark Vacuum for Pet Hair
Price: $239.99 | Brush Roll: Double Roll | Dust Trapping: N/A | Container: Canister | On Board Accessories: TruePet Motorized Brush| Weight: 9.9 pounds
WHY IT'S A TOP PICK: A lightweight but powerful vacuum with a great pet hair conversation option. Our pick for the best handheld vacuum for pet hair.
Even on its own, the SharkNinja is an impressive vacuuming machine – the lightweight design makes it perfect for those who don't want to deal with a heavy vacuum cleaner, but it still has enough power to deal with the most annoying messes. That power includes the DuoClean feature, which is actually two different brush rolls – a normal version, and one with long spiraling bristles to better dig into your carpet. You can also gain instant access to the brush rolls if you ever need to untangle any longer strands you pick up. Though corded stick vacuums can't free roam like a cordless stick vacuum, the slim body of the corded vacuum is still easy to maneuver, and the affordable price can be appealing to many.
These features make this corded stick vacuum cleaner great for cleaning up pet hair (and other messes) on your carpet, but the TruePet feature is even better. This is a motorized, extendable brush that you can use when the unit converts into a handheld model, specifically designed for pet hair. We cannot imagine a better tool for scraping and sucking away those layers of pet hair that are so difficult to remove. The wide range of included accessories with the handheld vacuum cleaner is the wand, motorized floor nozzle with LED lights, onboard storage clip, pet power brush, 12-inch crevice tool, and a wall mount. The LED lights of the nozzle will help spot hidden debris around your home. If you'd prefer an upright model, check out the Shark Apex Duoclean Upright – a powerful vacuum featuring Shark Duoclean Technology. The Shark Apex Upright has a 1.5 quarts capacity dust cup and a self-cleaning brush roll that delivers nonstop hair removal, perfect for homes with pets. Compare it to the best Dyson vacuum and see how it stacks up.
#3 Pick

Shark ION F80 Vacuum
Award: Best Cordless Shark Vacuum
Price: $247.99 | Brush Roll: DuoClean | Dust Trapping: HEPA Filter | Container: 0.3 quart canister | On Board Accessories: Extra battery | Weight: 8.7 pounds
WHY IT'S A TOP PICK: A powerful cordless vacuum designed specifically to be flexible so you can clean hard-to-reach areas.
First, this Shark ION cordless stick vacuum is another powered lift-away model, so it can also be converted to a canister unit when/if necessary. It's completely battery-powered with batteries that are easily interchangeable. The battery lasts up to 80 minutes of continuous use, so you know you won't power down before vacuuming your house. One of the best features of this vacuum is the MultiFlex design, which allows you to bend the wand to reach under furniture and in corners.
You can also transform this highly-rated Shark vacuum into a powered handheld vacuum with the push of a button to easily clean above the floor. This is the model for you if you're looking for a battery-powered Shark vacuum. Stick vacuums are perfect for smaller households, with maneuverability and convenience being at the forefront of their design.
What to Look for When Buying the Best Shark Vacuum
Customization Options: Remember when we talked about looking at Shark add-ons? It's a good idea to look through the bundles of the most popular Shark vacuum offered. This way, you can find one customized for your home. DuoClean vacuums such as the Shark Apex Duoclean have an extra brush roll that's great for digging deeper in carpets. TruePet models come with an extra pet hair tool attachment that makes it easier to vacuum pet hair off of the fabric. DustAway models are excellent for controlling dust and dirt on hard surfaces. So remember to look beyond the basic design and toward the additional options that Shark provides. For example, if your house would be cleaned better with a brush roller over a soft roller, make sure to look for the former on your new model.
Brush Rolls and Features: Brush rolls come in several different varieties depending on vacuum types and purposes. Some can be switched on and off, or slowed down, to help make the transition from carpet to hard flooring. Some come with longer bristles designed for deeper, stronger carpets where you really need to pull the dirt out. Certain Shark models, like the best Shark Navigator vacuum, even make it easier to access the brush roll to remove those unfortunate tangles that crop up from time to time. The brush roll, in other words, may be more important than you think, so take a look at the features provided and make sure they work for you. The Shark Apex Upright, for instance, has a self-cleaning brush roll that can deliver nonstop hair removal. Additionally, keep in mind that vacs can damage hardwood floors with brush rolls if they aren't designed specifically for wood. Even with the brush roll turned off, wheels may scratch more sensitive floors, so be careful when moving to a hard surface.
Floor Modes and Speed Options: If you're wondering, "Which Shark vacuum is best for me?", then remember to look at the available floor modes! Shark vacuums offer features like multiple speed selections to choose between when moving from carpet to tile, for example. Other models have brush rolls designed specifically to dig deep into carpets or suck up extra-large particles from hardwood floors. In Powered Lift Away models, such as the Shark Apex Upright, the canister detaches to extend the reach of the cleaner head, making it easier to reach under furniture. So, in addition to comparing Shark vacuums side by side, remember to find a model that works for your home specifically.
Filtration: Also, remember to take a look at how to clean Shark vacuum filter products. Many of them require that you wash and dry the filter every month, or sometimes replace it entirely. If you forget to do this, the suction power will decrease, and the vacuum cleaner will not operate as well as it could. Take a peek at the manual and get into the habit of cleaning or replacing filters to give your vacuum cleaner a great start!
Conversion Features: Our top pick is a Shark model that can convert into a canister-based vacuum immediately, which helps when vacuuming under deep tables or other furniture. Our second pick can be immediately converted into a hand vac for cleaning upholstery whenever you want. These features can make a vacuum cleaner far more versatile and useful around the house.
Battery Power: None of the Shark cordless models are currently on our best-of list, but Shark does make cordless models if you really want to free up your cleaning experience. If you want a cordless model over a corded model, remember to find out how long the battery lasts – and how long it takes to recharge. Many large cordless vacuums can take a couple of hours to fully recharge, which may affect your cleaning plans for the weekend.
Read More: Dyson vacuum reviews
Mistakes to Avoid
Forgetting What Kind of Messes Happen in Your Home: This may seem like an odd point, but bear with us: all vacuum cleaners have various specialties, and they differ depending on the kind of mess you need to clean up. Our third pick, for example, comes with pads and nozzles designed for cleaning dust off hardwood floors. A special hardwood floor tool will help maintain the quality of your floors, which is usually the same case for other tools designed for specific types of flooring. But if your hardwood floors typically experience spills and stains, all those dust-cleaning features aren't going to help out at all (you need a mop instead). Likewise, if most of the messes on your carpet are little hairballs on top, you don't need a powerful, dig-in-deep brush roll (which may even damage some delicate carpets). However, if your messes are caused by footsteps grinding dirt down deep into the shag of the living room, you may indeed need extra power in your vacuum for hardwood floors. Think about how your floors get dirty, not just what flooring type you have. Do you have to deal with only dog and cat hair on only a hard surface floor type? Or do you have long human hair embedded into your high-pile carpets? If you have some tougher debris to deal with, make sure your vacuum type is suited for the larger debris, whether that be having enough power or a certain attachment like a pet multi-tool, self-cleaning pet power brush, etc. If you have a large home with a lot to clean, make sure your vacuum has the convenient feature of an extra-large dust canister so you're not always emptying it when it gets full.
Buying the Most Expensive Model: Price isn't everything. For one, prices can change based on current discounts and availability, so judging quality based on price is a poor decision from the start. Second, as we've been saying, you need the vacuum cleaner that's right for you. Assuming the most expensive model is the best for your home is a serious mistake, especially if you aren't even looking at the features. You may not even need an expensive, full-size vacuum for your home's messes. You might be able to deal with a reasonably priced, simple vacuum because of its power cord instead of splurging on a cordless version or other advanced models with lots of accessories. Though the popular models are popular for a reason, we recommend that you focus on your needs and that model types satisfy them. This point also works if you are buying a vacuum as a gift or donation! If you need an affordable model and one of the best budget vacuums from Shark, check out the Shark Navigator Freestyle Upright. Also, keep in mind noise levels so you can vacuum without disturbing any housemates, especially if you use one of the larger machines.
Choosing Particle Filtration Without Knowing Its Requirements: We talked a bit about filters above, but now we're going to point out HEPA and other particulate filters in particular. Some buyers like the idea of particle filtration and getting rid of allergens in their homes, but they don't consider what that kind of filtration means. HEPA filters and similar dust collectors tend to fill up quickly and need to be regularly washed or replaced, which takes time and money. So while extensive filtration may look good on paper, remember to also look at what sort of filter maintenance you'll need to do. It may be more than you can handle.
Ignoring the Cord: Unless you want to lug extension cords around, cord length defines how far your upright or traditional canister vacuum can reach. This is important when it comes to larger spaces. Cord length tends to vary between 25 to 30 feet for most vacuums. Don't buy a model with a cord that's too short for your home layout! If the corded version is too much of a hassle, you can invest in a cordless, lightweight vacuum so you don't have to worry about a plug-in vacuum. There are also handheld vacuum options too that have a cordless body style. Overall, there's a vast range of vacuum styles with each having their own nice features and assortment of accessories, so opt for the type that best suits your needs.
Not Measuring the Cleaning Path: The cleaning path refers to how wide the brush roll and vacuum head are – which you should definitely note before buying. The last thing you want is a vacuum cleaner that won't even fit under your chairs or desk. Crevice nozzles and narrow pet tools are handy attachments that can help clean hard-to-reach places. It's time to take out the tape measure: you'll be glad that you did.
Read More: Panasonic's New "Hybrid" Vacuum Can Suck Up a Bowling Ball
What Else You Should Think About
Again, remember to carefully consider your home and each model's unique specs before buying the best vacuum cleaner. You can find the right fit, and we can help – but this is a long-term appliance and not the place for impulse buying.
We don't really have time to go into the details on HEPA air filters and how they work, but if you want more information on these filters, how they are rated, and how they can help people with lung problems, then we do have an article about it you should read, which explains what is a HEPA air filter. You may also want to take a look at our picks for the best air purifiers if you need allergen control beyond what a vacuum cleaner can offer.
On the other hand, if you are interested in a vacuum but don't have much time (and are willing to spend a little more), you should consider robot vacuums offered by a number of brands, including Dyson. These little vacs are smarter and more powerful than ever, and they can really help clean a home or building when used correctly. A robotic vacuum is a special type of vacuum that can keep your home cleaner for longer with less work from you. Keep in mind that most can't pull off deep cleaning tasks which you can get out of upright or canister vacuums, and robot vacuums can get into a high price range for even average models. Some can even charge themselves between cleaning sessions, so you won't have to worry about forgetting about the battery life.