If you want a vacuum model with enough power to handle serious messes, perfect for carpet, kitchen tiles, and bare floors but enough reach to get way under the table, you probably want to find the best canister vacuum cleaner. Don't worry! We examined the top brands in the business to find the models you should consider, no matter your price range. You might also consider looking through our best vacuum cleaner guide for other alternatives.
Ultimately we went with the Miele Complete C3 Alize Canister Vacuum ($649.00), a high-end model with HEPA filtration for dust control, half a dozen suction settings and speed control options, and even reach so it can get to the most out of the way places in your home.
Best Canister Vacuum
| | | | |
| --- | --- | --- | --- |
| | Miele Complete C3 Alize Canister Vacuum | Dyson Cinetic Animal Canister Vacuum | Bissell Zing Rewind Bagless Canister Vacuum |
| Rank | #1 – Editor's Choice/Best Powerful Canister Vacuum | #2 – Best Canister Vacuum for Pet Hair | #3 – Best Canister Vacuum for Hardwood Floors |
| Amazon Rating | | | |
| Brush Roll | AirTeq Floor Brush | N/A (Customized Brush) | Yes |
| Dust Trapping | HEPA Filter | Post Motor Filter | 3-Stage Filtration |
| Weight | 19.4 pounds | 12.1 pounds | 11.2 pounds |
| Container | FilterBAg | Canister | Canister |
| On Board Accessories | 3 Tools | Turbine Tool for Pets | Combination Dust/Crevice Tool |
| Price | $649.00 | $399.00 | $49.00 |
| | Buy Now | Buy Now | Buy Now |
How We Choose the Best Canister Vacuum
To pick the best overall canister models out of the pack, we look at several very important factors, which include:
Size and Reach: One of the biggest advantages of using a canister vacuum is the long hose and cord, which allow you to reach anywhere, even in large spaces. So we take into account cord length, how easily the vacuum can dive under furniture, how easy the head is to steer, and similar features. Extra capabilities, like automatic cord rewind options, are also welcome.
Filtration: Filtration refers to how well the vacuum cleaner removes dust and keeps it inside the vac. We look for good sealing, a multi-stage filtration system, and high-quality features like HEPA (high-efficiency particulate air) filters that excel at trapping dust, pollen, and other small particles. Canister vacuums are particularly good than this, so we look for the best.
Suction Capabilities: It doesn't matter whether you're choosing a Hoover or sticking with an Electrolux, suction matters. It affects not only how well sealed the vacuum design is (better sealing usually means better suction), but also how well the vacuum can siphon away dirt from tough spots like hardwood floors. Suction is measured in several different ways. Some use a water lifts to see how many inches of water a vacuum cleaner can pull up (100 or higher is a great range for heavy-duty work), and some use airflow to describe how many cubic feet of air the vacuum can pull in per minute. Both stats can also be combined into air watts, an aggregate rating for suction power. If available, these specs provide an instant snapshot of just how good the vacuum cleaner is.
Multi-Floor Settings: Canister vacuum cleaners have a lot of power, but they also need to adjust for different kinds of floors. We look for speed settings or automatic brush roll adjustments that can handle the transition from hard floors to the carpet when necessary, without wasting power or suction. Because canister vacuums tend to be used for larger cleaning projects, these types of multi-floor settings tend to get a lot of use. To clean carpets, check our best carpet cleaner options.
Container Options: Does the canister vacuum use a bag or a true canister that can be emptied into the garbage? How much does it hold – more than an upright vacuum? Does the vacuum cleaner let you know when the container is full? How easy is it to empty? We ask these questions because canister vacuums are a bit more difficult to empty than their upright cousins, so a smooth unlock-and-empty process is a valuable thing. If you are looking for a traditional vacuum cleaner that has a bag, check alternatives in our best bagged vacuum guide.
Read More: Best Vacuum Cleaner for Carpets
Why You Should Buy a New Canister Vacuum
Canister vacuums are capable of dealing with messes that the average upright or hand vac just can't tackle. This is made possible by a long-reaching wand that allows them to reach under very long tables or up toward high drapes, as well as plenty of power to pick up larger pieces of debris. If you deal with serious messes or have a lot of pets, canister vacs might be your best option to keep upholstery and floors clean. Although, if you'd prefer an upright vacuum, read our resource article that covers the differences between a canister and an upright vacuum.
If you have an extra-large space, canisters may be easier to use as well. Just like some of the leading canister vacuums for pet hair, work the best in most homes. They also make great vacs for more commercial-oriented purposes – not just offices and lobbies that see a lot of foot traffic, but hobby rooms, laundry rooms, and other residential areas that see professional levels of dirt. Keep in mind that the canister vacs also tend to be quieter than often noisy uprights, which means less disturbance around the home or workplace.
However, canisters – especially our top picks – also tend to have excellent dust trapping and filtering capabilities. This makes them a great choice for dust control and allergy prevention. It gives them an advantage in cleaning harder or rougher floor areas as well (another reason they are a popular commercial option). However, they can be a little pricey, so make sure you are willing to spend enough for a quality model. For instance, the best Dyson vacuum can cost much more than the competition.
#1 Pick

Miele Complete C3 Alize Canister Vacuum – Editor's Choice/Best Powerful Canister Vacuum
Price: $649.00 | Brush Roll: AirTeq Floor Brush | Dust Trapping: HEPA Filter | Container: FilterBag | On Board Accessories: 3 Tools | Weight: 19.4 pounds
WHY IT'S A TOP PICK: This Miele Canister Vacuum has tons of customization and power in one package.
Whether you are looking for a powerful vacuum for a commercial space or a model that can finally handle the grit and grime of your busy home, this Miele unit can easily deliver. It has a 36-foot operating radius, and comes with an "AirTeq" brush roll, which provides automated suction changes that decrease suction over the carpet but increase it over hard flooring. The head comes with an LED headlight and six separate suction settings, so you can also take manual control when necessary. Accessibility options include a telescoping wand and a surprisingly comfortable handle grip, too.
Pop open the top, and you get three accessories for dusting or cleaning the furniture. That dust is going to stay put, too, thanks to the HEPA filter that traps and keeps even extra-small particles inside the vacuum cleaner.
Two points in balance of our praise: first, $650 is a lot to spend on a vacuum cleaner. Understanding this, we advise you to look for discounts or refurbished models if you need a powerful canister model but can't afford the listed price.
Second, this is a bagged canister vacuum cleaner, just like its cousin model, the Miele Dynamic U1. However, bags have some advantages – they're usually better at trapping dust – but they also have drawbacks, including the additional cost. You'll need to buy a new box of bags every several months for the average home, so keep this in mind. However, if you clean up a lot of fine dust and are very tired (or worried, in the case of toxic materials) of having that dust fly up in your face every time you empty a canister, then a bagged option may be well worth the cost for you. The best vacuum cleaner is always a personal choice.
#2 Pick

Dyson Cinetic Animal Canister Vacuum – Best Canister Vacuum for Pet Hair
Price: $399.00 | Brush Roll: Cinetic Tipped | Dust Trapping: N/A (Customized Brush) | Container: Canister | On Board Accessories: Turbine Tool for Pets | Weight: 12.1 pounds
WHY IT'S A TOP PICK: A perfect pet accessory, along with extreme ease of use.
Maybe you dislike the idea of replacing dust bags but still want a model that can handle dust and messes right down to those annoying hair tangles: Dyson's Cinetic series is well worth your time, and we were particularly impressed with the Animal model, which comes with several excellent tech features.
First, the cleaner head is designed with "cinetic" tips or little tips that oscillate around to prevent dust particles from blocking airflow. There are no bags to replace or filters to wash, since the model depends on its high-quality sealing to keep dust trapped inside as well. Plus, that ball-shaped design makes this canister unit particularly easy to swivel and tug along with you as you go. This is a feature that's notoriously associated with Dyson, but Bissell does a good job at coming close with suction features, as you'll read in our Bissell 9595A Cleanview bagless vacuum review and our Bissell AeroSlim review.
But we particularly like the Turbine tool, which is designed to remove hair from furniture – without getting tangled up. If you have pets that tend to shed all over your upholstery, this model can certainly deal with them. Another great vacuum perfect for homes with pets is the Dyson Big Ball Animal 2, a self-righting vacuum that can pick itself up when knocked over. The best robotic vacuum may also help you with excess pet hair. If you'd prefer an upright vacuum designed for deep cleaning and removing pet hair from carpets and hard floors, you could also take a look at the Dyson Ball Animal 2. But, remember that upright vacuums can be bulky and struggle to clean tight spaces and under furniture.
Read More: Dyson Doubles the Suction of the DC50 and DC47, But Not the Price
#3 Pick

Bissell Zing Rewind Bagless Canister Vacuum – Best Canister Vacuum for Hardwood Floors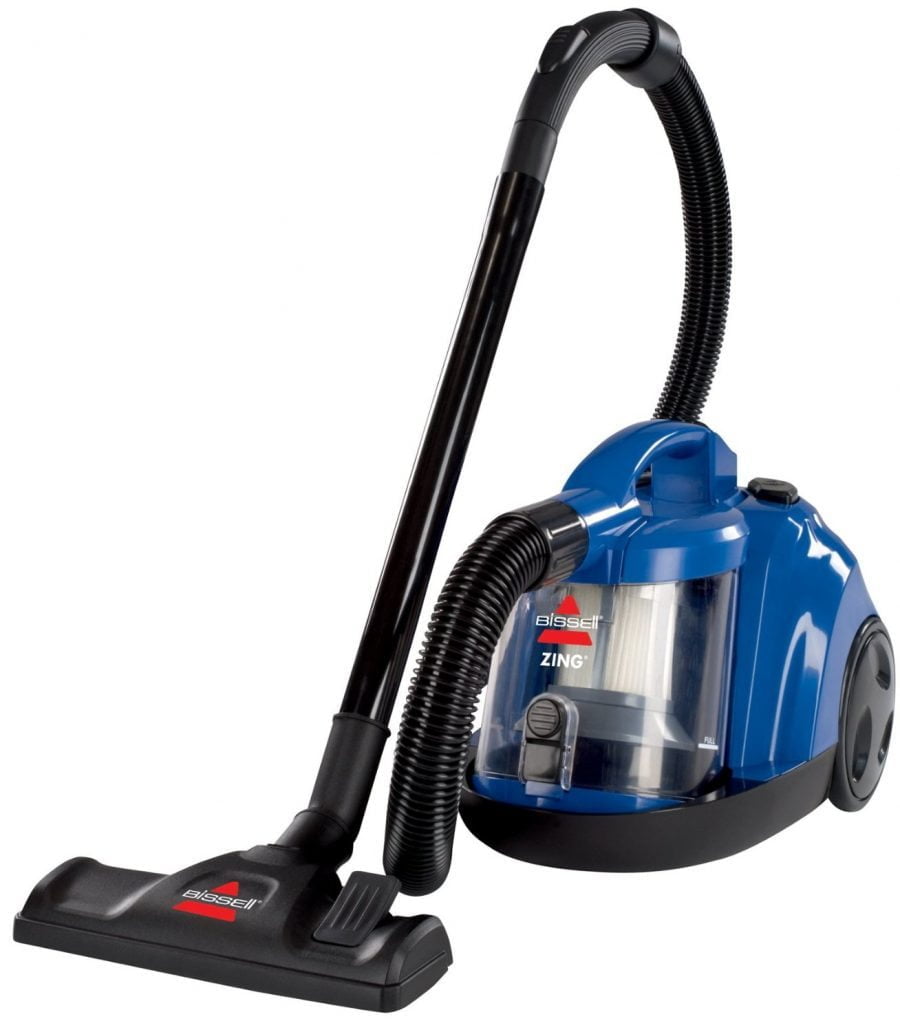 Price: $49.00 | Brush Roll: Yes | Dust Trapping: 3-Stage Filtration | Container: Canister | On Board Accessories: Combination Dust/Crevice Tool | Weight: 11.2 pounds
WHY IT'S A TOP PICK: An affordable vacuum that's great at basic cleaning tasks.
On the other hand, maybe you really can't afford an ultra-expensive vacuum cleaner, but still want a canister model, like the Miele Blizzard CX1. Alternatively, the Bissell Zing is specifically designed for people like you. It only costs $50, but gives up surprisingly little in the way of features. It comes with different speed options for carpets and hard floors, canister-based dust management, and three-stage filtration. There are also several accessory tools to use, including automatic cord rewind, and even an airflow regulator.
However, keep in mind this is a lightweight vacuum, and we're not just talking about weight. It will do an excellent job in small rooms and simple cleaning tasks, but don't ask too much of it – for tougher jobs, choose one of our other picks instead.
What to Look for When Buying the Best Canister Vacuum
Extension Wands
An extension wand allows you to extend the brush (in addition to the length of the hose) even further – these wands also help you reach higher with attachments. They may seem like a minor feature, but for floor-bound canister models, they become very important. Look for models that can extend when necessary, especially if you need to vacuum furniture – or even windows.
For many vacuums, weight is a serious consideration. However, due to the floor-bound, rolling nature of canister vacs, and the extension wands they come with. weight isn't really an issue here – unless you have to lug them up the stairs every time. In that case, look for the lowest weight you can find. To start, you'll want to check out a Roomba vs Dyson, to see which one would work best for you. And, those who need a lighter device might be interested in the top-rated handheld vacuum.
Operating Radius
Operating radius is a catch-all term that describes just how much ground a canister vac can cover while plugged into a single outlet.
Because lugging canisters around can get a little tiresome, the operating radius gives you a good idea of how much work you can save by purchasing a canister model. If you are dealing with especially large rooms, the radius becomes even more important.
Durability
Canister models may look tough, but they do have their weak spots, especially when it comes to the hose and attachments.
You don't want your vacuum cleaner investment to be ruined because a single part rips or tears. So look for models that are well-respected for their durability, and come with long-term warranties in case something happens.
The Right Cleaning Path
The cleaning path refers to how wide the brush roll is – in other words, what sort of space it can fit under or between.
If you clean around a lot of furniture, the cleaning path measurement is extremely important – make a note of how wide it is, and make some measurements of your own. If the path is too wide, you'll keep bumping into things or finding that the vacuum won't fit under chairs.
Affordability
Canister vacuum prices can quickly rise to several hundred dollars or more. While we worked to include a low-cost option in our top picks, that type of model may not work for everyone.
You should always consider price carefully while buying: If you need an expensive model, look for deals and discounts to help out.
Automated Features
Automated features make cleaning easier and much more effective. For example, brush rolls that automatically lower on hardwood floors to create better suction will give you a better cleaning experience on those specific surfaces.
Cord Rewind
It's a small feature, but we really like it. Cord rewind options automatically snake the cord back into the canister (okay, you may need to give it a little help). It saves time and is overall one of those underrated benefits that prove itself over and over.
Low Noise Levels
Vacuum noise isn't always important, especially in commercial settings. But if you're in a spot where noise can disturb guests, customers, etc….well, you probably want a canister vac, which tends to be designed with better insulation that can lower the noise levels to around 65-70 decibels (not perfect, but better than powerful upright models).
Read More: Deebot D45 Robotic Floor Vacuum Review
Mistakes to Avoid
Thinking that Canister and Upright Vacs are the Same: They are not; just because they are two common vacuum choices for the average floor doesn't mean they are the same. Uprights are easier and faster to use. Canisters can provide more power and a larger carrying capacity. While they are becoming more similar in some ways, when it comes to actually take the vacuum out and using it, the two are still quite different and made for different purposes.
Assuming Reach is Fine: We've mentioned how radius and reach are important – for good reason. Not every hose or wand is going to fit your needs. It's nice to hold a canister vac in person to get a good idea of this, but of course, that's not always possible, so pay close attention to dimensions and cord length! Operating radio
Believing all Canister Vacuums are Good at Picking Up Dust: Many of them are, but it's not a guaranteed specialty. A lot depends on sealing and filters, which differ greatly across vacuum models and even brands. Don't assume you can pick a Hoover, Shark, or Dyson model at random and get excellent dust control. Look for HEPA filters, sealing technology, cyclonic canisters, and other positive signs. Our Miele vacuum pick also has a 1200-watt motor, which is another good sign that a vacuum cleaner means business.
Thinking that Your Carpet Will Always be Safe: Because canister vacuums have lots of power, they don't always treat carpets well. Delicate or high-pile carpets may get damaged on the highest settings, particularly when you have vacuum cleaners that can suck up bowling balls. We looked for vacuum units with reports that said they fared well on thick carpets or expensive rugs, but you should still be careful. Lower speeds if necessary, and vacuum carefully at first. If a vacuum cleaner does have a rating like 100 inches of water lift, be very careful using it for the first time, because that's a whole lot of power aimed at your carpet.
Assuming You Have to Get a Canister Vac: They aren't the only kind of vacuums out there! Yes, they look impressive, but when it comes to actual suction and new technology, there's plenty of overlap with uprights and other vacuum cleaner models. Expand your search if you aren't satisfied.
Forgetting Safety: Canister vacuums have a lot more things you can trip over or get tangled up in than other vacuum cleaners. Please be careful and aware of your surroundings when you vacuum.
What Else You Should Think About
After taking a look at our top canister vacuum pick, remember to review the specs of a couple of other models for comparison purchases. We know the differences, but we'd like you to know them too, preferably before you make a purchase.
We mentioned those canister models are good picks for commercial purposes as well, but keep in mind that not all commercial spaces are the same. If you have a large work-oriented floor with plenty of dust and debris, you may be better off just getting a shop vac. Canister models are great options for small businesses, offices, and service areas, but the closer you get to production and manufacturing, the less useful they become.
You might want to consider how many additional features and accessories the model comes with. Some extra cleaning tools can be beneficial, but switching between too many will be a headache, especially if you forget where you've left that one brush or nozzle. Some models solve this problem by storing accessories inside the main compartment. The Kenmore Pet PowerMate is a great example of this. The Pet PowerMate is a cleaning attachment that features a separate motor perfect for removing deeply embedded pet hair and stubborn dirt. Plus, you store the Pet PowerMate inside the main compartment ensuring it never gets lost or misplaced.
Finally, always remember to read the instructions when it comes to your filters. Different brands have different filter guidelines – here's Bissell's suggestion – when it comes to rinsing, drying, or replacing, so do a little homework to keep your filters working properly.
And make sure to consider a top-rated air purifier as this can greatly cut down on dust and particulates in the air.