Dyson vacuum products are known for their power and technology – but what's the best Dyson vacuum of 2023? We dug down and studied suction capabilities, sealing tech, the latest motors, crevice tools, and brushes, and a little bit of everything else. Now we've made our top Dyson picks, based on what type of surface you really need to clean.
After comparing models, our top pick was ultimately the Dyson DC65 Animal Complete Upright ($535.94), an extremely powerful vacuum perfect for a range of floor types with an upgradable brush bar, rotating cleaning heads designed to remove annoying pet hair, and a plethora of accessories that allow you to tackle many different projects at once. It may very well be the best carpet cleaner you can buy.
Best Dyson Vacuum
Dyson DC65 Animal Complete Upright
Dyson V6 Motor Head Cord-Free
Dyson V6 Trigger Cordless Handheld
Rank
#1 – Editor's Choice/
Best Dyson Vacuum for Pets
#2 – Best Dyson Stick Vacuum
#3 – Best Dyson Cordless Vacuum
Amazon Rating
Brush Roll
Brush Bar with Extra Power
With Direct-Drive
NA
Dust Trapping
Basic Filter
Post Motor Filter
"Whole Machine" HEPA filtration
Water Lift
Unknown
Unknown
Unknown
Weight
27.1 pound
5 pounds
3.4 pounds
Air Flow
Unknown
Unknown
Unknown
Container
Canister
Small Canister
Small Canister
On Board Accessories
5 options
2 options
NA
Price
$536.90
$365.00
$96.67
Buy Now
Buy Now
Buy Now
How We Choose the Best Dyson Vacuum
When we compare Dyson vacuums, we take a look at several important features to choose which Dyson vacuum is the best. Some of the key features we examine include:
Sealing Technology: While Dyson vacs excel in many areas, one of their strongest qualities is power – and much of that comes from high-quality sealing technology. The better the seals on your vacuum cleaner motor and canister, the better the suction and the less chance of dust

particles

escaping back into the air.
Automatic Adjustment for Different Floors: Our top Dyson pick, like many high-end vacuums, has a useful adjustment feature that raises and lowers the vacuum cleaner head to match carpets, hardwoods, and other types of flooring, ensuring better suction. We really like seeing these simple but effective automatic adjustment options that are so handy for the average household.
Maneuverability: Maneuverability refers to how easily the vacuum cleaner can reach other furniture, clean furniture, handle stairs, and so on. We prefer vacuum cleaners that are lighter and more nimble when possible (below 17 pounds is great, although we made an exception for our top pick), including cordless models. However, maneuverability also refers to container options. If you're wondering how to clean a Dyson vacuum, most use canisters instead of bags.

Canister vacuums are easier to use, clean and they save money on bags.

We give preference to easy-dump canisters that can be poured right into the trash.
Additional Suction Specs: Take a look at our Dyson comparison chart and you'll see the full range of specs that we favor. Dyson doesn't release much information on water lift or CFM, which refer to suction power and airflow, respectively. However, when available we also look at these statistics or run our own tests to find out just how suction compares to other vacuum models.
Price: How much is a Dyson vacuum? While rates can vary, Dyson models can have pretty high price tags. Taking this into account, we still don't want consumers paying too much for a vacuum cleaner they really don't need.
Read More: Dyson DC35 Multi-Floor Vacuum Review
Why You Should Buy a New Dyson Vacuum
More than most brands, Dyson is constantly pushing the envelope when it comes to new, consumer-friendly vacuum technology. We're not just talking about "cyclone" suction and other branding terms, either.
We mean real changes, like cordless, quick-charging vacuums that still have enough power to clean up messes or stick vacuums that can be adjusted to handhelds at the drop of a hat. The latest brush upgrades also give many Dyson brushes 25%-50% more power, which means they dig more deeply into carpets with more powerful motors. They can be comparable to the leading steam vacuum cleaners in terms of strength. If you need a powerful vacuum to clean your electronics, then check out our best computer vacuum.
So, when you're asking "Which Dyson is right for me?", think about what sort of messes you need to clean up, and where your current vacuum cleaner is currently struggling. Pick the Dyson model that deals with these shortcomings! So, you can tidy up accidents quickly and clean your house or apartment in under 30 minutes!
#1 Pick

Dyson DC65 Animal Complete Upright Vacuum

Award: Editor's Choice/Best Dyson Vacuum for Pets
Price: $535.94 | Brush Roll: Brush Bar with Extra Power | Dust Trapping: Basic Filter | Container: Canister | On Board Accessories: 5 Options | Weight: 21.2 pounds | Read Full Review: Dyson dc65
WHY IT'S A TOP PICK: Powerful suction excellent at dealing with big messes, matted hair, and all those other vacuum nightmares.
When it comes to all-purpose Dyson models, the DC65 Animal impressed us the most with its power and versatility. In addition to standbys like Radial Root Cyclone technology in the famous Dyson Ball, there are also more practical adjustments to this new model, such as a new brush bar that now has 25% more power – perfect for cleaning deep carpets filled with tough dirt, as well as the best Dyson vacuum for pet hair. In addition to the extra digging power, the model comes with counter-rotating heads that are particularly useful for removing pet hair and other stubborn debris from upholstery or carpet.
The accessories are also worth a mention, because Dyson manages to include a plethora in this otherwise slim vacuum cleaner. A turbine tool, flat tool, soft brush, corner brush, bristle brush, and more help you clean just about every surface you can think of.
However, there are two caveats to choosing this ultra-powerful mode. First – well, you have to pay for it, and going over $500 is a bit much for small houses or apartments. Second, at just over 27 pounds this is one of the heaviest consumer vacuum cleaners we've seen, so it's not very suitable for the elderly or those who don't want to lug it around the house. You can easily find the best upright vacuum for your specific needs.
#2 Pick

Dyson V6 Motor Head Cord-Free Vacuum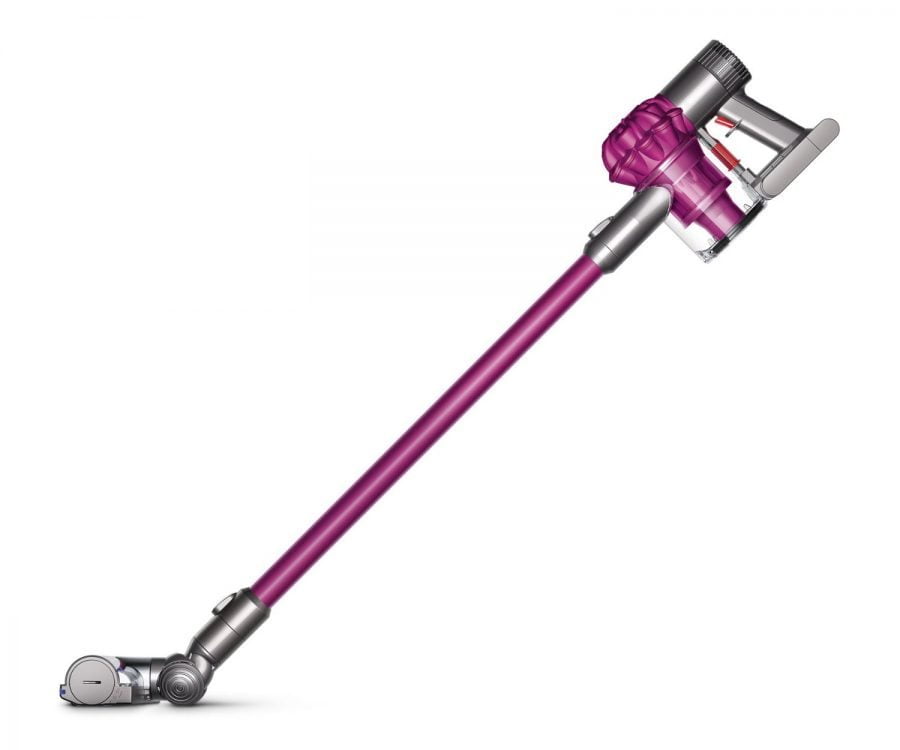 Award: Best Dyson Stick Vacuum
Price: $365.00 | Brush Roll: With Direct-Drive | Dust Trapping: Post Motor Filter | Container: Small Canister | On Board Accessories: 2 Options | Weight: 5 Pounds | Read Full Review: Dyson V6 Motorhead Review
WHY IT'S A TOP PICK: A cordless stick vacuum that's lightweight, but still powerful enough for any floor.
Moving from one of the heaviest floor vacuum cleaners we've seen to one of the lightest, the "cordless stick" vacuum cleaner line is a newer type of model designed for quick, lightweight work. In many ways, the V6 stick vac is an attempt to combine the power of traditional Dyson models with the lighter, more maneuverable stick model, and in most ways, it is a resounding success. We appreciated the Direct-Drive adjust that adds extra power to the bristles and enables the motor to easily clean carpets (something stick vacuums can sometimes struggle with).
Versatility is a big focus for this vacuum. There's an accessory you can pop out to reach distant corners, nooks, or crannies, and another soft brush for cleaning keyboards. It also features a collapsible mode that turns this model into a handheld for any upholstery work, which saves you a lot of time with other, less necessary accessories. We also liked the wall mount/recharge station, although it does need to be near an outlet when you install it.
If you are cleaning multiple surfaces and furniture at the same time, this model is a perfect fit. However, the battery is a little disappointing, with only up to 20 minutes of run time. That's 10 minutes less than the Dyson V7 – not a lot when you're looking at a whole-house cleaning job. For improved battery performance, check out the Dyson V11 with an impressive run time total of 60 minutes. However going back to the Dyson V6, we do like the power trigger, which only uses this battery when you're ready for suction, saving as much energy as possible. Compare this model to the best handheld vacuum and see if it meets all of your needs.
#3 Pick

Dyson V6 Trigger Cordless Handheld Vacuum
This powerful handheld can hold its own even with traditional vacs.
Award: Best Dyson Cordless Vacuum
Price: $195.99 | Brush Roll: N/A | Dust Trapping: "Whole Machine" HEPA filtration | Container: Small Canister | On Board Accessories: N/A | Weight: 3.4 pounds | Read Full Review: Dyson V6 Trigger
WHY IT'S A TOP PICK: A handheld vacuum that can handle all those tricky tasks other vacuums can't.
Not everyone needs a floor vac – and one of Dyson's most impressive models is actually an ultra-powerful handheld cleaner. This handheld version is a trigger-based vacuum with a small canister, one that's designed to be quickly dumped into the trash so you can clean up and get on with your day in minutes instead of hours. The radial cyclone design also gives it a surprising amount of power. If you are looking for a great vacuum cleaner for tackling upholstery, car detailing, and other specific projects, this is one of the best models that we've seen.
Of course, it does come with that problematic 20-minute battery life, so you may need to recharge often. However, there is an interesting feature that allows you to go into high-power mode for several minutes, which is particularly handy if you have a mess to clean up ASAP and only need to use the vacuum for a brief amount of time. Also, check out the best canister vacuum for the home. If you are torn between Dyson and Shark, read about the best Shark vacuum to learn more.
What to Look For When Buying the Best Dyson Vacuum?
New Technology
We've already mentioned the new, more powerful brush roll, the cordless models, and the radial cyclone designs used by Dyson. Features like this easily increase vacuum cleaner power and are dealmakers when looking for a heavy-duty model.
Manageable Prices
To be blunt: Dysons have high prices. When looking at a model like a Shark vacuum compared to Dyson, one of the noticeable differences is price. Shark models rarely go beyond $350 or so, while Dyson models of the same type can easily soar above $500.

This is one reason we preferred the less expensive, lighter models that Dyson has been working on lately such as the Dyson V8 and Dyson Upright. They allow you to save much more money (and more weight) at the same time.
The Right Model for the Job
If you have a lot of dirty carpets to clean, then a Dyson ball multi-floor upright vacuum – corded, preferably – is probably going to be the best model for the job (even if it is extra heavy). However, if you have a smaller floor space to work with, or need to clean a lot of furniture quickly, you may want to take a look at our other models. What is the best Dyson vacuum? It depends on your home. The best vacuum for hardwood floors isn't going to always be the best for carpet, too. Just as the best robot vacuum isn't going to be the most powerful.
Dust Requirements
Do you need a vacuum cleaner that helps prevent allergies and asthma? Look for a model that includes excellent sealing and filtration. Dyson doesn't have much of a focus on HEPA – high-efficiency particulate air – filters (even our handheld pick only calls itself HEPA because of its sealing tech, not because of a filter). But many other brands offer replaceable HEPA filters for powerful dust and pollen control, often for a fraction of a Dyson's cost.
Head and Roller Size
Do you have a lot of tight spaces to vacuum around or within? Take a look at the roller size and make sure that it's small enough to get under your furniture and into crevices.
Read More: Dyson DC39 Multi Floor Vacuum Review
Mistakes to Avoid
Buying Only Because of Dyson Tech:

We get it, Dyson does a lot of exciting, high-end work in the vacuum cleaner world…but avoid getting fixated on Dyson models just because that's what you're currently looking at. Pricey models like the V11 Torque Drive will cost you an arm and a leg. So, check out our

picks for the best vacuum cleaners for carpets

and other choices on shelves before making up your mind. Not everyone needs a Dyson (especially not a V11 Torque) however powerful they may be.

Buying for the Wrong Type of Floor: If you have hardwood and tile, it doesn't make much sense to buy a vacuum cleaner with extra powerful brushes for carpets. Plus, if you don't know how to vacuum hardwood floors, you might buy the wrong vacuum. If you are cleaning a lot of carpet, you probably don't need a suction setting for flat floors; look at your floors, and then purchase the model you need .
Forgetting About Accessories: Accessories can take a lot of work out of the vacuum cleaner process, or solve a problem that you didn't even know you had. Our top pick is a monster of a vacuum, but it comes with an array of useful accessories for pretty much every surface, which counts for a lot in our book.

Don't forget to consider whether you need a cordless or wired model. There are plenty of Dyson Cordless Vacuums to choose from, so do your research before you decide.

Using Too Much Power: We're not talking about energy consumption here (although that may be a valid concern for you as well). We mean vacuum cleaners that are a little too good at their jobs: Dyson machines are especially powerful, but that doesn't always lead to good results. If you have fragile carpet or rugs (international products especially fall into this category), then that extra brushing power may actually rip out fibers and damage your furniture or floor. Tread carefully!
What Else You Should Think About
Once again, remember to buy the right vacuum cleaner for your situation – our top pick is a great upright, but you may not need a full upright vacuum! One reason Dyson vacuum units tend to be high-end is because they are very durable and come with some of the longest guarantees in the business, so this is a long-term choice. It deserves careful consideration. Remember, this is about finding the best vacuum cleaner for you.
Additionally, we know Dyson terms can get a little confusing, so don't be afraid to do more research if necessary. For example, Dyson talks frequently about "cyclonic" action, which may not make much sense in terms of vacuuming. This actually refers to a design pioneered by the original James Dyson, which sucks air in a spiral pattern around the canister to siphon off dust more effectively without losing suction power. Sometimes terms like these help you understand your vacuum better – or keep you from falling for flashy names that don't really mean much. If you're not sure what flashy names like Dyson Cyclone, Cinetic Big Ball or Dyson V7 Motorhead mean, look online for reviews, specs, and info.
After considering the best Dyson vacuum, think about what else you need, too. You can learn more about the latest changes Dyson is making to its vacuum cleaner models, or study some of the latest vacuum cleaner models that make even Dyson look low, like the Gtech AirRam. If you're interested in robot or automatic vacuums, take a look at our review of the Deebot D45 or check up on Dyson's latest robot vacuum plans too!
Dyson V10 Absolute Versus Dyson V10 Animal, what's the difference?
The Absolute and Animal are actually fairly similar. They use the same motor, battery, and provide the same suction power. Both have a reliable run time of 60 minutes with a torque drive cleaning head and HEPA filter system. The only real difference is the included accessories. The Absolute comes with a Fluffy Cleaning Head, whereas the Animal does not.
Dyson Big Ball Animal 2 versus Dyson Ball Animal 2, what's the difference?
Both offer spectacular suction power perfect for deep cleaning and homes with thick carpets that get tangled with pet hair. Both models are straightforward to empty and excellent at tackling mess on all surfaces. When it comes to weight and usability, that's where the differences stand out. The Ball Animal 2 is excessively heavy, awkward to move around tight spaces, and has far too many overly complicated attachments. The Big Ball Animal 2, however, does better in this area. It's still quite heavy to carry and difficult to store, but it comes with a set of genuinely useful attachments. Plus similar to the Big Ball Multi Floor 2, it self-rights when knocked over. The Multi Floor 2 is another powerful model from Dyson, but it does come with fewer attachments than the other two models.