To help you find the best avocado slicers that can slice and dice through both the inside and outside of avocados, we spent several hours researching the top 10 options your money can buy. After our research, we narrowed down our list to the top seven slicers. Our research focused on slicing ability, multiple functions, and comfort. We also looked at design and durability to ensure we only recommend options that will last you for a long time.
The results of our research made clear that the OXO Good Grips 3-in-1 avocado slicer is the top pick for this year. With OXO's brand reliability and a multi-function design, this slicer will last you for years to come. It's also dishwasher safe and incredibly comfortable. Keep reading to learn more about the OXO Good Grips and the other best avocado slicers we selected for this year's list below. If you are in the market for more gadgets, check out our guide to the best kitchen appliances.
Top 7 Best Avocado Slicers
 #1  OXO Good Grips 3-in-1 Avocado Slicer
Award: TOP PICK
WHY WE LIKE IT: This avocado slicer is a multi-functional tool that can split, slice and pit your avocados with ease. It's also comfortable in the hand and easy to clean since it can be washed in the dishwasher.
Read Full Review: OXO Good Grips Avocado Slicer
Pros
Comfortable, non-slip handle
3-in-1 design
Dishwasher safe
Cons
Splitter takes some practice
Hit or miss pit remover
The OXO Good Grips 3-in-1 avocado slicer is our top pick because it's a multi-functional option that takes care of avocados from start to finish. You won't need any other kitchen utensil to help when you have this slicer in hand. It includes a plastic blade for splitting the avocado peel, a pit remover with metal pins and six plastic blades to slice the fruit inside. Each of these components is relatively easy to use, although the pit remover sometimes doesn't fully attach to the pit for easy removal.
The OXO is also comfortable to use. The handle is soft and made from a non-slip material that will keep your hands from slipping out of place when you're exerting force. The best feature here though is the fact that this slicer is top-rack dishwasher safe, making it incredibly easy to clean once you're done slicing. If you're using this slicer to make guacamole, you might also want the best chopper on hand.
 #2  Joseph Joseph GoAvocado 3-in-1 Avocado Slicer
Award: HONORABLE MENTION
WHY WE LIKE IT: This product takes care of your every avocado slicing need with blade, stone remover and slicer. The slicer fits well in the hand and eliminates the mess that normally comes with preparing avocados.
Read Full Review: Joseph 20112 GoAvocado Avocado Slicer
Pros
Folding plastic blade for safe storage
Stainless steel stone remover
Ergonomic and comfortable
Cons
Folding blade takes some breaking in
Not great for smaller pits
The Joseph Joseph GoAvocado 3-in-1 avocado slicer is another multi-functional tool made with durability and ease of use in mind. With this product, you can open up your avocado, remove its stone and slice the fruit into even pieces. The best feature on the GoAvocado is the folding blade. This saves space in both your kitchen drawer and in your hand. The only downside about this handy folding blade is that it's a little stiff when you first purchase it. After a few uses, though, you'll find that it will loosen up.
The GoAvocado 3-in-1 avocado opener is also easy to use and comfortable in the hand. It's mostly made from plastic, but the pit remover is made from stainless steel for added durability. The pit remover is a little too large for smaller pits, but for the most part, we didn't run into this problem often. This slicer is also easy to clean, either by hand or in the dishwasher. If you like this slicer, you might want to grab the best digital scale too.
 #3  Amco 2-in-1 Avocado Slicer
Award: BEST QUALITY
WHY WE LIKE IT: This avocado slicer is durable, easy to use and comfortable to hold. With 10 individual wires for slicers, you can cut up to 11 pieces of fruit for more culinary creations.
Read Full Review: Amco 8685 Avocado Slicer Pitter
Pros
Can cut into 11 pieces
Flexible wire blades
Durable stainless steel construction
Cons
Not for small avocados
Disappointing pit tool
The Amco 2-in-1 avocado slicer is one of the simpler options on our list. It only features two functions: the slicer and a pit remover. For starters, instead of solid plastic slicer blades, you get 10 flexible wires. These slice through the avocado much easier than other slicers and once you're done, you'll end up with 11 pieces of fruit. This gives you a lot more individual pieces of fruit to use in your cooking or just to eat.
The Amco also includes an avocado pit remover in the form of a nylon loop. The pit remover works, but you'll likely end up taking out more fruit than you'd like when using it, which was a little disappointing. The Amco 2-in-1 is built well with a stainless steel body and slicer head. The nylon pit remover loop is also durable enough to last through many avocados. The avocado slicer is also dishwasher safe, but we recommend rinsing the wires by hand before washing in the dishwasher so you don't end up with avocado leftovers stuck to the tool. Now you'll have sliced up avocados for the next time you pull out the best burger press.
 #4  Dotala 3-in-1 Avocado Slicer
Award: BEST MULTIFUNCTION
WHY WE LIKE IT: With the slicer, pit remover and splitter blade all on the same end of the tool, this avocado slicer is extra comfortable and ergonomic. It's also made from stainless steel and food-grade silicone and plastic.
Read Full Review: Dotala Avocado Splitter Comfort Grip Green Slicer
Pros
Streamlined design is easy to use
Comfortable and ergonomic handle
Hole in handle for hanging
Cons
Bulkier than other slicers
The Dotala 3-in-1 avocado slicer offers one of the more unique designs of all the options on our list. Instead of having the different tools on either end of the slicer, they're all contained on a single end, while the other is dedicated to the handle. We were really impressed with this design because it increases your overall comfort while using the tool. It also prevents you from getting your fingers in the way of your slicing. Speaking of getting your fingers in the way, check out our review of the best automatic pot stirrer.
On top of the more comfortable orientation of the tool, the handle itself is incredibly comfortable. It features a soft silicone grip and a hole at the end of the handle for hanging the tool up. The Dotala is also durable enough to last for a lifetime. It's built from BPA-free, PP20 plastic, stainless steel and FDA food-grade silicone. It's also dishwasher safe for easier cleaning. This will definitely be easier than using your best chef knife to cut your avocado.
 #5  West Ox Strong Grips 3-in-1 Avocado Slicer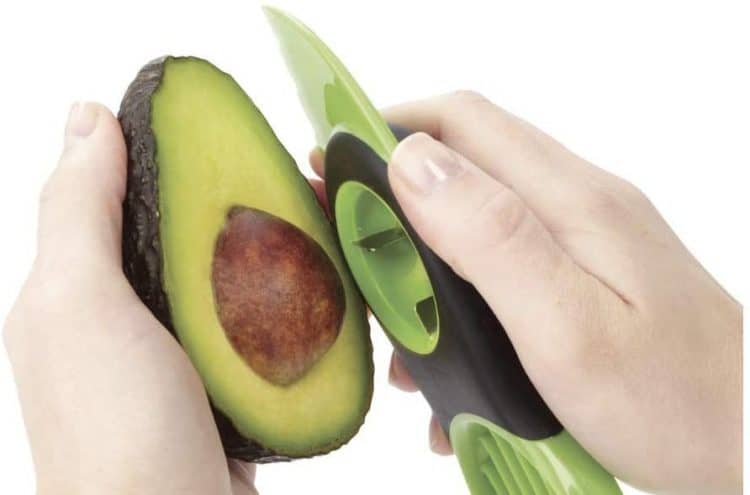 Award: BEST ON A BUDGET
WHY WE LIKE IT: This avocado slicer gives you multi-functional use, durability and ergonomics at an extra affordable price. It's also fairly compact and can fit in your kitchen drawers without a problem.
Read Full Review: West Ox Strong Avocado Slicer
Pros
Serrated blade for easier peel cutting
Long-lasting durability
Cuts slices evenly
Cons
Pit remover could be better
Heavier than some options on list
The West Ox Strong Grips 3-in-1 is the best affordable avocado slicer on our list and it doesn't need to sacrifice performance or quality to do so. This is an all-in-one slicer that features a blade, slicer and stone remover so you get a comprehensive approach to cutting up your avocados. The peeling blade is serrated for better cutting and is the best part of the West Ox. The slicer cuts your avocado evenly without much effort. We were a little disappointed with the pit remover because it takes some getting used to, but it gets easier after just a few tries. You might experience the same thing the first time you use some appliances like the best air fryer.
The West Ox is also durable and compact, if a little heavier than some of the other options on our list. It's made from food-safe plastic and silicone, along with stainless steel for the pit remover pins. Plus, it's easy to clean since you can just throw it in the dishwasher. This slicer will do as good of a job as any of your best knife brands slicing avocado.
 #6  ONEKOO Avocado Slicer
Award: BEST COMPACT
WHY WE LIKE IT: This avocado slicer is ultra-compact and thin while still being able to efficiently peel, pit and slice avocados. It's also made from durable and long-lasting stainless steel so you don't need to worry about it wearing out too soon.
Read Full Review: Avocado ONEKOO Multifunction Premium Stainless
Pros
Unique, easy-to-use flake design
Durable stainless steel
Includes 2 avocado forks
Cons
Lacking in ergonomics
Doesn't slice even pieces
The ONEKOO avocado slicer looks incredibly simple, but it's designed in a way to still provide your three functions in one. Use the serrated portion on the long side of the ONEKOO to slice through the peel and open the avocado. Then use the small end to remove the pit. Finally, use the large rounded end of the tool as an avocado scoop to get out the fruit. You can use the serrated blade to slice the fruit, as well, but be aware that you likely won't get even pieces unless you have an incredibly steady hand.
The best part about the ONEKOO is its slim profile and ultra-compact design. This can be stored virtually anywhere without getting in the way of anything else. It's also incredibly durable in spite of its thin design, due to being made from tough stainless steel. We were also pleased to find that your purchase includes two stainless steel avocado forks so you can enjoy the fruit after slicing it. If you like niche cooking items, you'll love the best oyster knife too.
 #7  Norpro Stainless Steel Avocado Slicer
Award: MOST DURABLE
WHY WE LIKE IT: This metal avocado slicer is incredibly well made and sturdy, with an extra-comfortable handle and strong slicing blades. It's also versatile enough to work on most sizes of avocados.
Read Full Review: Norpro Stainless Steel Avocado Slicer
Pros
Excellent peel separation
Extra-comfortable handle
Works with most avocado sizes
Cons
Not multi-functional
Not dishwasher safe
The Norpro avocado slicer's stainless steel construction is one of the most durable on our list. It's also surprisingly one of the most comfortable with its large, rounded handle. The handle feels comfortable in your hand, even during extended periods of use slicing through multiple avocados.
Unfortunately, the Norpro only includes the slicing functionality without any of the pit remover or peel splitter options. However, the slicer blades are so good and the overall design is so versatile that we couldn't help but include this option on our list. This avocado slicer works well with small, medium and large avocados. Unfortunately, it's not dishwasher safe, but it is easy to clean by hand.
How We Decided
After we received the avocado slicers, we started ranking them primarily by how well they performed their base functionality. The best avocado slicers should be able to make quick and easy work of any avocado. We awarded bonus points to options that sliced evenly and worked with a variety of different sizes.
Next, we gave preference to multi-functional avocado slicers. While slicing through the fruit is the core functionality, it's important to have options that can peel the avocado and remove its pit. The best multi-function avocado slicers design each of these tools with quality in mind, even if there is occasionally a learning curve.
Finally, we looked at the overall durability and ergonomics of each slicer on our list. We only included options that were comfortable to use while slicing multiple avocados and awarded extra points to options that specifically included ergonomics in their design. Ergonomics come in the form of soft and round handles, and they often include texture for added grip strength.
Best Avocado Slicer Buyer's Guide
The Most Important Features to Consider
User Friendly
The whole point of purchasing an avocado slicer is to make the process of cutting up an avocado easier. As such, the most important factor to consider is user-friendliness. Avocado slicers are relatively simple kitchen tools, so you shouldn't need extensive instructions on how to use one. They should also be easy to clean, whether in a dishwasher or by hand.
Single or Multiple Functions
Believe it or not, avocado slicers can perform a variety of different functions. The model you purchase will depend on your specific needs for each of these functions. At the very least, your avocado slicer should be able to cut the avocado into even slices and remove the fruit from the peel. Multi-function slicers will also be able to pit your avocados and slice through the outside of the peel with ease.
Ergonomics
The avocado slicer you purchase should be comfortable to use, whether for a short or long amount of time. Ergonomic grips on avocado slicers are comfortable in your hand and offer additional features like non-slip grips.
Durability
Purchasing an avocado slicer that wears out after a single use is no good, so you'll want to be sure you buy an option that is made from durable materials. Look for avocado slicer metal like stainless steel and other components made from BPA-free and food-safe plastic or silicone.