No one wants great picture quality with terrible sound. So, we will break down the different ways you can connect a soundbar using HDMI, Optical, AUX, and even wirelessly with Bluetooth to your TV to improve your audio experience.
One of the major downsides of newer TVs being so thin is that the sound has suffered. Thankfully, most of the best TVs in the market today allow for a quick and easy connection to a soundbar if you use the steps we set out here.
STAT: Soundbars offer superior sound quality to almost any built-in TV speaker and are capable of surround sound depending on the model (source)
It's generally an easy and quick procedure, like learning how to connect your TV to WiFi. All you need is your TV, soundbar, and the appropriate cables. Most models of soundbars will follow the same general steps to get the job done.
Soundbar Connection Types
Soundbars usually offer a few different ways to connect to your TV. You can choose to use your TV's HDMI, like when connecting Chromecast to a TV. And if, after you connect your soundbar, you have sound but no picture, we have a great guide you can follow. Check out how to fix a TV with no picture but sound to solve your problem.
Terms to know
HDMI (High-Definition Multimedia Interface) – HDMI is an interface that can transmit compressed or uncompressed video and audio signals over a single cable, making it an easy and versatile way to connect devices.

HDMI ARC – ARC stands for Audio Return Channel, and this allows for two-way communication where the TV and soundbar can communicate with each other.

One of the benefits of this is that you can control both devices with one remote.

HDMI eARC – eARC stands for Enhanced Audio Return Channel and is an advancement of ARC. eARC has much higher bandwidth, allowing for higher resolution and lossless audio formats like Dolby Atmos and DTS:X.

Optical connection – This option uses an optical cable, which transfers sound digitally. While HDMI can support 7.1 surround sound, an optical cable only supports up to compressed 5.1 surround sound. This won't be an issue for most people, however.
RCA Cables – These are audio and video cables, distinct for their round color-coded plugs and sockets. These are usually red and white for left and right audio channels and yellow for video. These cables are used for the transmission of analog signals and, as such, are not as high quality as the digital options.
Auxiliary cable (3.5 mm cable) – You can use the aux out on your soundbar to connect to your TV. The downside is that the audio quality will be slightly lower than that of a digital or Bluetooth connection. Usually best as a last resort.
Soundbar connection types explained
Below are the most common types of soundbar connections, ranked from best to worst.
| Rank | Connection Method | Description |
| --- | --- | --- |
| 1 | HDMI | Excellent: HDMI delivers high-quality audio. Supports surround sound formats and is easy to set up. |
| 2 | Optical Cable (Toslink) | Very Good: Optical cables transmit digital audio and offer good sound quality. They're easy to install and support most audio formats, however, they don't support advanced formats like Dolby Atmos. |
| 3 | WiFi | Very Good: WiFi can transmit high-quality audio, but it's often complex to set up and may require specific compatible devices. The least user-friendly option for most consumers. |
| 4 | RCA Cables (Analog) | Good: RCA cables are analog and offer stereo sound. They are easy to connect but don't provide the best audio quality, especially for modern systems. |
| 5 | Bluetooth | Good: Bluetooth is wireless and convenient, but audio quality might not be as high as wired connections. You may have latency issues that affect audio synchronization with video. |
| 6 | 3.5mm Aux Cable | Good: 3.5mm auxiliary cables provide stereo sound, similar to RCA cables. This is simple and inexpensive but lacks the audio quality of digital connections. |
We'll go over the general steps for both HDMI and optical cables since those are two of the most common methods, and both Bluetooth and analog methods can vary considerably from TV to TV and soundbar to soundbar.
How to Connect via HDMI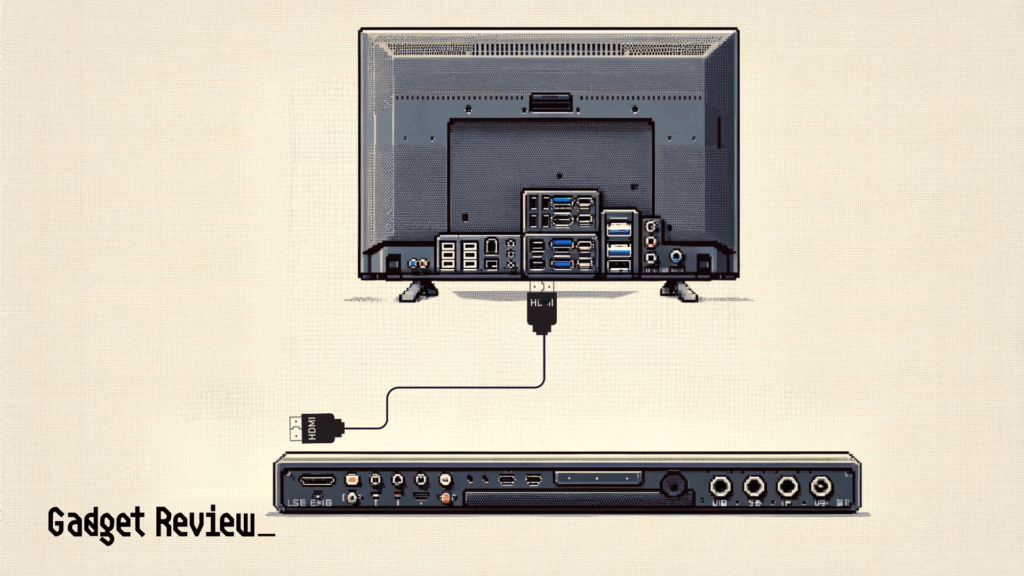 STEP 1 Determine if you have HDMI ARC/eARC
First, determine if your TV is ARC (Audio Return Channel) capable- the ARC label should be clearly visible on the back or side of the TV somewhere. If it's not, double-check on the manufacturer's page- otherwise, you'll have to use another method.
STEP 2 Connect the HDMI cable
Connect one end of a standard HDMI cable to the HDMI IN (ARC) port on your TV
Connect the other end of your HDMI cable to the TV OUT (ARC) port on the back of your soundbar
STEP 3 Change TV sound output
Turn on your TV, then your soundbar
On your TV, under the settings menu, switch the audio output from TV to the soundbar.
STAT: HDMI allows up to 8 channels of uncompressed audio at the highest bitrates and sample rates available (source)
How to Connect via Optical Cable
STEP 1 Find the optical port
Remove the plastic cap off each end of the cable
Find the optical port on your TV. It will look like a square door. If the TV is powered on, you will see a faint red glow coming from the port. It will be labeled as Digital Audio Out/Optical on the back of your TV.
STEP 2 Connect the optical cable
Plug one end of the cable into the Digital Audio Out/Optical port.
Look on the back of your soundbar for the Digital Out/Optical IN port and connect the remaining end of your optical cable
STEP 3 Change your TV sound output
Turn your soundbar and TV on and on the soundbar's remote control.
Use the Source button and switch it to Digital In.
The front display of your soundbar should have a D-IN LED that will turn on when it's selected as the source
Make sure your TV's audio setting is set to internal or "speaker off" so that it sends all audio out through the optical port
STAT: Optical audio or TOSLINK is capable of 2 channels of uncompressed audio and compressed audio in the surround sound format (source)
Once you have your soundbar ready, you can learn how to find the MAC address on a smart TV if you wish to connect to a network and start streaming your favorite music or movies. You can explore premium content paths, access functions like voice control, and automatically adjust your soundbar's settings to match your streaming device.
With the right setup, you can take advantage of higher audio resolution, richer bass, and a variety of streaming devices. So don't forget to check out the details on how to find the MAC address on a smart TV before you start streaming.
And if you are looking for a new TV to go with your soundbar, check out the Sony XBR-A1E.