Good posture in the office is important. After all, you're potentially sitting at a desk for several hours a day, and you don't want to end up with a sore back from work that prevents you from enjoying your weekend. But figuring out how to choose the best office chair cushion with back support can be challenging, because there are so many choices out there. Still, if your current office chair isn't giving you the level of comfort you need, these detachable cushions may be just the answer to alleviate those aches and pains. Choosing the best office chair is essential to avoid pain in your back, neck, elbow, shoulder, and wrist.
Here at Gadget Review, we recommend some of the finest office chairs, such as PU leather vs bonded leather chairs, Secret Lab gaming chairs, memory foam seat cushion chairs, and so much more.
3 Reasons You Need Good Back Support
Adding an extra cushion to an office chair is going to provide comfort for your back. But you're also going to want to ensure that you find a unit with good back support — even if you already use the best office chair — for the following reasons.
Good Posture: A supportive seat cushion on a chair is going to help you maintain good posture while sitting at your desk, because you won't be slouching as much. An add-on back cushion also may match the curved contour of your spine, forcing you to sit with good posture. Speaking of posture, you'll definitely want to learn how to sit correctly in an office chair.
Proper Viewing Angle: If you're looking at a computer monitor while sitting in your chair at the office, the proper support from the chair will allow your eyes to be at the desired horizontal level, which is the top edge of the screen. If the built-in seat cushion on your chair is too soft, you'll sink slowly during the day, leaving your eyes on the wrong horizontal plane, possibly leading to neck strain. Adding a firm seat cushion can keep your eyes at the desired level. Moreover, you'll want to see additional differences between mesh vs cushion chairs.
Comfort: You'll have a better chance of maintaining proper back support if your seat cushions are comfortable, because you won't be trying to adjust your position constantly, potentially slouching because you're uncomfortable. Sometimes, the extra cushion you add to your chair will be more comfortable than the cushions built into the chair.
3 Types of Office Chair Cushions
When looking at different types of cushions you can add to your office chairs, you'll have three types of cushions to consider. You can use each type of cushion on models on our best office chair for back pain list, and each type has its strengths and weaknesses.
Back Cushion: Adding a back support cushion to your office chair can help you avoid slouching, as the cushion maintains a convex shape to match your back and support your spine. Most back cushions will attach to the chair through a series of straps, allowing you to raise or lower them to provide the best support for your back. It's also important to have lumbar support built into the back cushion that you attach to the chair. The lumbar support should be adjustable as well, allowing you to make the back cushion match the contour of your back. Some people may find these back cushions are too thick though, causing too much of a curvature in the back. Some chairs, like those that are in our best high back office chair, will offer ample cushion for your back.
Seat Cushion: While you might not think of a seat cushion as providing back support, the right seat cushion can help prevent back pain after a long session sitting in an office chair. A seat cushion should be made of sturdy material with some firmness to it, as it will be supporting the majority of your weight as you sit. Poorly manufactured seat cushions will compress faster than seat cushions containing higher quality materials. If you end up with a compressed seat cushion, it can't give your back the proper support, so choose carefully. A proper seat cushion also will ensure that the seat of the office chair is at the right height so your feet touch the floor and resulting in good support.
Heated Cushion: If you find that your sore back feels better with heat treatment, you may want to seek out a chair pad that has a built-in heating element. Such cushions are large enough to cover both the back and seat of the office chair, but they typically don't have a lot of padding. Some of these heated cushions provide a massage or vibration element too. And you'll need to have an outlet near the chair because these heated cushions require an electrical connection and a cord, which will cause problems for those who like to move the chair to different locations in the office.
3 Cushions for Office Chairs With Great Back Support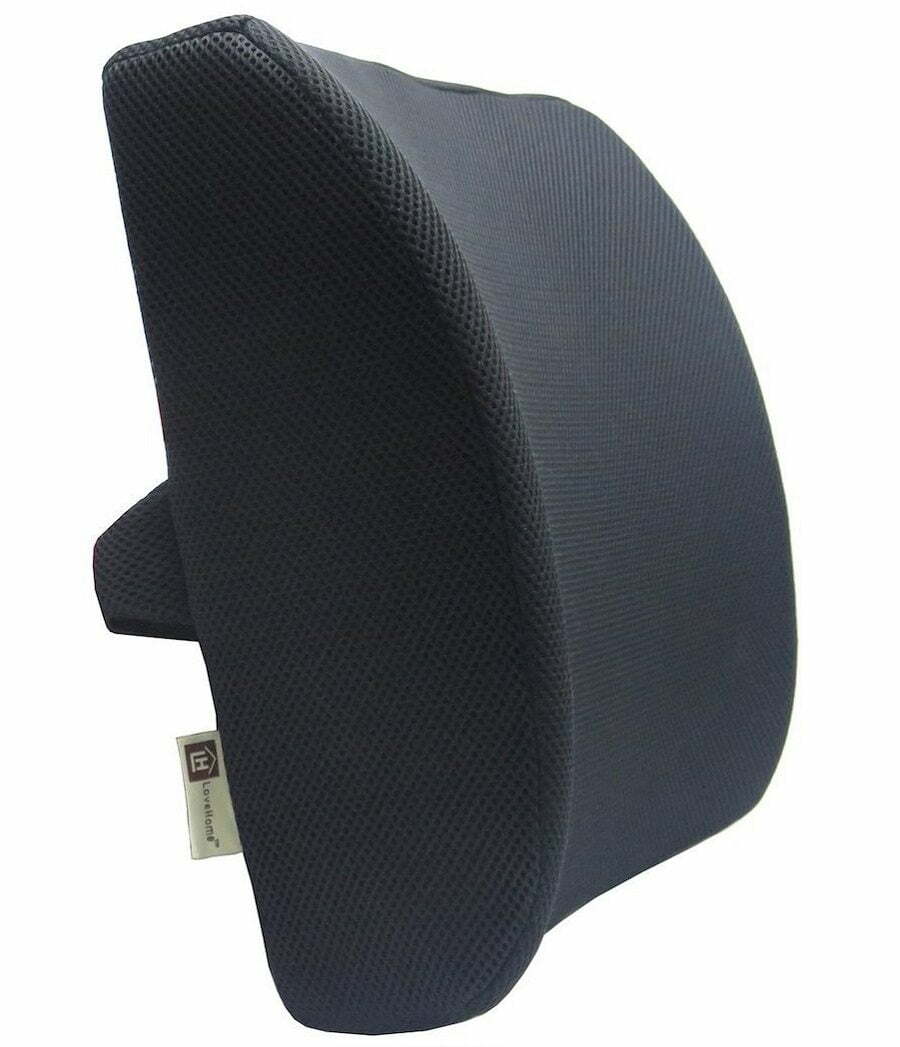 Price: $29.99 | Cushion Type: Back Cushion | Dimensions: 13.4 x 12.6 x 4.1 inches
WHY IT'S A TOP PICK: Its design allows for especially excellent lower back support
Love Home Memory Foam 3D Ventilative Mesh Lumbar Support Cushion: The Love Home Lumbar Support Cushion measures a little more than 13 inches from top to bottom, providing good support for the lower portion of your back. This cushion includes an elastic belt allowing you to attach it firmly to the exact position on your office chair where it will best fit your back. It also has a 3D mesh covering for the cushion, allowing some air to move around the cushion and across your back.
Price: $39.99 | Cushion Type: Seat Cushion | Dimensions: 13.3 x 17.7 x 2.9 inches
WHY IT'S A TOP PICK: Right amount of support and comfort for good back support
Aylio Coccyx Orthopedic Comfort Foam Seat Cushion: The Aylio Foam Seat Cushion provides just the right mix of comfort in a seat cushion along with firmness to hold its shape and give you the desired back support in a cushion. The shape of the cushion provides a good distribution of your weight, alleviating pressure on the tailbone. The cover on the Aylio cushion is removable and washable.
Price: $49.99 | Cushion Type: Heated Cushion | Dimensions: 17.7 x 14 x 5.5 inches
WHY IT'S A TOP PICK: Heating and vibration provide comfort and alleviate back pain
Five Star FS8812 10-Motor Vibration Massage Seat Cushion With Heat: The Five Star FS8812 cushion provides both a heating element as well as a vibration element, which can help alleviate back pain and keep your muscles relaxed, even during a long session of sitting in the office chair. The Five Star cushion is large enough to provide vibration on four areas of your body, while heating your lower back, making this a piece of cool furniture.
Adding the Best Back Support Cushion
If you don't want to add a back support cushion to your office chair, you have a few options for creating a cushion on your own, including using firm pillows or folded towels. But the best option is to find a good cushion you can add to your office chair, as it is designed and built to provide the support you're likely seeking. Such cushions typically carry mid-range price tags, although once you've found an add-on seat cushion that can help alleviate your back pain, you'll probably feel like you've received a huge bargain.
Related Articles: