After over 300 hours of research, we can confidently say that the Herman Miller Embody Chair is our #1 pick as the best office chair. This desk chair promotes movement, which in turn increases blood flow, in large part thanks to its innovative back system that is analogous to that of a human's spine. Plus, it's fully adjustable and can fit most, if not all, body types, all while providing support and airflow to keep you cool throughout your workday at the home or office.
Finding the best office chair isn't as simple as just sitting in a chair. For the ultimate comfort experience, you have to consider things like lumbar support, blood flow, and material, especially if you're working from home 24/7. So we bought 35 of the top office chairs on the market today and spent over 300 hours researching them out to find the best one for you. As we researched, we paid close attention to ergonomics, adjustability, and breathability. We even went as far as to measure how well they moved with our natural movements while sitting at the desk and if they worked well with standing desks.
Related: Also see our best mesh office chair.
Keep reading to learn more about the Embody Chair, as well as the other office chairs that made our top 10 picks.
Top 10 Office Chairs Compared
#1 Herman Miller Embody Chair
Reclining: Yes | Arm Rests: Adjustable
WHY WE LIKE IT: High tech good looking body support. This easily ranks as one of the top ergonomic office chairs reviewed thanks to its unique and well thought out design. It is the best for back pain. It also looks damn cool and should complement even the most finicky of shoppers. Brought to you by the makers of the popular Sayl chair.
Read Full Review: Herman Miller Embody Chair
Pros
Excellent lumbar support
Specially designed back auto adjusts
12-year warranty
Cons
Mesh look isn't for everyone
Seat padding could be thicker
That is all
Pay close attention to the back of this chair, as that's it's key to magical seating. Okay, that might be an overstatement, but according to Herman Miller, The Embody's back has something they call a "dynamic matrix of pixels" that is designed to stimulate your body's blood and oxygen flow simply by reducing the pressure on your body when seated. Additionally, The Embody is built to automatically adjust to its user back, even when they move around allowing lower back support to never dither. All said and done, The Embody is supposed to be so effective it reduces stress and blood pressure. And remember that sitting at a desk for long hours might not be the most exciting way to spend the work day, unless you're sitting in the most comfortable office chair.
The Herman Miller Embody chair starts at $1,229.
#2 Steelcase Gesture Chair
Reclining: Yes | Arm Rests: Adjustable
WHY WE LIKE IT: Increased productivity and maximum comfort makes it pay for itself. At close $1,000 you might be questioning the efficacy of this chair. But fear not, it's worth every penny, as shown in our Gesture chair review. This is the best ergonomic office chair on our list.
Read Full Review: Steelcase Gesture Chair
Pros
Top notch comfort
Arms adjust in all directions
1000s of hours in the design
Cons
No flashy design
Non-adjustable lumbar support
After a study of 2,000 people in 11 countries, Steelcase has developed a chair that suits the needs of not just any person, but any device, including the staff at Gadget Review. Which is to say they've addressed more than just using a computer, or pad and paper at the desk. The Gesture chair is built to support those that use a tablet or smartphone, and based on my experience it does just that.
Related: Check out our best office chair for lower back pain.
This chair also offers top notch comfort and the armrests, unlike many other office chairs, can be easily manipulated to accommodate almost any seating style or position. Moreover, the back of the chair, called 3D Liveback, automatically adjusts to your spine and mimics the natural motion of the body. And it also features the furthest recline of any office chair, all without losing its footing.
If you're thinking about getting this chair, make sure to check out the color choices, the stool version (in case you sit a high desk), and the two back types. You may also need a memory foam seat cushions that features ergonomic designs, lumbar support, pain relief, durability, and breathability too.
#3 Steelcase Leap Chair
Reclining: Yes | Arm Rests: Adjustable
WHY WE LIKE IT: Tried and true chair design provides support and comfort. Billed as Steelcase's number one selling chair, you'd be a fool to not consider this office chair during your hunt for sitting bliss. That's why we rated it our best home office chair.
Read Full Review: Steelcase Leap Chair
Pros
Proven design and reliable
Gesture Chair outshines at a price
Excellent adjustability
Cons
Design and look is simple
Gesture chair is the latest tech
Using something called livelumbar technology, which flexes with your body's movements, the Leap is a cut above the average office chair. And while it may look simple there is a great deal of research and development that has gone into building this top-rated office chair.
Other features include a natural glide system that allows you to recline but remain upright and still naturally reach your work, all without hindering posture or pressure on the back. And if that isn't enough to persuade you, you can take comfort in the fact that the Leap is almost 100% recyclable, and is made from up to 30% of recycled materials.
#4 Ergohuman High Back Swivel Chair
Reclining: Yes | Arm Rests: Adjustable
WHY WE LIKE IT: Breathable with support in all the right places. Need customization? Then you've come to the right place. Or in this case the right mesh fabric chair. It is without a doubt, the best executive chair.
Pros
Excellent support
Unparalleled breathability
Head support for neck relief
Cons
100% mesh isn't for everyone
Seat edges can be bothersome
Lumbar support isn't as good as top choices
The Ergohuman High Back Mesh Chair is specifically designed for those that will be seated for more than 5 hours a day and are searching for the a computer chair for long hours. The design is very similar to the popular Balt Butterfly, the Alera Elusion or a GM Seating Chair. And it can be adjusted in a variety of places/manners, including the seat depth, seat tilts, back, adjustable height lumbar area for proper posture, spin area, back angle title, base and more. We love the adjustment armrests. Really there is no adjustment you can't make, allowing the Ergohuman mesh chair fit a variety of folks and with that temperaments. It has every adjustable feature you want. Another option could be the best office stool that offers a firm and comfortable vinyl surface with 6 inches of height adjustability and ample support, including a back cushion and sturdy wheel casters.
#5 Herman Miller Classic Aeron Task Chair
Reclining: Yes | Arm Rests: Adjustable
WHY WE LIKE IT: A proven winner that provides breathable mesh. The Herman Miller Aeron chair is the granddaddy of them all. But that isn't to say it's without some flaw. Nevertheless, it's still a top contender as it offers exceptional support, creating that magical S and adjustability. On top of that, the Aeron is mostly meshing, providing that cool feeling while you sit and work. This is another best executive chair that is worth the money.
Read Full Review: Herman Miller Classic Aeron Task Chair
Pros
Excellent mesh design for cooling
Adjusts to your body
A variety of sizes for all body types
Cons
Seats frame can prevent blood flow
Can be finicky to adjust
And not for nothing, it's pretty evident that the Aeron will last the test of time, as it's been on the market since 1994. You'll find many of these for sale on sites like Craigslist, and while they'll be at a discount, they still hold their price, further attesting to their quality and desirability.
When you go shopping for an Aeron, pay attention to the fact there are different sizes to accommodate different people. And keep in mind, the best office stability chair could mean the difference between a slouched back and an active, engaged core to improve alertness and concentration on tasks.
#6 Komene Ergonomic Mesh Office Chair
Reclining: Yes | Arm Rests: Adjustable
WHY WE LIKE IT: With excellent reviews and a cost of sub $300, this is still a big winner in my book. The mesh means it's great for cooling and all the while is still supportive even for those with a larger frame (or weight). It is the best for the money on our list.
Read Full Review: Komene Ergonomic Mesh Office Chair Review
Pros
Very affordable
Solid neck/head support
Easy and simple to assemble
Cons
Only available in black
Lumbar support could be better
Plus, check out the fact there is a head rest for additional support. It isn't to say you'd be using the headrest while working, but it's a great way to relax the next intermittently and ensure that you're not always putting stress on yourself.
And while it may seem moot, the reclining back can be a life saver. Why? Simply by being able to "stretch" you can increase blood flow and thus increase energy. To that end, this chair's back can tilt back 135 degrees..
Another option that just missed our list was the Ergohuman ME7ERG, designed in China by Comfort Seating. The Ergohuman offer pronounced lumbar support, a wide range of ergonomic adjustments, and (after unboxing) it's easy to assemble.
#7 Humanscale Freedom Office Desk Chair
Reclining: Yes | Arm Rests: Adjustable
WHY WE LIKE IT: Negates manual controls and looks top-tier premium. If you require both looks and functionality, look no further than the Freedom Task Chair designed by Niels Diffrient for Humanscale. That and an exceptionally high price tag. We rate it the best leather office chair.
Read Full Review: Humanscale Freedom Office Desk Chair
Pros
Excellent back support
Good seat comfort
High end looks
Cons
Armrests not easily adjusted
Not all components are metal
But with that comes a task chair that is designed to automatically adjust to its users' weight using a set of internal mechanisms that negate the need for manual controls. So in theory, you just sit and get comfy. Though, if you're of the particular type you can set the chair and seat back's height, or move the seat forward or back to adjust depth and seating style. There is also dedicated lumbar support which will help maintain that much sought after S curve that I mentioned at the beginning. This is one of the best comfy executive chairs.
Another excellent choice is the ReGeneration Desk Chair by Knoll (if you can look past its high price point). Knoll is an expert manufacturer of ergonomically designed office chairs and has been in the office furniture game for decades. The Regeneration Knoll chairs are fully adjustable and the color options are stunning. Plus, Knoll also manufactures a range of standing desks and other accessories that are definitely worth checking out.
#8 Herman Miller Sayl Task Chair
We're sorry, this product is temporarily out of stock
Reclining: No | Arm Rests: Adjustable
WHY WE LIKE IT: Don't be fooled by this chair's looks. This best value chair may be simple looking, but it offers both style and support for any of those looking to crank out long hours at the desk.
Pros
Special adjustable back
Design is functional ergonomics at its best
Chair arrives fully assembled
Cons
Back is low; no neck support
Non-adjustable back
The Sayl chair is not Herman Miller's flagship chair, but that is reflected in the price. However, because it's from the company that practically invented office chairs, all the tech, studies, research, and know-how went into this chair.
They've used something called 3D Intelligent Technology, which helps with back support and it will show after long hours of sitting. Long story short, it keeps your back in the correct position and will enable you to sit longer and work with less fatigue.
And if you're of the eco friendly type, like me, then you'll probably get excited that it's made from 93% recycled material.
The only downside to this chair is that it doesn't have an adjustable back. But there is an optional lumbar support, which I haven't tried.
Check out the Golden Gate Bridge inspired chair by Herman Miller! Sayl Chair Review.
#9 Hbada Office Computer Desk Chair
Reclining: Yes | Arm Rests: Adjustable
WHY WE LIKE IT: My last pick is perhaps the most affordable of the bunch. Plus it's an Amazon Choice product, which means it will ship fast. Moreover, with almost 5-stars and more than 100 customer reviews, you can't go wrong. It is the best chair under $200.
Read Full Review: Hbada Office Computer Desk Chair
Pros
Costs less than $150
Mesh design for breathability
Built-in lumbar cushion
Cons
Ideal for those under 225lb
Techie design not for everyone
Don't be fooled: this chair has a mesh back, although looks are deceiving in this case. But that's a good thing since it gives the chair panache a traditional mesh chair just doesn't have.
I particularly like this chair because it boasts a heavy duty steel base, an SGS certified gas lift cylinder and it can recline to 155 degrees and includes lumbar support. And remember: a reclining back, especially with this range, means more movement while you're sitting, and then with that comes more energy.
The manufacturer recommends this chair for folks under 6′ and those that weigh less than 225lb. But for a fairly reasonable price point at $150 (which is not bad considering its ergonomic mesh design), I'd say anyone should test it out.
At a similar price point is the Haworth Zody Chair – a high-performing task chair that offers symmetrical lumbar adjustments. The Haworth Zody is definitely worth checking out.
#10  Amazon Basics Mid-Back Mesh Chair
Reclining: Yes | Arm Rests: Fixed
WHY WE LIKE IT: The budget pick that has solid office chair reviews. Don't balk at this chair because of its price, $69.99 as of the time of this writing. It's super highly rated by Amazon customers, scoring 4.5 stars. Sure, there is no way it can compete in terms of quality, longevity and all-together support as the more expensive options mentioned here, but it's at such a massively discounted price it's worth a look. It is the best budget office chair on our list.
Read Full Review: AmazonBasics Mid-Back Mesh Chair
Pros
Affordable, affordable
Lightweight and great for the money
Easy and quick set up
Cons
Armrests don't entirely articulate
No lumbar support
An affordable option that shouldn't be ignored just because of its surprisingly low price point. Features include a pneumatic adjustable seat, a padded seat that is reportedly thick and plush, and 5 casters. Okay, the 5 casters shouldn't be a massive takeaway, but note the mesh back for added breathability and comfort. The mesh fabric is a great feature.
This midback budget office chair retails for $69.99 (currently on sale as of Nov 2015). It's an affordable piece of office furniture even if it lacks some ergonomic adjustments.
Another option worth looking at is the Eurotech iOO Mesh Office Chair (just bear in mind the price point is high). The Eurotech is highly adjustable and functions with a synchro tilt mechanism. The lumbar section on this Eurotech model can also act independently with the support it provides. One thing that we didn't like with this design is that the backrest does not go forward enough to sit fully upright. For that reason, the iOO from Eurotech might not be the ideal model for a lot of office workers. This is why you may need to invest in one of the best office chair seat cushions that are portable, orthopedic, and extremely comfortable.
Beginner's Guide To Office Chairs
Office chairs are a staple of any white-collar business or home office. While choosing an office chair might seem simple enough, there are several factors at play when finding the perfect seat for you. Whether you're looking for comfort, ergonomics, or both, there are office chairs that can meet those needs. In addition, modern office chairs can often adjust in height and roll smoothly over hardwood or concrete floors. This beginner's guide to office chairs will clear up any confusion and show you some of the essential tips and accessories for owning an office chair.
STAT: The average American spends 17,000 hours sitting in a year. (source)
What Exactly Is An Office Chair?
An office chair is a type of chair designed for sitting at a desk. Most office chairs swivel and have wheels, but this isn't always the case—manufacturers design office chairs with a focus on ergonomics for extended workdays, as well as for a range of body types.
How Does An Office Chair Work?
A good office chair consists of multiple essential parts. Making sense of the ergonomics and the different features is sometimes puzzling. Most chairs, however, use the same system for adjustment: they raise and lower using a hydraulic piston. The arms, if they're adjustable height, may swivel, raise and lower using slides and locks. The back can be a single piece of mesh, sections of cushion fabric or filled leather, but nearly all office chair backs offer some degree of tilting and adjustment, even if not all of them offer things like lumbar support or are "active" and mold to the shape of your back.
Should You Upgrade Your Old Office Chair To A New One? So, you're sitting in your office chair, and something just doesn't seem right. What was once a stunning example of ergonomic design has slowly worn down and isn't the comfortable chair it used to be. It looks like you need a new office chair. A new chair will have improved ergonomics, and it may have great features that older chairs don't have. For example, contemporary office chairs can offer new padding and innovative features or massage motors. You can also pick out the specific features you're missing from your current chair, making your new seat your perfect fit.
Sit Properly In Your Office Chair
If you are sitting in an office chair all day every day, you may find yourself occasionally slipping out of the seat. This is an issue of improper seat depth. Measure for proper seat depth by making a fist and placing it on the outer edge of the chair behind your calf. If there is enough room for your fist, then you should stop sliding out of your office chair. If not, you may need to adjust the backrest, moving it forward, or place a cushion behind your back. Another option is to purchase a new chair.
How Long Do Office Chairs Last? Typically, a well-made office chair should last anywhere from five to seven years, with some lasting as long as ten years. Lower-quality chairs should last around two or three years.
Choosing Office Chairs [7 Easy Steps]
Choosing an office chair is a big deal. If you are planning on using an office chair for your workweek or in a home office, you will be spending a ton of time using this furniture. Paying attention to features like the size of the chair, padding, and ergonomics will take you a long way towards finding the right office furniture for you. The guide below will take you step by step through the process of choosing the right office chair.
Step 1. What Size Office Chair Do I Need?
Your ideal office chair has to be the right size for you. First, determine the office chair's seat height. A seat height of 16 to 21 inches from the floor should work for most people. Determine the office chair's width and depth. Most people will fit a seat that is 17 to 20 inches wide and depth that allows for two to four inches between the seat and the back of a person's knees. The back of an office chair should have a back that is about 19 inches wide and tall enough to support the head and neck. If you have the option to try chairs in person, experiment a bit to find a comfortable chair that suits your body. Also note if you are testing out an adjustable chair so you can alter some areas like seat angle or armrest heights to make your body feel more comfortable.
Step 2. Should I Consider A Different Type Of Chair?
A kneeling office chair offers improved spinal alignment but isn't as great for long work sessions.
A drafting chair is higher up to allow artists to have better control over their work, but most will be much too tall for a standard desk. If you want a simple design for a taller or standing desk, these can be a solid option.
A task chair, compared to an office chair, is a more specialized type of chair that focuses on improving ergonomics for typists and stenographers.
A gaming chair, compared to an office chair, usually centers around comfort, design, and color, but they might not fit in well in an office setting. It should be noted that office chairs can work fine as gaming chairs, as evidenced by TimTheTatmans' chair, a famous Twitch streamer, and uses a Herman Miller chair.
Step 3. What Kind Of Backrest Does My Chair Need?
An office chair's backrest should have a solid or mesh material that allows for comfort. Moreover, you should also look for an adjustable backrest on your chair as well as a proper tilt function. You may not lean all the way back in your office chair, but a little bit of give means the chair will better wrap around your back. It should have some form of ergonomic design or built-in lumbar support, and the lumbar support should conform to the shape of the person's back when they're sitting properly in it. Adjustable lumbar supports are ideal for providing you the greatest amount of lower back support when you're seated in ergonomic chairs, as you can actively control exactly where they sit along with your office chair's seat height.
Step 4. What Size My Seat Should Be?
Your office chair seat dimensions should allow for two to four inches between the back of the knee and the edge of the seat. Make sure the seat has enough padding to mitigate the effects of long seated work sessions. The seat of your office chair should allow you to comfortably rest along the backrest, which will help you sit for longer periods of time. Weight limit also needs to be considered since your seat comfort will depend on how much padding you have. If you're testing chair size options in person, you can determine if you need a wider seat due to your hips. If you're purchasing online, make sure to double check the chair measurements so you can sit comfortably on the seat.
Step 5. What Kind Of Armrests Do I Need?
Adjustable armrests are essential to relieve pressure from our back and shoulders. That said, some people find them uncomfortable. Some chairs can help with armrest comfort, with armrests that can adjust and some with none at all. If you notice your armrests cause shoulder shrugging, leaning postures, and forearm contact stress, you may want to adjust them to more comfortable positions or remove them. Remember, your arms should be in a relaxed position to help avoid Carpal Tunnel Syndrome, so take advantage of any armrest adjustments on your chair or make sure a chair with them!
STAT: Ergonomic chairs can contribute to a rise in productivity of over 17%. (source)
Step 6. What Should My Chair Be Made Of?
If you want to choose a breathable office chair material, you need to understand the benefits and drawbacks of different types of finishes. If you intend to use your office chair quite a bit, it's essential to choose a material that keeps you cool and also is durable enough for continued, frequent use. While opting for leather over mesh will make your office chair look stylish, it is also rather expensive. Fabric is less expensive than mesh but wears more quickly with time and is prone to getting very dirty. Though they tend to not be found on a high-end office chair, mesh seats will appeal to those looking for a lower price range versus leather. You can also get an office chair made of faux leather for a more affordable chair. While it's the most breathable option, mesh might not give you the support a cushion would. You should also consider your body weight, cheaper chairs will use materials that won't hold up as well as more expensive models with a higher weight capacity.
Should You Buy A Used Office Chair? Buying a used office chair might seem like a great deal, but doing so leaves you without certain protections. For example, the chair's warranty will likely be expired. If the chair is in good condition, however, it can be a great way to save money.
Step 7. How Much Should I Spend On An Office Chair?
If you're wondering how much to spend on an office chair, the decision might seem a bit confusing. Expensive chairs tend to offer a more comfortable experience when sitting in them and using them, with more features than a more budget option. Quality materials are a common sight on high-end chairs, and proper ergonomic desk chairs are often higher-end chairs. A cheap office chair will often have more limited features, but still have all the basic things you'd expect, like a seat cushion, tilt tension knob, tilt controls and some even come with more durable fabric or breathable mesh fabric. As a rule, the more you spend, the better the chair you can get. A high-quality office chair is going to cost a lot more than budget chairs, but a high-quality chair will usually have better features like adjustable seat height, different ergonomic positions, adjustable seat depth, and much more. Investing in excellent chairs with many ergonomic features like solid lumbar support will help you practice healthy posture and have a positive impact on your health in the long run after hours and hours of continuous sitting.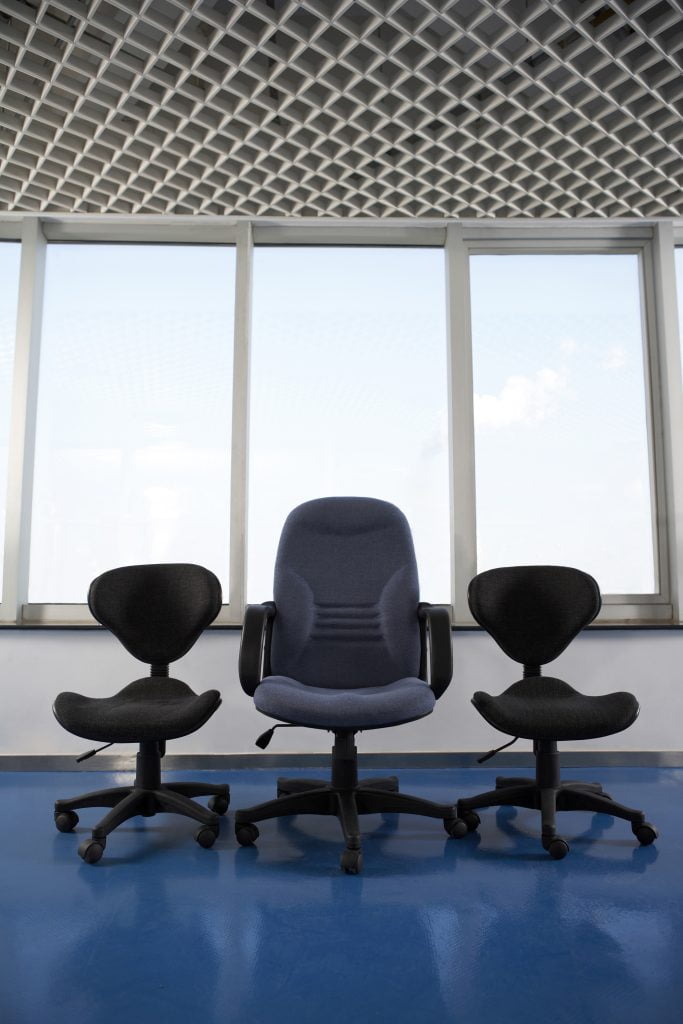 Types of Office Chairs
Office Chairs For Your Posture
Office Chairs By Size
Office Chairs By Feature
Office Chairs By Use
Top Office Chair Brands
STAT: Steelcase leads the world in office furniture revenue, bringing in more than 3.7 billion USD yearly. (source)
Owning An Office Chair
If you've never owned an office chair, you might not know there are some critical tips and best practices to consider. From the warranty to recommended maintenance, there's more to owning an office chair than just sitting down. An office chair is an investment, and the guide below will show you how to keep your office chair in great shape for years to come.
Office Chair Maintenance And Repairs
Most people think they need a new office chair when it starts to wear down, but that's not so. With some time and a few tools, you can do most office chair maintenance from home. From fixing the hydraulics on an office chair to oiling the piston and wheels, to outright replacing office chair casters and wheels, we can help you get the most out of the office chair you already own.
How To Clean Up Your Office Chair
Office chairs become dirty over time or can become accidentally stained. Your first step when it comes to how to clean an office chair, you should consult the instruction manual for tips on what cleaners to avoid. To pick up large pieces of solid debris, use a paper towel and avoid rubbing the fabric. Stains should be dealt with immediately before they are given time to set and become caked-in. Hair can be removed from caster wheels by using duct tape, tin snips, or crafting scissors.
Office Chair Accessories
Office chairs are great on their own, but many manufacturers have begun to offer useful office chair accessories to increase the overall experience. These third-party add-ons include footrests and our pick for the best lumbar supports, which can help with long-term spinal health, and heating pads. Other options include floor mats, for protecting carpets and hard floors, as well as our picks for the best office chair cushions designed to offer more support to the lumbar region of the back and make for a more comfortable seat. Other accessories include what we've found to be the best memory foam seat cushions, armrest pads, chair covers, and cup holders.