With the NSA spying on everyone and your personal privacy being encroached upon further every day, isn't it about time you took the initiative to look for the best VPN in 2023?
VPNs are a great way to throw government agencies, snooping co-workers, and malicious marketers off your scent with the help of internet transmission protocols that protect your identity no matter where you're browsing on the web. But how do you know which services are there to protect you, and which are just trying to sell your info right back to advertisers for a quick buck?
Thanks to its super cheap price, hugely functional desktop client, and download speeds that leave the rest in the dust, it was no wonder we named Express VPN as the #1 pick for the best VPN of 2023.
Best VPN in 2023
ExpressVPN
NordVPN
Private Internet Access
Surfshark
IPVanish
Encryption Protocols
PPTP, OpenVPN
& L2TP/IPSec
IKEv2/IPsec
OpenVPN
PPTP, OpenVPN
& L2TP/IPSec
IKEv2/IPsec, OpenVPN, & WireGuard
IKEv2, OpenVPN, WireGuard & IPSec
Number of Servers
136
5000+
3,341
3200
1900+
Server Countries
87
59
24
99
75+
Mobile App?
Number of Devices Supported
Unlimited
6
5
Unlimited
Unlimited
Free Trial Period
Money Back Guarantee
Monthly Price
$12.95
$11.99 Standard, $12.89 Plus, $14.19 Complete*
$11.95
$12.95
$10.99
Annual Price
$99.95
$83.43 Standard, $107.73/mo Plus, $142.83/mo Complete
$39.95
$59.76
$47.89 first year, $89.99 every year thereafter
Buy Now
Buy Now
Buy Now
Buy Now
Buy Now
How We Choose the Best VPN
When you compare VPN service providers, there are a lot of various factors that set the best VPNs apart from snake oil; and that's "Virtual Private Network" if you don't know what VPN stands for. In my three years of experience of writing on the subject, I can say confidently that I've seen just about everything the latter has to offer, and on the whole, you need to pay attention to three key features to make certain that you get the best service possible: security protocols, server locations, and reputation.
As far as encryption goes, in general (but not always), a VPN will encrypt the traffic sent over its wires using a number of different protocols, which can vary depending on the service you go with.
These include PPTP, L2TP, OpenVPN, and IPSec, all of which have their own benefits and drawbacks. To explain the technical details of each would (and has) taken several encyclopedias to get through, but on a high level, the only thing you need to know is that all the services we've recommended in this list specifically use a blend of the top encryption technologies, in order to maintain the fickle balance between being well-protected and still maintaining a decent amount of internet speed.
Related: 6 of the Best Paid and Free Antivirus Apps for Mac
Next up is the number of server locations the VPN supports. All of the VPNs on this list support at least 10 servers from all corners of the globe, which is important when you want to reduce the number of jumps in the chain from the server back to your computer. The more hoops your connection has to go through to get to the server, the slower it's going to be, so having a server location as near to where you live is key when running a VPN throughout the day.
Finally there's the reputation of each company we chose, which is something that can't be bought, or even really quantified for that matter. Since my time as the top contributor and part-time editor for the website VPNCreative, I've seen quite literally hundreds of various services come and go in that amount of time, and the ones that survived did so because they have the trust and confidence of their customers. Trust is a hard thing to find in the Wild West of the web, so knowing that your VPN provider is doing everything in its power to keep your information secure is paramount above all else.
Other considerations were paid to services that specifically go out of their way not to track any of your personal data in the case of a server subpoena, as well as those that have a robust mobile app for anyone who wants to protect their traffic on the go.
Why You Should Subscribe to a VPN
Ever since the Snowden leaks first started in 2013, it's become increasingly more apparent why personal privacy on the internet is one of the most pertinent and important issues of the modern era.
But even forgetting the unwarranted surveillance of billions between agencies like the NSA and GCHQ, a VPN is still useful for keeping your information safe from malicious adware programs that might try to scrape your data for a profit. They're also for accessing geoblocked content on popular streaming services like YouTube, Netflix, BBC iPlayer, and Hulu, which will often segment their catalogs of content depending on the country you're connecting from.
Lastly a VPN is a great investment if you're concerned about the threat of identity theft (which you should be whether or not it's happened to you before). Often these digital thieves will scrape your IP address from a malicious server, then trace all your activity back to build a picture of who you are and how you act on the web. After that it's just a matter of some quick social engineering and your entire life is in their hands, pretty much the last place you'd want it to be.
VPNs take care of all of this by putting a wall of spoofed IP addresses between you and the rest of the internet, making it impossible for any outside forces to accurately tie activities like online shopping or mobile banking back to your real name or identity.
Award:Editor's Choice/Best VPN Service
Price: $12.95 mo/$99.95 yr | Number of Servers: 136 | Server Locations: 87 countries | Free Trial?: 30-day Money-back Guarantee | Read Full Review: ExpressVPN Review
WHY IT'S A TOP PICK: The Android for ExpressVPN is mobile simplicity at its finest.
If you read through any of the thousands of ExpressVPN reviews, you'd know just how much its users love the simplicity and ease of the mobile app experience. Although it doesn't have a free trial, ExpressVPN offers a 30-day money-back guarantee if you're unhappy with its services.
With the help of the "On" button which acts as a hot-swappable widget on Android phones, getting connected to the closest VPN server to your current location literally becomes "the push of a button", and you're online in seconds. ExpressVPN offers one of the best VPN services on mobile unblocking streaming sites such as Netflix, Hulu, and BBC iPlayer among others, includes a kill switch and also offers 24/7 Live Chat support if you run into any problems.
ExpressVPN also uses OpenVPN as its primary encryption technology, which is known for both its quickness and connection reliability when transmitting smaller packets like those you might send/request from your phone.
Mobile VPN usage is all about getting protected quickly and getting on with your day, which is why ExpressVPN is the best VPN for Android users.
Award: Fastest VPN
Price: $3.09 mo/$83.43 yr | Number of Servers: 5,000+ | Server Locations: 59 countries | Free Trial?: Yes | Read Full Review: NordVPN Review
WHY IT'S A TOP PICK: NordVPN lets you stream TV and movies available in certain countries over others without sacrificing speed.
If you're into streaming services like Netflix but can't access certain shows or movies not available in your country, NordVPN is a reliable solution to gain access to that media. If you're concerned about security while using NordVPN because of so many server network locations across multiple countries, let it be known that NordVPN is a secure option. The VPN uses a specialty server which has security features that help protect user data like a double VPN and dedicated IP options. Just like the VPN itself, NordVPN's customer service is quick and reliable.
The app is easy to navigate thanks to the alphabetical list of server locations per country. It also does the thinking for you by using its algorithm to analyze the list of servers and presents to you whichever server suits your needs. If you realize that your VPN disconnects at a certain point, NordVPN uses kill switches to disconnect any apps you can connected to the interest along with the Internet connection as well.
#3 Pick:

Private Internet Access VPN
Award: Best For Torrenting
Price: $6.95 mo/$39.95 yr | Number of Servers: 3,341 | Server Locations: 24 countries | Free Trial?: No | Read Full Review: Private Internet Access Review
WHY IT'S A TOP PICK: Private Internet Access puts minimalist design on top of a service that just works the way you want it to, every single time.
Private Internet Access might not be the sleekest looking VPN or the one with the most expensive mobile app, but what it lacks in polish it more than makes up for in speed, functionality, and features. The PIA VPN can be used on almost any device, with tailored Apps for Windows, Mac, Android, iOS, and Linux, as well as 3 browser extensions, and although it doesn't have 24/7 support, it offers detailed tutorials.
PIA is the enthusiasts VPN, one that just works the way you want it to without all the extra marketing materials or flash layered on top. It looks like a piece of software that hasn't been updated in a decade, but the backend has some of the fastest servers and most secure encryption in the industry.
When you use a VPN you want something that's no muss, no fuss, and gets you where you're trying to go with as little interference necessary. PIA comes with a malware/phishing filter, as well as its proprietary MACE ad-blocking software which has a level of protections that's even more robust than what you might get with Adblock Plus or UBlock Origin. Speaking of protection PIA also offers a kill switch to protect you whenever the VPN drops, which means your details don't get leaked out.
Lastly, PIA is far and away the cheapest option of the bunch, which can be all the more valuable if you're already paying $100 a month or more to your ISP as it is. At just $6.95 per month on 30-day cycles and $39.95 a year ($3.33 a month), PIA has managed to combine everything we love about a product into a single, seamless package.
If you want a VPN that's fast, protects your connection, rarely suffers any performance loss on downloads, and won't break the bank, Private Internet Access is one of the best VPNs for 2023. And as one of the best services it is our #3 pick.
Award: Best VPN With The Most Countries
Price: $12.95 mo/$47.88 yr | Number of Servers: 3200+ | Server Locations: 99 countries | Free Trial?: Yes | Read Full Review: Surfshark VPN Review
WHY IT'S A TOP PICK: Surfshark VPN has servers across a large range of countries, offering the most geographic diversity in this list.
Surfshark lets you use a secure service across an unlimited number of devices, so all your devices will be covered under Surfshark without having to pay extra. Avid streaming service users will appreciate the huge number of countries it covers so that you can watch TV shows and films from whichever country you desire, plus the ad-blocker makes sure your watch sessions go uninterrupted.
Surfshark also offers KillSwitch where if your VPN connection drops, you'll be disconnected from the internet. You can also be connected to two servers at once and hop between the two for extra security and privacy. If you find yourself not satisfied with Surfshark, they offer a 30-day money back guarantee. Surfshark also discloses that transaction information is kept as anonymous as you may want it to be, in case you're concerned about personal transactional details.
Award: Best VPN For No-Logging
Price: $10.99 mo/$47.89 yr | Number of Servers: 2000+ | Server Locations: 75+ countries | Free Trial?: No | Read Full Review: IPVanish Review
WHY IT'S A TOP PICK: Huge number of server locations means the fastest speeds in the business.
We love how IPVanish is one of the most private VPN services since it has a no-logging policy and doesn't track your Internet activity, so you're able to have that peace of mind that there's no record of your activity that could be accessed in the future in case of a leak or data breach. You can use an unlimited number of devices with the service too, so all your devices will have a clean record and won't have an activity log recorded of your browsing history. Navigating the app is simple enough and the fast speeds make your Internet browsing more seamless.
IPVanish does not offer a free trial at the moment, which we believe that many would appreciate a test run of the service before paying for it. It does happen to have to cheapest monthly payment on the list. And if you want a refund if your purchase isn't satisfactory, the service does offer a 30-day money back guarantee.
Beginner's Guide to VPNs
What Exactly Is a VPN?
What will a VPN hide? A VPN or Virtual Private Network establishes a private connection across public Internet channels. It involves establishing a "tunnel" between a user machine and a remote server. A VPN hides information like the user's real IP address, substituting the virtual IP address from the remote server.
VPN connections are an important security layer for individuals and businesses needing to share files and communicate with multiple server locations across public internet infrastructure. VPNs originated as a way for remote workers to access institutional and company network resources and for multiple office locations to share data securely. Site-to-site VPN applications establish a secure connection between two or more individual networks regardless of physical location. VPN services enable remote access to secure or private servers using IPSec. If you're wondering what IPSec is, it's a set of protocols for encrypting and authenticating data packets sent across an internet protocol network.
Using a VPN
With most services, establishing private internet access through a VPN involves installing the VPN client or application on the machine(s) you wish to use and confirming through settings or the VPN service app that your internet traffic is routing through the VPN servers. You can check your IP address via the application, settings panel, or websites showing your address as it appears on the public network. Using a VPN on your iPhone or smartphone involves most of the same protocols, but some VPN providers have specific mobile apps for iOS and Android users.
Users can disable their VPN connection in the VPN user interface, Network Preferences, Settings, or in a mobile app, depending on the device and operating system. With some VPNs, users can select server locations. A server address identifies the proxy server connected with a user's home network. Understanding what VPN server address protocols are is important for using a VPN with multi-hop connections and selecting a server in a particular geographic location to help access geo-restricted content.
STAT: 43% of global Internet users feel like they've lost control over their personal information. VPNs are designed to help take some of it back. (source)
What Is Split Tunneling and Why Does It Matter?
To know how a VPN works, it's important to understand what a tunnel does. In networking, a tunnel refers to an encapsulating connection between a host and a security gateway or between security gateways. Using a layered protocol, tunnels essentially repackage or "relabel" data, enabling encryption and other functions. Tunnels aren't encrypted by default, but in practice, most tunneling involves encryption for an extra layer of security.
VPN connections involve sending data between users and remote servers via tunneling protocol. Some services allow split tunneling, where some traffic gets routed through the VPN tunnel and other traffic via a regular internet service provider gateway.
When was the VPN created? VPNs trace their origin back to 1996 when employees at Microsoft created a peer-to-peer tunneling protocol that enabled secure data transfer across a shared LAN or WAN. Early VPN implementations were mostly institutional, letting remote workers access corporate and government computing resources. As Internet use expanded, VPNs became a popular internet privacy and security measure. Companies introduced additional protocols, allowing mobile VPNs to persist across different connection types.
How to Choose a VPN
Step 1: What Do You Need a VPN for and Why?
Choosing the best VPN starts with deciding the purpose for which you need the VPN connection. Many users want a VPN connection to add a level of security for personal data or work communications or to help stay anonymous online when using potentially unsecured public WiFi at a coffee shop or train station. Others may want to use a VPN for Netflix to access content while traveling abroad or from a different region. A VPN for Apple TV, Android TV, and Amazon Prime Video can also help maintain online security, but you'll want to choose a connection with excellent speeds. Likewise, a VPN for watching Hulu requires fast internet speed and plenty of bandwidth.
If you're wondering why you should use VPNs at home, they can benefit online privacy and help protect home networks from identity theft and cyber-attacks. Routing your smart home devices' internet connection through a VPN can help protect digital privacy and ease concerns about data anonymity from robot vacuums, baby monitors, security systems, and smart TVs. Many organizations use VPN traffic to add a layer of security for workers accessing company resources remotely. These company-provided VPNs may encrypt user traffic and allow transmitting sensitive data over public Wi-Fi networks, meet IT security standards, or allow satellite offices to communicate with private servers.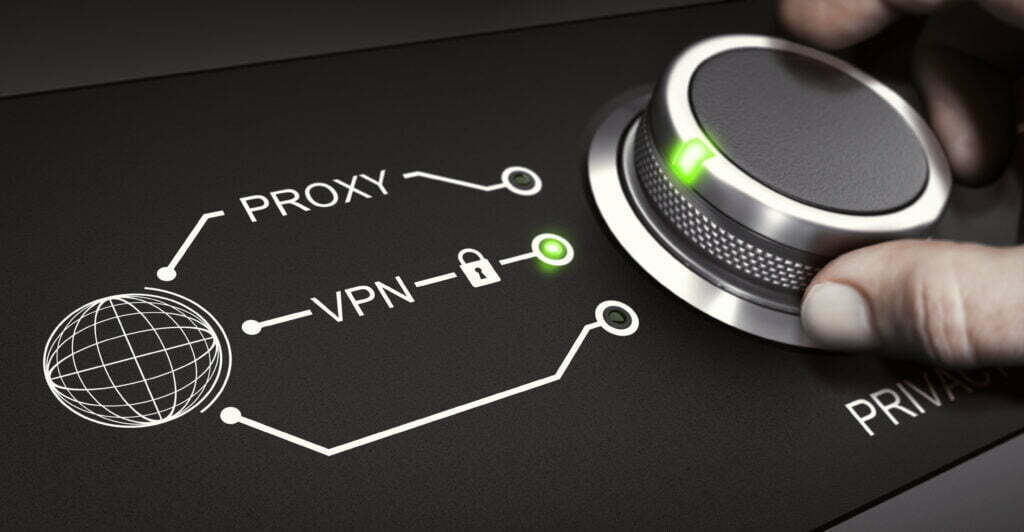 Step 2: What Devices Are Compatible with a VPN?
VPN connections can bolster online security on a wide range of devices, including mobile phones, smart TVs, and game consoles. A VPN on a smartphone does the same thing as a VPN on a desktop or other device. Android Device VPNs offer native clients for Android TV, phones, and a range of devices using Android OS. Mobile device VPNs often come with user-friendly apps.
Using a VPN on an Xbox is sometimes more complicated and may involve running the VPN software on a PC to establish a security gateway for your router traffic. Still, it may be worth it if you're interested in extra security when using your Xbox for online gaming or other internet activities. Likewise, a VPN on a Playstation can add security, but it needs to have enough bandwidth to maintain reliable connections.
Step 3: How Much Should You Expect to Spend on a VPN?
The monthly costs of VPN connections vary widely, and since some free applications exist, it makes sense to compare free vs. paid VPNs and decide which works best for you. If private internet access or complete anonymity is important, experts suggest using a paid option with a robust privacy policy, strong security, and a strict no-logs policy.
Step 4: Are Common Free VPN Alternatives Worth it?
Free VPNs may work for simple or one-time tasks, but their quality and trustworthiness vary considerably. Many free VPN providers' business models involve selling user data, in which case they inherently don't provide perfect privacy. Paid VPNs usually offer monthly and annual plan options, with discounts for the latter. Some plans include a 30-day money-back guarantee. For some tasks, a simple LAN works as well as a VPN for security.
When comparing LAN and VPN protocols, note that a LAN connects devices but may not be connected to the internet. If comparing incognito mode vs. a VPN, note that incognito browsing doesn't provide private internet access; it only means your device isn't saving your browsing history. Unlike a Wi-Fi network vs a VPN, a VPN isn't a method of connecting to the Internet, just a service that relays network traffic through a private tunnel.
Be mindful of free VPNs. Some of them are outright malicious, and others are slow, restrictive, and full of ads. Remember: no product is free, and anything that claims that it is means YOU are probably the product.
Step 5: Where Are You Located?
Laws regarding VPNs depend on the user's location and the VPN server's location. VPN use is legal in most of the world, except for a few countries where VPNs are illegal. Streaming platforms may have licensing agreements in different parts of the world that require them to discourage VPN use in their terms of service or block certain content locally. Company headquarters and server locations determine what laws may exist protecting user data privacy. VPN services based in countries that don't require storing user data can enact a strict no-logs policy.
Step 6: Do You Need a VPN or Something Different?
If you're unsure whether a VPN is for you, consider the alternatives. A proxy server or HTTP proxy, like a VPN, is a remote server that you can access through your desktop or other device and which hides your IP address, but a proxy works at the application level, relaying content from one app at a time, such as a browser. When comparing proxy and VPN online activities, it's important to note that most proxy servers don't have strong encryption, and they don't provide private internet access.
In comparing Tor with VPN use, note that Tor is essentially a browser application rather than an encrypted connection. Like a VPN, it anonymizes internet activity but doesn't work on all devices or apps. When comparing a VPN with VDI, note that a VDI is similar to a company-provided VPN in that it allows remote access. Still, it is more of a tool for allocating desktop resources and file access. A VDI with dedicated servers has faster speeds than VPNs but a much higher monthly cost due to the extra cost of maintaining the servers, making it more suited to businesses.
Types of VPNs
VPNs for Streaming
VPNs for Special Purposes
Secure VPNs
VPNs for Other Uses
Cheap VPNs
Free VPNs
Top VPN Brands
Owning and Using a VPN
Bypassing and Defeating VPN Blocks
Some websites, streaming services, and major platforms have firewall settings or VPN blocks that may prevent certain VPN IP addresses from accessing them. Some of the most common examples are streaming platforms such as Netflix, which may seek to block VPN users to enforce geographic restrictions or monitor bandwidth usage. To bypass the VPN blockers on streaming services, experts suggest using a VPN that allows you to customize your IP address or select a dedicated IP address. Other means of bypassing VPN blockers include setting up multi-hop connections, website anonymizers, and onion routing applications.
STAT: Around 54% of PC VPN users and 57% of mobile VPN users have the service to access entertainment services and content they can't access in their own country. (source)
Installing a VPN on Your Phone
A mobile VPN can help maintain privacy when handling sensitive data on your smartphone. You can change the VPN on an iPhone using a VPN client that provides an iOS-compatible application. Depending on which apps you're using and what level of anonymity you need, you may have to change additional settings to ensure other apps or processes don't leak identifying information.
Setting up a VPN on Different Devices
You can use a VPN with practically any device that accesses the internet. The number of devices you can have sharing a single VPN connection depends on the number of simultaneous connections your VPN provider allows. Installing a VPN on a router can be an effective way to boost privacy for smart home systems. Setting up a VPN on an Android device is relatively straightforward if your VPN provider offers an Android app. In contrast, setting up a VPN on your TV can be a little more complex but well worth it for privacy-focused smart TV users. Some VPN providers also have apps that make it easy to set up a VPN on your Firestick.
Setting up a Home VPN Server
If you work from home and have multiple smart home devices, setting up a home VPN server may be worthwhile. In many cases, setting up and connecting a Windows VPN allows you to use your router as a gateway. Some VPN services offer port forwarding and other advanced features.
Checking if Your VPN Is Working
Most VPN services provide troubleshooting guides. There are also online resources that can help users check if a VPN is working. These systems range from simple web-based IP address checkers to troubleshooting guides involving changes to browsers or other online apps. Other fixes may require adjusting router settings or configuring DNS proxies. If you're wondering why a VPN keeps disconnecting, you can find community support online or via some VPN providers' support and customer service departments. Troubleshooting a VPN that won't connect can involve your ISP, the VPN provider, and the network settings on your devices.
Configuring Your VPN
The methods of configuring your VPN depend on your VPN provider, the type of service, the devices you're using, and whether you need a specific location. For example, accessing geographically-restricted content or using certain streaming platforms may require changing the location on your VPN.
Setting up VPN gateways is similar for many PCs and other devices, while configuring a VPN on a phone may include additional steps. Most VPN setups have various configuration options. Depending on your goals, you should research ways of changing your IP address without a VPN.