WHY IT'S A TOP PICK: LucidSound makes a splash with a mostly-wireless headset that offers extra high-quality sound at a surprisingly affordable price, making it a top Xbox One headset in our book. Compare this headset with a similarly priced option in our SteelSeries Siberia Elite review. And remember to also check out the best gaming headset. Additionally, if you like the LucidSound brand, you can check out our comparison of the LucidSound LS35X vs LS50X or read our list of other top-rated LucidSound gaming headsets.
Price: $199.99 on Amazon
Sound: Tethered wireless surround sound with digital optical audio
Weight: 12.5 ounces
Battery Life: 15 hours
Compatibility: Xbox One, PS4, PC, Mac, Mobile
Mic: Flexible plugin dual-mic
Drivers: 50mm neodymium
Design
The metallic, industrial appearance of the LS40 is well-planned. It gives the headset a sleek, professional look while still managing to seem…well, badass. However, behind that design waits a surprising amount of comfort. The headband includes a switched cushioning bumper that is more comfortable than the usual headband cushions. Two metal hangers protruding from either side of the headband, elegantly encircle each ear cup. The earcups themselves may be large and weighty (the headset clocks in at a hefty 12.5 ounces), but they are backed by surprisingly cushy pleather pads that sink deep around your ears. It's a little odd that the passive noise cancellation properties aren't better on this headset (external noises easily permeate), but it is good to see that the style didn't come at the cost of any comfort. Check out our Mad Catz Tritton ASK 100 review if you like your headphones to stand out. Additionally, you can read our review of the Limited Edition Call of Duty Black Ops Tritton headset.
Related: If you like stylish and comfortable headsets, take a look at our Mad Catz F.R.E.Q 5 Pro Gaming Stereo Headset review.
The earcups are also adjustable, but not in an annoying way: They are set on rigid, slow-moving pivot sections that allow for slow adjustments without the usual flopping earcups, another sign of the careful LS40 design. You can also see the smart decision-making when it comes to buttons on the headset: There are two true buttons, one for power and one for EQ settings on either earcup. The left ear cup also has a wireless-mode power switch and an LED indicator that shows connectivity and power levels. The backs of the earcups swivel to control different types of volume as well, and you tap them to mute. The right ear cup rotates to control the mic volume, and rotating the left one adjusts the game audio. It's a very easy setup to master, and doesn't get in the way…which is a benchmark few headsets are able to meet.
The LucidSound mic, like many Turtle Beach versions, is an ultra-flexible plug-in model. While we prefer flip-up mics with a sturdier design, there's nothing overtly wrong with this plug-and-talk approach. It also allows you to take the mic off entirely and "protect" it when it just gets in the way, which is a nice benefit depending on your play style.
But onto the wireless design: Like the Turtle Beach Stealth 420X Plus (further down the list), the LS40 uses a dongle that attaches to the back of the Xbox, but this time with an optical audio connection to boot. It's a little awkward, but it works quickly and intuitively once set up.
Related: Also, check out our Logitech G933 Artemis Spectrum review.
Sound
The LS40, undoubtedly helped by its optical audio connection, ranks up there with the Astro A50 regarding top-notch surround sound for Xbox. Those industrial-looking earcups produce vibrant, rich environmental audio that makes it easy to pinpoint everything that's happening, even without the boosted surround mode activated – frankly, the high sound quality renders the different modes a little meaningless, at during our gameplay experience. Percussion and bass notes are handled particularly well by the LS40. Additionally, the wireless connection never lagged, and the control responses were all immediate.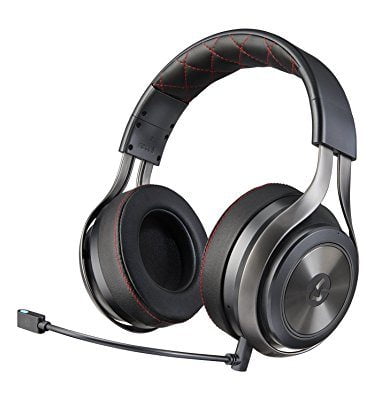 Mic pick-up was fine, if a bit quieter than most headsets on our list, something that can be improved through mixer adjustments. The dual-mic plus mic monitoring setup also keeps communication clear, smooth, and free of distractions.
LucidSound has a great headset here, especially when it comes to consoles. It's not fully wireless – a tether to the control is needed for chatting – but the surround sound quality is superb. Combine that with some really good (for the most part) design choices and a very affordable price, and it's easy to say the LS40 is one of the best headsets around.
Related Articles: