If you're on the hunt to find the best home router in 2019, it can be a hard, oftentimes confusing process filled with every kind of buzzword that networking hardware manufacturers like to use to separate their product from the pack. Fortunately, we did the hard part for you and found the best router.
What makes a good home router better than the rest can be a lot of things, but overall it comes down to three main factors: range, features, and price. Luckily for you, we've taken care of the heavy lifting and sifted through hundreds of different models to find the top three that come equipped with everything you'll need to be sure that your kids are always protected no matter where they go online, and you'll always have a signal whether you're browsing from the couch in the living room or the patio furniture in your backyard. And we do all of this while keeping your budget in mind, of course.
So how do you decide which is the best home router for you and your family? Read on in our extensive guide to find out!
Best Home Routers
| | | | |
| --- | --- | --- | --- |
| | Linksys WRT AC 1900 Smart Wi-Fi Router | AmpliFi HD Mesh Networking Router | Netgear Nighthawk X4S AC2600 WiFi Router |
| Rank | #1 – Editor's Choice/Best Home Router | #2 – Best Mesh Router | #3 – Best Range Router |
| Full Review | Linksys WRT1900ACS Review | Ampli-Fi HD Review | Netgear Nighthawk X6 Review |
| Amazon Rating | | N/A | |
| WiFi Types | 802.11 b/g/n/ac | 802.11 b/g/n/ac | 802.11 b/g/n/ac |
| Ports | 4 Ethernet, 1 WAN, 1 USB 3.0 | 4 Ethernet, 1 WAN | 4 Ethernet, 1 WAN |
| Parental controls | | | |
| Guest Network | | | |
| Media Server | | | |
| WPS Setup & Security | | | |
| Price | $199.95 | $349.99 | $238.99 |
| | Buy Now | Buy Now | Buy Now |
#1 Pick

Linksys WRT1900ACS Smart Wi-Fi Router – Editor's Choice/Best Home Router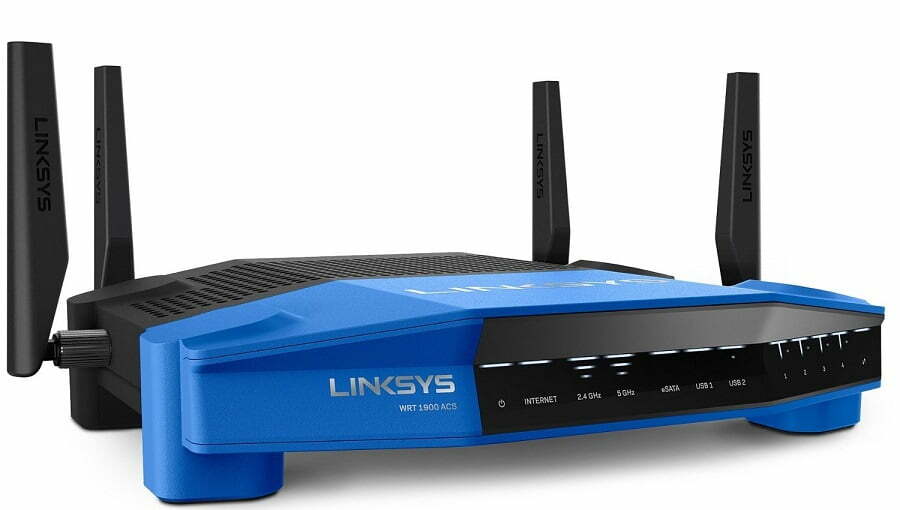 Price: $199.95 | Read Full Review: Linksys WRT1900ACS Router Review | Features: Dual-core 1.2GHz processor, AC1900 transmission speeds, dual-band antennas
WHY IT'S A TOP PICK: The Linksys WRT1900ACS is reliable at any signal distance.
There are many reasons why the Linksys WRT AC1900 tops our best of lists consistently when it comes to rating the best networking devices on shelves today. Aside from its throwback, nostalgia-heavy stylings, and mid-range price tag, it also comes with Linksys' decades-old pedigree of producing solid, reliable routers that work exactly the way you want them to right out of the box.
The Linksys Smart WiFi system lets you easily and quickly prioritize different media applications in your home, so you can be sure that your kid's online gaming session doesn't override your ability to watch Netflix downstairs at the same time. And speaking of kids, the Smart WiFi Parental Controls are unmatched in their extensive options to control exactly where your kids can go on the web at any time of the day. If you need the best home router for 2019, look no further than the Linksys WRTAC1900ACS. If you need fast and reliable WiFi, we know the best home WiFi. Check it out!
#2 Pick

AmpliFi HD Mesh Router – Best Mesh Router
Price: $349.99 | Read Full Review: AmpliFI HD Mesh Router Review | Features: Compact design, user-friendly setup, mesh networking
WHY IT'S A TOP PICK: The AmpliFi HD brings router design into the 21st century.
For anyone who takes the design of their home just as seriously as they do their preferences in networking equipment, most routers on the market today can be a bit…well, imposing, to look at.
Enter the friendly, welcoming, and warm AmpliFi HD, which hides its antennas behind a beautiful color-coordinated LCD touchscreen and a beautiful white strip of glowing LEDs. Thanks to its system of mesh networking, the antennas are spread across your house and plugged into regular 12v outlets, giving you the absolute most range and reliability without sacrificing its sense of style along the way.
Read: Best Home Security System
Add to this an almost offensively simple setup process and a beautifully designed app, and you have a router that ticks off every box you could want in the best home router, while only sacrificing only a few minor features on the software side to balance everything out.
#3 Pick

Netgear Nighthawk X4S Wireless Router – Best Range Router
Price: $238.99 | Read Full Review: Netgear Nighthawk X4S Review | Features: Four tri-band antennas, 1.7GHz dual-core processor
WHY IT'S A TOP PICK: The Netgear Nighthawk X4S lets you control your network like no other.
Speaking of decades-long pedigrees in the router industry, it would be impossible to write a best of list without including the other grandfather in this space – Netgear. Throughout the years the company has always pushed manufacturers around them to stay on their toes with the latest and greatest features, all of which make an appearance in their mid-tier Nighthawk X4S.
Related: Also check out the best ethernet switch.
It may not be the biggest or fastest device in the Nighthawk line, but what it lacks in raw power is more than accounts for in parental control features and reliability at all ranges. If you need a router that will let you acutely control all aspects of how your network behaves and let you run around with your iPhone in the backyard, this is the one to pick.
Best Home Wireless Router Features to Look Out For
Dual-Band/MU-MIMO Functionality

When buying an AC router for your home, one of the first things you should look for is how many transmission bands the fiber optic router uses, and whether or not it has MU-MIMO capability.
Without getting too technical, all you need to know is that in tandem these two technologies can help to manage your bandwidth so no one in the house experiences slowdowns or network stutters during peak hours.
If you have more than five devices on your network at any given time (devices, not people), it's imperative to get a "dual-band" router that can handle multiple Netflix streams, downloads, and gaming sessions at once.

Parental Controls and QoS

When it comes to picking a router for your growing home, parental controls should almost always be at the top of the list of features you should be on the hunt for.
With hardware-based parental controls, you can restrict where specific devices can go on the web at specific times, without worrying about whether your kid has cracked the passcode set on their iPhone or weaseled their way around a web filter installed on their PC.
Similarly, QoS (or "Quality of Service") features give you the option to prioritize bandwidth between applications. This means that if you're trying to watch Hulu or Amazon at night but someone else's downloads keep sending you into the buffering screen, you can customize how much bandwidth they get to use so it doesn't disrupt your downtime in front of the TV.

Range

Last, you should always keep the range and reliability of a certain router in mind before making your final choice.
All the routers we've listed here have exceptional signal strength (which is why we put them in the top 3), but in case you decide to go with something else a little cheaper, be sure it has the range to fill up your whole house without any dead spots.
Mesh networks (like the AmpliFi HD) are a new solution to this age-old problem, and work by spreading out the antennas to every corner of the home to ensure that no one loses signal in the basement, backyard, or attic when the router is tucked away in a corner of the living room. Ultimately, it'll be up to you to decide between a router or a repeater.
Which Best Home Router Is Right for You
So now that you know everything there is to know about what makes the best home routers for 2023, which one should you ultimately choose?
Like everything in life; it all depends on what features you need out of your networking hardware the most. For an all-around solid router that has extensive software customization and signals reliability out the wazoo, it's hard to beat the Linksys WRT1900ACS. But if that pick looks just a little too "routery" for you, the AmpliFi HD mesh networking system has got enough style to spare and then some.
Last, while the Netgear Nighthawk X4S doesn't have one defining feature that makes it better than everything else out there, it's the subtle combination of its dozens of disparate features into one cohesive package that wins it the number three spot on our list. And, keep in mind that you can use open-source software with your router, like DD-WRT or Pfsense.
Still can't decide? Take a look at our wireless router reviews or read our best wireless router roundup to find out everything you need to know about what's going on in the wild world of home routers today!