From our list of the best 240Hz gaming monitor, the ViewSonic XG2560 review is a 25" inch monitor that caps at a resolution of 1080p. This monitor comes with eye care technology that relieves eye fatigue and lets you play for a longer time without tiring your eyes out. The Nvidia G sync technology provides smooth frame rates during the game and lets you enjoy it as the engineers intended.
Sale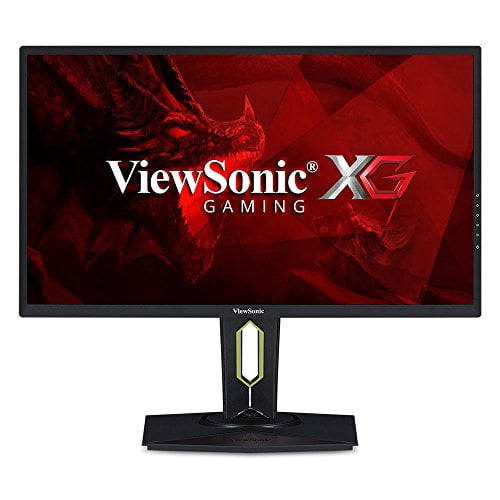 Why We Like It – ViewSonic XG2560
The ViewSonic XG2560 review monitor is jam packed with features that will bring an immersive experience while playing video games or watching any content. It has a rapid response time that can give you a competitive edge during any matches.
Low input lag improves your reaction time during games
Black stabilization improves darker images
TN panel may not provide good viewing angles
Performance
The ViewSonic gaming monitor gives you a 1ms response time with a refresh rate of 240hz. If you would like to find more monitors with this kind of refresh rate, you may also be interested in the Alienware AW2518HF. It is a full HD display with Nvidia G sync technology which helps gaming monitors provide smooth frame rates during a game and no screen tearing.
Related: If you like monitors with fast response times, our ViewSonic XG2402 review is worth checking out.
Viewing angle
This g sync monitor gives a viewing angle of 170 degrees horizontally and 160 degrees vertically. It uses a TN panel, which may not provide the best viewing angles for spectators but if you are viewing from the center it will give you all the clarity you need during the game. It even has a black stabilizer to enhance darker areas which may give you some help during some games. If you would like to find more monitors with g sync technology, you may be interested in checking out the Asus XG248Q.
Durability
Most high performance monitors are set for the long run, just make sure that you don't expose it to any physical abuse to make your money last. You can also add protection plans, so make sure to know which retailer will offer that for your device.
See also: Our ViewSonic XG2700 4K gaming monitor review.
Ports/expandability
This monitor has a DisplayPort, an HDMI port, and USB 3.0 ports. There are also game mode hotkey functions that let you set up quick settings for certain kinds of games like first person shooters and others. There are up to three different profiles that you can set up. If you are not sold on this ViewSonic model yet, another model you may be interested in is the Acer Predator XB272.
Value
While the ViewSonic may be a hefty investment, there is no doubt that investing in this monitor will drastically improve your gaming experience tenfold by giving you a seamless experience because the frame rates run smoothly and bring vivid visuals which results in more immersive gameplay. The black stabilizer may have the potential for bettering your games by being able to see better in darker areas where other monitors may leave you with a blind spot.
ViewSonic XG2560 Wrap Up
The ViewSonic XG2560 review monitor will let you enjoy today's latest video games because of the high refresh rate of 240Hz and response rate of 1ms. While it may not have the best viewing angles, you can fully adjust many features like the game mode hotkeys, and the black stabilizer to bring out the best in your game.