[Rating: 4.5]
Guess who just certified gaming peripheral maker SteelSeries? Makers of the SteelSeries Siberia 800 – Best Multi-Platform Headset. It's one thing when major retailers want to sell a company's product. Company executives have a meeting, an agreement is reached, and that product hits store shelves in a few months' time. But when it comes to Apple stores, something very different happens. Apple controls everything it sells and discriminates between products heavily. They don't care how big or popular the product may be. If Apple doesn't certify it, it isn't sold in any Apple store, anywhere. Even the best gaming headset needs to be certified by Apple before they can be sold in their store.
Guess who just certified gaming peripheral maker SteelSeries?
The Siberia Neckband (the updated version – the critically acclaimed original Siberia Neckband released a few years back) is specifically made to work with the iPhone, iPad, and iPod Touch as both headphones and a headset. Like the original, the Siberia Neckband comes with a boom microphone that will work with all devices, just like the standard earbuds. The Siberia Neckband can be used to make phone calls, listen to music, and make voice commands.
When I met with SteelSeries at CES earlier this year, the company had just announced that they were working with Apple to finalize and release the Siberia Neckband, and their spokespeople couldn't be happier. And why not? Customers who walk into Apple stores know the products sold therein are good to excellent. Apple-certified products have a certain level of quality that shows, in plain terms, how good the product actually is.
Related: If you like great-looking headsets, check out our Steelseries Siberia Elite Gaming Headset review.
And when you look at the Siberia Neckband, it makes sense. It's stylish, sleek, and looks great. The headset's back-and-forth contrast between white and black gives it a scent of crispness and a clean-cut definition. The headset employs an over-the-ear design, where the cans are small and round, but uniquely shaped with slits on the sides to allow for better airflow. The microphone boom sits hidden on the underside of the left can and extends about 4". On the left side is the 3' audio cable, with iOS media buttons just like on the iPhone's included earbuds.
If you're interested in the newer Siberia Neckband, you should know a few things. First, as a headset made with iOS devices in mind, the microphone will not work with most PCs and non-smartphone electronics. Before smartphones went back to 3.5mm connectors for both stereo sound and microphones (through the single port), most electronics required two cables, one for stereo and one for a microphone. To this day, nearly all electronics still require two audio jacks, which means Siberia's microphone will not work on anything but smartphones. They will produce stereo sound when plugged in.
The Siberia Neckband has round over-the-ear cans. These look great, but ears are not round in shape, so if you have larger ears, these can cushions may rest on part of your ear. I have big ears (the better to hear you with), and I found the Neckband uncomfortable after about two hours of continual use, though I prefer over-the-ear headsets. This is, however, a personal preference, but an important one for headphones and headsets. Speaking of personal preference, if you have a pair of headphones that you love the sound quality of, you can learn how to make a gaming headset out of them if you want to.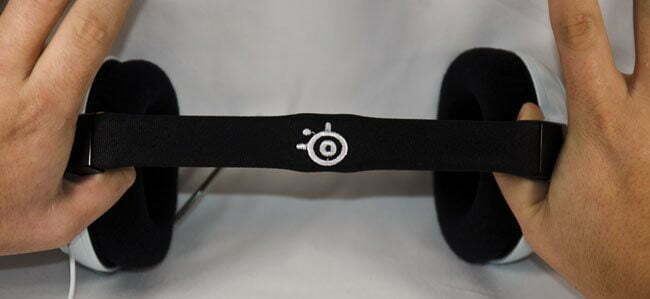 Related: Also, check out our Steelseries Siberia V2 Headset review.
Finally, the Siberia Neckband is called "Neckband" for a reason: the band sits around the back of your head, not on top like most headphones. My experience with both the original and new Siberia Neckband is that the band tends to rest on the neck, where it tends to lean toward. The band itself is strangely built to fit any head size by pulling the cans apart, as seen in the picture above. It's a good method to keep the Siberia more orderly (no readjustments necessary, just pull and put it on, and the headband will collapse when you're not wearing it), but it also tightens the set to stay in position. That tightness isn't a big concern, but it may prove uncomfortable for sensitive ears after extended use.
The sound quality is very good to excellent on the Siberia Neckband. For the price, I am more than satisfied listening to streaming music through Pandora, watching movies on my iPad, and having phone conversations. It does a great job with all audio on iOS devices, which is to say lower-bitrate MP3 and condensed videos sound just fine. That sort of testing is minimally stressful, so I also used some high-quality audio from CDs and HD films, as well as DVD audio, and found that the sound quality is excellent. The lows are spot on with very rich bass, something most headphones can't do. I am very impressed with the bass quality. The Siberia Neckband easily overpowers larger and more expensive headsets, without using an external power supply. High's and mid-range are equally accurate. Sounds are not sharp, and users will find that even if they have the audio too loud, sounds will not be painful (to a point). As far as sound quality is concerned, SteelSeries has done brilliantly. Read our SteelSeries Arctis 5 gaming headset review for another great sound option.
The Siberia Neckband's controller compared to Apple's own iPhone earphones
Thanks to its design, the Siberia Neckband does not have good noise cancelation. It's not the best headset for planes or trains, nor is it great for noisy roommates. The headset is too prone to outside noise, though the softer tones enable users to just turn up the volume to drown out the sound. Privately using the Siberia Neckband could be better.
SteelSeries representatives told me a story about how their very first headsets were audiophile quality. The sounds were as completely accurate. But gamers didn't want that, they wanted pinpoint precision and timing, so SteelSeries adapted to meet those needs. The irony is that the company has returned to its original philosophy for the updated Siberia Neckband, and the audio quality is excellent. For $80, good luck finding other headphones that sound this good. iPhone, iPad, and iPod Touch support isn't just another added benefit, it's a mainstay for the device and may prove incredibly useful as gaming evolves on Apple's handhelds. Even now, telephony and media viewing is vastly improved by using the Siberia Neckband over competing devices. I can't recommend the Siberia Neckband enough.
Pros:
Excellent sound quality, wonderfully accurate
Great low price
Stylish, has the "Apple" look
Cons:
No option for dual 3.5mm jacks for non-iOS use
No noise cancellation
3′ cable is a bit short, could use an extender cable
Maybe:
Neckband design is not for everyone
Round cans look good but may not fit everyone over-the-ear
Read Next: Best Wireless Gaming Headset 2018
Related Articles: