[rating:4.5/5]
Pros:
Never needs batteries, and can be recharged by sunlight or artificial light
Thin (1/3-inch) and easy to move or carry
Concave keys make typing more comfortable
Officially only supports Windows but also works with Mac OS X
Cons:
Can't adjust the angle of the keyboard
Lacks the special context menu button found on most Windows keyboards
Flimsy plastic legs prop up the keyboard
If you're already convinced that the best wireless keyboards give you more flexibility, you'll have no problems understanding the appeal of Logitech's latest wireless keyboard. However, the biggest problem with any wireless keyboard has been the need for batteries that tend to run out just when you need the keyboard the most. Fortunately, Logitech's Solar Keyboard K750 eliminates the problems of batteries by including two built-in solar panels that can generate power in both sunlight and artificial light. This is similar to their Logitech K760 Solar Keyboard. If you work while traveling, this is one of the best wireless keyboards you can get.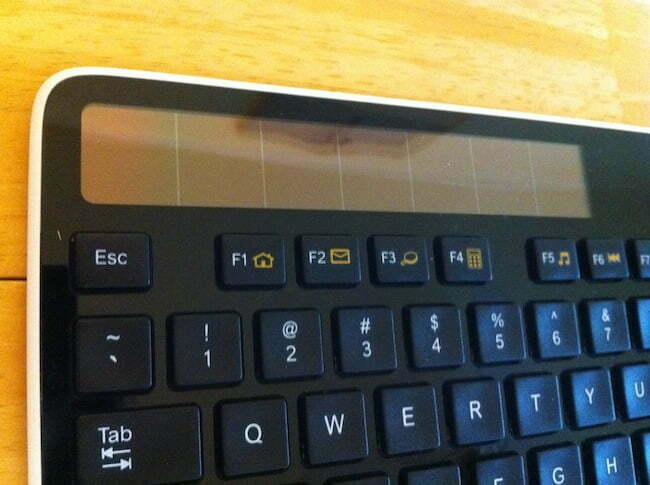 The built-in solar panels can generate power even under artificial lights.
To preserve power, there's an on/off switch along with a button that can show if the keyboard can generate power from the current lighting conditions or not. Press the lighting condition button and if the current lights are strong enough to power your keyboard, you'll see a green light appear next to a smiley face picture. If the lighting conditions are too weak to power your keyboard, a red light will appear next to a frowning face picture. Interested in a full RGB mechanical keyboard with Outemu switches for your gaming needs? Check out our Cyclops wireless keyboard review.
A smiley or sad face light appears to indicate the lighting conditions for recharging your keyboard.
If you're running Windows, you can download an optional program that can visually show how much power remains on your keyboard. Although this power monitoring program only runs on Windows and the keyboard only officially supports Windows, you can use the keyboard with a Macintosh as well.
Besides eliminating the need for batteries, unlike the Logitech K400 Plus, Logitech further reduces the keyboard's environmental impact by packing the K750 keyboard in a recyclable cardboard box. The box contains the keyboard itself, a USB Unifying Receiver, a USB adapter, and a cleaning cloth.
The Unifying Receiver plugs into any USB port and provides the wireless connection needed to connect the keyboard to the computer. This Unifying Receiver works with Logitech's other wireless devices such as their wireless mouse or trackball, so if you already have a wireless Logitech device, you only need to plug a single Unifying Receiver into your computer. If you like working on your Samsung tablet and you are looking for the best keyboard that has a rechargeable battery that can run for weeks in between charges, click our ZAGGfolio for Samsung Galaxy tab 10.1 review.
To make it easier to plug the Unifying Receiver into a USB port, the keyboard also comes with a USB adapter, which simply extends a USB port to make it easier to plug the Unifying Receiver in. If you can comfortably plug the Unifying Receiver into a USB port, then you can set aside this USB adapter.
Setting the keyboard up is as simple as turning it on and plugging the Unifying Receiver into your computer. The keyboard is amazingly thin and light, like the Arteck HB030B slim, making it easy to move or carry wherever you need it. For another similar keyboard that's portable and simple to use, you'll want to read our FAVI SmartStick mini wireless Bluetooth keyboard with touchpad review.
The K750 keyboard is surprisingly thin.
You can lay the keyboard flat or prop it up at a fixed angle on two thin plastic legs. Unfortunately, these two plastic legs only adjust the keyboard at a fixed angle. Even more disturbing is that these plastic legs don't feel especially sturdy. Accidentally sit on the keyboard while it's propped up and these plastic legs are likely to snap off or break.
Tiny plastic legs pop out to prop the keyboard at a fixed angle
Typing on the K750 keyboard is amazingly comfortable due to the concave nature of each key, which allows your fingertips to rest inside each key for maximum comfort and accuracy. The keyboard provides the exact same layout as ordinary keyboards including twelve function keys at the top of the keyboard, a T-shaped cursor keypad, and a separate numeric keypad on the far right.
Curiously, the keyboard only offers the special Windows key on the left side of the space bar. Where most keyboards offer the Windows key and a context menu key on the right of the spacebar, the K750 keyboard displays a special Fn key.
Instead of a Windows and context menu key, the K750 keyboard displays an Fn key.
Pressing this Fn key lets you use the top row of function keys. If you omit to press this Fn key, then the top row of function keys default to controlling a hardware feature of your computer such as adjusting the volume or fast-forwarding an audio file.
The K750 keyboard is not only comfortable to type on, but its wireless feature makes it capable of controlling your computer from a distance. Its built-in solar panels eliminate the biggest headache of wireless keyboards, which normally require replacing batteries periodically.
If you want a wireless keyboard that's environmentally-friendly, powers itself through sunlight or artificial light, and provides maximum comfort for typing, then the K750 is definitely in a class of its own.
You can buy the Logitech K750 at Logitech for $79.99.