Logitech has a fabulous long-standing reputation with PC gamers for producing quality keyboards, mice, and headphones. The love-love relationship really kicked off in the early turn of the century when the company launched some of the first mice to feature—wait for it–side/thumb buttons for easier browser navigations. Gamers took to this new feature, mapping them for a variety of game controls and such. Fast forward 15 years: you will be hard-pressed to find a dedicated gaming mouse without those now-ubiquitous thumb buttons. Check out the best gaming keyboards to add more gaming peripherals to your setup.
Since then, the company continues to enjoy immense acclaim for its headphones and keyboards, some of which offer a dizzying number of features beyond audio and key presses. Their latest attempt to innovate is nothing short of ambitious.
The Logitech G910 is the newest from the G-Line of peripherals targeting serious gamers. It wields a striking look, if not jaw-dropping in its design. A quick glance at the product shots reminds us of the Nighthawk X9 Full Custom Edition keyboard, we reviewed a couple of years back, with its multi-color keys. But this one has more. Logitech has designed its own proprietary mechanical key switches that are super low-profile for quick actuation, yet still offer very slight tactile feedback for the user. These are dubbed "Romer-G" mechanical key switches. Each is laser etched and individually lit directly upward for clear visibility during late-night gaming sessions. The precision not only creates a slick look in chromatic illuminated glory, but it also truly improves nighttime gaming sessions where the slightest glance is all that is needed to identify the particular glow for your desired key.
As we mentioned in our previous mechanical keyboard reviews, mechanical key switches do not require as much force to actuate as non-mechanical or membrane keyboard key switches. This is often a go-to choice for gamers looking to minimize fatigue and gain an extra competitive edge with speedier actuation and resulting responsiveness.

But the main draw for this one is the ARX app system. You can use your smartphone or tablet to display in-game info, vital system statistics, and more. First, you need to install the Logitech Gaming Software. This is the same set of utilities the company offers for virtually all their gaming devices. The Arx Control app can be found on the Apple App Store or the Android Play Marketplace. Once installed on your mobile device, Arx connects to the downloadable Logitech Gaming Software installed on your computer via your WiFi network. More on ARX in a bit.
Related: Learn more with our Logitech G710 mechanical gaming keyboard review
Other key features you get with the G910 Orion Spark mechanical keyboard include 13 extra G-keys. These are primed for macros and custom commands, which you can set within the LGS utilities. They are found lining the left corner of the keyboard, making them handy and easy to reach. Plus mapping them with custom settings or intricate macros is surprisingly easy. You can also save your macros for simple drag-and-drop applications to other keys on this board or other Logitech keys you may install, which use the same utilities. The unit also comes with two swappable wrist rests, a slender one, and a deep option. My hands are a bit meaty, so I opted for the deeper one. Each is made from hard plastic, yet they do yield added comfort. On the upper right side, we have the now-customary Windows button. Clicking this in will deactivate the Windows button to prevent inadvertent presses. Next to that is a simple illumination button toggle. You can also manage your movies and music with the dedicated media keys positioned in the upper right corner. You get play/pause and keys for track skipping forward and back. A volume dial is set just below the media keys. To the left of this is the mute/un-mute button
Related: Check out the Mad Catz S T R I K E 7 touch screen gaming keyboard review
So how does it all come together when the bullets and magic missiles start flying? It's butter smooth with the fastest keys of any mechanical keyboard that I have ever tested—hands down. It's incredible, but only when it works. My only real issue with the Orion Spark… It randomly dies on me. For some inexplicable reason, the board will stop responding and will refuse to receive a single input. It has only happened a few times in the two weeks I've had the board up and running. Still, nothing short of unplugging the USB cable from the PC and re-inserting it. Beyond that, this is not the keyboard for those new to typing or keyboard and mouse gaming. I cannot stress enough how the slightest touch is all that is needed to actuate these custom-made Romer-G keys. But if you're familiar with mechanical, especially Cherry Red MX, and treasure super speedy light-touch keys, then you will love the Orion Spark. I can type faster on the Orion than any other mechanical. Plus the tactical is well-felt despite the immensely high actuation point. This is not a quiet keyboard by any means. While not as loud and "clickety-clacky" as the Nighthawk and the CoolerMaster CM Storm Trigger mechanical, it is assuredly not the choice if sleep roommates are within the same room. If you need to make sure your typing isn't annoying to those around you, check out our guide on the best quiet keyboards.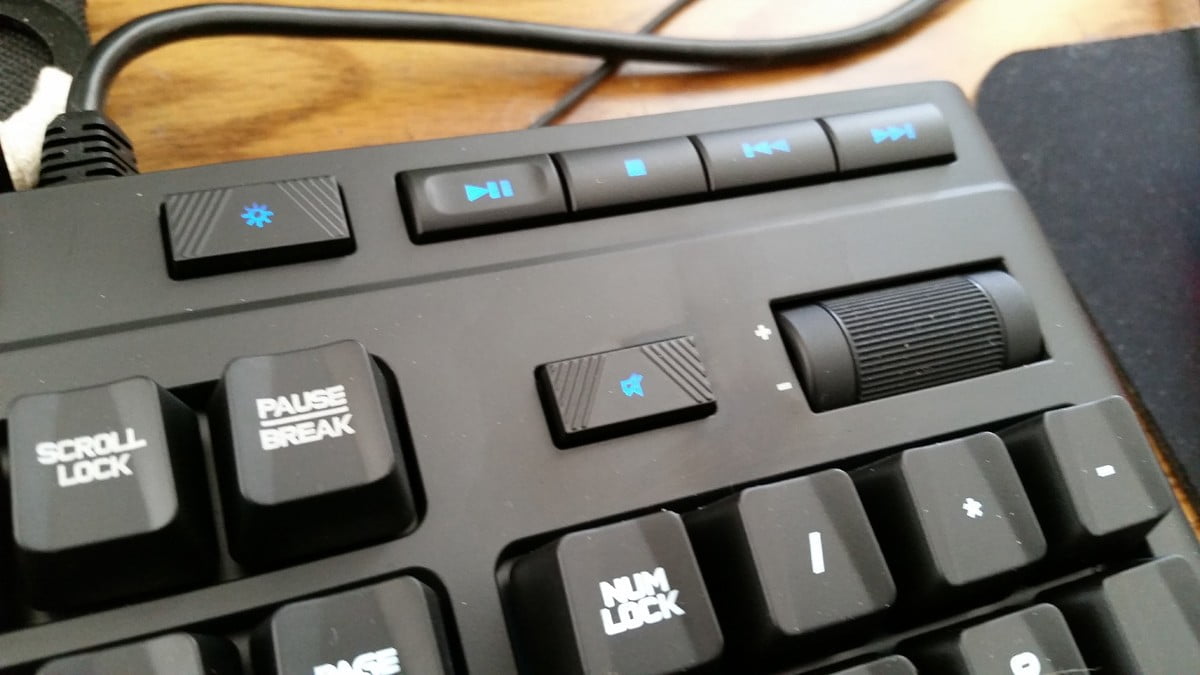 Moreover, the ARX app makes this a truly unique keyboard. Other companies have teased similar functionality and mobile device pairing. Razer has a touchscreen display set into one of their premium $300 keyboards. Roccat teased a board with an iPhone dock. Hamstringing themselves to cater to iOS—and only a specific model, solely was probably why that one never saw the light of day. Logitech takes a smarter more forward thinking. Arx is an app that can be easily updated. The positioning of the companion device is settled with an adjustable dock found on the keyboard. This way you can use your device of choice.
And, if you want more choices, check out the Gadget Review G13 Gameboard by Logitech and the Maxkeyboard Durandal G1N1 mechanical keyboard review.
ARX is great but massively limited. Logitech promises that will change. Right now you get an informative system monitoring app that colorfully displays memory used, GPU usage, GPU temperature, CPU usage, and more. You also get digital touchscreen control for your media device. So you have a handy remote control for movies and music. You can also assign and change G-key. Applications can also be launched via ARX, which is novel but not all too exciting. Logitech does have the SDK in the hands of a number of key developers. Hopefully, something compelling will surface soon.
Right now the Logitech G910 Orion Spark holds enough design innovations, comfort options, features, and dedicated functions to warrant the $180 price tag. The ARX app is completely free and holds a lot of promise. If that isn't enough the illumination customization makes this lightning-fast keyboard stand out like no other when sitting unattended. When it comes to gaming and typing, it has no equal at this price point.