The iPhone 5s's battery ain't half bad. In fact, the average user can probably go a whole day and then some without a recharge. Not so, though, for those that chat, text, Instagram, or watch videos on the handheld device. If the case is such, you'll be scrambling for a recharge by mid-afternoon, and if you forget come evening, when you're far from a wall socket or computer, your iPhone 5s (battery) will be close to its death. Read our iPhone 5s review if you want to learn more about this iPhone.
There are an assortment of iPhone 5 and 5s battery cases. Mophie is probably the most popular, and based on the lavish party they threw at CES this year, I am inclined to agree. But that isn't to say they're the best, or the only choice. Speaking of the best, check out the best iPhone battery cases around.
A company called Jackery – I had never heard of them until they emailed me – also makes battery packs. They sent me their Jackery Leaf Premium, which is probably most comparable to Mophie's Juice Pack Plus. In addition to a built-in 2400mAh battery (300mAh more than the Mophie's equivalent), included is a protective case that works in tandem with the battery pack. Located on the back of the case is a small notch that slots into place and keeps the iPhone's back securely attached (in addition to the Lightning plug). I actually prefer this setup over Mophie's since it's far less hassle and fiddle to install and uninstall. Moreover, it provides some added protection even when you're charging up the battery pack.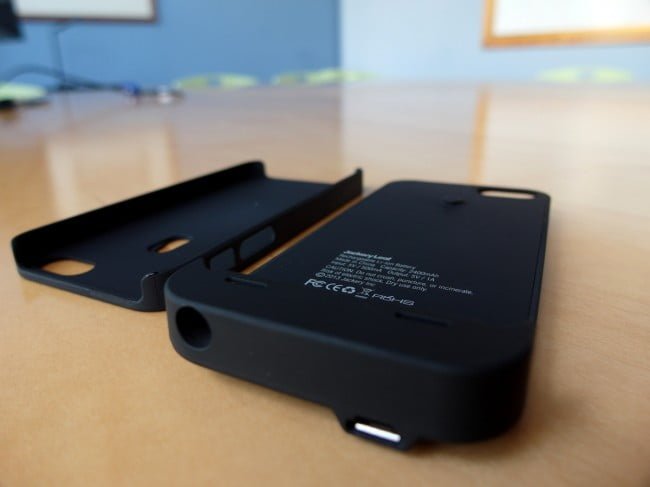 However, there is a caveat. Sharing the Jackery Leaf Premium requires that you remove the case and hand it to your friend, who then has to attach it to their iPhone. Arguably it's the same amount of hassle as using Mophie's Juice Pack or Juice Pack Plus, and if in a squeeze it can be used without the protective case, only your friend's iPhone won't be secure and could put some torque on the Lightning plug.
Related: If you like this battery case, you might be interested in our Lonlif iPhone Battery Case review.
In the hand the Jackery Leaf Premium is just that, a premium feel. The protective case and the battery itself are both finished in that soft rubber material that has a protective feel and all the while won't stick to pants pockets.  But, note, and as evidenced in the pictures included in this review, it is prone to marring.
To charge the battery, you just plug the included microUSB plug into your own wall wart. A small LED light on the back of the case – sitting adjacent is a power button – blinks from red to green when it's fully charged (a solid green is a 100% charge).  Conversely, it also shows the remaining charge. I'd prefer to see 4 LED lights to indicate remaining charge, but it's not that big of a deal to me since those can be grossly inaccurate (the last LED light might only be 10% remaining charge, if that).
In use, the Jackery Leaf Premium is impressive. Aside from the protective nature of the case, and the ease of install, the battery is consistently good. Which is to say it produces the same results from charge to charge. With the battery on both devices (iPhone 5s and the Jackery Leaf Premium) fully charged, I was able to get two full days with moderate to almost heavy use. This included maps with GPS turned on, phone calls, texting, Instagraming, and more. Conversely, from a 2% charge on my iPhone 5s I was able to recharge the handset to 97% during light use. So impressive? Yes.
Related: Also check out our Incipio Offgrid Pro review.
And what is more impressive, is that the Jackery Leaf Premium is just $79.99, versus Mophie's $119.99 on Amazon. More or equal juice, Apple MFI Certified and a case system all equates to a greater bang for buck. Unfortunately, you'll still need a headphone extension cord since the jack is recessed, but I blame that on Apple, not Jackery.