I remember hearing that video chat first appeared when AT&T made special phone booths in Disneyland available to use (as part of a promotion of course). But as far as regular television being part of video chatting, it's been more of a computer, laptop and even mobile devices world. While there's nothing wrong with that, being able to use that honking big HDTV to see the other person would be cool — providing they could see  you too. So that's where the Biscotti TV Phone comes in; to bridge the gap between webcams that require "techie" ability and the ease of use we associate with such things as toasters, microwaves and yes, HDTVs that are part of our "home theater." If you're interested in more phone options, then check out our best smartphone reviews.
Now consider that few rarely have a computer as part of the mix of their HDTV and audio system, nor any computer-like parts like a webcam handy (an exception might be a vidcam on a game console usually found in a kids room or getting the "hands off" treatment by the teenager). So it's a wonder that something like the Biscotti TV Phone hasn't appeared before. I'm holding one of these guys and it's tiny. I can see why they named it after a biscotti, because when you consider the size and the curved shape, it does resemble the Italian cookie. Just not edible because it's made of plastic and electronics — keep teeth marks off, OK?
Related: Read our ASUS ROG phone 3 review
The procedure is fairly straightforward and once installed, you can leave the Biscotti TV Phone where it is and forget about it.
So first plug your broadcast TV video source into the Biscotti's input since you need to have the regular video signal going into the TV (you could use the input from a video game console or even just a Blu-ray player if you wanted to, but keep in mind that the video has to be going active "through" the Biscotti and into the TV as it normally does if it's to be seen). So that's the reason why you plug another HDMI cable into the Biscotti's output and then into the TV. In my case, that means removing the HDMI cable from the TV that is coming from the Dish Network satellite receiver and then doing the rest of the swap of cables as noted above.
Related: Check out our BlackBerry Android phone review
With that out of the way, placement of the Biscotti TV Phone is the next — and probably most important — consideration, since its camera needs to be able to point at you when you're in front of the TV. The top of some TVs, for example those using DLP projection, are wide enough for the Biscotti TV Phone to sit on easily. Even if it is, you should still probably use the included mounting clips because the HDMI cables tend to pull on the Biscotti TV Phone. You don't need it falling over. If the top of the television is too thin, you'll need to place the Biscotti TV Phone at the front of the TV, angling it or placing a block of some kind beneath as needed — more on that in a bit. Either way, plan on having a few HDMI cables of decent length around so that you can use those that are the most appropriate in length.
Okay, so I'm all set — power brick plugged in too and using an uninterruptible power supply since otherwise any glitch will cause the Biscotti to have to do a reset. So I turn on my high-def TV and see that the Biscotti is booting up. Taking the very cute, if also pretty small, remote in hand, I tell it I want to speak "English," and provide it with the needed details so that it can access the Internet through its internal WiFi connection. That's important, because there's no Ethernet plug which means you better have a wireless  network or no-go.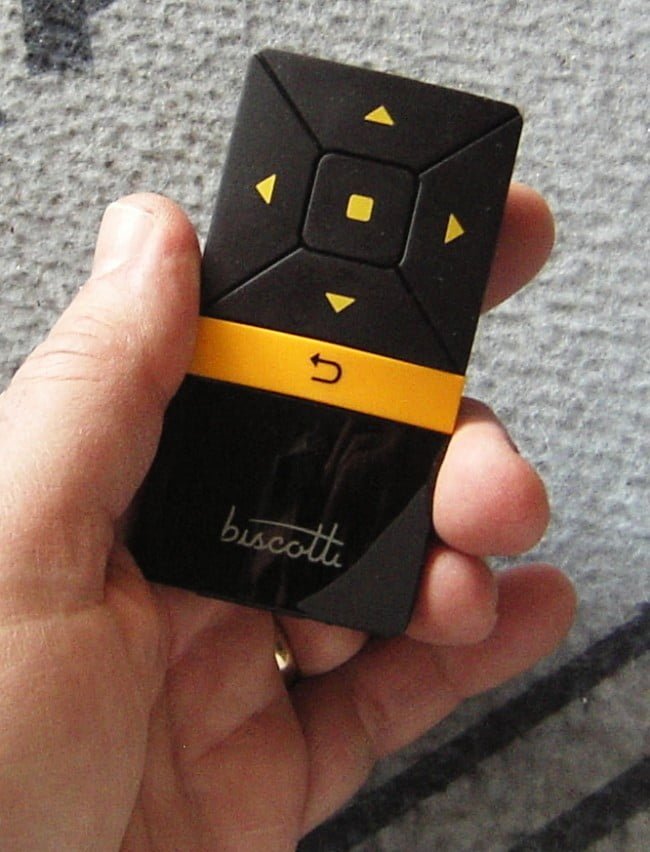 Anyway, once this is taken care of, I switch to the Camera view in the Settings menu to see my lonesome on the TV. Looks big — by that I mean the size of the image, not my head. A nice feature is that for setting up the "view" that the Biscotti is going to see, you can both zoom and pan the camera using the remote — the zoom seems to cause a bit of digital degradation that's especially visible if the light levels in the room are low, but who's going to be video chatting in the dark? The 5 megapixel camera is able to handle low levels fairly well though, but for best results illuminate the room in the normal fashion when using it.
So here's where it gets good. I can either choose someone who also has a Biscotti TV Phone or is using Google's Talk Video Chat ( so anyone with a Google account can be pretty much fair game) — either way I need to know their "name" to use (I've already created my own user name through the program built into the Biscotti). I've arranged with a friend to call him up and so choose his name from the contact list which I've set up and "dial him." And yes, there he is and, according to him, there I am on his laptop.  Or tablet or smartphone or whatever. But I have to say my view of him is better — how could it not be, since I've got a 60-inch TV to look at him at. In HD yet. Like I need to see that he was eating and has yet to wipe his mouth. Or hear him mumbling as the food has yet to make it's way down the pipe (as it were).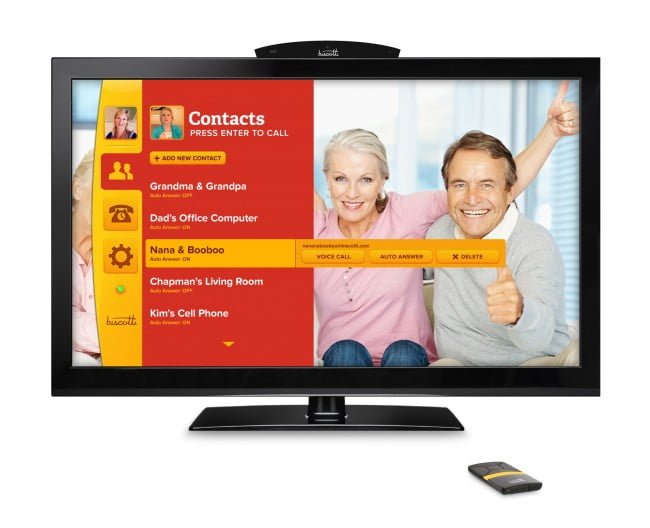 Be that as it may, the Biscotti TV Phone works and when not in operation you can ignore it and do whatever you normally do with the TV when it's on. Which brings up an interesting point — the Biscotti  has the ability to "turn on" when you get a web-call. And even knows how to auto answer for certain folks who've been predetermined. That makes it a lot like a conventional telephone in that it's always "on," but a whole lot smarter than the landline.
Editor's Rating:
[rating:4/5]
Great
Bottom line: The new price of $149 makes the Biscotti TV Phone a good deal. But even better, using it is a good deal more simple than using one of those webcams that proliferate the scene. Families with small children who have grandparents living far away (and with WiFi) will love this, as will pretty much anyone without a M.I.T. Degree who just wants to be able to video chat when they want without hassles.
Pros
720p HD quality image
Works with any HDTV
Can defeat video for audio only function
Cons
Unit gets a bit hot during use
Can only be horizontally mounted
Fast Internet connection needed for best video experience