After 17 hours of online research, we are very happy to announce that the SwagCycle Pro Folding Bike is the best electric bike for 2023. It's on the mid to lower end of the price spectrum, but it has all of the high-end features you should look for in an electric bike, including an impressive speed and overall battery range.
So it's time to get yourself one of those fancy new electric bikes that are passing you by on your morning commute. To help you find the latest in E-Vehicle technology and make sure you spend your hard-earned money on the very best model, we purchased and tested the top 40 electric bikes on the market today.
During our tests, we measured things like motor power, maximum range, top speed, and overall weight limit. We also looked at more subtle things like comfort and additional features like removable batteries and charging times.
Top 10 Best Electric Bikes for Adults Compared
#1 SwagCycle Pro Folding Bike
Award: Best Electric Folding Bike
WHY WE LIKE IT: This is the best electric folding bike for 2023. It has great features along with portability. The SwagCycle Pro is the bike that we tested. We love that you can charge your phone using the bike's battery. It performs great, has a comfortable speed, and decent range, and is light and durable. The only minor issue we had is that the wheels are really only suitable for paved roads.
Read Full Review: SwagCycle Pro Folding Electric Bike Review
Pros
Light And Durable
18 MPH Top Speed
Built-in cell phone charger
Cons
Wheels only good for paved roads
Swagtron is a popular choice in the electric vehicle market and is making some serious waves in the industry. They always get high marks for performance and reliability in their electric bike and hoverboard products. This Swagtron SwagCycle Pro is no different.
It's another excellent product. This bike hits a top speed of 18 miles per hour thanks to its powerful 37v lithium battery and delivers 15.5 miles on a single charge. This bike's sturdy frame can support up to 264 pounds, and its stem and handlebars can collapse for easy storage. It is the perfect bike for commuting and then stowing in an office closet, or for packing it up and taking it with you on vacation, thanks to its ability to fold up.
Other features include dual disc brakes, total control using the SwagCycle II app, built-in cell phone charging, and a bright bike light. Onboard is a 250-watt motor that is one of the powerful hub motors often found in these rides. The bike is throttle only but includes footpegs for your optimized comfort.
However, the bottom line is that anyone looking for a collapsible ebike is going to love this little powerhouse. It's easy enough for anyone to use and is built with great attention to quality that will wow you. Of course, some daredevils prefer one wheel, and the electric unicycle is for them.
#2 NAKTO Fat Tire Bicycle
Award: Best Fat Tire E-Bike
WHY WE LIKE IT: This E-Bike handles sand and snow like a champ, delivering great range and speed. NAKTO E-bikes has a very simple slogan, "Having Fun Riding for Everyone!". It never really resonated with me until I tried out the NAKTO Fat Tire Electric Bicycle. The company sells directly to consumers to keep prices low and create happy customers.
Read Full Review: NAKTO Fat Tire Electric Bicycle Review
Pros
Smooth Ride
Great Performance On Varied Terrain
42 mile Range
Cons
Heavy For Riding Without Battery Aid
Brakes Are Noisy
Online user reviews indicate that it's a winning strategy. This Fat Tire E-Bike has a high-strength carbon steel frame, premium shock absorption, and a multi-function LED digital dashboard. All features that we loved, but there's much more here. It has a weight limit of 300 lbs, a max speed of 28 MPH, and a range of up to 42 miles. It also has two working modes: Assisted bicycle, and E-bike, for using the pedal assist or speed throttle, but a combination of both is better.
The 500 Watt brushless motor drive system makes it a powerhouse that performs great on snow, sand, and other off-road conditions. This model has a removable and Waterproof 48V Lithium Water Bottle Battery that offers a recharge cycle of over 1000 times. Rounding it all out are the Dual Disk Brakes, front headlight, LCD display, and horn. It also has high-quality Shimano 6-speed gears that give an awesome drive. It uses 3 modes: Pedal, Twist Throttle, and Power Assisted.
Whether climbing the steep streets of San Francisco or biking along the beach, this fat tire e-bike has the power and the mileage to get you to your destination. It offers a smooth ride thanks to an amazing suspension. The brakes on our model were a little screechy at times, but honestly, that's very minor. There's a lot to love here. Work or play, this e-bike will put a smile on your face. Want an extra wheel? The best adult tricycle is worth a look.
#3 ECOTRIC 20″ Fat Tire Folding Bike
Award: Best Fat Tire Folding Bike
WHY WE LIKE IT: This is the best fat tire folding bike. There's a lot to love about this vehicle. If you're looking for a folding ebike that can fold up for travel or storage, look no further than the ECOTRIC 20″ Fat Tire Folding Electric Bike. This tough customer will handle anything you can throw at it.
Read Full Review: Ecotric 20″ Fat Tire Folding Electric Bike Review
Pros
Powerful 500W Motor
Fast 20 Mile Per Hour Speed
20 Mile Range
A sheer pleasure to ride, this model has nice heavy-duty tires and a rear-hub motor with 500W of power. Sure, there are e-bikes that go faster, but the extra power here is what helps them tackle off-road conditions and support riders that weigh up to 260 pounds.
It also has a nice feature list that includes a 36v battery, front and rear disc brakes, aluminum frame, variable speed control, a 1/2 Twist Throttle, Shimano 7 Speed gear, and a charging time of 6-8 hours. This model has 20″ front and rear wheels.
We found the LED 810 Display Panel to be easy to read with a nice layout, and as for the ride itself, it's a very comfortable one that handles all terrain. Twigs, sticks, thick grass, snow, or sand won't stop this bad boy. It should have a rear light for safety, but having said that, we just fell in love with the experience of the ride. So much so that it is our "Best fat Tire Folding Bike." We love our vehicles around here.
#4 ECOTRIC Fat Tire 500W Bike
Award: Best Electric Mountain Bike
WHY WE LIKE IT: This is a very capable mountain bike that just about anyone can ride and enjoy. It has great back and front suspension, a smooth ride, and amazing tires that grip everything. The charge time and the battery's odd position on the frame are our only gripes, but those things aside, you can't argue with the power and quality of this fat electric bike. It makes a heck of a beach cruiser. You'll love everything from the front hub to the back hub.
Read Full Review: ECOTRIC Fat Tire 500W Bike
Pros
500W Motor
Powerful Brakes
Comfortable Ride
Cons
8 Hour Charge Time
Battery Position Is Weird
A powerful and durable electric fat tire mountain bike that doesn't disappoint. The ECOTRIC Fat Tire 500W Electric Mountain Bike is another E-Bike made for adventuring over rough terrain, and it does a great job. That powerful motor and 36v battery give it amazing performance off-road.
It has a pedal assist and a throttle-only mode that lets you reach a top speed of 23 mph easily. It delivers a range of 20 miles on a full charge. And since it has a weight limit of 260 pounds, even large riders can get off-road. The Shimano 7 Gears Shifting System(R) makes it a breeze to ride even if the battery dies. Ecotric has some added safety in this model since the brakes have motor inhibitors that cut the power supply to the motor when you press the brakes, which is great for emergency situations. remember to use the best bike lock to prevent someone from stealing your cool bike.
#5 Tomasar Power Bike
Award: Best Value E-Bike
WHY WE LIKE IT: A solid choice for performance and convenience. The Tomasar Power Electric Bike is a great choice whether you want to travel mountain roads or streets. It is a solid performer with some great style. And you get a lot for your money. This E-Bike is a winner.
Read Full Review: Tomasar Power Electric Bike
Pros
Durable
Thick Tires
Foldable
If you want an electric bike that can handle both off-road conditions and take you to work every day, the Tomasar Power Electric Bike is your choice for an all-around great performer. The 36v battery propels this workhouse to speeds of up to 21 miles per hour and delivers a 31-mile range.
It charges in 4-6 hours. The 21-speed Shimano professional transmission system makes it easy to ride without battery assistance. It also has front and rear disc brakes. You can use it in electric mode or assisted mode. And lastly, the fact that it is foldable offers great convenience. The high-strength carbon steel suspension fork offers great shock absorption. Check out our best bikes guide to learn more about bicycles.
#6 SwagCycle EB-5 Pro Bike
Award: Best E-Bike For Beginners
WHY WE LIKE IT: SwagTron is a company known for producing quality electric personal transportation devices. I can confidently say that the SwagCycle EB-5 Pro lives up to its quality standards. This is a great little bike for tooling back and forth around your campus or any other situation where you have to go to and fro a lot. With a comfortable speed of 15 MPH and a weight limit of 265 pounds, this is a reliable bike for beginners of almost any size. It has a range of 15.5 miles. Not the furthest, but a great range for new riders.
Read Full Review: SwagCycle EB-5 Pro
Pros
Perfect For Beginners
Comfortable
265 Pound Weight Capacity
This is from the top electric bike for beginners.
It boasts a 250W motor, 36V Li-ion Battery, dual disc brakes, a USB charging port, a headlight, and a safety bell and reflectors. You can choose from two modes when riding: Throttle and Pedal Assist. Swagtron delivers on durability here too. This E-bike will stand up to some abuse and be with you for years. And instead of leaving your valuable cargo locked out on the streets, you can easily tuck it under your desk or in any compact space by simply collapsing its stem, bending its frame, and folding its pedals.
It's a solid performer with some great features. We like that the battery indicator by the throttle stands out so that you always know how much charge you have. On just one charge, this hybrid e-bike can go up to 15.5 miles, but more distance can be covered by peddling in between. There's also an option to attach a cargo rack that is sold separately, to enable you to carry your bags, books, groceries, or any cargo you may need to transport. This vehicle is great for anyone, but new riders will really appreciate the design and performance. Electric bikes are a great stepping stone toward the best motorcycles.
#7 ANCHEER Power Plus Mountain Bike
Award: Best Uphill Riding Bike
WHY WE LIKE IT: Another great E-Bike from Ancheer. This E-bike handles hills excellently, and the headlight is brighter than most for nighttime rides.
Read Full Review: ANCHEER E Bike
Pros
Great For Uphill Ridingr
Bright LED Headlight
30 Mile Battery Range
Ancheer gets another spot on this buying guide, with a model popular for its quality and power. The ANCHEER Power Plus Electric Mountain Bike has a max speed of 15 miles per hour, a range of 30 miles, and a 36v removable Lithium-Ion battery.
If you are larger, you may get 25 miles. It has two riding modes: Assisted bicycle and E-bike. High strength carbon steel makes this one a durable ride as well as comfortable. It is a solid performer both on the trail and on the road. Some prefer to drive the best electric cars, but this bike keeps you more out in nature.
#8 Razor EcoSmart Metro Bike
Award: Best Electric Bikes for Top Speed
WHY WE LIKE IT: Razor is a name to be reckoned with in the industry, and the Razor EcoSmart Metro is highly rated online, like a lot of their products. This model gets a spot on our rankings thanks to its great build quality and nice top speed. It doesn't hurt that it's affordable and from a trusted brand as well. It has a max speed of 18 miles per hour, a powerful 500 W motor, and it delivers 40 minutes of continuous use.
Pros
Made By Razor
Impressive Top Speed
Excellent Build Quality
Cons
Odd Battery Placement
8 Hour Charge
I really loved the style of this E-Bike. It has a bicycle saddle, basket, and bamboo-coated standing deck that gives it a unique retro look. It also has a cargo carrier for your groceries, bags, or books, with a handy detachable luggage rack and basket. It is a solid performer and very comfortable to ride. There is one serious flaw that kept it from ranking higher on our list, and that is because the battery placement is so odd.
Razor put the battery underneath the standing panel and too close to the road for my taste. I didn't run into any problems, but it seems like this could lead to trouble. There's also the 8-hour charge.
Despite those two drawbacks, there's a lot to love about this E-Bike. It feels great on the sidewalk and is perfect for short trips back and forth. There's no suspension here though, so things are bound to be bumpier on rough roads. A great electric bike at an affordable price.
#9 Elby 9-Speed E-Bike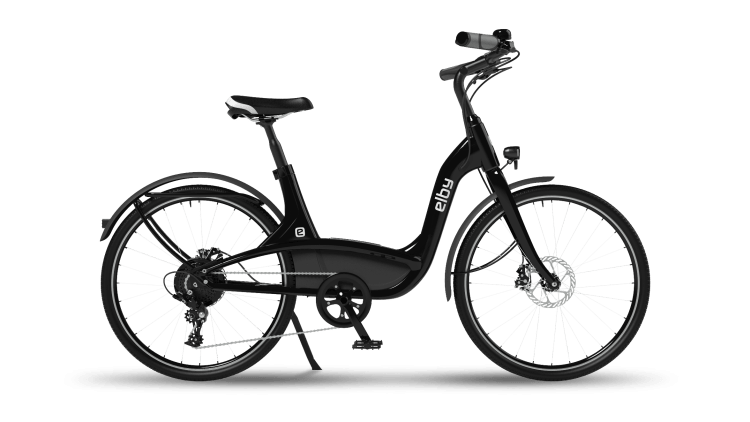 Award: Top Pick/Best E-Bike
WHY WE LIKE IT: The Elby 9-Speed Electric Bike is loaded with features, has a quality build, and has an outstanding 90-mile range on a full battery capacity when you pedal a bit to assist it. Welcome to the modern bike world.
Read Full Review: Elby S1 9-Speed Electric Bike Review
Pros
Powerful 500W Motor
Crazy 90-mile range
280 Pound Weight Limt
Cons
Weighs About 50 Pounds
May Not Be Fast Enough For Some
This is a quantum leap ahead of the rest of our picks because we wanted to show you the absolute cream of the crop and use it as a standard to judge other bikes against. It can handle a maximum load of 280 lbs, so heavy riders aren't left out. It is a superb performer with its 500W motor. It is made of a high-quality aluminum frame with a confidence-inspiring design. Enjoy a ride on the beach with our best electric beach cruiser bikes.
The maximum speed is a comfortable 20 miles per hour. It has 9 gears, so if the battery dies, you can ride it like a plain old bike. It also has 4 levels of pedal assist, a throttle, and 4 levels of regeneration. That battery takes 5 hours to charge. Other features include LED lights in front and in the back, a color screen (You can put your phone in its place running the Elby app), hydraulic disc brakes, a heavy-duty kickstand, rails for saddlebags, USB charging, and style to spare. The bottom bracket on this bike moves smoothly. Get the grandparents into cycling with our best electric bike for seniors.
Elby is the clear winner with so many features, and that quality builds for durability makes it like a tank. It's on par with the popular Trek Super Commuter, the Specialized Turbo Vado, or even the Izip E3. It's a bit heavy at around 50 pounds, so you won't be taking this up and down stairs, but this bad boy will get you where you are going. And it doesn't even have a mid-drive motor. It is not exactly an ebike sportbike, but it is the perfect electric commuting bike.
#3 Merax 26" Aluminum Mountain Bike
Award: Best Electric Mountain Bike
WHY WE LIKE IT: This is one of the best mountain bikes of 2023. If you have some mountainous terrain that you'd like to conquer, this is the bike for you. The Merax 26" Aluminum Electric Mountain Bike outperforms its E-Mountain Bike competitors with solid power, a decent speed of 20 mph, and a 28-mile range on a full charge.
Read Full Review: Merax Mountain Bike
Pros
Powerful
28-mile range
Great For Mountainous Terrain
While this mountain bike-style electric bike might be a tad heavy to ride just pedaling, at 48.5 pounds, it handles rugged terrain and steep hills beautifully. It has an aluminum frame and can handle a maximum weight capacity of 330 pounds. It packs in a powerful 350W high-speed motor, while a 36v battery charges you up in about 5 – 6 hours.
The Shimano shifter makes pedaling easy with a 7-speed transmission system. The 26-inch wheels make for a comfortable ride. It has two modes: E-Bike & PAS. You can use the thumb throttle and let the motor do the work or change between 5 levels of pedal assist mode. The hub gear and drive move smoothly and quietly.
The Merax 26" Aluminum Electric Mountain Bike has the power, ease of use, and performance that you want in a mountain bike. Our only complaint is that, given the range and speed, we wish it charged a tad faster, but we can live with that. This is the best mountain bike experience. Period. Uphill, downhill, it's all the same to this very capable beast.
Note: Another electric bike worth mentioning that is not on our list is the Specialized Turbo Creo SL. The Turbo Creo SL has a lively and light frame at 12.2 kg, with the Future Shock 2.0 for stability and control. It has a smooth 240-watt Specialized SL 1.1 motor that doubles your effort and has a quiet whisper. Specialized Turbo Creo SL offers a battery power of 480Wh and a charging time of 2h 35min.
Beginner's Guide To Electric Bikes
Electric bikes use the same frame and parts as conventional bikes, but with a few additions. These consumer commuter vehicles use battery power and an electric motor to help users reach higher speeds with less effort than a regular bicycle. Since riding an electric bike is very similar to the analog option. A general rule of thumb: If you can ride a standard bike, an ebike should not be an issue. That said, there are more tools to use and some possible pitfalls that we want you to avoid. Read on to discover the essential tips in this beginner's guide to electric bikes.
What Exactly Is An Electric Bike?
Electric bikes have become a fun and unique way for people to explore both urban and rural areas. These eBikes are not intended to completely replace human power, but they are designed to augment strength while pedaling. An electric bicycle typically consists of a standard bicycle frame with an integrated motor and a built-in battery pack, the latter typically coming in the form of a lithium-ion battery pack. In addition to standalone electric bikes, there are also eBike conversion kits available for purchase. These transform standard bicycles into electric bikes.
An electric bike motor generates the torque to spin your wheels and gets you going. Street-legal models are usually between 250W and 750W. Some ebike motors are pedal-assisted, while others require the simple turn of a throttle.
Electric bikes can reach a wide variety of maximum speeds, with the fastest commercially available model being able to reach speeds up to 62 miles per hour. On average, the top speeds for these bikes max out at around 20 to 28 mph, depending on which class the bicycle falls into.
What Is the Class System?
The class system, widely adopted in 2020, divides e-bikes into three classes: Class 1, Class 2, and Class 3. Generally, these classes are divided by speed and tech.
Class 1 ebikes are limited to a max speed of 20 miles per hour. They only work while the rider is pedaling and are legal to ride on bike paths and bike lanes.
Class 2 ebikes are limited to a max speed of 20MPH. The throttle works even if the rider isn't pedaling. Like Class 1 ebikes, they can legally travel on bike paths and bike lanes.
Class 3 ebikes can go up to 28MPH, but they need a speedometer. These bikes usually need pedal assistance to reach above 20MPH and are not legal for pedestrian walkways or trails.
The History Of Electric Bikes: While you may think electric bikes are a new phenomenon, they have been around for over 100 years. You may be surprised to find out that inventors in the US and France registered the first patents for electric bikes in the 1880s and 1890s. Phillips and Simpex manufactured the first consumer electric bikes in 1932. The first Pedelec, a pedal-assisted electric bike, was invented in 1989. Still, the first consumer Pedelec didn't hit the market until 1992. Fast forward to today, and electric bikes and Pedelecs are some of the most popular modes of transportation.
How Does An Electric Bike Work?
Most e-bikes keep the form factor of regular bicycles, which means electric bikes work similarly to them. So, except for the addition of the motor, they don't look very different from standard bikes. While the weight of an e-bike will vary, most fall between 40 and 70 pounds. They also typically use a chain system to pedal the bike. For power, ebikes use rechargeable batteries. Some ebike batteries are integrated into the bike, while others are removable. The larger your battery capacity, the more miles and speed you can expect from your ebike. You can also expect to find throttle assistance on most models, which propels an e-bike forward without the need for pedaling. It's sometimes necessary to reach top speed.
STAT: – Electric bikes contribute just 22 grams of CO2 per kilometer traveled to emissions. Cars, on the other hand, produce 271 grams of CO2 or more per kilometer. (Source)
How Do You Use An Electric Bike?
Electric bikes come in a wide variety of categories, and the motor can be triggered based on two primary methods. In general, the seven different types of electric bikes can vary in weight depending on the frame design, battery size, and motor size. While with classic bicycles, a lighter weight is preferable, the opposite is true with e-bikes. With an e-bike, a heavier weight usually means that you have a stronger motor that can generate more power and a battery that can run farther distances on a single charge. But you'll need to consider whether you want a pedal-assist or throttle-assist motor, as this will directly impact how you trigger the motor and whether you still need to pedal or not when it's activated.
How Are eBikes Regulated?
Unlike many other modes of transportation, ebikes find themselves in a bit of a gray area. Manufacturers and governments have agreed to the class system, but there is still no national consensus on things like minimum rider age or rider safety requirements. That said, riders can find out the rules in their area by contacting an agency, such as the DMV.
eBike Regulations In The US: Because of how this country is delineated, every state can enact regulations for transportation within their borders as they see fit. Six continental states and all major U.S. territories don't explicitly define what constitutes an electric bike. And, too, 26 states further regulate ebikes using the three-tier classification guideline. Only 25 states and Washington D.C. require helmets depending on age and type of ebike. And registration is usually not required in most states, but some do require licenses. And most states stipulate where an ebike can be used, specifically regarding pedestrian paths.
eBike Regulations In The EU And UK: In general, ebike regulations in the EU and UK are quite similar to those in the U.S. Both allow for bicycles with electric motor assist of up to 250 watts to be classified as bicycles and not be subject to motor vehicle regulations. In order to qualify for this exception, an eBike must have pedals, provide power assist only up to 25 kph and throttle assist only up to 6 kph, and in the UK, it must weigh less than 30 kg. UK law also requires eBike riders to be 14 years old or older.
Choosing An Electric Bike
Finding the best electric bike is no easy task. With all the different brand options and models available, it can be a bit daunting. You just need to think about what type of speeds you'll need and how many miles you want to go. With that in mind, we can walk you through picking the best electric bikes to fit your needs.
Step 1. What Are You Going To Use It For?
To choose the perfect bike for your preferred outdoor activity, you'll need to think about what you're using it for. No matter what you choose to do, there is a perfect eBike to fit your needs. If you're looking to cruise around town, go with a model focused on mileage and comfort. If instead, you're interested in off-roading, you'll want to look for an eBike that has a powerful motor and a durable frame.
Step 2. What Size Bike Do I Need?
Picking the right-sized electric bike is incredibly important. To get the best speed and comfort from your ebike, you'll need to pick an appropriately sized model for your body build and riding style. Also, consider the different e-bike types to determine which one best fits both your physical size and activity to achieve the ultimate experience in comfort and fun. Test out the bike seat to make sure it's comfortable. Daily commuters who will treat the model as a commuter bike and will be sitting for longer periods of time should definitely consider a comfortable seat. If during your commute, you need to switch from biking to public transport, consider folding e-bikes so they're easier to carry.
If you have a small child and want to take them on your rides with you, you can invest in a child seat as well, which can be used with both electric and traditional bikes. Some child seats are placed behind the adult seat, while others are between the handlebars and adult seat so a child has something to hold onto. Those front child seats do make the child sit in a more upright position versus the back. Make sure the electric bike you choose provides a stable ride to give your child a smooth riding experience.
Step 3. What Are The Specifics I Should Focus On?
STAT: – After purchase, the expected cost per year of owning an electric bike (derived from costs associated with charging, servicing, repairs and replacements, etc.) is roughly $318/yr for recently purchased bikes, and roughly $518/yr for bikes purchased more than four years ago. In comparison, motor vehicles have an average annual cost of $3570. (Source)
Step 4. What Other Options Do I Have With Electric Bikes?
If your idea of an electric bike isn't a simple commuter model, there are other electric bike options to consider. So, be sure to compare electric bike types before making your purchase. For example, there are electric mountain bikes, models for storage, off-roading, and alternative charging. While the most common ebikes are pedal-assisted vehicles for paved streets, you'll also find specialist options for electric motor biking and ebikes with alternative form factors. Depending on your needs, you might also consider an electric motorcycle vs an electric bike, although ebikes are cheaper and easier to maintain, but slower and with a lower maximum weight capacity. The same is true if you compare a moped vs an electric bike.
Step 5. What Electric Bike Accessories Do You Need?
Batteries For Your Electric Bike: Electric bikes typically include lithium-ion battery packs. These batteries can vary when it comes to the voltages and amps on offer. To pick the best battery for your electric bike, consider a battery's overall voltage to be the horsepower of the engine, while the amps are the gas tank.

Moreover, a strong battery life will dictate how the best long range electric bike will last.
A battery's amperage determines the maximum range a rider can achieve before needing a recharge. Electric bikes occasionally use other types of batteries besides lithium, but these cases have become rare as the industry grows.

Throttle Controls For Electric Bikes: Throttle control for electric bikes allows for the use of the motor without pedaling. It's an option on most of the faster Class-3 electric bicycles and on many electric mountain bikes as well. So if this feature is important to you, expect to pay a little more if you want the best throttle on an electric bike. Typically, these bikes use a handlebar-mounted twist mechanism similar to the throttle on a moped or motorcycle.
Sturdy Bike Racks For Electric Bicycles: A bike rack for electric bikes is a more robust version of a regular bike rack, and it can carry the heavier weight of electric bikes. Hitch racks are fairly simple to install and are well-known for their ease of use while loading and unloading e-bikes.
Step 6. How Much Should I Expect To Spend?
The price of an electric bike can vary by quality, specs, size, and speed. Generally speaking, the price for an ebike can be as low as $600. That said, for a solid model, you should budget at least $1,500, as you won't find many reliable options for under $1,000. Of course, if money is no object, top-tier electric bikes sell for as much as $8,000.
Step 7. Should I Consider Building My Own Electric Bike?
You can make your own electric bike, but a conversion kit will cost between $500 to $1000 for a good model. DIY electric bike conversion kits are a great option for those who are new to the world of eBikes, especially if you compare electric bikes and conversion kits in terms of price. These kits can be affixed to most traditional bicycle designs and generally include a hub, a motor, a battery, and a variety of gears. Typically, DIY kits are half as expensive as a new electric bike and offer the ability to easily swap out parts for repairs or replacements. DIY conversion kits also tend to offer superior customization options, so you can essentially build the best ebike conversion kit you can afford by choosing the biggest battery available or the most powerful motor that fits your budget.
Buying A Used Electric Bike: Consumers can save some money by shopping for a pre-owned electric bike via an online marketplace. There are some risks associated with purchasing a used eBike, so we recommend that you ride it first and check out the various components. Also, try to be wary of deals that seem too good to be true, as the Internet is rife with scam artists. In order to make sure you purchase the right used eBike for you, make a list ahead of time containing must-have features.
Types Of Electric Bikes
Electric Bikes By Usage
Electric Bikes By Type
STAT: – Given current trends, the electric bicycle market is projected to grow to 20 billion US dollars by 2023, with projected sales of 130 million electric bicycles. (Source)
Top Electric Bike Brands
Now that you know what to look for in an electric bike, what accessories you might need, and how much to budget, it's time to consider what brand you prefer. As you look over our selection of what are, in our opinion, the top electric bike brands on the market, you'll notice some familiar names, such as Schwinn and Cannondale, as well as a few new ones that have popped up with the rise in ebike popularity, like Aventon and Rad Power. Click on the links below to learn more about each one and what they offer.
Owning An Electric Bicycle
Electric Bike Insurance Options
There are several different electric bike insurance options that you can purchase. Insurance lets you protect both your ebike and yourself in the event of an accident or theft. The cost of an ebike insurance policy varies depending on the type of coverage you need and where you live.
Common Maintenance For Electric Bikes
Owning an electric bike is an amazing experience, but it only stays that way as long as you keep up with regular ebike maintenance. Proper maintenance starts with pre-ride checks to make sure everything's in working order before you hit the road. Keeping a regular maintenance schedule to clean and tune-up your ebike is also important. The better you take care of your e-bike, the better it will take care of you on the road.
Regularly Clean And Oil Your Chain: There is no set time limit or guidance on how often you should clean and oil your ebike chain. Use a degreaser or rubbing alcohol with a rag and run the chain through the rag. Use high-quality lube, but do not use things like WD40 or gun oil.
Regularly Check Your Brakes: If you notice your bike slowing down or if it's been a while since your last inspection, check your brakes. First, try to tighten your brake lines before changing out your brake pads. Last, check your pads to verify they are still thick. Noticeably thin brake pads are a sign to change them out.
Regularly Check Your Tires: If you notice a loss of control or a lack of traction, your tires might be to blame. Inspect the tread of your tires and verify that they aren't bald. In general, ebike tires should last around 1,000 to 3,000 miles.
Storing Your eBike's Batteries For Winter: Make sure your ebike's batteries are stored in a temperature-controlled and dry environment. Keep your battery at over 40% throughout the winter.