The best Blu Ray player is not so expensive these days. Blu-ray players used to be exorbitantly expensive — my first was a PlayStation 3 because the price of the Blu-ray mechanism and a game console was actually more cost-effective than a Blu-ray player alone. But for most folks their first Blu-ray player was a major investment not be taken lightly — regardless of the addition of Internet "apps" following on the heels of BD-Live content. And for those who took the plunge to upgrade to a new BD player in the last year or two, hearing that now they'll need yet another new one can result in the kind of frustration that results in more guys added to the "hair club for men" if you know what I mean. Read about the best 4K UHD Blu-Ray Player.
What's needed is a truly inexpensive Blu-ray player that comes with ALL the bells and whistles. Oh, and it should be a major brand that excels in a durable and quality product, not junk. Sound impossible? Then you should prepare to meet Sony's DMP-S580 and its $120 retail price.
The shape of the Sony player is a bit longer than you might expect, but as compensation it's very sleek and thin. You could also be interested in the sleek, thin, and curved-edge design of the player in the Sony bdp s590 3d blu ray disc player review. There's almost no controls on the front of the Sony bdp-s580 to consider — a power button, disc tray eject, play and pause pretty much covers it. A USB socket is at the right end for use with stored photos/music/video, and the center glows like a blue rendition of one of the Cylons from Battlestar Galactica when on.
Turn this guy around and the back is just a bit more complex. You've a HDMI socket for outputting 1080p high-def along with multichannel sound (in the Blu-ray formats), or a Component output to use in conjunction with an audio digital output. There's also a stereo audio output and a Composite video. Another USB socket can also be found here, as can the grill for the fan. Which is pretty quiet when on, even if you select the "fast startup" mode which keeps the fan running while the player is in standby.  So with the power cord plugged in and a HDMI cable going from the player to an amplifier which is itself connected to a HDTV (both being 3D-compatible), we're good to go. Before settling for this option – in case you are planning to buy a blu ray player, why don't you compare the audio of this model with the premium audio DAC of the player described in the Pioneer udp lx500 review?

As you might imagine, it's the remote that does the heavy lifting for the player: shaped pretty much as you'd expect, but each end of the compact shape is similar to the point of where touch alone won't guarantee that you're aiming the infrared end (IR) towards the player. No backlighting either. On the plus side, the layout for controls is straightforward and a "HOME" tab below the direction pad sends you back to the main menu quickly (either side finds an "Option" and "Return" button).  Those with PS3's will find the menu very similar — it moves horizontally across the choices for video, photo, music, System, etc., with vertical options then allowing for specific choices or preferences.
Picking the quick setup mode will get you up and running quickly — this has you setting the player to mesh with the HDTV. This is also where you will set up the connection to your home network — a wired connection will be taken care of on its own, while a wireless will require inputting a password and other details. The remote's onscreen keyboard works better than most, by the way, as you can select individual letters or numbers rather than having to cycle through all of the choices before one is chosen.
So after about 2 minutes I'm ready to go, or not as I see there's an update to download first. Selecting this from the System menu just requires patience and after about 10 minutes I'm back where I started.
Starting with a Blu-ray disc, I pop in Starship Troopers so I can watch some bugs being squished by high-powered weapons. There's really noting to complain about when watching this disc — or any of the others I tried — as the image moved smoothly and no glitches or smearing was evident (sound was fine as well). That we've reached the point where playing a 1080p HD disc is commonplace is cool in itself; those DVDs I played looked less impressive of course but the player upscaled them to match the TV's resolution competently.
Now in order to play a 3D disc, you do have to make some settings adjustments — not complicated by all means as you're just adjusting the size of the video signal to match the actual size of your HDTV. Playing 3D discs wasn't any different than that for 2D from this point on — considering that you've now two video streams coming out, it's pretty impressive in general how the player performs.
There's not much to add about playing video, photos or music off a USB drive that you don't already know — additionally you can use a DNLA-compatible source like a PC to stream these types of content to the player and then on to your HDTV or sound system. The PS3-like menu makes navigation easy and the large text obviates the need for squinting when moving among the selections in each category.
The player's internet capabilities are pretty impressive too: besides choices like Netflix, YouTube, Pandora, Sony's Video on Demand and Music Unlimited (powered by Qriocity) and others — all of which perform as you'd expect (the PS3 does Netflix well so I expected Sony to perform the same here and it does) — there's a full featured web browser (with Java). The remote's onscreen keyboard is better than adequate for use here and is aided by predetermined selections that slide in from the right when pressing "Options." This lets you save favorite sites, open additional web pages and do other maintenance. And if you're wondering, no you can not access the Internet while playing a disc (BD-Live doesn't count).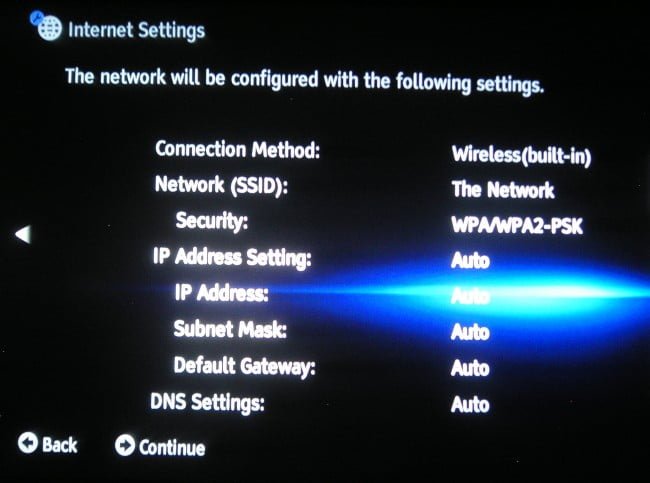 The signal strength of your connection determines the speed, quality and stability of the signal. The wireless technology uses "N" and so can perform up to snuff as long as you're getting enough "bars" of signal reception. I prefer to use a wired connection, but then I have Ethernet available throughout my apartment. Experiment with the wireless in order to see how good a signal you can get, — sometimes angling the player just a few degrees will make all the difference to its antenna. Also, you can also control the size of the video window to minimize distortion or activate an automated feature (IP Content Noise Reduction) to do this for you — results are mixed as you can imagine, depending on the content. It's nice having it.
To paraphrase Apple's one last thing, a media app can be had for the iOS system (iPad, iPhone, iPod touch) that [provides a number of remote configurations that can be used to control the player and for accessing information about the title being played (Android use includes voice access). Providing you're all on the same network, this makes for easier access, due to the backlit screen and configurable choices. Its free and a nice addition since you can now lose the remote without the aggravation of having to check the cracks in the couch for the third time that day.
Editor's Rating:
[rating:4.5/5]
Excellent
Bottom line: I can recommend this Blu-ray player for anyone who needs 3D and doesn't have it on their player already. Or who wants to enjoy a wealth of online connectivity with very little effort for connecting to their home network. Add the near-miniscule price tag and it's like Sony's giving you an early Xmas gift for that second HDTV in the den or elsewhere.
Pros
Web browser
Plays SACD audio
Compatible with HomeShare wireless audio products
Cons
Player's length requires more space than most models
Back-mounted USB socket requires rotating the player to access
Some Internet services require registration
Related Articles: