How you'll keep your iPad safe from any form of mishandling is one of the first things you should start to think about as soon as you make your purchase. You can go for the Apple Folio Smart Case, or look for some other choices that won't cost you much and still deliver the same value. That's where options like the MoKo Case come in. This is an affordable alternative that looks pretty good, and covers up your iPad leaving only the essential parts exposed. It's back cover is also see through, which makes it look more natural and appealing. In a market that continues to get crowded, is it the best ipad case you can get? Let's find out. It might be the ideal case for the best ipads.
Sale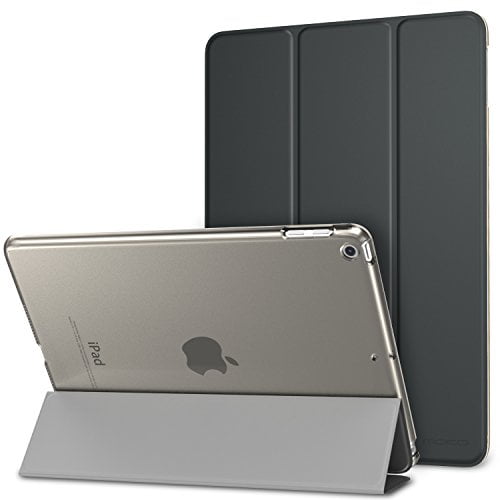 Why We Like It – MoKo iPad Case
Touted as one of the best alternatives to the Apple Folio, the Moko iPad Case saves you a lot of coin and keeps your iPad safe from too many scratches. The Moko Case is a favourite among many, with a translucent back and a wide range of hues to choose from.
Lightweight
2 Viewing angles
Translucent back shell
Performance
As you should expect, the MoKo iPad case gives a nice snugly fit for your 5th or 6th generation iPad with a front cover that has a soft microfiber lining to protect your screen from scratches or fingerprints. The case features a three fold design, allowing you to prop your iPad at different angles for the best viewing position. Just like ESR Ipad Case, the Moko cover also supports the automatic sleep/wake function and has a PU leather exterior that makes it feel nice & look great. Interested in a waterproof iPad case that is shock resistant? Open our Jetech case review.
Design
The Moko iPad Case is very thin, making it difficult to even feel the weight that it adds to your iPad. It measures 9.65 x 6.89 x 0.3 inches giving it a very tight case fit to your 9.7-inch iPad. Its cutouts are very exact, leaving nothing in the way of the iPad's camera lens or side buttons. Its foldable cover offers only two viewing angles (as opposed to the Procase iPad Case at 3), but it doesn't come with an apple pencil holder. You can get the case in a wide range of colors, so everyone should be able to find something that suits their taste. And if you're looking to upgrade your iPad 2, the iPad Air will be a huge improvement, and you can know why by reading our review of the best Apple iPad Air features.
Value
As cheap as the MoKo iPad Case may be, it still reflects a very good level of quality, faring well when compared to the more expensive Procase iPad Case for 5th & 6th Generation iPads. It'll keep your iPad safe and sturdy for a long time, and you also get to choose from a large pool of colors that you can get it in. The case is limited to the 9.7 inch iPad (2017 & 2018 release), so you need to make sure that you have the right model before you make your purchase. And just in case you're looking to purchase a new iPad, you may want to take a look at some of the best features of the Apple iPad Air 2, which has several significant updates to the original Air. Looking for games to play on your iPad? Click the Monopoly here now the world edition ipad review.
MoKo iPad Case Wrap Up
Despite being limited to two viewing angles, the MoKo iPad Case is still a fantastic option for your iPad. Itt comes with the automatic wake/sleep feature that's activated when the lid is opened or closed, which is no different from what you'll get from the Apple Folio Case.