This could be one of the best running watches from Garmin. It's an understatement, but Garmin's Forerunner GPS watches boast a vast breadth of features.  Fold in their Connect service which takes your workouts social and you've got a product with unrivaled info that can take any athlete to the next level.  So it was only logical that the next evolutionary step for Garmin, in terms of their Forerunner product line, was to build the Forerunner 610, a touchscreen fitness watch that is robust, yet their easiest and most simple to operate. But wait, is this enough for it to be crowned the best fitness tracker? Continue reading to find out…
Touchscreens have exploded in popularity and we largely have Apple to thank for that.  And while they are still regarded as some what gimmicky, the reality is that this is where pretty much every display is going since it opens up a large amount of possibilities in terms of UI and layout.  In the case of Garmin's Forerunner 610 it simplifies the company's exhaustive menus and streamlines the setup process.  But before we get too deep into that, lets briefly run through the feature set.
The Forerunner 610, like all of their Forerunner watches can track speed, pace, heart rate, location and calories burned.  The watch, during initial launch, will prompt you to enter your height, weight, sex and age.   With this info it can more accurately determine your calories burned during your workouts, which is further complemented by the heart rate monitor, provided you own one or purchase one – one was included in my test model.  In the event you don't input this info during launch, you can also access this menu from the 'settings' menu.
Related: We've also compiled other great options in our Garmin Forerunner 310xt review
Since the Forerunner 610 uses a touchscreen, they've managed to pack in just 3 physical buttons that are straight forward and simple to use, unlike the Forerunner 210.  They include a power switch that doubles as a backlight button, a start/stop button and a lap/reset button.  Hit the start/stop button and the Forerunner will begin to track your workout and kick on the timer.  The lap button is pretty self explanatory, though you can automatically set the 610 to log laps based on distance or position.  Alternatively, you can also setup an auto pause that detects when you stop or your speed slows – a nice feature in the event you hit a traffic light laden street and you don't want your stats juked because of poor city planning.  To begin a new workout you simply need to hold down the reset button for 3 seconds, as indicated on the screen.  This causes the workout to be logged, which can be reviewed directly on the watch, though this can be a tad challenging thanks to the 1-inch screen with a 128×128 resolution.
The Forerunner 610 is IPX7 rated, so it can survive a down pour and keep on ticking.  The touchscreen, though I didn't test it in the rain (I live in LA  where it never rains), should continue to operate in inclement weather and is compatible with gloves.  After a few minutes the screen will lock and much like an iPhone, you'll have to swipe your finger from right to left to unlock it.  In my experience this always took a few attempts since it doesn't display a slider similar to the iPhone or an Android device, but nonetheless ensures that the touchscreen is not inadvertently pressed.
Related: Still undecided? Have a look at the Misfit Shine review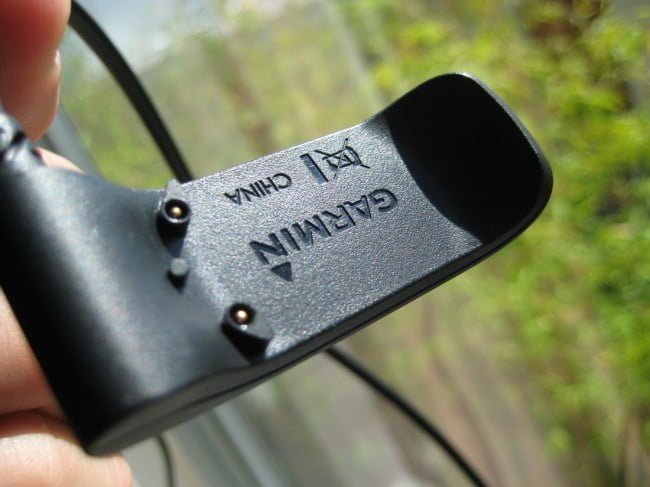 The Forerunner 610's proprietary charging click – click to enlarge
Since there is no mode button, as found in previous Forerunner devices, tapping on the display cycles through the different screens. Though you can upload and denote your workout types on Garmin's Connect website, the Forerunner 610's workout modes are limited to Running and Cycling.  To access this feature Garmin has included two touch buttons on the circumference of the touchscreen; a settings button as indicated by three horizontal lines and a back arrow button.  Once the settings button is tapped the Forerunner 610 displays a quadrant of options which include: history, training, setup and where to.
The first feature allows you to review your workouts directly on the watch, though as already mentioned above this is a cumbersome process.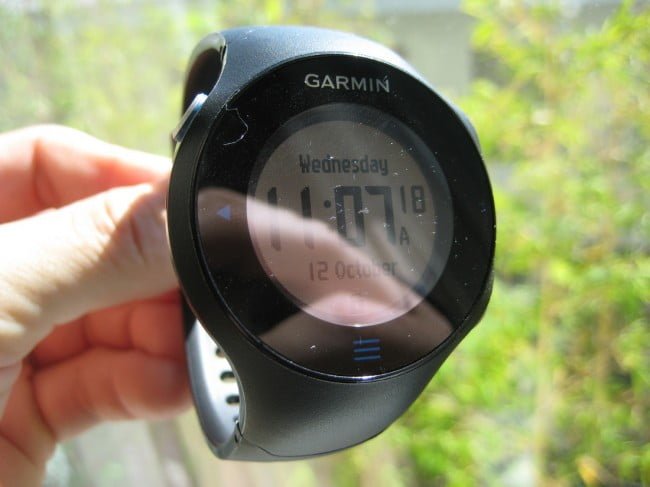 The 'training' feature enables you to cycle between running or cycling and modify not only the screens you would like to display but how many stats – up to 4 – you'd like to display in each screen.  This option was found on the Forerunner 405, though it was vastly more confusing since it required a combination of key presses that required an almost photographic memory; bottom line is that it's much easier to setup this Forerunner over previous models thanks to the touchscreen.  And to further echo, if not bring closure to an initial point, the touchscreen is not a gimmicky add on with the hopes of trying to bolster sales; it's actually useful.
The 'setup' option really needs no explanation, where as the 'where to' is a handy feature allowing you to name locations. But the real gold is the 'back track feature', activated by hitting 'back to start' function.  Griffith Park, a local hiking area here in Los Angeles, is chalk full of paths that stretch for miles and miles.  While there aren't a vast amount of turns the park lacks signage of any type, with the exception of demanding that keep your dog on a leash.  So as you proceed on your hike you must keep track of the turns you take since in all likelihood you'll have to retrace your steps to get back to the parking lot.  Quickly, we found ourselves at an unfamiliar turn, so I dialed in the 'back to start' feature on the 610.  The Forerunner, within 30 seconds recalculated our return route and displayed an auto orienting compass directing us which way to travel.  It also denoted the mileage and slowly shaved it off as we traveled indicating if we were moving in the correct direction.  As turns approached the Forerunner sounded an audible alarm and vibrated ensuring that I wasn't led astray.  However, on two occasions it couldn't decide which way we should travel, but I partially chalk that up to the fact that I kept changing the orientation of my wrist.  Nonetheless, the Forerunner 610 guided us for just under 3 miles and returned us safely to our vehicle.  However, I'm a bit surprised it didn't show altitude in conjunction with direction as this might have provided additional affirmation about our route.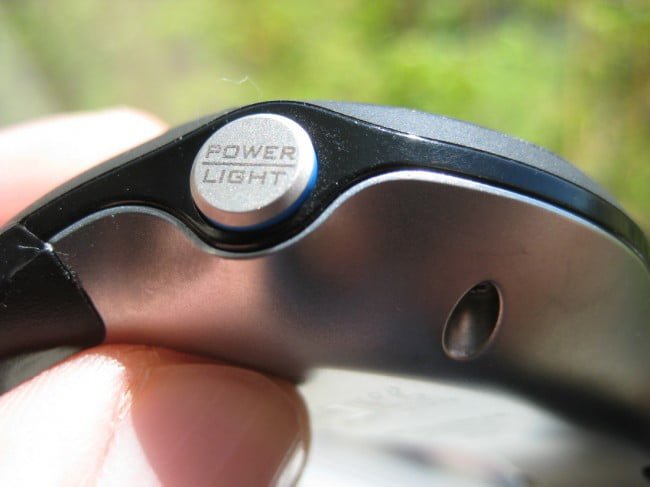 The Forerunner 610's Power/Backlight button – click to enlarge
Within this same menu you're able to store locations based off the GPS signal.  Garmin lets you name these directly on the device, though it's a painstaking process that has you flicking through letters and numbers, and punching out the name one character at a time.  This is probably Garmin's biggest over sight when it comes to the Forerunner 610's design – no biggy.
Some other features that are notable on the Forerunner 610 is a Virtual partner, allowing you to run or jog with someone based on entered data; a Virtual race, which pits you against another Garmin Connect user or a previous completed logged workout; and heart rate zones which help you determine how hard you're engaging in your workout based off of your resting heart rate and goals.
Now, one of the biggest draws of any Garmin device is their Garmin Connect website.  It allows you to upload your data from the Forerunner 610 to a database, where your workouts can be placed into a calendar, mapped onto a virtual map and made public for other Garmin Connect users to download and compete against your stats.  Additionally, you can modify your workout information to reflect what types of workouts you completed as well as share your data with your Facebook friends and so forth.  They've got millions of users and anyone looking for a workout partner at their fitness level, assuming they can't find  one locally, will surely locate a virtual one here.
To upload your data, much like all of Garmin Forerunner devices, you just plug the included ANT+ USB stick into your computer, install the necessary plugins (one for your browser and one to make your computer work with the stick) and assuming you've got the ANT+ application running, the Forerunner 610 will automatically upload the data to your Garmin Connect account.  And as I learned during my test period, Garmin can issue Firmware updates this very same way, but instead of data sent from the watch it will be sent from your computer.
Magnetically adhering charging points – click to enlarge
Charging the Forerunner requires that you use the included USB plug, which sports a proprietary charging port and magnetically adheres to two charging points on the back of the watch.  It worked fine, and while some might be a bit disappointed that Garmin hasn't managed to squeeze in a mini or micro USB port, they probably wouldn't have been able to achieve an IPX7 rating since water would just gush through the port.
During my testing I was able to achieve about 7 days on a single charge using the Forerunner 4-5 times a week for about 1-2 hours at a time.  The 610 will automatically enter a power save mode if it doesn't detect any activity after a few minutes, though it will warn you it is about to do so with a 30 second counter.  Tapping the screen will prevent this from happening.  Furthermore, powering on the watch will cause it to look for GPS satellites.  Tapping the screen ends this process and prompts the 610 to ask if you're using the device inside, allowing you to conserve on battery life.
Uploaded workout mapped and graphed on Garmin Connect – click to enlarge
While we don't know the type of touchscreen Forerunner 610 uses, we can undoubtedly tell you that it's not capacitive since it works with gloves.  As a result, don't expect pin point accuracy as you've come to demand from your iPhone or Android handset.  However, despite this, and its rather small size (1×1-inch), the 610's screen, all things relative, is very accurate and reacts pretty damn quick.  On a few occasions I struggled to input my commands correctly, but since Garmin has made the menus large and not overly complicated it was a breeze and a pleasure to use.  As I've already mentioned a few times, the touchscreen of the Forerunner 610 fell short when trying to enter a name of a location, which presents you with much smaller buttons and thus the difficulty I was faced with.  For the sake of transparency, I don't have banana hands, but I am over 6-feet tool so…
The Forerunner 610, while it isn't leaps and bounds above their other Forerunner devices in the feature's department, it's far more streamlined and easier to use than any of Garmin's previous models that I've tested.  But that's not all, as the Forerunner 610s battery life is stellar – relatively speaking to GPS products – and appears as though it can survive whatever you throw at it thanks to the IPX7 rating.  If any, my biggest quip is that the screen is monochrome (I'm too accustom to my iPhone's brilliant display) and the backlight could be a bit brighter.
Editor's Rating:
[rating:5/5]
Perfect
Bottom Line: The Forerunner 610 is the supreme workout companion for any athlete thanks to the touchscreen, rugged build and easy to use menus.
You can by the Garmin Forerunner 610 from Amazon for $399 with a heart rate monitor, or for $350 without.
Pros:
Easier to use than any other Forerunner thanks to the touchscreen
Decent battery life for a GPS watch
IPX7 rating and solid build
Cons:
Small 1×1 inch touchscreen can make selecting some menus a tad challenging
Proprietary charging cable which means you can't lose it or forget it
Battery may not be user replaceable
[nggallery id=151]