This is a Sponsored post written by me on behalf of Fellowes, Inc. for SocialSpark. All opinions are 100% mine.
Many would be quick to argue that most if not all document shredders are the same, right?  Wrong.  In fact, document shredders, specifically the ones designed for home or small office use, can vary drastically in quality despite the range in price not being that vast.  There are a variety of factors to consider, such as the type of cut, jam technology, bin size, and all-together power.  And none perform more admirably than the Fellowes 73Ci, which from what I can tell is the perfect intersection of price and quality…when it comes to a document shredder.
Many shredders will lay claim to being 100% jam proof, but many probably won't deliver.  That's not the case of the Fellowes 73Ci.  Despite the jam sensor telling me not to stuff in the exceptionally thick product pamphlets I had acquired at CES, I still decided to try to shred them and see if I could clog the 73Ci.  The result?  No dice. The Fellowes 73Ci swallowed not one, but two at the same time no less, as if they were two pieces of standard thin paper.  CD and credit cards were also no match for the 73Ci, making quick work of the pieces of plastic.
As I mentioned there is a jam sensor, which detects if you're shoving in too much stuff into the 73Ci's mouth.  Needless to say, it's more a warning method to help you avoid the possibility of a jam, but isn't always 100% accurate, as proved above.  Nevertheless, a screen located just below the shredder's opening is a display that illuminates from green to yellow to red.  Green is a full go, yellow is exercise caution, and red means you best remove some pieces of paper.  If and when the red light indicator illuminates, the shredder won't automatically chomp up your documents using its auto feed option.  Instead, you'll have to place a finger on the capactive touch "start" button that is indicated by an arrow – it looks like a play button.  Other buttons also include reverse in the event something gets clogged, and a power button.  Though thanks to the 73Ci's energy-saving tech, which works when it's on or off, you won't have to worry about powering the 73Ci down. 
The Fellowes 73Ci is able to shred up to 12 documents simultaneously for up to 10 minutes, where upon it will need to cool down for 20 minutes before you can use it again.  A pretty reasonable caveat, especially for a shredder of this size (it holds 6 gallons of cut paper).  That being said, if you get tired after minutes of shredding, and happen to place your fingers a wee bit too close for comfort, the Fellowes 73Ci Safe Sense technology will automatically prevent it from shredding. The likelihood of injury is more than mitigated.
And for those concerned about security, as one should if they're shopping around for a shredder, the Fellowes 73Ci is Security Level 4 rated (out of 5) thanks to its cross-cut technology.   In other words it's FACTA compliant.
[GR]ZLPNOfQOpkA[/GR]
To keep things running smoothly Fellowes includes some lubricating oil, as well as a few starter liner bags, though the latter aren't absolutely necessary.  If you so opt, you can install the 4 included wheels, which makes storing the 73Ci a bit easier.  It's by no means a large shredder, but you might want to hunt down a specific spot for it, though aesthetically it's pretty neutral thanks to the black finish and all- around simple facade.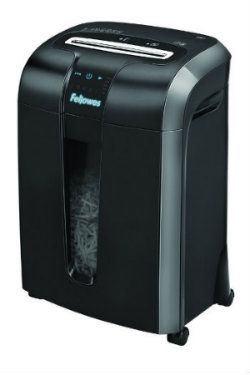 So tell me what do you think about the Fellowes 73Ci?  Tax season is just around the corner, and I guarantee you've got some old bills to shred.  If so, you can pick up the Fellowes 73Ci now from Amazon for about $160.
Related Articles:
Also why not check out: