I didn't realize what an epicenter of attention the Ergotron WorkFit-S would become. If you are looking for the best monitor stand, this may be one of them. If your office ever gets too hot, you might want to take a look at our Ambi powered by Blutec portable personal cooling device review as well. Most importantly, you may check out our best exercise equipment list to help improve your productivity.
When the box arrived at the office, as many of my review products do, my office mates were more drawn to it than normal. If you want an upgrade for your computer monitor too, take a look at our review of the Philips, brings light therapy to the computer monitor. Their curiosity level is, it appears, directly proportional to the dimensions of the object. As it was much larger than most of the samples I receive, the curiosity level was piqued and has yet to ebb. The draw became more notable on the second day, after assembly. It was hard not to be drawn to it. It was an obelisk like in a Kubrick film; primates surrounding it, pushing and pulling in the towering device with unmasked inquisitiveness. This metaphor is especially accurate when you consider what this sort of product represents. In more ways than one it evokes the evolution of humankind, in their modern form, chained to desks for work and for play. We have left our hunched position, our bodies unnaturally compressed over our computer keyboard, and can now stand. Finally, there is no longer a need for the best posture corrector.
Also read about the best electric desk.
All theatrics aside, this thing is cool. The concept is that you need not sit at your desk anymore. It's as simple as that. If you want to stand, your mouse, keyboard and monitor will rise to meet you. You'll burn extra calories and encourage core strength. You'll stave off back and neck pain. Humans are meant to move, and this product helps us achieve that.
Basically, your display (or displays) are mounted on a bracket attached to a protruding keyboard tray on an arm. The assembly is rigged to a rugged beam housing a pulley system, allowing you to easily lift your whole workstation up to 18 inches vertically. This positions your keyboard, mouse, and display at appropriate height for continuing to work in a standing position. The base of the unit is in the general shape of a bird foot, providing good balance. It clamps quickly and securely to a variety of desktops in a way that's not damaging or permanent. If you're buying this for yourself, you can take it easily with you if you move desks or change jobs. If you're buying several of these as an HR department, a standing station can be created without the higher cost of an entire desk that moves, and is far more simple to relocate when the time comes.
Related: If you want the best equipment for abs exercises, read the Core Max Abs review
The WorkFit is nearly assembled right out of the box, and takes under 15 minutes to unpack and ready for mounting your display. The instructions are adequate enough, and even if you spend extra time with your wire management it should take you less than an hour for full setup. Only two pieces need to be attached to the primary unit, and then you simply clamp it down on the front of your desk. I have two 17″ monitors at my workstation, and mounting them was a breeze. Ergotron provides thumbscrews which allow quick connection of the monitors to the VESA compliant mounting brackets. Once you're all set up, you can adjust the tension of the mechanism to suit the weight of your monitors. You want this thing to move easily, but not so much that vigorous typing will move it.
Related: Looking for a punching bag? Check out our Everlast 100 lb Heavy Bag review
Construction of the WorkFit is solid. This was demonstrated during my installation by an office jokester who leaned on the keyboard tray in the fashion of someone ordering a drink at a bar. The tower, unburdened by displays, and supporting only a portion of his weight, the mechanism slowly sank towards it's 'seated' position without breaking a sweat. They keyboard tray did flex a bit, but nobody will be putting that much weight on the tray under normal usage. The pieces that will be exposed to the most pressure are cast aluminum, and I have no question they can handle everyday usage with ease. Ergotron's products are manufactured for heavy use in commercial environments.
The lifting mechanism itself is impressively smooth as well. Completely set up, it takes very little pressure to change the height from one position to the other. The keyboard tray adapts to left or right hand use and offers two positions for ergonomic positioning. I found the tilted position to be too steep for my mouse, which kept sliding off the front of the mouse tray. There is a small lip intended to prevent mouse suicide, but it's small and not very effective. I would recommend leaving the keyboard level to reduce the likelihood that your mouse will fall.
The WorkFit comes in several flavors which will work for most users. If you have single or dual displays, or a display with a laptop, there's a configuration for you. It would be nice if this was sold in a more modular fashion with additional options for three display setups. For example, if I were to add another monitor, I would be forced to decide between the additional display and continuing to use the WorkFit. To better target corporate purchasers, the display mounting hardware could be made available seperately to prevent having to buy a whole new unit because you didnt already have the right one on hand.
Another interesting issue that arose with the arrival of the WorkFit relates to how the management reacted at my office. My day job workspace is in a cubicle grouped with about a dozen others in close proximity. We spend a lot of time on the phone, and at times it can get quite loud. Upon seeing it unpacked, my boss expressed a few concerns that could possibly be shared by others. Essentially, I'll now be standing up whenever I want, placing my vocal chords above the top edge of the cubicle walls, making my voice more audible to those around me. This by itself isn't unbearable as I'm typically not all that loud, but several of my colleagues measure higher in dB's than I do and things would start getting nasty if everyone took to standing up. Their point is that it wouldn't be fair if I were standing up and nobody else could. There are, of course, several ways around this – but none of them are free, and budgets are tight in many businesses at the moment. If you're considering a WorkFit for your own desk, please consult your management to make sure it wont cause problems. Also, if you're already experiencing health issues that the WorkFit can solve, consider getting a Doctor's note to avoid any problems. Still, I'd bring it up in advance.
Specs:
Mount up to 2 (two) 22″ monitors
LCD and keyboard adjust 18″ (46 cm) in tandem
LCDs adjust 5″ (13 cm) independently
Maximum LCD height adjustment = 23″ (58 cm)
Desk Clamp attaches to surface edge .4″ to 2.4″ (1 to 6 cm) thick
Fits standard 75/100 VESA compliant displays
Stands 30″ tall from your desktop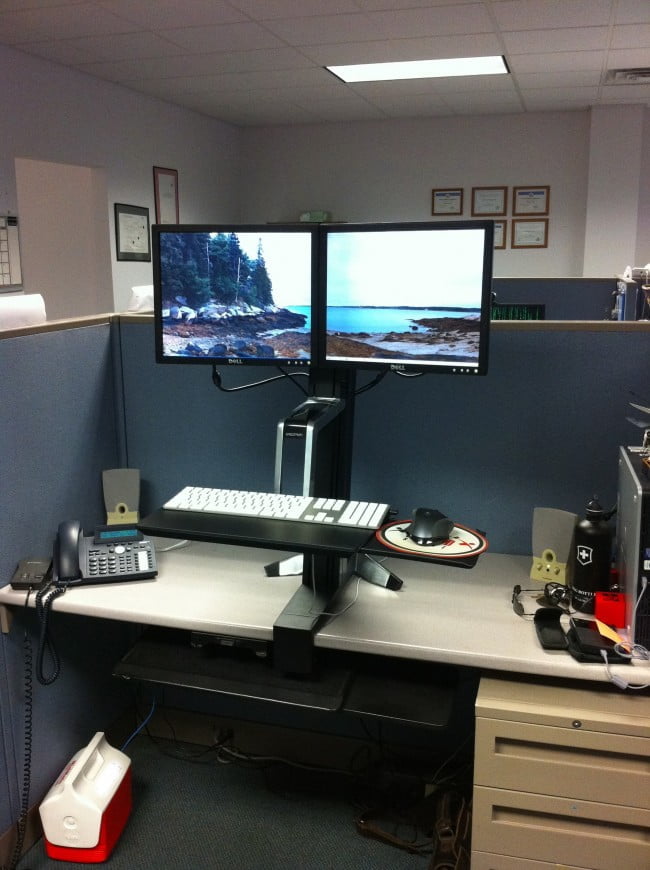 Pros:
Enables you to live a healthier lifestyle
Industrial strength construction
Switches easily between sitting and standing
Cons:
Standing may be frowned upon in your office
Mouse tray retainer too short to be effective with keyboard tilt
Display mounting hardware not available seperately to update your system if your needs change
Want one yourself? You can buy it here for $399 (affiliate link)