In order to bring you our list of the best motorcycles, we've compiled expert reviews and compared specs on horsepower, weight, gearing and performance. We also conducted our own research on some of the best motorcycles of the last 10 years. We looked for the best handling motorcycle and evaluated the best lightweight motorcycles as well as the bet cruiser bikes, seeking the best motorcycle for beginners along with bikes that satisfy experienced riders. We also looked for safety-forward features, such as high quality brakes and durable suspension systems, and paid attention to motorcycles that were equally at home on a paved road and on more difficult terrain. Many of us start out on 4 wheelers for kids before moving on to the best electric bike and finally a powerful motorcycle. The best electric scooter is another great way to start or you could go straight to an electric motorcycle for kids.
Our top pick overall, the Indian FTR 1200 S, is a high performance standard bike based on the reborn company's award winning FTR750 dirt track racer. Indian's highest performing street bike ever, it comes with a 123 HP 1203-cc twin and weighs less than 500 lbs. Read on for more about this modern classic and the rest of our picks for the best motorcycles you can buy.
Top 5 Best Motorcycles
#1 Indian FTR 1200 S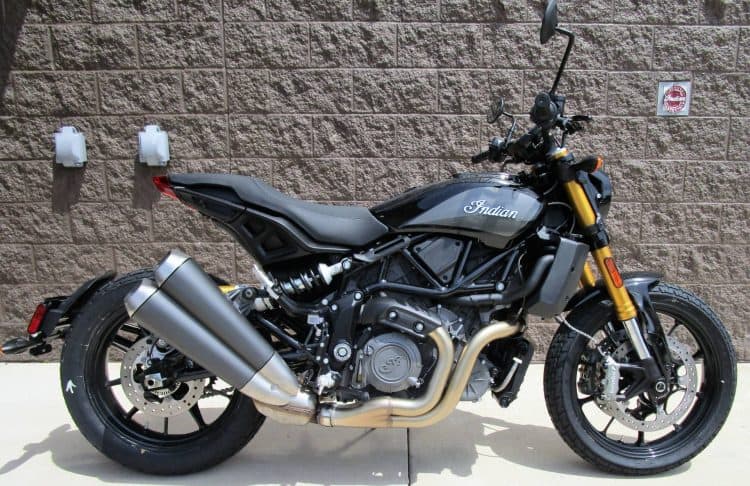 Award: TOP PICK
WHY WE LIKE IT: Beautiful design and a high performance V-twin, plus a tubular frame based off of a dirt track racer, give this bike amazing flexibility and daily appeal.
Pros
Brembo brakes with ABS brakes standard
6 inches of suspension travel
Highest performance Indian motorcycle
Cons
More expensive than Triumph T100
May not be the best beginner motorcycle
Based on the design of the Indian FTR 750, a successful dirt track racing bike, this standard combines the traditional heritage and craftsmanship of Indian Motorcycles with modern high performance tech. The FTR 1200 S, with its liquid cooled DOHC V-twin engine that spins to 9000 RPM and puts out over 120 horsepower, signals the reborn company's move beyond its cruiser market roots. Check out our best motorcycle lift that'll raise your bike so you can perform regular maintenance.
Along with the modern high performance engine, the FTR 1200 S sports a sophisticated digital dash that displays speed, RPM, fuel range and a compass, among other functions. It's maybe the easiest to read of any motorcycle digital display. If you like speed but aren't quite up for the power of a motorcycle, take a look at the best electric bike too.
#2 BMW R 1250 GS
Award: HONORABLE MENTION
WHY WE LIKE IT: This adventure bike has a comfortable ride for touring, plenty of suspension travel for dirt roads and a powerful updated version of BMW's traditional horizontal twin.
Pros
130 horsepower and lots of torque
Balanced on-road handling
200 mile refueling range
Cons
Heavy
Not the best for serious off-roading
While the BMW R 1250 GS retains the look and much of the feel of traditional BMW adventure bikes, it has plenty of updated technology and a healthy power boost over its air and oil cooled forerunners. This BMW adventure bike is smooth riding, fast and efficient enough to cover long distances. To have some fun with a dirt bike, then you need to check out our best pit bike.
With over 7" of suspension travel and a stout 80 ft/lbs of torque available at just 2000 RPM, as well as a lofty horsepower peak of 136 hp at 7750 RPM, the R 1250 GS has supreme flexibility, making it easy to ride for sport or cruising. While this is no lightweight motorcycle and may not be the best for beginning riders, especially off-road, it's one of the most capable and well-rounded motorcycles we've ever tested. If you're looking for another way to get your speed fix this summer, take a look at the best electric scooter too.
#3 Triumph Street Triple R
Award: BEST MIDDLEWEIGHT
WHY WE LIKE IT: Fully adjustable suspension and a high winding inline-3, plus a dry weight of just 420 lbs, make this a seriously fun performance bike.
Pros
ABS and Traction Control standard
Showa suspension and Brembo brakes
115 hp 750cc engine
Cons
Not as powerful as the Triumph Speed Triple
More expensive than the best lightweight motorcycles
This well balanced and easy to ride street bike comes with an inline-triple that gives you Triumph's signature 3-cylinder sound, along with plenty of power for such a lightweight motorcycle. The Street Triple R weighs just 420 lbs, and with 115 horsepower it has plenty of pep for an entertaining ride on the streets.
Balanced handling has long been a Triumph strong point, and the Street Triple R doesn't disappoint. This is one of the best handling motorcycles in its class, with fully adjustable suspension, optional Ohlins STX40 shocks, and beefy Brembo brakes. Safety tech includes ABS and traction control. If you want to start your kids in outside sports too, take a look at one the best 4 wheelers for kids for your next trip.
#4 Kawasaki Ninja 400 ABS
Award: BEST FOR BEGINNERS
WHY WE LIKE IT: This scaled down 400cc sport bike is the best lightweight motorcycle for those looking to get on a more accessible version of familiar big bore sport bikes.
Pros
ABS brakes
Balanced handling
Seat height just 30"
Cons
Less powerful than Yamaha's MT-07
Full fairing look too "racy" for some
The Kawasaki Ninja 400 is one of the best beginner motorcycles out there and its low seat height makes it a breeze for shorter riders as well. It also makes a good city commuter bike for the same reasons–a weight of under 400 lbs, plenty of power at urban speeds and a compact form. Plus, it's one of the more fuel efficient bikes out there.
While it lacks some of the overwhelming torque of larger sport bikes, the Ninja 400 does bring some great handling and up to date control mechanisms to the table. Powerful ABS brakes and a low center of gravity help make this lightweight sport bike easy to control. If you want to start your kids back a step further, take a look at the best electric motorcycles for kids.
#5 Ducati Panigale V4
Award: BEST SUPERBIKE
WHY WE LIKE IT: This race-bred superbike has some of the most impressive performance of any motorcycle we've seen, with its 1100cc V-4 engine producing an almost unheard of 214 horsepower.
Pros
ABS brakes
Balanced handling
214-horsepower
Cons
Costs more than most Japanese superbikes
Performance limits all but inaccessible on the roads
Boasting a new for 2018 high-revving 90º V-4 engine putting out a ridiculous 214 horsepower from 1103 ccs of displacement, the Ducati Panigale is the epitome of the modern superbike. Based off of Ducati's MotoGP-winning race bikes, it has advanced electronics controlling suspension movement and an anti-lock braking and traction-control system that accounts for lean angle, making it perhaps the best handling motorcycle we've come across.
While it goes without saying that this level of performance is not always accessible on the streets, the V4 is surprisingly docile and easy for relative amateurs to ride comfortably. Electronic quick shifters and sophisticated torque management contribute to smooth shifts, and ergonomic hand grips plus a wide stance help make it easier to maintain proper position in high-G turns. There's even active aerodynamics available. The V4 can still be a handful of course, with this kind of power–top speed is over 180 mph.
How We Decided
In order to narrow it down to the best motorcycles you can buy today that guarantee a truly ultimate riding experience, we looked for performance, safety and handling, as well as favoring bikes with unique style and a comfortable ride. For adventure motorcycles we only included those with at least 100 horsepower, at least 6" of suspension travel, a highway range of at least 150 miles and we also looked for such features as ABS brakes and traction control. If a motorcycle isn't necessarily for you, try one of the best segway's too.
For the best lightweight motorcycles we only considered bikes weighing less than 450 lbs and with a seat height no greater than 32." This helps make these the best beginner motorcycles and keeps them accommodating for petite riders.
When it came to sport bikes, we looked for balance, track performance and ease of riding near the limit. We only considered those super bikes with a minimum of 120 horsepower, full instrumentation and proven track worthy handling. If you like riding motorcycles, take a look at the electric unicycle too.
At Gadget Review we realize it's never a question of one product or one review. We review and compare thousands of products so our readers can confidently make a well-informed decision. Follow us on Social Media for updates and info on the latest tech, gadgets, and software.
Best Motorcycles Buyer's Guide
Features to Consider
Seat height
Especially when looking for the best beginner motorcycles, make sure you're comfortable with the riding

position and

height; for cruiser bikes, the seats are almost always easy to get onto, but for adventure bikes, off road bikes and sport bikes it can be more of a challenge for shorter riders.
ABS Brakes
A standard safety feature of cars for decades, ABS or Anti-Lock brakes are also a lifesaving feature to have on a motorcycle. Some dual sport and adventure bikes even have dual circuit ABS that lets you switch off the rear anti-lock system for controlled skids.
Weight
In general, a lighter bike is easier to maneuver and makes for the best performance and handling, while heavier bikes tend to be favored for their stability on straightaways and long distance cruising comfort.
Suspension Travel
Many of the best motorcycles of the last 10 years come with adjustable suspension. Triumph's Street Triple R, the best middleweight motorcycle on our list, offers full adjustability letting you tune the bike for dirt roads or for best handling on smooth highways.
Many of us start out on 4 wheelers for kids before moving on to the best electric bike and finally a powerful motorcycle. The best electric scooter is another great way to start or you could go straight to an electric motorcycle for kids.