Traditionally, the only way to shop for the best mattress was to head out to a store and start plopping yourself down on bed after bed until you found one that felt right for you. There's nothing wrong with this method, but a lot has changed in recent years with "bed-in-a-box" online shopping.
Now we have a number of online mattress stores with unique, interesting ways of helping you find the right mattress…and a lot of great deals on purchases and shipping.
Related: Learn about the best mattress for sex.
But if you've never thought about shopping for a mattress online before, you may be feeling some stress at the idea: where do you begin? What site is the best to buy a mattress on?
We're going to help you out by pinpointing the best online mattress stores around, what makes them worth checking out, and everything else you need to know when looking for the best reviewed mattress on the market.
Note: Are you looking for the best time to buy a mattress? Fall and early winter are often excellent times to look, because there are a lot of deals going on at this time. The opposite end of the year, around early summer, may also be a good choice, since mattress stores often try to get rid of a lot of merchandise around this time.
Pros:
Excellent shopping method
Good customization options
Cons:
Mattresses are generally more expensive than competitors
Helix is trying to re-invent the way you shop for mattresses, and it's impressive. First, you take a quiz that asks about your body, your sleep position, how firm you like your mattress, what your sleeping partner prefers, and other key questions.
Then Helix makes a suggestion for a mattress customized specifically for you with a variety of features like body contouring, different levels of support, sleep zones, firmness level, mattress "feel" and more. These mattresses generally start at $1,000.
Related: Get comfortable in your RV with our best RV mattress.
Helix also offers free shipping, free returns, and a 100-night return window for you to carry out a sleep trial and make up your mind about whether or not you like the mattress. That's just about the best you can hope for on any mattress website, and allows you to undo your decision if the mattress just doesn't work out.
Pros:
More choices than most online sites
Easy to buy any bedroom accessories, too
Cons:
Mattresses may have too many layers for some shoppers
Casper is a highly reliable hybrid foam mattress site designed to make picking out a mattress easy. It starts off with an easy choice – three layers, four layers, or five layers of foam?
Read our Reviews and Related articles:
From here you can go on to pick the right size and choose other features like a foundation and adjustable base.
You also buy other bedroom furniture there, including beds, nightstands, and other important components. Prices for a mattress range from several hundred dollars to over $2,000 based on what you're getting.
It's a welcome, simple process, but what really makes Casper shine are the guarantees. Both shipping and returns are free, and you get a 100-night "trial" to see how well you like the mattress before choosing to buy it, a great addition that you should look for in any online mattress company, because sometimes you just don't know how a mattress will feel.
Mattresses also come with a 10-year limited warranty.
Pros:
Top-tier motion isolation
Free delivery
Lifetime warranty
Cons:
Edge support could use some improvement
More expensive than comparable mattresses
Puffy is a fairly new online mattress store that has been soaring into popularity in recent years. The company has followed a path similar to many other online mattress companies, using viral marketing and increasing hype through buzzwords like "the internet's most comfortable mattress." It was even featured as a giveaway on the Ellen Show back in 2017.
Puffy offers two different options: the Puffy Mattress, which starts at $795 for a twin, and the Puffy Lux Mattress, which starts at $1445 for a twin. The Puffy uses two memory foam layers while the Puffy Lux uses three layers for maximum comfort and support.
The Puffy mattresses shine when it comes to motion isolation and conforming. If you move around a lot and disturb your sleeping partner, you'll definitely want to consider this foam mattress. It restricts your movements so others in the bed hardly feel a thing.
You also get a lifetime warranty with any Puffy mattress you own, which is much better than what many other companies provide. Another great thing about this company is that they donate mattresses to children's homeless shelters.
Pros:
High-quality, mainstream foam mattresses
Great nonprofit and eco-friendly involvement
Cons:
A little expensive for the product
Leesa makes your mattress choices both simple and affordable. You can pick the Leesa foam mattress, starting at $525, or the extra-support Sapira mattress, starting at $995.
Read Our Reviews:
They are both great choices for those looking for a smaller mattress on a budget, and for people who don't necessarily need the extra-layered options that companies like Casper offer.
Additionally, Leesa has a big focus on nonprofit activity and eco-friendly work. They donate one out of every ten mattresses they sell, plant one tree for every mattress they sell, and generally spend a lot of time supporting over 1,000 nonprofits around the country. That makes them a perfect fit if you like to support others with your big purchases.
Finally, Leesa also offers the top-tier 100-night free trial and free shipping and returns, which is always nice to see.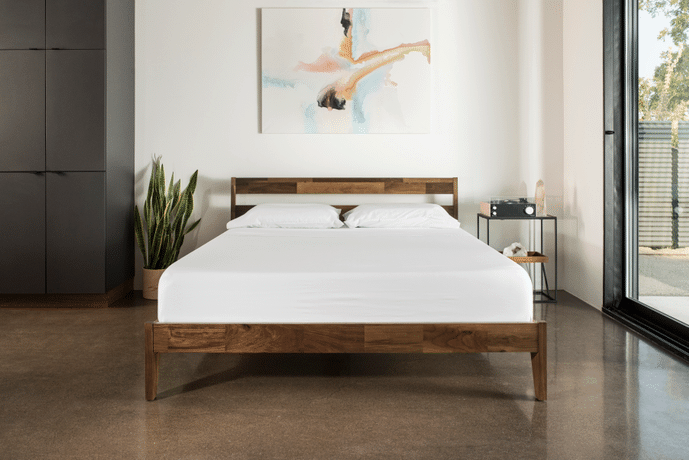 Pros:
Very affordable mattresses
Unique foam mixture, plus graphite cooling gel
Cons:
Beds may be too firm for some buyers
Tuft and Needle is another burgeoning online mattress store with a unique approach to service, and specialization in very affordable memory foam mattresses, with prices that start at just $350 for a basic twin mattress and rising to only $750 for the top king-sized model.
The company uses its own foam mixture, plus graphite and cooling gel to help the bed feel more comfortable and help keep you cool.
These are simple, firm mattress beds, by design. Tuft and Needle prides itself on skipping all the frills and providing no-nonsense mattresses that are likely to appeal more to younger buyers.
Like many others on our list, the company offers a 100 night free trial, a 10-year limited warranty, and free returns (with the promise that the mattress will be donated to charity when returned).
Pros:
More affordable than other options while still offering high-quality memory foam
1-year trial
Cons:
Some issues with customer support
Very noticeable off-gassing
Nectar is often compared to Casper and Purple, which is a huge compliment for a company that is newer to the online mattress game. With quirky, viral marketing strategies, Nectar has found themselves at the center of attention on the internet.
You only have one choice of mattress with Nectar, which is good if you don't like lots of choices, but bad if one specific model doesn't work for you. A twin-size Nectar mattress starts at $524, while a king will put you out a cool $1024.
The mattress features three layers of memory foam with a medium firmness. The thick layers of foam on this mattress provide a larger amount of sinkage for maximum motion isolation. It's not quite as good as Puffy's motion isolation, but it's still superior to other competitors. Unfortunately, this level of sinkage may be uncomfortable for people who prefer to feel like they're sleeping on top of a mattress.
Nectar offers a very unique 365-day trial period. Compared to most other companies' 100-day trials, this seems like an eternity and gives you plenty of time to know if the Nectar mattress is right for you.
Pros:
Foam and coil mattresses for more traditional products
Most affordable mattresses online
Cons:
Product availability can be hit or miss
Allswell uses a combination of foam and coil support for its mattresses, an ideal option if you prefer more traditional mattresses and aren't a fan of layers and layers of foam.
Their website is particularly excellent, offering full information on mattress materials, videos on how to set up your mattress, and other useful features.
The mattresses themselves (divided into two different classes) are very affordable, starting at around $295 for a twin and not rising above $1,000 for a king.
In addition to the 100-night trial and the 10-year limited warranty, the company also offers their own option setup and mattress removal services.
However, one problem is that Allswell's low-cost mattresses are popular – which can affect availability, especially at busy times of the year. That means that popular sizes, like queen, may not be available in the class of mattress that you want, which can be frustrating if you don't want to wait.
Pros:
You get to try advanced mattress materials different from many options on the market
Targeted at fitness lovers who want comfort and recovery
Cons:
Some claims are scientifically silly
Prices can be high
Bear has a very unique offering for a specific segment of the mattress market – fitness fans who want the latest in mattress materials.
Read Our Review:
The company offers a Bear and Bear Hybrid mattress (the hybrid is thicker and uses springs, but that's the main difference).
The mattresses use graphite-gel memory foam, smart fabrics for support layers, and other tricks designed to help athletes recover quickly and sleep better.
Unfortunately, there's also some severe pseudoscience, like "infrared therapy" claims (aka, materials that feel cool) that are mostly nonsense, despite the FDA labels. Ignore this, and focus on the real sleeping benefits instead.
Bear's mattresses are also pricier than many of our picks, starting at $540 – $1350 and rising quickly after that.
Fortunately, for those who want to try the latest experimental mattress materials still have a 100 night trial and full refund option for returning the product.
Buying Guide
Return Policies
Return policies should always offer free returns within the trial period once the mattress is bought. As long as you ship the mattress back within this window, you should be able to get a full refund. After all, you're buying a mattress design online – you should be to return it free of cost if something doesn't work out.
Make sure you read return policies carefully to see if there are any caveats or requirements for making returns…there usually are.
Shipping
You are buying an expensive, heavy item online, and shipping costs shouldn't be a consideration. Every mattress site worth visiting will offer you free shipping for your purchase. If they don't, it's probably all a scam anyway.
Advice
A mattress site that walks you through the decision process is very valuable. Watch for tips, tests, explanations, and other information that can help you make the right purchase. Keep in mind other sleeping accessories can help you get better sleep alongside your quality mattress like the best wax melts.
Helix's mattress quiz is a great example of this, but other stores also have very helpful resources, articles, and descriptions that can lead you in the right direction.
Customization
How much can you customize your mattress? Online customization options are limited, but they are still better than picking a mattress from a store.
Look for options to choose the type, size, firmness levels, and feel of the mattress padding used. Accessories aren't nearly as important, because you can get them anywhere, but the ability to choose different mattress features is a great sign.
Other Reviews
Always look at online reviews! Be careful of the reviews on the site itself: these can offer insight, but they may also be curated. Instead, search for reviews on other sites and on social media to see what people think.
What mattresses do others like? What was their buying experience like? How did they feel about shipping and returns? These points can provide you with valuable information!
FAQs for Buying Mattresses
What About Installation?
Generally speaking, online services are less likely to offer installation and "take away the old mattress" services than store chains. However, some do! Always look at the shipping information for specific details. However, be careful with this step: Suppose, during your 100-night free trial, you decide to return the mattress. That leaves you with zero mattresses to sleep on until you get another, which could create a budget crunch or some uncomfortable sleeping periods.
How Long Should I Wait Before Sending the Mattress Back?
You don't have to wait for any specific period of time. However, mattress companies suggest you give it at least 30 days. The reason is that it may take some time for your body to adjust to a new sleeping experience, and for your spine/muscles to adjust to the point where you find out if it makes any difference. So, if you can, try to give it at least a few weeks before you decide.
Is There Any Way I Can Try Out an Online Mattress?
Not usually. Some large online stores, like Casper, also have a few stores around the country where you can go in and check out a mattress, so it's worth a quick search. But it's not often a possibility. This is where the free trial period comes in handy. If you have very special needs for a mattress, it may be better to avoid buying online.
I'm Worried About a New Mattress Smell, Is This Going to Be an Issue?
Generally, new mattress smells are nothing to worry about. Packaging materials and the mattress production process can indeed leave a mattress smelling a little plastic-like or strange. That smell does not continue! After several days, it should be dissipated, so be patient and let it happen. If you have the time, you may want to unwrap the mattress and just leave it sitting for a while to help with this process. Putting sheets on right away will only make the issue worse.
Is a Hard Mattress Really Better?
Science goes back and forth on this issue, but currently the best answer is: No. The best mattress for the average sleeper is able to conform to your body so that your shoulders and spine don't have to get twisted into unnatural shapes and stay that way suitable for side, back and stomach sleepers. More cushioning is better, because it gives you body room to relax into a more normal alignment. Of course, too much cushioning can cause similar problems to hard beds such as aches or back pain and should be avoided. Finding the sweet spot can be a challenge, so it's important to take a look at what each mattress version offers. If you have back issues, ask your doctor for which option would be best for you.
Can My Old Bed Frame Support the New Mattress?
Generally, yes, if the frame is intended for a mattress of that size (twin, twin xl, full, queen, etc.). If the mattress appears to be significantly heavier, you may want to consider a new frame, but it isn't usually necessary. You might also want to consider a platform bed as some of the best platform beds have bases that can be used for storage.