The Uniden R7 is a true contender for the title of best radar detector and a top contender for knocking Escort out of a possible monopoly. While it does have some flaws, like it's odd, large, and bulky design, it's no more expensive than Escort products, while it still features much of the same gizmos and gadgets. Also, check out the latest must-have car accessories.
Sale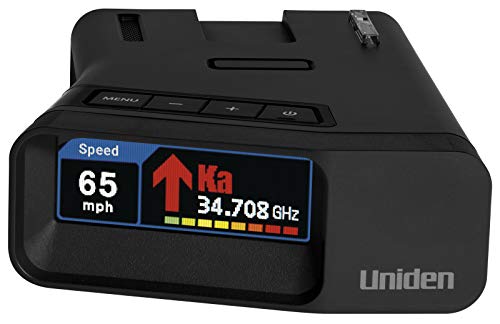 Related: Prevent any air pollutants from seeping through your car's ventilation system with the all new Tyc Replacement Air Filter.
Why We Like It – Uniden R7
The Uniden R7 boasts powerful long-range capabilities and a fantastic OLED display which combine to form a powerful product that not only alerts you if there is any danger, but also lets you know how far away that danger is so you can properly prepare for what's to come.
Different modes to decrease a false alert
Programmable GPS to detect things like red light cameras
X, k, and Ka band filters can be set to your preference
Expensive
Quite Large and Bulky
Odd-looking build
Performance
The Uniden R7 Radar Detector features advanced k and ka band filters, super long laser detection range, and city mode/highway mode to reduce false alerts. If you are heading towards danger the R7 Extreme lets you know with lots of information. For example, the speed trap alerts feature the speed camera icon and the distance to it, allowing you sufficient time to brace yourself. If you're looking for something with a little more name-brand recognition and don't mind spending a little bit more money for it, try the Escort iX Long Range Radar Detector.
Design
The Uniden R7 Radar includes built-in GPS which allows you to mark location points where you may encounter alerts like a police radar, red light camera, or speed camera. The OLED Display shows the digital signal strength and even your vehicle battery voltage, which is cool. You can adjust the x, ka, and k band filters to your preferred sensitivity level. The Uniden R3, though it may have a slightly smaller screen, still features many of the things Uniden is known for. Check it out if you're looking for something a little different.
Value
The Uniden R7 Extreme features a 360 degree long range radar laser detector which is quite impressive. The only other radar detector to offer protection like this is the Escort Max360, so kudos to the R7 Radar for matching this. The Uniden R7 also features voice alerts if you are keeping your eyes on the road (as you should be) instead of looking down toward your radar detectors. While many other related products may be cheaper, the Uniden R7 will get you some of the best radar protection for a $449.00 price tag.
Uniden R7 Wrap Up
The Uniden R7 is clearly not meant for the novice radar detector user, and that's okay. However, it's unfortunate that Uniden doesn't offer a less expensive alternative as the $449.00 price tag may drive customers away. Still, a veteran radar detector user will know just how well a Uniden product will operate and how you can never go wrong with purchasing one (unless you're a stickler for conventional design choices). There's a reason they're considered some of the best radar detectors around, after all.
Related: Check out our Us Jack D-51125 review.