LEGO collectors know that a lot of sets don't come cheap. Some exclusive and limited edition sets can cost an arm and a leg, just like these Batman LEGO sets that are all more than $100! Being a die-hard LEGO fan is expensive enough, but adding that Batman factor into everything makes it a very costly hobby. But you can't really put a price on happiness, which is what many of these sets bring to collectors. Besides, watching that latest Batman movie, The Dark Knight Rises, this past weekend must have inspired your inner Batman, so why not fight some crime…LEGO style! So with that said, check out some of the most expensive Batman LEGO sets we've found! If you like Star Wars, there's the Imperial Star Destroyer (10030).
13. The Batman Dragster: Catwoman Pursuit $139.99
With only 92 pieces, this LEGO Batman Catwoman Pursuit set is pretty pricy. The set features a replica of Batman's dragster from Batman Returns and includes constructible minifigs of Batman and Catwoman, as well as has working rear tires, a rotating front axel, a missile launcher on the back, and a cockpit lid that opens and closes.
12. Robin's Scuba Jet: Attack of the Penguin $157.77
The 207-piece LEGO Batman Attack of the Penguin set features both Robin's Scuba Jet and Penguin's Submarine that has flick-fire missiles and a firing rocket. The set comes with Robin and Penguin minifigs, as well as two addition Penguins (you can lift the roof off the submarine to put them into).
11. Batman's Buggy: Escape of Mr. Freeze $199.99
This Escape of Mr. Freeze set only has 76 pieces and includes Batman and Mr. Freeze minifigs, with Batman's buggy featuring flam and wing detail on the back, while Mr. Freeze's ride has a cool freeze-ray on the front. There's even a place to hold a diamond on the back of Mr. Freeze's vehicle.
10. The Batcycle: Harley Quinn's Hammer Truck $219.90
The Batcycle features some cool black wings and flick-fire launchers in this 267-piece set, while Harley Quinn's truck comes with just flick-fire launchers, giving the Batman minifig a run for his money. A Harley Quinn minifig is also included in the Batcycle set.
9. The Batwing: The Joker's Aerial Assault $229.50
You'll have a bit of time on your hands as you build this 523-piece LEGO The Joker's Aerial Assault set that features Batman, The Joker and their flying machines with moving parts. The Batwing's wings lift to reveal missiles that can actually launch, while the Joker Copter features a ladder that can be shot down.
8. Batboat: Hunt for Killer Croc $248.99
With 264 pieces, you get to guide the Batboat hovercraft that hot on the trail of Killer Croc and his swamp jet ski. The Batboat features dual-action props and a docking port to tow the captured Croc-crook back to jail, as well as Batman and Killer Croc minifigs and various Batman gadgets.
7. The Batmobile: Two-Face's Escape $294.49
Catch Two-Face as he tries to get away in the Batmobile with this set that has 386 pieces to it. It includes Batman, Two-Face and evil henchman minifigs; Batmobile, bank truck and city roadblock; and a collection of Batman gadgets.
6. The Batcopter: The Chase for Scarecrow $299.88
The cool Batcopter sets includes 293 pieces with Batman's flying machine able to launch missiles at Scarecrow's biplane. Both vehicles include tricks and shooting features with gadgets true to the Batman world.
5. The Bat Tank: The Riddler and Bane's Hideout $326.89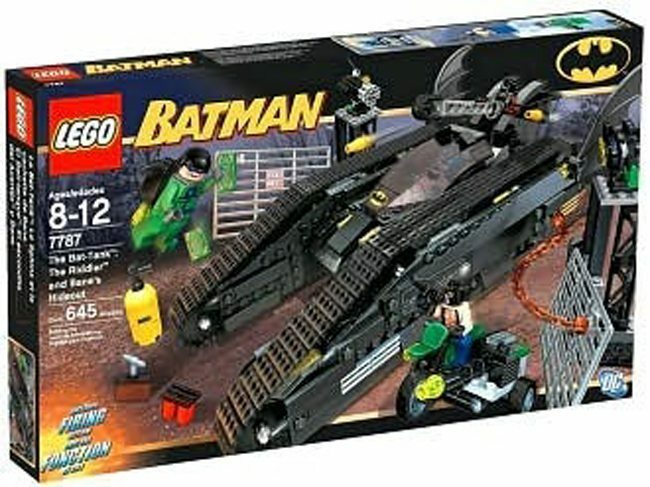 Containing 645 pieces, the Bat Tank comes with missiles to enter and destroy the hideout with caterpillar tracks, but the Riddler has his own jet pack that comes with cool gadgets and weapons. You'll get Batman, The Riddler and Bane minifigures, while Bane's motorbike with flick-launching missiles.
4. The Batmobile: Ultimate Collector's Edition $338.90
Every Batman LEGO collector must have this 1,045-piece Batmobile set in their collection! It features ultimate detail with the piece featuring an open roof that reveals he detailed interior, or turn the steering wheel to raise the shield for added speed. There are also moving engine turbines and rotating booster flames, this is one vehicle of justice that no villain can escape.
3. Batman Arkham Asylum $565.50
This ultimate Arkham Asylum set has 860 pieces and includes a number of minifigs like Batman, Nightwing, The Riddler, The Scarecrow, Poison Ivy, and two Arkham Asylum guards.
2. The Batcave: The Penguin and Mr. Freeze's Invasion $635
Batman's high-tech Batcave set features control center, prison cell, rocket and net launcher, and vehicles for Batman, Robin, and the Penguin. The seat also has lots of working gadgets, including costume transformation chamber and rocket launcher and features Batman, Robin, Mr. Freeze, The Penguin and other minifigs.
1. Batman Tumbler: Joker's Ice Cream Surprise $849.99
With only 499 pieces, this very expensive Batman LEGO Joker's Ice Cream Surprise set features The Joker's ice cream truck that he intends to sell gas ice cream out of to the citizens of Gotham City. Batman has to stop him with his Tumbler, the massive armored crime-fighting car straight from the movies. Fire the rockets, but look out The Jokers ice cream truck packs a missile-sized surprise of its own. The set includes Batman, The Joker, and Jokers Henchman minifigs.
Related Articles: