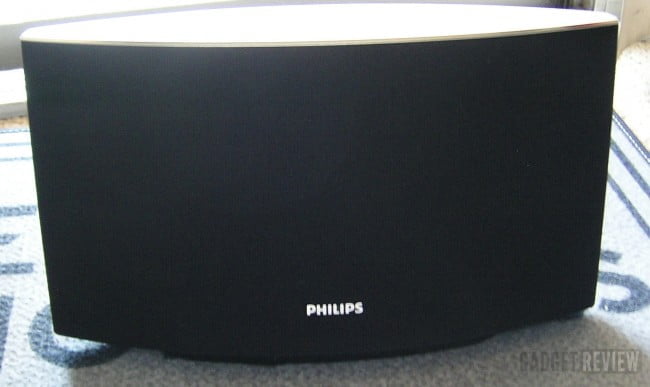 Audio docks for Apple iOS devices have been around for a while now — there's plenty of them to choose from, so why a PHILIPS? Maybe because you have to look for the straw in the haystack to get a quality result. Or maybe because the PHILIPS Fidelio SoundAvia AD7000W/3 is worth the trouble of separating from the other consumer electronics chaff. You know what else is worth the trouble? The best speakers on the market. Check them out!
Let's get right to it. — the design is very euro — a nice curved grill-covered front. NO sign of a dock to connect an iPhone or iPod to — that's okay, you don't use one. So what do I see that I can poke or prod? A power button and volume up and down buttons next to it, check. I also see on the back end the power plug for the AC input, a USB socket for a flash drive (sic), and one of those mini-jack audio inputs that let you pass an audio signal from a headphone output into the PHILIPS Fidelio SoundAvia AD7000W/3. The WiFI setup button is here, too — but more on that later. For another similar speaker, yet smaller in size, you'll want to check out our Beosound A1 2nd Gen review.
Is that it? I don't care how cool it looks to start, I want some more tech. One of the consumer electronics gods taps me on the shoulder (okay, he bops me on the head, but why should I make fun of myself) and points to the mini-CD with the instruction manual on it. Guess I can pull the info off the disc and see if there's anything else going on. If you like what you have read so far, check out our Philips Fidelio 8850 Speaker Dock review.
Um, well, sorry…er yes there is. The PHILIPS Fidelio SoundAvia AD7000W/3 has "AirPlay" working — that's Apple's wireless connect system. The way it works is that you use your iOS device to sync directly to the Philips Fidelio SoundAvia AD7000W/3, so that you can set up the parameters and activate its functionality. Then you return to your own home network, to which the PHILIPS Fidelio SoundAvia AD7000W/3 is also now connected. You can now stream to the PHILIPS Fidelio SoundAvia AD7000W/3 from iTunes (Mac or PC) or an iOS device (iPhone, iPad, etc.) by selecting the PHILIPS directly as the audio source to use (rather than speakers).
Believe me, it's a lot easier to do than discuss and of course, it doesn't cause any grief with your wireless home network. This could make it a top WiFi speaker, but it would be better if it had Bluetooth, too. For a Bluetooth-enabled speaker, you'll want to check out our House of Marley – Bag of Riddim speaker review.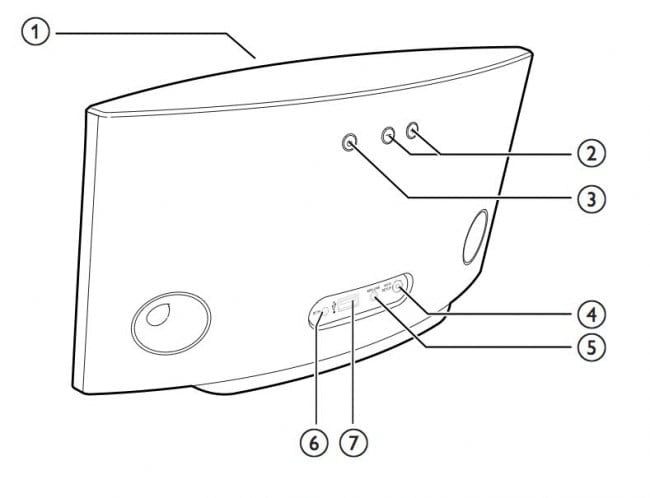 Should you not want to bother using it — though I would think you would since it makes the compact PHILIPS Fidelio SoundAvia AD7000W/3 even more compact — just plug an iOS device directly into that USB socket on the back. The music not only goes directly through the speakers now, but you also get the bonus of charging/recharging the iOS-connected device. With that in mind, now compare Apple Homepod vs Sonos One to see which speaker is really better.
Related: Also check out our Samsung HW Q70R review.
So you can see that there's not a whole lot to do to use it, even if you DO use "AirPlay" — by the way, like all "AirPlay" compatible devices, not just the PHILIPS Fidelio SoundAvia AD7000W/3, if you lose the AC, you lose the settings and will have to redo them. Just another thing making those uninterruptible power supplies look more attractive than ever. Although, if you want a speaker with a strong batter, then you'll want to read our Sonos Play1 review.
Although, if you'd like to forego the A/C power adaptor for portable, you'll want to read our iHome IBN 6 portable waterproof Bluetooth speaker review.
But if the proof is in the pudding, then the sound is in the speakers….the PHILIPS Fidelio SoundAvia AD7000W/3 combines front speakers with back bass pipes to provide an even and melodious sound in which the bass mixes well with the mid-tones. The curved design makes the stereo effect more pronounced than would be the case otherwise — and that's a good thing. Usually, these little guys don't separate stereo all that well. But I had played a hi-rez of The Cars (my nominal stereo separation tester) and it performed quite well in this regard.
Of course what you hear is as important, if not more so, than whether it's coming from the left or right side as you face the sound. In this case, the PHILIPS Fidelio SoundAvia AD7000W/3 is more than up to snuff, as it were. Good midrange audio, reasonably low bass, and in general the vocals stayed on track even when the volume was turned nearly up. Don't expect to kill the windows as there's only 10 watts to work with but…this is a compact speaker that you won't be using as your home theater sound system for watching Die Hard, so nothing to worry about there. On a desk or a table in the den or even the garage, it's good stuff.
Editor's Rating:
[rating:4/5]
Great
Bottom line: The PHILIPS Fidelio SoundAvia AD7000W/3 produces good sound and has a clean and compact look that won't embarrass. Plus its wireless technology makes it even more compact. Also, the $199 retail might seem high, until you realize that the 
"street" price is just a bit above about half that.
Pros
WiFi Protected Setup enabled
Free iOS app
Firmware updating possible
Cons
WiFi B/G technology doesn't allow for as great a reception distance as "N" would