For those who want a top-spec speaker system for their computer and are not afraid to splurge a little, the Klipsch Promedia 3-piece audio system should be just about enough to cater to their needs. The speaker system features two 35-watt satellite speakers as well as a subwoofer. Its subwoofer also includes an independent volume control that allows you to get as much bass as you want to, and at 130 watts, you'll have your room filled with ear-thumping sounds. Stick around for this review to see why the Klipsch Promedia 2.1 speaker set is one of the best computer speakers you can get for your desktop.
Sale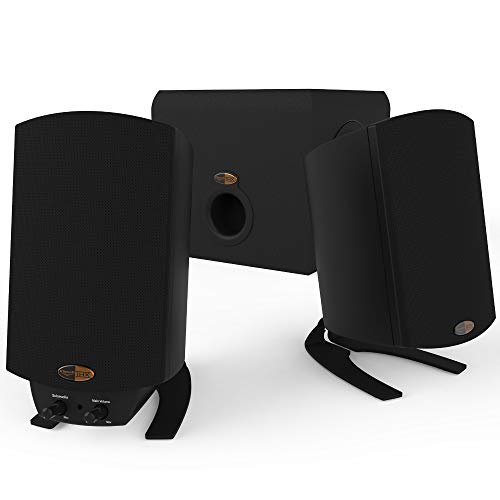 Why We Like It – Klipsch Promedia 2.1
The Klipsch Promedia 2.1 speaker set is a formidable choice for a PC speaker setup, and with the 130 Watt subwoofer that it comes with, the bass levels you'll get from it are much higher than what you can get from standard computer speakers. Although, it's not wireless, if you're curious about what is a Bluetooth speaker, read our useful guide.
THX-certified
High 180 Watt power output
1-year warranty
Performance
Unlike the Logitech Z625, this Promedia set includes 2 35-watt satellite speakers that are held by a built-in metal stand, and on the right speaker, you'll see a headphone jack, an AUX port, and both volume and subwoofer control knobs. When cranked up to the highest level, this audio system can put out 106 decibels of sound, which is loud enough to get complaints from your neighbor. With a frequency response rate of 31kHz – 20 kHz, the highs are crisp, mids are defined and the lows are solid. Unlike the Bose Companion 2 Series III multimedia speaker, this audio system is THX certified, meaning its sound quality has been recognized as one that meets the highest standards of sound engineering, so if you do get this speaker set you'll definitely be rocking with the best.
See also: Check out our Harman Kardon Soundsticks III review for a pair of the best-looking and sounding speakers on the market.
Design
In terms of design, the Klipsch Promedia PC speakers are really not that much to look at, but its satellite speakers come with a metal mount that adds to its aggressive demeanor. The speaker set is only available in black, and cumulatively, the whole set weighs around 14.2 pounds. In its packaging, you'll also find two 9.5-foot lengths of speaker cable, which we think is enough to help you get it set up. The speaker set might take a bit of figuring out to decide where to place what, but if you'd like to avoid all that, you might want to look at the TaoTronics TT-SK018 soundbar which provides a wide soundstage regardless of where you place it.
Related: Take a look at our Logitech Bluetooth Speakers Z600 review for a nice pair of Bluetooth speakers.
Value
Having been around for more than 15 years, this Klipsch Promedia 2.1 channel speaker set fills the space between ordinary PC speakers and highly-rated home theater speakers, making them the best speakers for anyone who wants to really get the most out of their audio experience. The THX certification also pushes up its value and is the main reason the speakers are priced at around $200. On top of that, the speakers also come with a 1-year warranty just like the AmazonBasics USB-powered PC computer speakers, so you should remain assured that it is a good quality product.
Alternatively, to see if this brand is truly the best, pit Klipsch against Definitive Technology speakers to see for yourself.
Klipsch Promedia 2.1 Wrap Up
The Klipsch Promedia speaker set is a great choice for anyone who wants to enjoy the high-quality sound when playing games or watching movies. Its separate subwoofer is quite powerful, though the one thing that it misses is the lack of support for a Bluetooth connection.