I still remember when Dolby sent me their first "surround sound" processor back in the 1980's. They said that their processor could "extract" ambient sound from within a recording to create a wider sound-field. And that it didn't matter what the audio source was as this "added" sound was always recorded along with what was "heard" — which was a stereo recording. If you're just looking for your basic speaker system, take a look at our Yamaha TSX-80 desktop audio system (has looks but way overpriced) review. Of course today there's discrete 5.1, 7.1 or even greater numbers of audio streams that can be processed through multi-channel receivers, but what about all those recordings that never made it past stereo?  Rather than being forced to use psycho-acoustic sound techniques to "fool" your ear, plug in the Sound Master. Or, check out our Onkyo DP x1 Android audio player review if you'd rather plug in some headphones. If you want to update your TV's channel selection you'll want to read our Actiontec myWirelessTV review too. For the best quality picture while you're watching TV, you might be interested in our IOGEAR GW3DHDKIT Wireless 3D digital kit review too. And, when you're ready for more, read our best home theater systems reviews.
Here's what it's does: process an evenly distributed sound-field that envelops you (immersive); create distinct points of audio (think: a bullet traveling from in front of you past your left shoulder); recreate the original audio so that the listener doesn't feel there's some kind of techno-babble going on (i.e., you may hear explosions at your side, but John McLane's "Yippe-kiya" is as distinct as if listening to Die Hard on an iPod).  Compare this to the sound quality of some of the best in wall speakers, and you'll still fall flat from this immersive experience. If you're having trouble transmitting the audio from your computer or phone to this speaker, you can solve this problem by reading our ROCKI PLAY review.
Surround Master is about the length of a mini DVD player and about half as wide. Plug the AC plug in for ongoing power last — first set the switch on the front to 2-channel mode. Then attach a pair of RCA stereo cables into the outputs from your audio source and the other end into the 2-channel input. The last step is to connect RCA plugs from the 2-channel output and into the Aux of an amplifier. If you decide to go with 4 speakers, then the switch goes to 4-channel mode and the Left Front/Right Front, Left Rear/Right Rear outputs are used, with their other ends plugged into the appropriate places on the amp. Use of the subwoofer is optional in either case.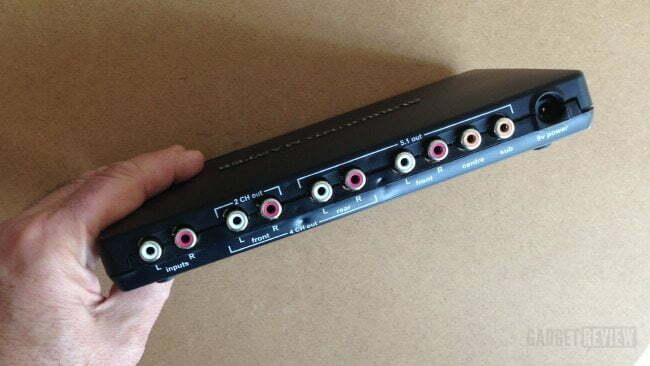 Nothing special has to be done to the amp, with the exception that all surround sound simulated modes (like Dolby Pro Logic) have to be turned off so that the sound exiting to the speakers is not being modified (most amps call this "Direct Mode"). Visit our Harman Kardon MAS 102 music system review to learn more about this audio system.
Involve audio who makes Sound Master recommends using the 4-channel mode, so I've set it up that way. I've a pair of stereo speakers in front of me and a pair to the side and behind (what would normally be called "rear" speakers). My position is at the center so that each speaker's bulls-eye is my body.
I've been given a demo disc to use in which specific scenes are produced that display surround effects. I played the disc first as stereo and verified that the scenes I would use as "research subjects" are just in stereo. Frequency response and other measurements were obviated in favor of my ear — if what I heard sounded right, then I was going to be happy. So I began the research:
* Transformers: Battle sounds come at the listener from multiple locations, not just the front, which was the case when played without the Sound Master. A rocket fired at the end of the sequence "traveled" from the front speakers to the back and was clearly perceived a such — again this did not occur when the scene was played as ordinary stereo.
*Dummyhead Stereo: Both a rear and side sound-field could be clearly heard, but more importantly it was a clean performance that didn't get "mushed" together (flutes being played demonstrated this fact).
*X-Men: The sequence had Professor Xavier using his mind powers on Wolverine to cause voices to "rotate" around the listener's head. There was a clear perception of this happening, as opposed to the audio remaining fixed at the front when it was played in stereo. Additionally, the dialogue was not muddied or had any hiss or interference to signify some form of audio modification was in process. Read our IOGEAR GW3DHDKIT Wireless 3D Digital Kit review to get a system that lets you send video wirelessly.
I also tried out the Sound Master with a number of symphonic CDs and videocassette commercial movies. The surround sound on the CDs varied in intensity, in some cases being extremely mild, but at no time did I encounter any degradation in the audio. As to the movies, surround sound effects that were clearly not present when played normally were now evident.
Switching over to the 2-channel mode creates a "virtual surround" effect that functions without such tricks as bouncing audio streams off walls. I've never been impressed by any of the modification technologies used to do this and the experience relies heavily on the perception of the person listening. I can say that the Sound Master performs as well as any other technology in this mode and many will find it an appealing  way to enhance their sound-field. But used only in this manner is a waste of what it can do.