Finding the best 4K TV for 2023 is only as good as the research you do on the front end. So, we researched the best TVs on the market today and did all the research for you. If you're new to this resolution and are thinking, "What is a 4K TV?", make sure you familiarize yourself with the concept. We watched movies, played video games, and explored smart TV features on each of these products to get a good idea of how they all shaped up to our expectations. During our research, we researched things like screen quality, color uniformity, black levels, and performance under high-stress situations like playing games or streaming 4K content via Netflix and Hulu. We even interviewed 4K TV industry experts to get their take on the current trends in this space.
Once we had watched our fill of ultra HD movies and 4K video games, we chose the Samsung Q7F 4K UHD TV as the #1 best 4K TV for 2020. This beast of a TV features some of the deepest blacks, best contrast, and sleekest design at a cost that strikes a nice middle ground between high-end sets and the budget crowd.
That in mind, our list of 4K TVs is broken down by different screen sizes, allowing you to find the best ultra HD TV for any room in your smart home. After all, it's a strong likelihood that you've already picked one or two sizes that will fit your space.
Now, it's just a question of which is the top 4K TV for that spot. If not, then you're in for a treat (especially if you can make room for a 70-inch set).
So which is the ultimate 4K TV for 2023? Read on in our in-depth guide, which breaks everything down on a size-by-size basis to find out for yourself.
Top 4K TVs for 2023 Compared
#1 Samsung Q7F 4K TV
Award: Editor's Choice/Best 4K TV for 2023
√ Features: QLED display technology, Invisible Connection wiring system, Local dimming
√ Sizes Available: 55″, 65″ and 75″
Bottom Line:
Featuring the best balance of price to picture quality, the Samsung Q7F leads our list as the best 4K TV for 2020.
Pros
Great picture quality for the price

Smart Hub is one of the best navigation tools in the business

Sleekly styled OneRemote

Beautiful design overall
Cons
QLED quality still won't match OLED pound for pound
Samsung has made a lot of hubbub over the addition of QLED technology into their latest sets – and for good reason. QLED is considered by many to be the sort of holy grail when it comes to display technology, striking that sweet spot in between price and quality that so many consumers want, but few have been able to attain until now. For my money and yours, this QLED TV achieves stunning picture quality in all scenarios, beating out some sets that cost twice as much at this 65″ size. The set trounced every competitor we researched in its class on a range of various metrics, whether it was the simple but deeply-featured nature of the menu system, the outstanding performance displaying true HDR content, or even just the onboard speaker, which was both surprisingly boomy and bassy given its limited size. Speaking of size, the Samsung Q7F is impeccably designed, looking sleek and slim from all sides while featuring Samsung's proprietary Invisible Connection™ technology. This takes all the mess and muss of your wires and discreetly hides them behind Samsung's main connection hub, which then leads into a single nearly-invisible wire which can be stashed in the TV's own stand. This adds up to a nearly seamless experience, allowing you to truly take in everything the Q7F has to offer in all its highly detailed glory. If you want more great product recommendations like this TV, then check out our guide to the
best 4K TV for gaming
. Samsung's navigation software is also simply top-notch, outclassing just about every other set we've researched thanks to its Smart Hub system. Smart Hub uses a "home bar" style of navigation which makes it incredibly simple to navigate not only between various streaming applications but also to pick up right on the episode you were watching on, say, Netflix, from the Hulu app. And finally (speaking of navigation), this is a small bonus in my book, but Samsung has
nailed
the OneRemote on the Q7F. Just as sleek and stylish as the set itself, this small silver remote fits effortlessly in your hand and covers every task you'd need to be handled with about four buttons in total. Personally, I love when simplicity of design and core functionality are married as beautifully as they are in the OneRemote, and although the voice-command tech was fairly limited (it didn't work in almost every major streaming app we researched), it was still fun to play around with in the Smart Hub when it did actually have the ability to respond. For all these reasons and more, it's no wonder why the Samsung Q7F has snatched up the title of the #1 best 4K Ultra HD TV for 2020! It truly is one of the
best TVs
. While if UHD is what you want, check out the
best Ultra HD TVs
.
Read Full Review: Samsung Q7F Review
#2 TCL 55R617
Award: Best 55″ 4K TV
√ Features: HDR10 and Dolby Vision color spec, Roku TV integration, Headphone-ready remote
√ Sizes Available: 55″ only
Bottom Line:
If you're shopping for 4K TVs on a budget, there's no better choice than the TCL 55R617.
Pros
Spectacular picture quality for the price

Plenty of app support

Good sound
Cons
Quality won't match competing sets using QLED/OLED

Menu could be clunky at times

Roku remote app was useless
Read Full Review: TCL 55R617 Review
#3 Sony XBR-A1E OLED
Award: Best 4K HDR Display Quality – Best 65″
√ Features: OLED display technology, HDR10-compatible, Acoustic Surface™ technology
√ Sizes Available: 55″, 65″ and 77″
Bottom Line:
The Sony XBR-A1E OLED TV has hands down the best picture quality of any TV we researched – with an equally punchy price tag.
Pros
Stunning picture quality

Acoustic Surface technology is amazing

Again, picture quality is unmatched
Cons
Stand style makes floor viewing sections awkward

Price is high for most consumers

Sony remote is massive

Android TV can be finicky on weak WiFi
Of course, no annual best 4K TV roundup would be complete without a Sony model on the list, and what we got in this year simply blew our socks off. Nearly every element of the Sony A1E OLED viewing experience sets the standard for what cinephiles should expect from the top-end of the market, with some of the deepest blacks, richest colors, and surprisingly accurate sound reproduction we've researched on a TV to date.Sony has made some pretty big moves in the design of this 4K OLED TV that may not gel with everyone, and I might even include myself in that camp. In order to create the seamless effect of your TV sitting right on your mounting area, they've stashed all the inputs and processing units in the stand itself, which leans back and means the screen itself will only operate if it's leaning at that same 15° angle. Personally, I'm not sure how to feel about this choice as it makes it a bit awkward to watch if you wanted to say, lay on the floor in front of the television and look up at it, but aside from those fringe use cases most people probably won't see a problem. And, to get the best reception for local channels, check out our guide to the
best TV antenna
.Another new addition we found on the A1E was the addition of Sony's own Acoustic Surface technology, which actually turns the
screen itself
into one giant speaker/amplifier. This makes it, so voices come through clearer than any other speaker we've researched on other sets, and also gave action scenes a surprising amount of bass that never actually rattled the screen itself.Finally, there's the picture quality, which even straight out of the box easily outclassed every other set we've researched this year. In every single research evaluation, the A1E OLED produced images that almost seemed too real to be real, and although we'd like to say that it was able to do this at a reasonable price, the nearly $3,500 cost makes that upgrade in visuals a bit more understated. With that in mind, if you have the cash to spend and you're on the hunt for the tip top of what 4K viewing has to offer in 2023, look no further than the A1E LED because it's got everything you could want and more. The
best smart TV
is another option if you want smart features. Many of the best TV accessories come built into smart models.
Note:
Other notable 4K TVs worth mentioning that are not on our list include the TCL 6-series and the
Vizio
E-Series. The TCL 6-series
QLED display
comes in 55 and 65 inches and features a USB, ethernet, and HDMI connection, plus built-in Wi-Fi. You get 4K ultra HD picture quality and built-in speakers, and this 6-series also has smart functionality with thousands of streaming channels via Netflix, YouTube, Hulu, and Roku, and over 500,000 TV episodes and movies.
The Vizio E-series is an excellent 4K HDR with Active Full Array, with voice control functionality using Google Assistant and Amazon Alexa. The Vizio is one of the best smart TVs with voice control functionality using Google Assistant and Amazon Alexa. The Vizio E-series also has Dolby Vision HDR, which offers enhanced color and contrast for the perfect image quality at any angle.
Read Full Review: Sony XBR-A1E OLED Review
How We Researched the Top 4K TVs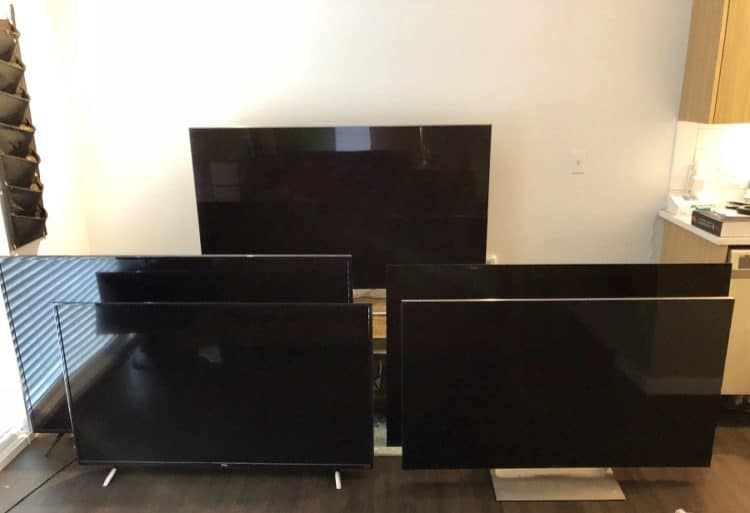 To start, we only considered TVs this year that had HDR 10 or Dolby Vision included because aside from OLED, this is the most exciting advancement that 2023 4K televisions have made over their predecessors of 2016-2017.
Even budget manufacturers like Vizio and Hisense are now including the color spec in their lower-end sets, which means that no matter what your spending level, you can still expect a whole new way to watch television that makes colors more vibrant than they've ever been before.
We researched this year's lineup extensively.
This included:
Standard picture evaluations like watching 4K Blu-Rays (HDR-compatible) on them
Streaming 4K content via Netflix and Vudu
And also running a number of different games on the set to see how they respond when under stress
Furthermore, we researched a number of test images that would help us to determine the

Overall color uniformity
Brightness uniformity
Contrast capabilities
Backlight bleed
Black levels
And (if they have it), the uniformity of local dimming.
We also did our best to consider a wide spectrum of price ranges to fit every buyer's budget, because while some content perfectionists might not accept anything less than a $3,500 set like the A1E from Sony, others might not have as much to spend, and are just fine entering in closer to the $600 – $800 range.
Finally, we interviewed several 4K TV experts in the field, whether they were professional installers or buyers for major websites who deal in hundreds, if not thousands, of 4K TVs a day.
Why You Need a New 4K TV
As we mentioned in the previous section, the primary and most obvious reason anyone should look to upgrade their kit in 2023 is due to the drop in price we're seeing for HDR performance and Dolby Vision sets. Also, you can compare Dolby Vision and 4K to see which has the most benefits. Once reserved for only the most elite options, these days, it's almost a crime for a 4K TV not to have one or the other included as a core feature.
Another major improvement has come with the display technologies themselves, or rather the price that people should expect to pay for options like OLED.
No matter which way you swing it, OLED is a significant upgrade over LED and LCD when it comes to black levels, contrast ratios, and overall brightness uniformity, but until recently, the production methods needed to create OLED TVs kept them in the realm of the unaffordable for most average consumers.
In 2023 we're finally starting to see those prices dip below the $2K level. Furthermore, options like the Samsung TVs (Q7F) offer near-OLED quality in the $2,000 range, thanks to the addition of QLED technology.
Another major addition to mid-to-low end sets this year is the inclusion of local dimming technology, which helps create deeper black levels, more crisp contrast, and an overall boost in clarity that sets from several years ago just can't match.
It's been a while since we've seen such a drastic shift in technology year-over-year in the 4K TV market, but if there were ever a time to upgrade, then 2023 is definitely it!
4K TV Buyer's Guide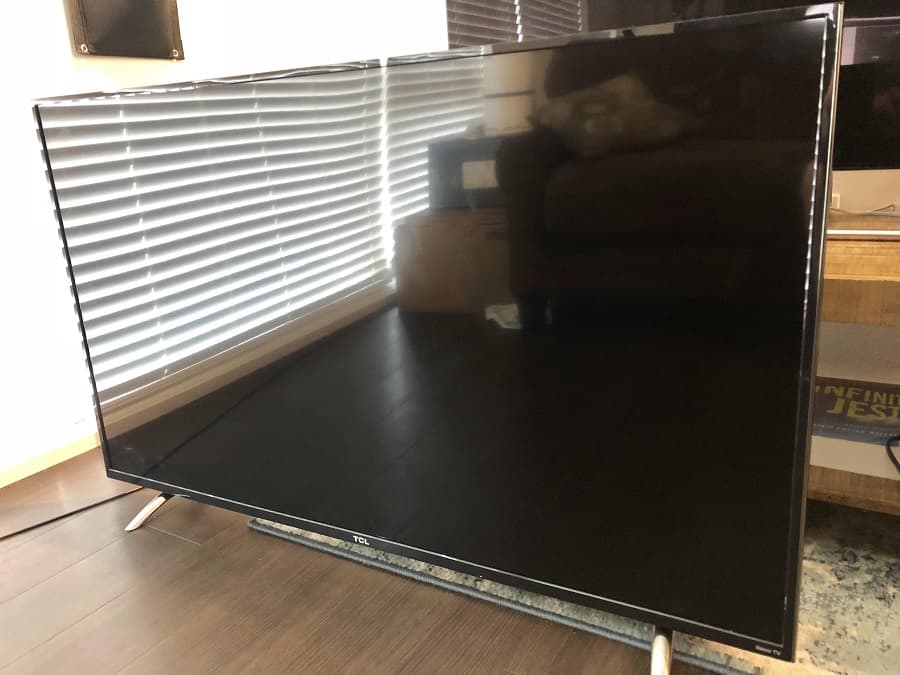 What to Look For in the Best 4K TV
√ Clarity: Of course, the first reason that anyone decides to upgrade to 4K is better picture quality, and pixel clarity leads the pack on what you want to look for most. While all 4K TVs on this list feature the same resolution, what really sets these apart is the clarity and quality of those pixels.
√ HDR10 or Dolby Vision: Like HD-DVD and Blu-Ray, both HDR10 and Dolby Vision are currently locked in a heated format war over who will dominate television screens for the next however-many years. After having thoroughly researched both, it's my personal belief that HDR10 offers slightly more benefits that Dolby Vision can't match, though this does come down to more subjective terms than anything since they both add a significant amount of vibrancy to any model that features either spec (plus some models still offer support for both, like the TCL P-Series).
√ Price: 4K TVs are still in a weird space right now, where the highest price doesn't always mean it's the best TV, and the lowest doesn't mean it's the worst. A great example is the TCL model in our number two slot, which, while not exactly cheap at $749.00, still delivers stellar picture quality that rivals many picks three to four times its cost.
√ Connectivity: This isn't necessarily unique to 4K televisions, but it's something you should still be sure to keep an eye on whenever you're shopping for your next set. With so many devices that demand precious port space, always be certain that the 4K TV you eventually settle on has enough ports (with the proper speeds) to support the HDMI inputs you need for the ultimate viewing experience.
Read More: Best 65-inch TV for 2023
Mistakes to Avoid When Buying a 4K or UHD Television
⊗ Don't skimp on cost: While price isn't always directly indicative of the quality you should expect, it's generally a good idea to avoid any "bargain basement" deals for 4K TVs. These feature refresh rates, contrast ratios, and display technologies that are well below the standard for what you should expect out of a 4K set, and the last thing you want to do is skimp on quality when upgrading to become a part of the 4K resolution and buy a mirage or SunBrite outdoor tv.
⊗ Double-check the number of available ports: As we mentioned above, always double-check to be sure that your TV of choice has enough ports to support all your gaming consoles, streaming devices, and Blu-Ray players at the same time.
⊗ Don't fall prey to marketing speak: Many manufacturers of 4K TVs today are relying on consumer ignorance to jack up the price on sub-par sets. Never assume that because a television comes with "Ultra-View" or "Super-Color," it's automatically better than anything else out there. Although, Nanocell technology takes things a step further, allowing for more intense colors that even outperform OLEDs in some cases.
Also Read: Best TV For Gaming
Most Important Features of a 4K Television
Display Technology
The display technologies that power today's 4K TVs come in three different flavors: LED, LED-LCD, OLED, AMOLED, and QLED
There's still a lot of debate over which tech is best for 4K TVs specifically, but who's right on either side of the argument will usually come down to the manufacturer of the TV itself
LG is known for producing OLED TVs that can outperform most LED-LCDs. However, that performance doesn't come cheap. That's why you'll want to compare LG OLED against Samsung Frame.
Conversely, Samsung has put out some seriously high-quality QLED-based 4K sets that could put cheaper OLED sets to shame, all for a price that won't leave your wallet limping on one leg when you walk away from the checkout counter
HDR is the newest addition to 4K TVs, and for our money, is basically an essential component at this point. An HDR TV makes colors significantly more vibrant than they were in previous years, and adds a whole new layer of depth to images that can't be matched by sets without either HDR 10 or Dolby Vision on board.
Local dimming is another major technology to keep an eye out for (no pun intended). 2023 is the year the display technology finally came down in price enough to start getting included in budget sets, but the difference that it makes in contrast, black levels, and overall clarity can't be ignored.
Refresh Rate
The refresh rate of any TV – 4K or otherwise – refers to how often the screen refreshes the picture it's trying to display
In general, 60Hz is enough for most movies and Blu-Rays, while 120Hz is made more for quick-moving action, as you'd find in a sports game.
Some sets, like Samsung, claim refresh rates as high as 240Hz, though all of this basically boils down to marketing speak. In reality, it's still 60Hz interpolated up to 240Hz, which can (and almost always does) result in the "soap opera effect."
This occurs when the source material was meant to be viewed at a standard 60Hz, but through interpolation, people's movement and speech seem to be "sped up" in an unnatural fashion.
Personally, I'm not a fan of the technology unless it's only being used for sports viewing specifically, and recommend turning it off in all scenarios aside from that.
These days you can find that option called something like "MotionFlow" or "SmoothMotion" or whatever the manufacturer decided to label it. Disable this, and you'll see the soap opera effect disappear instantly.
Screen Design
4K TVs almost always come in the flat-plane design, though lately, more makers have started to import the "curved" design from standard HDTVs into this newer style of display.
Curved displays are all well and good, but they can limit the viewing angles in some models and living room layouts, which can make watching from either side much more difficult for your guests.
OLED has drastically reduced the overall thickness of most sets, though even standard LED and QLED sets have come down considerably in size from just a few years ago.
Contrast Ratio/Color Accuracy
All those extra pixels you're paying for won't do you a lick of good if the set's contrast ratio doesn't have the specs to back it up.
The resolution boost is only the start of what makes 4K TVs worth their increased price, and a 1080p HD screen with the best color accuracy and contrast ratio will still look miles better than a 4K TV with an opposite set of specs.
Which 4K TV is Right For You?
One of the best parts about a 4K TV is that no matter which size you eventually choose to go with, you're guaranteed to get a picture resolution that looks great from any distance in the living room. Remember to double-check the size of your space so you get a TV that suits your space. If you already have an entertainment console that you want to put the model on, like a 65-inch but you're thinking, "How wide is a 65-inch TV?", check the console dimensions to make sure the TV will fit on it.
The higher the resolution, the better your movies, TV shows, and late-night video game marathons will look, all without the eye-strain and uncomfortable viewing angles that are prevalent on other measly 1080p HD sets. Of course, if you wish to be ready for higher definition content in the future, you can check out our buying guide on the best 8K TV and see if that would be worth it for you.