To help you find the best grill for your outdoor barbeque, we have tried out a multitude of top models, both propane and charcoal, testing them for grilling speed and efficiency, ensuring they could easily handle a wide variety of food stuffs. We also preferred items made from durable and high quality components, including cast iron cooking grates, and those with plenty of room to cook multiple ingredients at the same time.
The best product we tried was easily the Weber 44010001 Spirit II E-210 2-Burner Liquid Propane Grill, which features 450 square inches of cooking space, spread out over two burners, and an open cart design with six tool hooks and two large wheels for ease of movement. We also liked the high quality components on offer, including porcelain-enameled cast iron cooking grates. Keep reading to learn more about the Weber 44010001 Spirit II E-210 2-Burner Liquid Propane Grill and the other items on this list.
Top 7 Best Grills
#1 Weber Spirit II E-210 (44010001) 2-Burner Liquid Propane Grill
Award: TOP PICK
WHY WE LIKE IT: Effortless ignition, thanks to the company's Infinity Ignition mechanism, with patented "Flavorizer Bars" for increased smoke and a fantastic ten year warranty, in addition to six tool hooks.
Pros
Best propane
Quick and easy ignition 10 year warranty
Patented "Flavorizer Bars" increase smoke flavor
Cons
Some items on list have more control over burners
Can be difficult to assemble
Some items on list have more cooking area
The Weber 44010001 Spirit II E-210 2-Burner Liquid Propane Grill is a stellar product and the best propane grill we tried, with a quick and easy ignition, thanks to Weber's Infinity Ignition mechanism, and patented "Flavorizer Bars," which increase smokey flavor. We also loved the six tool hooks located along the side of the grill and the fantastic ten year warranty, which comes standard with many Weber products. Long warranties come in handy, especially if you invest in the best built-in-grill.
This product also gets plenty hot, thanks to burners that produce 26,500 BTU-per-hour. Though the 450 square inches of cooking space is certainly decent, there are other items on the list that offer even more space to prepare ingredients. Additionally, the assembly will take a couple of hours, and does require standard household tools, such as a screwdriver. With a grill this nice, you'll definitely want to invest in the best grill cleaner.
#2 Blackstone 1554 Professional Outdoor Flat Top Gas Grill
Award: HONORABLE MENTION
WHY WE LIKE IT: Griddle flat top design with 4 independently controlled burners, offering maximum precision, 720 square inches of cooking area and a quick ignition button that is in line with our top pick.
Pros
Best flat top & great for restaurant quality burgers
4 independently controlled burners
720 square inches of cooking area
Cons
Griddle design not for everyone
90 day warranty
Can rust if you aren't careful
This Blackstone 1554 Professional Outdoor Flat Top Gas Grill features a similar quick ignition mechanism to our top pick, which is great, and four independently controlled burners that produce 60,000 BTU, allowing for maximum precision while preparing food items. We also loved the 720 square inches of cooking space available, which is much more than the 450 square inches found with our top pick, and the four lockable wheels.
This is a griddle flat top design, however, which may not suit every consumer, particularly those looking for a standard grill. This item also comes with a 90 day warranty, which is on the lower end, particularly for a grill under $500. Another great four burner grill is the Nexgrill 4-Burner Propane Gas Grill, which comes in a sleek stainless steel finish and features a side burner to simultaneously cook up a side dish. To make your grille space perfect, try getting some of the best outdoor storage too.
#3 George Foreman 15-Serving Indoor/Outdoor Electric Grill
Award: BEST FOR INDOORS
WHY WE LIKE IT: Can actually be used indoors, thanks to an innovative electric design, and features 5 heat settings, allowing for a fair amount of precision, with a fantastic nonstick coating.
Pros
Great for apartments that don't allow charcoal/gas
5 heat settings
Nonstick coating works well
Cons
Not much cooking area, compared to some picks
Burners do not get as hot as propane or charcoal grills
1 year warranty is decent, but top pick has 10
This George Foreman 15-Serving Indoor/Outdoor Electric Grill features an innovative electric design that allows for indoor use, as it does not use propane or charcoal. It features five "burner" settings, allowing for a fair amount of temperature precision, and a highly functional nonstick coating. We also loved how easy it was to install and set up, with a fully removable stand, allowing for countertop cooking.
Related: Compare this unit with other top-rated indoor grills.
This grill, however, doesn't have much cooking area, compared to some items on this list, with 240 square inches of surface area available. Additionally, these burners do not get nearly as hot as those found with traditional propane or charcoal grills. If you need to make your lawn look perfect for that upcoming barbeque, check out some of the best in patio, lawn, and garden.
#4 Char-Griller E06614 AKORN Jr. Kamado Grill
Award: BEST CHARCOAL
WHY WE LIKE IT: Offers extremely even heating up to 700 degrees, thanks to triple walled insulation, with a portable form factor that makes it perfect for camping and tailgating, among other social gatherings.
Pros
Great for camping
Even heating, with triple walled insulation
Does not require a lot of charcoal to function
Cons
153 square inches of cooking area
Can be difficult to clean
1 year warranty is decent, but top pick has 10 years
This Char-Griller E06614 AKORN Jr. Kamado Grill offers extremely accurate and even heating capabilities, from 200 degrees to 700 degrees, thanks to triple walled insulation and a built-in thermometer. The portable form factor makes it ideal for camping and tailgating, among other social functions, and the cast iron grates produce perfect grill marks. We also liked that the Japanese kamado design does not necessitate a lot of charcoal in order to function.
Though it heats ingredients evenly and thoroughly, there is not a lot of cooking space on offer, just 153 square inches. Also, it can be somewhat difficult to clean, though we did appreciate the ash pan, which is easy to dump. You may need to invest in some additional grill cleaning tools, like a good grill brush. For camping trips where you need to leave the grille behind, bring along the best portable grille instead.
#5 Weber 1141001 Go-Anywhere Gas Grill
Award: BEST BUDGET
WHY WE LIKE IT: Budget-friendly item that still does a great job at grilling, thanks to a push-button ignition system, portable form factor and porcelain-enameled, steel cooking grate.
Pros
Extremely portable
Push-button ignition system works great
Gets extremely hot, well above 500 F
Cons
Grill surface is not cast iron, though can be purchased
Small cooking area
Needs an adapter for 20 lb propane tanks
The Weber 1141001 Go-Anywhere Gas Grill is an extremely budget-friendly product that still offers extreme heat, thanks to a propane-based design, and features a similar auto start push-button ignition system as found with our top picks. We also loved just how portable this grill is, weighing just 13 pounds and featuring a handle for easy movement. Though the main burners only feature a 6,500 BTU per hour input, we found that this item got more than hot enough to cook meat and other ingredients.
This grill does not immediately work with standard-sized 20 pound propane tanks, however, requiring the purchase of an adapter, though it does work with smaller tanks right out of the box. Additionally, the cooking surface area is on the smaller side, with just enough room for a couple of burgers or one large steak. Despite the limited grilling surface, this small grill is still functional with enough cooking power, and it's portable thanks to the grill size so you can have some hot dogs for yourself or a whole backyard barbecue wherever you want. If you prefer the taste of a charcoal grille, click here for the best charcoal grill.
#6 Z Grills ZPG-7002E 2020 Upgrade Wood Pellet Grill
Award: BEST SMOKER COMBO
WHY WE LIKE IT: Grill and smoker combo unit, with a design that also excels with roasting and braising, featuring a highly accurate digital temperature controller and a quick-start ignition system in line with our top pick.
Pros
Digital temperature controller
700 square inches of cooking space
Auto-start ignition & wood pellet very efficient
Cons
Wood pellets do not get as hot as charcoal or propane
Somewhat difficult to install
Can be difficult to remove unused wood pellets
This Z Grills ZPG-7002E 2020 Upgrade Wood Pellet Grill is a fantastically designed product that combines a smoker and a grill into one handy unit, with added roasting and braising capabilities. The digital temperature controller easily maintains a desired temperature and the auto-start ignition system works effortlessly, a feature in line with our top pick. We also loved the 700 square inches of cooking area available, which is certainly on the larger side.
This is a wood pellet-based system, however, and does not get as hot as charcoal or propane grills, maxing out at around 450 degrees Fahrenheit, despite having burners that operate at 25,000 BTUs. Additionally, we found the setup to be somewhat frustrating, though it does come with all of the necessary tools.
#7 Cuisinart CGG-340 Chef's Style Stainless Tabletop Grill
Award: EASIEST TO USE
WHY WE LIKE IT: Extremely easy to use and install, operating instantly once connected to a 20 lb propane tank, with a portable form factor, stainless steel components and a design that excels with large cuts of meat, including whole chickens.
Pros
Portable form factor, weighs just 40 lb
Stainless steel components
Excels with large cuts of meat
Cons
Difficult to maintain low temperatures
3 year warranty could be longer
This Cuisinart CGG-340 Chef's Style Roll-Away Grill is extremely easy to set up and use, igniting as soon as you connect to a 20 pound propane tank and turn it on. The design is portable, weighing just over 40 pounds, and the stainless steel components, including the two 20,000 BTUs burners, are all of a high quality. We also found that this product excelled with large cuts of meat, even whole chickens, thanks to a two burner system that allows the meat to first be seared and then placed over the cool side of the grill for slow oven-style cooking.
Though the 276 square inches of cooking space available is certainly decent, considering the portability on offer, it is still less than what is found with several other items on this list. We also found that it was somewhat difficult to maintain low temperatures of around 200 to 250 degrees fahrenheit, so it might not be the best product to use as a smoker. Another similar option is the KitchenAid 3-Burner Propane Gas Grill, which utilizes 3 stainless steel burners and a sear side burner, which is great for searing meats.
A Beginner's Guide To Grills
When summer approaches, many homeowners break out their trusty outdoor grills. These cooking appliances are a must-have for certain cuts of meat and a plethora of delicious recipes. There are plenty of different kinds of grills out there, from the pellet grill to the charcoal grill, each suited to different tasks. How can you choose the best one for your lifestyle? Follow this beginner's guide to grills and learn everything you have ever wanted to know about your favorite cooking gadget.
What Were the First Gas Grills to be Commercially Available? Humans have been grilling over open flames essentially since the dawn of civilization, though without stainless steel burners. The world's first portable commercially available gas grill, however, was called the LazyMan Model AP and was released in 1954.
What Exactly Is A Grill?
Grilling is a type of cooking in which dry heat, also known as indirect heat, derived from coal, wood, and other fuel sources like natural gas is used to prepare ingredients. With that said, a grill is a cooking appliance that applies the aforementioned dry heat to meats, vegetables, and other edible items. Most grills are placed outside, but recent innovations have allowed for the inclusion of certain indoor grills, though with fewer square inches of cooking space.
STAT: A whopping 64% of US adults own a grill or smoker of some kind! (source)
Using Gas Grills
The first step to using any gas grill is to purchase the appropriate fuel source to maintain a consistent temperature. Gas grills use either natural gas or propane, with the latter being much more popular due to availability. Once purchased, follow the grill's instructions to add the fuel and set the appropriate temperature. Each grill may necessitate unique ignition mechanisms, so practice a few times with your specific grill before laying down any ingredients and use a warming rack after cooking. Alternatives to gas grills also exist, such as wood pellet grills, which have their own start-up process you should become familiar with. Dry runs with pellet grills are useful for learning how hot the grill will get, how many pellets to add, and how long the pellets will burn.
When Did Gas Grills Become Popular? Once the first commercial gas grill entered the scene in the early 1950s, it was not long before grill fever overtook the country and the world. By the early 1960s, many homes owned a gas grill and nowadays that figure stands at 64 percent of all Americans use grill grates to cook pork butt, among other ingredients.
What Temperature Does A Charcoal Grill Burn At?
Charcoal burns hot, as the maximum temperature of these grills goes as high as 1,200 degrees Fahrenheit, depending on the design. This massive heat output makes this a great choice for a variety of cooking applications in an outdoor space, including pizza, but always perform a dry run on a charcoal grill to ensure you understand temperature regulation and can get an understanding of when the charcoal is ready to go. Cast-iron grates help retain heat, though a wood pellet grill will get hotter than a gas grill.
What Does "Medium Heat" Mean? As the name suggests, medium heat refers to maintaining a consistent temperature during use. In other words, when your cooking temperature dial is set exactly to the center, that is medium heat. Calculate your grill's medium heat setting by averaging out the lowest temperature available to the highest consistent temperature available for cooking in an outdoor space.
Cooking Up Barbecue
No matter which type of grill you end up choosing, from a wood pellet grill to a portable gas grill, making a delicious barbecue feast is one of the most enjoyable things to do with it. Make sure to gather plenty of ingredients ahead of time and pay special attention to your grill's temperature and heat distribution, especially when looking for consistent heat.
How Long Does A Grill Last? Grills are fairly durable appliances, lasting anywhere from five to 15 years, though some last even longer. To maximize the lifespan of your grill, perform regular maintenance, use a grill cover, avoid direct heat, and don't slack on conducting necessary repairs.
Choosing A Grill
There are so many grills on the market it can be frustrating to make the correct choice. The fuel source is extremely important, such as lump charcoal and hardwood pellets, as this indicates what ingredients the grill excels with cooking and which cooking methods to rely on. Other considerations include the grill's size and weight, in addition to any additional features, such as integration with smartphones, the inclusion of infrared burners, and add-ons for cooking unique recipes like pizza or a sear zone for griddle-based ingredients.
Step 1. Choose A Fuel Source For Your Grill
The first step to a versatile grill is choosing the correct fuel choice for your lifestyle. Charcoal and hardwood pellets get extremely hot but require increased maintenance both during and after using the grill. Gas may not get quite as hot but offers unparalleled control over the temperature. There are also some modern designs that use electricity instead of an external fuel source, which is also worth considering, as is a kamado grill or three-burner grill.
Why Don't Some Apartments Allow Grills? When improperly maintained, grills can become a fire hazard. Additionally, certain property managers and landlords view them as something of an eye sore. In other words, they don't trust you to use the appliance carefully in the cooking space.
Step 2. What Size Grill Surface Do You Want?
The size of the grill you choose depends entirely on how large your family is, how often you have friends over, and how many gatherings you hold during the summer months. A typical three-burner gas grill boasts a cooking space of 450 to 500 square inches, which is enough for an average household. Large families should look into grills with five or six burners that feature 550 to 650 square inches of cooking space, which is a favorite feature for many.
Step 3. What Kind Of Foods Do You Like To Make?
Your preferred foods and recipes should impact the type of grill you end up buying. If you want a smoky flavor that only wood can impart, go with a grill that uses wood pellets or charcoal as a fuel source. Charcoal is also a great choice for pizza, thanks to the ultra-high temperatures available. For standard burgers, steaks, and hot dogs, a gas grill will suit you just fine, though you should invest in a prep table, storage space, and grill tools.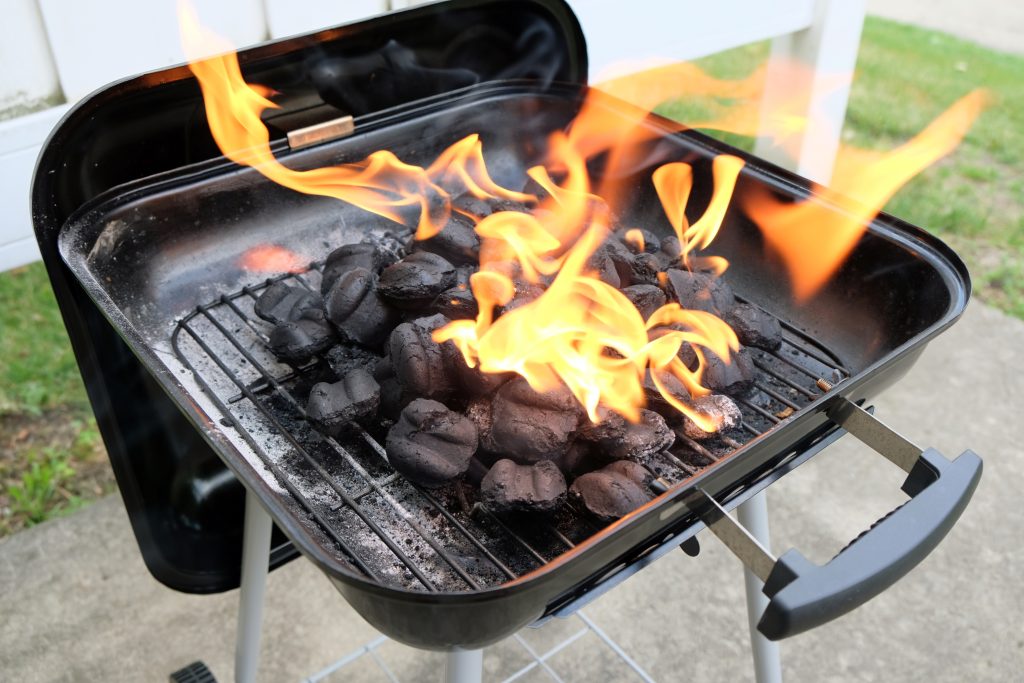 Step 4a. For Charcoal Grills, Consider Your Options
You can't just decide on a charcoal grill and leave it at that, as there are plenty of sub-categories here. There are standard charcoal grills and charcoal kettle grills, the latter featuring a simple kettle-shaped design with a rounded bottom featuring a porcelain coating. Kamado grills take the kettle-adjacent design one step further, with several innovations on the charcoal-based design, and a portable charcoal grill is great in a pinch. Wood pellet grills are similar to charcoal grills in many ways, with a slightly different fuel source. Cheaper grills may not reach high enough temperatures and may not produce grill marks. They also tend to not feature things like an adjustable grill height to let you control how close to the flame your food is.
Step 4b. For Gas Grills, Consider Your Options
Gas grills also include plenty of subcategories, each with its own use case scenarios, pros, and cons. Many modern gas grills, for instance, include charcoal or wood-burning elements to impart a smoky flavor you wouldn't get with pure gas. You also need to decide your fuel source, choosing between natural gas and propane. It's also worth it to compare gas grills to charcoal grills to see if perhaps one is better suited to your needs than the other. A portable propane grill is another fine choice, making for perfect tailgating companions, but for increased heat and reliability, freestanding gas grills are a great option. You may want to also consider something like an infrared grill, which still uses gas, but when compared to other grills, works differently. Infrared grills contain an infrared element that heats the food through indirect heat.
Step 5. What's The Budget For Your Grill?
Your overall budget impacts the type of grills available to you, the size, and any additional features available. Generally speaking, gas grills can be purchased for as low as $100, including a portable propane grill, but prices balloon into the thousands of dollars for advanced feature sets. Charcoal grills can cost as little as $20, for extremely simple designs, and as expensive as $2,000. Be aware, that cheaper grills may not make grill marks during use and may feature fewer inches of the cooking area when compared to other types. The material your grill is made of will have an impact on how much it costs and is worth keeping in mind when deciding. This is true even for grills seemingly made of the same material, like stainless steel, since there are different kinds of steel used in the construction of grills.
Types Of Grills
Gas versus the flavor of charcoal: the eternal question when it comes to grills. Beyond these two types, however, lay plenty of subcategories that each boast unique pros, cons, and use case scenarios. There are wood pellet grills for imparting smoky flavor, portable grills for camping, and grills that boast plenty of add-ons and grilling tools like griddles and enclosures for cooking pizza. Some grills also include stainless steel cooking grates for durability, such as the Weber Smokey Joe.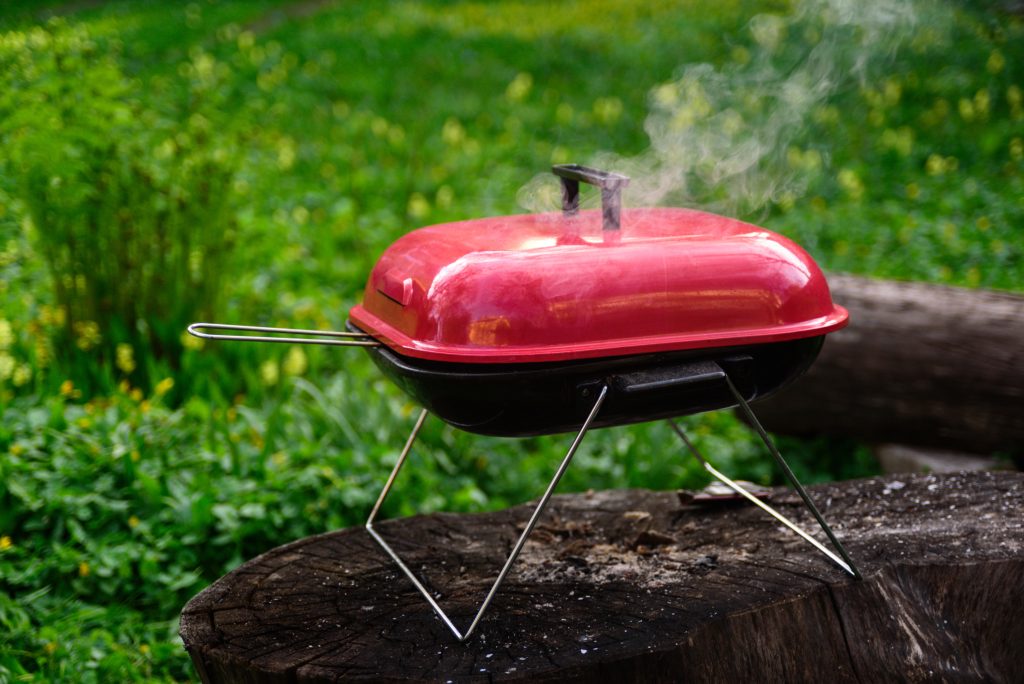 STAT: Gas grills are the most popular type of grill! 61% of grill owners use propane grills, while 49% use charcoal grills. (Source)
Smokers
STAT: Just 10% of grill owners own electric grills, while 9% own natural gas grills and only 3% own wood pellet grills. (Source)
Other Grilling Options
Top Grill Brands
There are plenty of fantastic manufacturers of grills out there. Some of the top companies include Weber, Traeger, Coleman, and Everdure by Heston Blumenthal. Weber is actually credited with creating the charcoal grill back in the 1980s. Nowadays, the company is known for the Weber Genesis, the Weber Genesis II, and the Weber Smokery Joe, among other designs. There are also many boutique brands out there offering unique designs that cater to homeowners with unique tastes, such as George Foreman and Celebrity Chef.
Owning A Grill
Owning a grill is a whole lot of fun, especially during those summer months. However, there are some maintenance requirements to consider. First of all, stock up on your preferred fuel source, like pounds of pellets, and clean the grill after every use. You should also purchase applicable accessories like tongs, foldable side tables, a tool that monitors smoke levels, and burger presses.
Grill Accessories
There are a wide variety of grill accessories out there to suit just about every consumer. Burger presses are easy-to-use thin metal slabs that help you create perfect smash burgers and grill tongs allow you to turn and place ingredients with ease. Griddles allow you to cook eggs, bacon, and such, and pizza enclosures allow you to use a grill to cook legitimate pizza. Other grilling tools and grill tools include stainless steel cooking grates, grill tongs, an upper warming rack, foldable side tables, a sear zone burner, and options for tool storage. Don't forget about a good grill cleaner and a quality grill cleaning brush too – no one likes a dirty grill!
STAT: Long tongs (72%) and grill brushes (68%) are the most commonly owned accessories for grills. (Source)
How Do Grills Ignite?
A grill's ignition mechanism largely depends on your fuel source, but there are some similarities between all types of grills, such as gas and infrared, or charcoal and wood pellets. Electric ignition devices send an electric spark that starts a small fire that interacts with your fuel source, often instigated via a digital controller. Old-school flame-based ignition systems simply light a small flame to get the gas burners going via liquid propane. Some modern grills feature digital controls, like electric grills.
Where Does Weber Make Their Grills?
Weber grills like the Weber Genesis are proudly made in the USA, at the company's Illinois manufacturing plant. This has been the case since 1952, though there are one or two newer models made in China.
Where Does Traeger Make Their Grills?
Traeger used to manufacture grills in the United States but has recently moved operations to China to allow for lower prices and to keep up with consumer demand.
Where Does Pit Boss Make Their Grills?
Pit Boss is a subsidiary of Dansons Inc., which also makes Louisiana Grills. Both of these companies manufacture grills in China.
Repairing Barbecue Grills
Some barbecue grill repairs are DIY-friendly, such as patching up cracks on the exterior and replacing knobs and dials. Many repair tasks, however, should only be conducted by a professional.  The same goes for attempting repairs on anything that's similar to a grill, such as a smoker. While you can repair an electric smoker yourself, we still recommend you seek a professional to avoid further damage and the possible creation of a simmering electrical hazard. But, if you'd prefer to replace it, then you'll want to read our All-Clad electric grill review.
Cleaning Barbecue Grills
Make it a habit to clean your barbecue grill for a bit of time after every use or before every use. Purchase and use a dedicated cleaning grill brush and a cleaning solution that works with the materials making up your grill. Keeping your grill clean helps stave off repair issues, so you won't have to buy an additional grill. If mice are a problem where you live, we have some useful tips for keeping a curious mouse from sneaking into your grill and leaving behind a mess – or worse.
Building Your Own Outdoor Grill
You can build your own outdoor grill to grill with ease, as this is what humanity has done for thousands of years. You can use bricks to create a structure to house charcoal or wood pellets or use a flowerpot to make a DIY smoker grill for tabletop use.
Using Your Charcoal Grill As A Smoker
Most charcoal grills and pit grills can perform double duty as smokers. This involves filling the grill with charcoal briquettes as indicated by instructions, and pouring a little bit of water into a dedicated enclosure. Add more coals every hour or so to maintain heat, which beats learning to light a gas grill. 
Disposing Of Grills
In most cases, you'll have to scrap or recycle your grills, be they pit grills or other variety of grills, as they can't be thrown away in the trash. Start by contacting a local recycling or scrap metal salvage facility to see if they accept old grills.