I've lived free of a physical house key for well over 3-years. And boy do I love it.  I know, I know. It sounds like a gross over statement.  But it's only when you free yourself of the burden of a physical key do you realize, well, how much of a burden it was. That is why you need to get the best smart lock.
How did I do this? Simple: a smart lock. My quest for a house key free life began with a Schlage keypad. It proved the best of the bunch at the time of its release, as it required no phone; just a 4 digit pin. However, over time I realized that it would be nice to be able to remotely lock/unlock my home's door, as well as track those that enter. Schlage offers an add-on box for accomplishing this feat, but with it comes a monthly service fee of $10. Hardly worth it, especially in light of the newly announced smart locks.
So I switched to the Kwikset Kevo, and while the experience wasn't perfect, it worked. Just tap the outside of the deadbolt, and the door unlocks. However, I noticed that my home's WiFi, or lack there of, was getting in the way of a speedy authentication and the feature set wasn't as robust as some competitors, namely August. So what did I do?
You guessed it. I switched to August a few months (almost) ago and so far I'm loving it. Sure, I can no longer touch the deadbolt to unlock, but with it comes a host of features not included on the aforementioned, which includes auto unlocking when you arrive home, a more reliable remote lock/unlock, a more timely log update of those entering, and perhaps best of all: a key pad (new in May 2016) in the event my phone dies. There is a doorbell offering, but since I don't have the wiring in place, or an existing doorbell, I decided to forgo that unit.
So keep reading my August door lock review to find out more!
Overview
Price: $229.99 on Amazon or $199.99 w/out HomeKit
Available: May 2016
Model: ASL-02/Second Generation
WHY IT'S A TOP PICK: The best smart lock with the best features.
What We Liked
Easy installation for even novices
Auto unlock negates hands (or feet) involvement
Fast at reacting
Easy to use app
Unlimited Keys and Access + works with 3rd party services
What We Didn't
Auto Unlock can be troublesome
Keypad was buggy
August Smart Lock Specs
Security
128-bit Encryption
Battery Life
6-9 months
Homekit Enabled
Siri Compatible
Auto Unlock
Apple Watch App
Remote Unlock
Size
3.39" (H) x 3.39" (W)
x 2.22" (L)
Buy Now
Design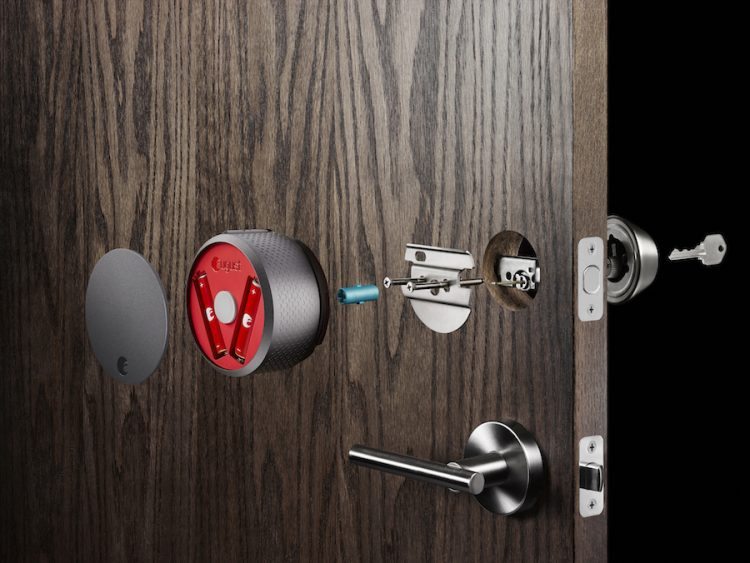 Let's get this out of the way: the August's interior component is perhaps the largest and most obtrusive of any smart lock. That said, that's the only part of the August as it replaces the interior portion of your existing dead bolt, the thumb turn, and leaves the cylinder in place. This is important to note, especially if you have a land lord who still needs to access the property, as the existing keys remain compatible, unlike the Kevo. Though in all fairness, the Kevo can be re-keyed (using an old key) in a few steps, though I haven't done it. If you haven't upgraded yet, also check out the August smart lock review.
Inside the August
Inside of the August is not only a set of batteries, but a motor that turns clockwise or counter clockwise to unlock or lock your door, respectively. Hidden behind the August's battery plate, which is held in place via a set of magnets making it easy to remove, are a set of led lights that flash red to indicate when the door is locked, or green when it's unlocked – it can be seen through the battery cover when in place. The lock also emits a tone when each aforementioned task is completed, allowing those on the exterior of the door to know when to open, or the door has been locked. Interested in opening and closing the door with a backlit touchscreen keypad? Click the Yale assure lock review.
Keypad
My unit shipped with the keypad, which must be purchased separately for $79. Right away I noticed how light the keypad is. To that end, it's not all that sturdy, though the buttons are rubber and should survive rain. Hopefully they're not impacted by the sun, like my Schlage was, though in all fairness that device had a more touchscreen like facade.
The August keypad is more like a traditional keypad, which makes it an actual tactile button. Because the keypad connects to the August lock via Bluetooth, it can be mounted any where using either a set of included double sided stickies, or two very small screws. I opted for the screws, which I drilled into my door's wood frame after inserting them through the holes located on the keypad's battery door. And yes, the keypad can be easily ripped off or removed. But there is little to no motive to do so, unless it's an attempt at being a nuisance, which could also be achieved by throwing a rock at your door or windows.
Installation
Now, I've installed a few smart locks, so I knew what to expect, at least for the most part.
Nevertheless, total installation time for me was just about 20 minutes. This included removing the Kevo and placing my old lock's exterior parts (something you may not have to do) back into place – just the cylinder.  Tool wise, all you'll need is a screwdriver.
To install the August, you should start by placing the included strip of blue tape on the outside of the lock to keep it in place. Why? Because when you remove the interior part, the thumb switch, you'll be removing the plate which keeps it securely in place. I have to note that the included tape is a nice touch on the behalf of August. So kudos to them.
Installing the Actual August Lock
Once the interior part of the existing lock has been removed you'll need to install the August mounting plate, which fixes on to your existing lock. The instructions indicated that the August comes with three mounting plates, though mine just came with one. Fortunately, the plate I had worked with my lock, lining up the screws – you'll know you have the wrong mounting plate if they don't line up straight.
Next, it's just installing the correct plastic attachment over the axel of the lock – the piece that turns the lock and unlocks the door – as this latter piece makes your existing lock compatible with the August. There are three included and the instructions, as well as trial and error, makes it easy to find the correct attachment. And once this is installed, you're ready to install the actual smart lock.
From there it's just a question of flipping up the August's tabs on either side, slide it into place, and secure the locking tabs. Finally, you'll want to remove the battery cover – just push on the bottom portion and it will angle out of place – and remove the plastic tabs covering the batteries. And now it's time to setup your August Smartlock.
Setup
This is the easy part. Just download the app, fire up the app and it will walk you through getting your lock activated. You'll of course need to be in Bluetooth proximity to your August, as well as setup an account.  But it shouldn't take you more than a few minutes.
Homekit
And because the new August works with HomeKit, allowing you to unlock your door by speaking to Siri, you'll need to grant access accordingly on your phone.
If you have roommates, or family members, you can send them admin or guest access via the app (as many as you'd like), as well as provide temporary access to guests. However, only admins can access Siri's speak to unlock feature.
That said, all guests can have a pin for the keypad – 4-6 numbers. However, they won't be able to access the lock remotely or auto unlock the August when they arrive at the door.
Keypad and August Connect
To add a keypad and August Connect, the app will walk you through the steps, but you must be in Bluetooth proximity of your the August lock.  The August Connect will provide remote access any where you have an Internet connection on your phone.  With Connect you can not only check on your lock's status (locked or unlocked) or remotely unlock it, you can also setup Auto Unlock.  You'll need to purchase the Connect box for an additional $79. Setup is ultra simple, provided you've got your home's WiFi password and free AC plug.
How Auto Unlock Works
Auto Unlock works by using your phone's GPS to determine your location. When it detects that you're within 100-300 meters, it pre-preps the August smart lock to unlock. And once you're in Bluetooth range of your August – because it's looking of your phone – it will automatically unlock the door upon approach. But I'll get more into that in minute.
Using the August Lock
Once you've got the August lock installed and setup there are two fundamental ways it can be used: open the app, connect via Bluetooth and then tap the circle to lock or unlock your door. The status of the lock is indicated by red for locked, and green for unlocked.  The other method, which I much prefer and is perhaps the best feature of any smart lock, and not found in the Kevo, is the August's ability to auto unlock.  Yes, you read that right: auto unlock.
Auto Unlocking
To ensure this feature is active just open the app and look for it in the settings menu. There you'll tell the August lock where your lock lives (i.e. your home address). Once you do that the August lock will continuously check your location. When it detects your within a few hundred meters of your home, it will prep the lock and tell it to begin to look for your phone. And once you're within Bluetooth range it will automatically unlock your phone. And worry not, as it doesn't, at least in my experience, have much of an impact on your battery life.
Auto Unlock Troubleshooting
Now, to be candid, I did have issues with the Auto Unlock feature in the beginning. My resolve? I started by searching the August website trouble shooting section. There August's trouble shooting section instructed me to log out of the app, toggle my iPhone's location and Fitness Tracking features off then on, – I'm not sure why it needs Fitness Tracking info and then log back into August. It also recommends that you don't open the app while at home, but avoiding that is very tough. After completing all of the aforementioned steps the Auto Unlock feature has worked every time. Allowing me to come home, car, foot or mini-Segway and seamlessly open the door without removing my phone. Occasionally I'll reach my door and it has yet to unlock. And rarely does it unlock all together. It seems to work best if I leave the proximity of my home more than a few hundred meters and for longer than 10-15 minutes.
August Keypad
On the other hand, my experience with the August Keypad has been less than stellar when it comes to the keypad. It's quite buggy and inconsistently works. My housemate was locked out for 10-minutes one night at 2am and was only able to regain access to our house by using the August app. And it would seem that the keypad might be interfering with the August lock's Bluetooth connection to phones, as he had to wait to use the app to open the door. The keypad is backlit, which is handy, but seems to flash intermittently. And with that emits a buzzing noise, which might be related to the connectivity issues. The August Keypad is a new accessory to the August Lock, so there is a good chance that I got an early batch. Nevertheless, it's disconcerting how inconsistent it is, especially since it's a lock and may be the only way to regain entry, especially if my phone dies or I lose it.
August Connect
The Connect is a nice to have and can offer peace of mind. How so? Open the app, tap the WiFi button and the app will connect to your August smartlock where ever you are in the world indicating the status of the deadbolt as locked (red) or unlocked (green). You'll know you're not remotely connected if the app's circle remains gray. But once it lights up in color, you'll be able to remotely unlock or lock your door with a simple Internet connection. And that's not all: you can check the lock's "activity log", seeing who has come or gone from your home.
August Speed
Compared to the Kevo smart lock, the August is 5x times faster to unlock the door. Sure you can't tap the outside of the deadbolt to lock or unlock the August, but once the app is open and connected, tapping the red circle almost instantly unlocks the door. And don't forget: you can just ask Siri to unlock your door.
Other Features
Push Notifications: You can receive notification when someone locks or unlocks your August smartlock.
Guest Book: This will hardly be used, but anyone with access to the app can write a message.
3rd Party Services: Rent your home out to Airbnb guests? No problem. Just connect the August app with your Airbnb account and they'll gain access once you confirm their booking. Get deliveries from Postmates? Delivery people can receive one-time access.  August integrates with a number of services and is always adding more.
Security and Lost Phone
Now, most people will point to what happens if you lose your phone or it's stolen. First off, August uses 128-bit encryption. Second, that's far more secure than a physical lock, that a) can be picked b) copied at any hardware store and c) lost without any way of tracking it down (i.e. there isn't a find my key feature). If you do lose your phone, and you fear someone may have gained access to it, you can log yourself out of the August app remotely by visiting this URL, entering in your email. Do that an August will email you a code you enter into that page where upon you'll be logged out.
August Door Lock Review Final Thoughts and Wrap Up
Save for my issues with the Keypad, I'm loving the August lock. It's faster than any other lock I've used, the Auto Unlock feature makes entry almost seamless and while it won't carry your groceries, it's a nice feature to have especially if you don't have a spare hand to reach for your phone.
In my case, installation was ultra simple, largely because the mounting plate that was provided happened to be the right one. It would seem, provided all three are in the box, that it should be none issue, but could add a greater level of complexity to the installation, only because it requires some trial and error to find the right one. That all said, the August should work with any stand alone deadbolt, and for those that are averse to remove the entire lock, it's a great solution, if only for that reason. Moreover, the August, unlike some other smart locks on the market, works with deadbolts that's outside handle is a single piece, as it only replaces the inside mechanism.  And finally, existing keys continue to work without any issue, which makes it not only accessible to landlords, but to those that need some time to warm up to the idea of using their phone to unlock the front door.