Home security has become a big issue now that there are mobile devices, but the majority of these videocamera products work inside the home. That might be okay if all you care about is who is already inside, but what about someone on the porch or knocking on the front door — what do you do then? Not much if you've a mobile device, but plenty if you've VTech's IS7121-2 Audio/Video Doorbell. That's because it doesn't just connect you to whoever is out there regardless of where you are inside, but it also provides two forms of visual confirmation so you don't have to rely on someone saying "UPS" or "Mailman." And it gives you a full functioning landline-based phone center/answering machine too. These are some of the things that make this camera one of the top-rated home security cameras.
The Audio/Video Doorbell consists of three parts: a videocamera module that goes on the outside, a base unit and two cordless phones (plus a charging cradle) which charge when not being used. Breaking it down even further, the videocamera module has a push-button that rings to the phones, each of which has a 1.8-inch LCD color video panel. If set to default, up will pop a still picture of whoever has pushed the button — day or night since the camera's night vision enabled — while at the same time, a voice will announce the caller by name (providing that a subscription to Caller I.D. is in effect). There's also the option to stream video once the connection is made — limited in time but long enough to see who's who. Memory holds up to the last 100 pictures so if someone shows up and then leaves when you're not in, you know who that is. But if the button isn't pressed, nothing happens — there is no motion-detection features. Check out the Swann Ads-450 Swannsmart Wi-Fi Network Camera With Secure Cloud Storage review for a camera with motion detection and cloud storage capabilities.
The built-in wireless system means your home network (if there is one) is not involved. Meanwhile the base station is also routing regular phone calls to the handsets through a landline phone connection (i.e., it's a telephone). Actually let's delineate the base station/phone a bit further before we get to the "good stuff."
What the Audio/Video Doorbell does best with regular phone calls is to transmit them to the handsets for cordless calls over a 60+ foot radius (I checked this) and enhance the calls using equalization and other digital enhancements (VTech calls it HD Audio). You can also talk between the two handsets  — Push to Talk — which is a nice way to have the equivalent of a mini-intercom system. The base unit also has a digital answering machine that works in the expected manner; you can record an outgoing message and access calls when away. Setting up the base unit for telephone use consists of a few wired connections (for the phone, for the power supply) and following the instructions by working the menu on a handset that is in the base unit.
The Audio/Video Doorbell's physical setup is straightforward but can get a bit sticky as regards the doorbell/camera module. Batteries inside will activate the doorbell and provide limited video transmission time — for this reason it's best to use a connected AC plug for power. This does mean either accessing an existing doorbell's wiring for power (best done by an electrician as we're talking potential shock) or running a hole through the door or module placement to access an indoor power supply. For the test done, AC power was connected and the module positioned on a door using temporary means.
The camera angle can be adjusted at the back of the module, with its wide angle lens making up for any slack. Through use of video streaming, positioning can be set. But what must also be taken into consideration is that  any backlighting will impact the lens' image negatively. Of course this has no effect if used in the dark, since there is a pair of infrared LEDs providing night vision capabilities (black and white only).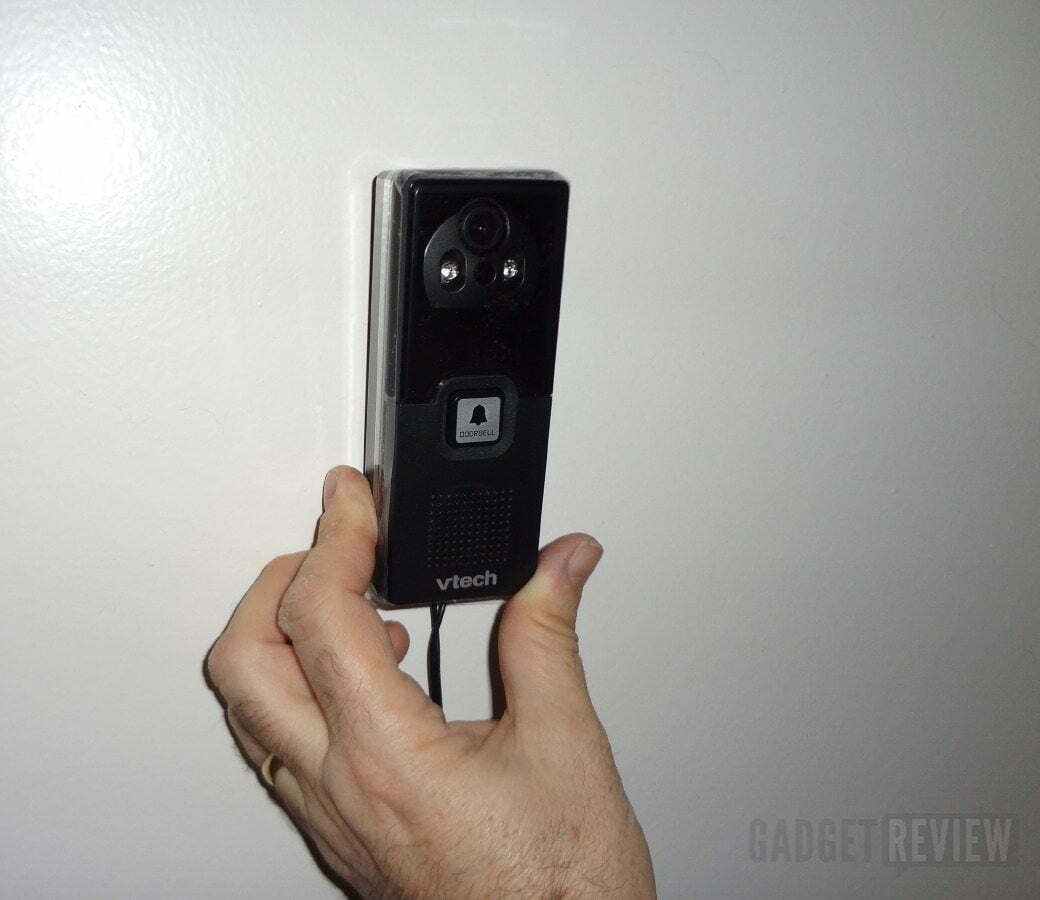 I had my wife go onto the balcony with a handset (50+ feet away from the front door) while I went outside and pressed the buzzer. We had a short conversation (the mic can be turned on/off as desired) and when I went back in, she showed me the picture that had been taken and was now stored in memory. We repeated the test, only this time I had the handset so I could turn on/see the video being streamed of her outside. The video is a bit jerky and definitely low resolution, with pictures (color or black and white) more easily discernible. Still, from a security point of view, it was pretty neat being able to "see" video outside the home. Take a look at our Wyze Cam Pan review for an affordable home security camera.
Bottom line: The VTech IS7121-2 Audio/Video Doorbell provides an entire package: it's a fully featured landline-based telephone/answering machine, an intercom system and a secure system for actually seeing who is at your front door. This makes the price of $199.00 not just reasonable but attractive.