This monitor may be a candidate for the best gaming monitor for PS4.
Did it perform well enough to elevate my game? Is it better than the Acer Predator XB271HU 27-inch Display? Read the rest of this buyer's guide and I'll let you know. First, take a peek at our list of the best computer monitors around.
Is The ViewSonic XG2700-4K Gaming Monitor Worth The Purchase?
One quick way to level up your game is to invest in the best gaming monitor, ideally like one that looks great and saves space, such as the ViewSonic VX2252MH 1080p gaming monitor. Sure, you want a quality headset and a decent controller/keyboard too, but let's focus on the monitor right now, because I recently checked out the 27 inch ViewSonic XG2700-4K gaming monitor and spent a lot of time research it.
The ViewSonic XG2700-4K monitor is a popular choice whether you are gaming on your PC, your Xbox One X, or PS4. It shows up on a lot of best-of lists, so I had to check this 4k monitor out and see if it is good enough to make my 4k gaming even better. It has decent connectivity options, and an IPS panel technology monitor with features like AMD FreeSync, which is similar to Nvidia's G-Sync, and decent connectivity options. This is like the multiple connections you'll find on the ViewSonic VX2776 4K MDH monitor. Be sure to check out that review, too.
Pros:
Beautiful Image Quality

Plenty of Connectivity Options
Cons:
Not As Bright As Others On The Market

Chunky Bezel
Design
When it comes to design, monitors are all basically the same, so the question is always, how does it stand out and make itself stylish compared to the competition? The design is nothing to write home about on this 4K gaming monitor. It's pretty average and it has a big chunky bezel. Despite this, I've seen a lot worse. I would call the design average. The XG27004k may not look like much, but there's more to the story on this 27-inch gaming display, especially when you're learning about what 4K monitors are really all about.
Related: For something different or more appealing, check out our ViewSonic XG3220 review.
Response Time
The ViewSonic XG2700-4K has a quick response time of 5ms which means seamless gaming performance and rich visuals with little or no delays in the images. I didn't experience any stuttering, ghosting, or tearing. Whether you are playing a world war game or a puzzle game, it looks awesome and delivers great gaming performance.
Related: For a faster response time, check out our ViewSonic XG2560 review.
Refresh Rate
The refresh rate on this 27inch gaming monitor is 60 Hz. This means that the screen will refresh 60 times per second. There are monitors with higher refresh rates out there, but this one does an excellent job at 60. I played hours and hours of games on this bad boy and it all looked amazing. You could go with a display that offers 144hz gaming, but honestly, that's overkill. Anyway, AMDs FreeSync anti-tearing technology goes a long way toward making things perfect. Any monitor that uses AMDs technology is a keeper right now because it helps to deliver ultra-smooth gaming performance.
Connectivity Ports
This gaming display has a lot of connectivity options for your media players and other devices. It gives you four USB 3 ports, three HDMI 2.0 connectors, a DisplayPort jack for your DisplayPort cable, a mini DisplayPort plug, and an audio jack.
Other Features
Other features that gamers will especially love about the Viewsonic XG27004k 27inch are FreeSync monitor technology for smooth frame rates and the elimination of motion blur. Amazing black stabilization and low input lag. Can't stress enough how cool that AMD FreeSync technology is.
Bottom Line and ViewSonic XG2700-4K Wrap Up
This ViewSonic XG2700-4K gaming monitor has a great 1000:1 contrast ratio that will allow you to see everything that matters in the game. It is an IPS panel monitor that gives you viewing angles of 178 degrees and most users will find that the connectivity options are just right. Image quality looks stunning with rich accurate colors and screen uniformity. The color settings are top-notch as well as color accuracy. This is an HD gaming monitor that has a superclear image all around and low input lag. The addition of FreeSynch on this monitor is perfect for gamers. Whether you are gaming on a console or PC gaming, this monitor is a solid choice. Of course, if using a PC you have to make sure that your graphics cards are good.
Not quite Ultra HD, but I love gaming on this IPS gaming monitor and I'm used to a curved gaming monitor. It is an awesome 4K FreeSync model even if it isn't 4K ultra HD gaming monitor. It feels like one thanks to that picture quality. The well-equipped ViewSonic XG27004K is a great gaming accessory at a great price.
Some other notable models for video games out there are the Acer xf270hua, Acer Predator, Acer Predator XB271HK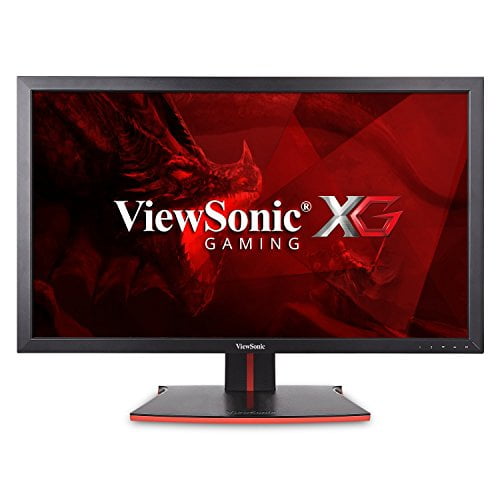 You're going to love this gaming monitor. It hits all the right notes for any gamer. And, if you need help with pairing the right monitor to your gaming console, check out our resource article on
how to connect a monitor to a gaming PC
.
Related Articles: