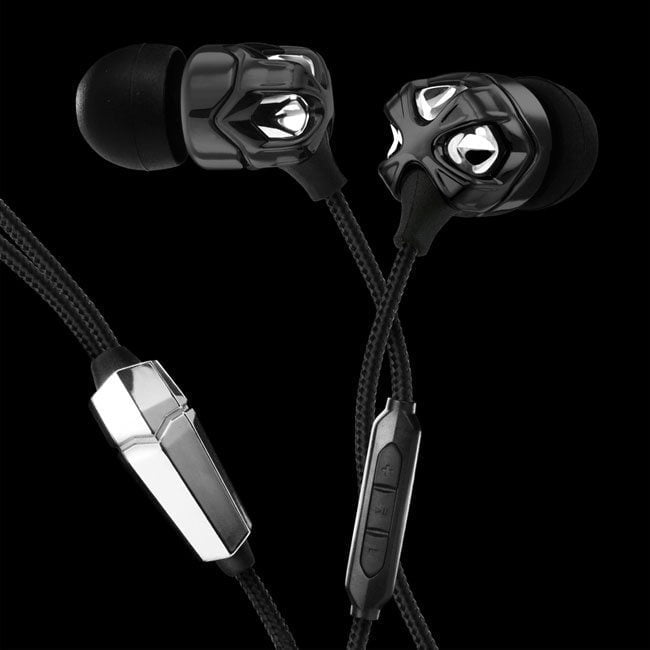 My colleagues and I have held long and in-depth dialogues on the purpose and design behind the science of earbuds. No not the meaning of life–we "gadgeteers" indulge in more esoteric musings such as the purpose and focus market for earbud earphones. Earbuds can often present more problems than you think. Such concerns of old include comfort for various ear sizes, unwanted heft that can pull the earbuds from your ears, and hygiene, where keeping the silicone fittings germ-free can be challenging. We have also had dialogues about the best earbuds and what makes them so good.
For more great headphones, check out our JVC HA-NCX78 multi-noise-canceling earbuds review and Etymotic Research HF5 review. For great V-MODA model comparison, check out our mashup of the V-MODA M200 vs M100.
V-Moda makes a valiant effort to address each of these issues in their overachieving Vibrato Remote Zinc Metal noise isolating earbud headphones. The product is elegant in its shiny black motif with stylized designs and chrome accents. Additionally, the Vibrato Remote set comes with a small hit-squad of accessories to aid in comfort and accessibility. Let's see if these babies can bend our ear away from the exalted a-Jays Four earbuds we currently hold so dear.
The Vibrato Remote noise-isolating headphones are packaged to impress. It's different from how noise-canceling headphones work. And, both of these are truly different than how Dolby Atmos work for headphones. They come in a sizeable hard plastic box, which ends in a diamond-like shape at the top. This plastic jewel contains earbuds, four different black ear fittings, and four different clear ear fittings. Each is made from BLISS 3.0 silicone. The four options represent various sizes (XS, S, M, L). The various ear fittings speak to both the hygiene and size concerns mentioned above.
You will also find a pair of sporty "ACTIVE FLEX" earhooks. Just slip the cord through the slots on the earhooks. Voila! This actively combats the issue of weight and heft, which causes many earbuds to slip from your ears. With the earhooks, the earbuds remain secure and supported, without compromising comfort. You also get an Itlanian-styled faux leather carrying case to keep all collected on the go.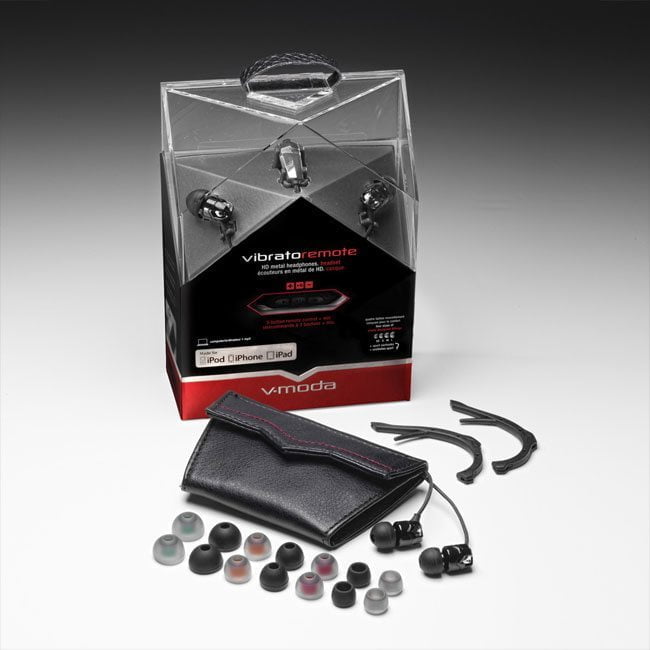 Related: As an alternative, take a look at our V-Moda ZN review, especially if you like earbuds with excellent sound quality.
The V-Moda Vibrato Remote headphones accommodate your desired fit as well as your lifestyle. You can expect these little guys to work with most smartphones and all audio devices with a 3.5mm port. The in-line 3-button volume control lends itself to easy phone use such as answering and ending calls, accessing call waiting, and more. You can also play, mute, and skip forward and back through tracks for your audio listing. The in-line controller also houses the mic and hangs very close to your chin. So take care not to obscure or muffle the mic.
When in use, the Vibrato Remote excels in mid-range clarity and noise isolation. In this they are unmatched. The a-Jays Four is definitely the heavier hitter with regard to bass, almost to the point of mid-range clarity loss. Simply adjust the equalizer on your playback device to add a bit more bass were desired when using the Vibrato Remote headphone set. With a "Flat" equalizer the clarity is fantastic. Vocals and instrument diversity are recreated with distinction and clarity. Punch in a little more bass and nothing is compromised. The clarity remains with no ill effects and everything remains crystal, even if you max out the volume. These are another great pair of earbuds for bike rides, jogging, and general outdoor recreation. The noise isolation is formidable and does not balk in the face of manic metropolitan life.
My only complaint is the price. They are nearly double the cost of the a-Jays Four. While superior in audio quality,  I can't say the performance is twice that of the a-Jays. But V-Moda makes a great argument in all the accessories and comfort options included with the Vibrato Remote Zinc Metal noise-isolating headphones.
Related: If you like these earbuds, you will also enjoy reading our Ultimate Ears 500Vi Review.
Editor Rating:
[Rating: 4/5]
Great
Bottom Line: The V-Moda Vibrato Remote Zinc Metal headphones trump the recently reviewed competitor in performance and comfort. Just remember; you get what you pay for. So expect to pay double.
Pros
Elegant  and sleek
Oustanding performance and clarity!
Substantial comfort options
Earhooks steal the show
Cons
Nearly twice the cost of competing brands.
You can buy the Vibrato Remote Zinc Metal noise-isolating headphones at Amazon for $119.99.