[rating:4.5/5]
This is the second time I've had the pleasure of tackling a pair of earbuds by Ultimate Ears, and while the first pair featured an experience driven by pounding bass, the 500vi's looked like they would be a much more refined experience. I had heard they were in a league far beyond what their price point would suggest, but I had to perform my own testing to see if that claim was valid (or if I could make the case that it was the best earbuds I had tried).
I was hoping that Ultimate Ears would have updated the case that houses the earbuds so something better looking than the one that came with the 350s. It's a hard shell plastic case, and it looks like a miniature clam. To get the earbuds to even fit properly, you need to wrap them around your finger, and then stuff them in as best as you can. There are much better solutions that I've seen (even the cloth bag that the Astro earbuds come with was better), and while it's a small gripe, if I'm going to be keeping them in my pocket I'd like for them to feel comfortable in there.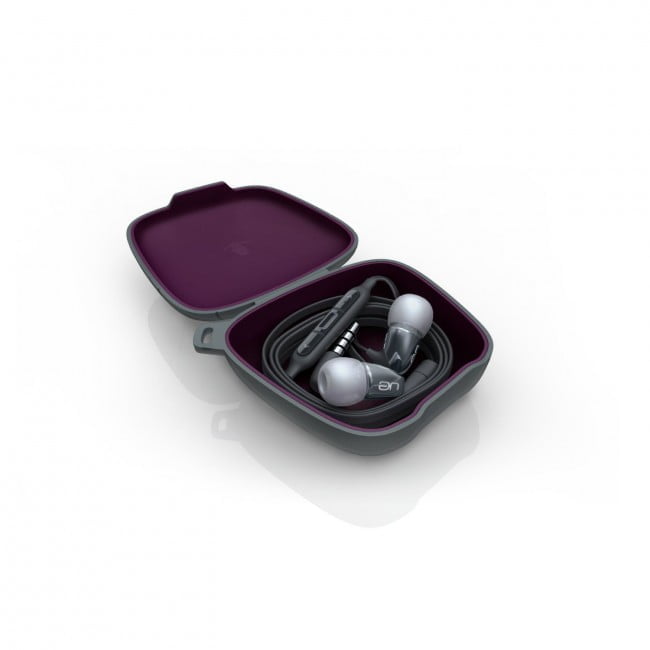 Related: If you prefer earbuds that are water-resistant and come in a slightly better case, check out our Ultimate Ears 350 review.
That out of the way, I can talk about the more important things, like how they sound. Similar to the Ultimate Ears 3D printed UE11 in-ear monitor headphones, the Ultimate Ears 500vi have a richer, fuller sound than the 350s did – yes, the bass does take a hit in the 500vi model, but it sounds more like a regular headset now rather than having a subwoofer strapped to your skull. With these, the bass is much more refined – however that could be said about all of the sounds. The highs are crisp and clear, the mids are right there, and no distortion comes from the lows. For a pair of cans with great sound quality, read our Logitech UE 9000 wireless headphones review.
I've listened through Klipsch and Creative earbuds that don't deliver on the richness of the sound from the 500vis, but cost a good deal more. If you're just looking for a pair of earbuds for your iPhone however, and don't plan on listening to much music, these will work equally as well as the Torque T103Z headphones. The mic doesn't have a hard time picking up your voice, however it doesn't end up picking up background noises (unless they're overly loud). The voices coming through the other end are also quite easy to hear; I never once got any sort of distortion through voice calls.
Related: Also check out our V-Moda Vibrato Remote Noise Isolating Headphones review if you like noise-isolating headphones.
A very nice feature of the 500vi model, is that the cord is flat – I ended up just tossing these earbuds in my pocket because of my feelings towards the case, and not once did they get tangled up. The in-line controls are nice and responsive as well – one of the biggest issues I have with my Astros is that when I lean on something, I tend to pause my music because of where the controls are. Not so with the 500vis, the controls are designed so that's not going to happen.
The 500vi earbuds come with five sizes of tips for various ear sizes, but they also come with a pair of Comply Foam Tips. Just like putting in a pair of industrial ear plugs, the Comply tips expand to fit the inside of your ear – the result is a fit that won't fall out, and doesn't let any sound in. The 350s I reviewed only had a noise-canceling rating of 22dB, but the 500vis has a rating of 26dB. And, the Able Planet PS400 stereo headphones have an 85dB rating. While 4dB might not seem like a lot to an average person, ask a construction worker just how big of a difference that 4dB can translate into!
When all is said and done, I think I have found a replacement pair of earbuds to use with my iPhone. They're equally good for listening to music and for taking a call, and because of that, I give the 500vi by Ultimate Ears a solid rating of four and a half stars out of five.
Pros:
Tangle-free cord
Comply tips offer a perfect fit for any ear
Sounds better than more expensive models from other brands
Cons:
Poor design for the case
Plastic feel – the faux metal look feels cheap
The L-shaped connector sits higher than I would have liked
You can pick up the Ultimate Ears 500vi from Amazon for $76.88