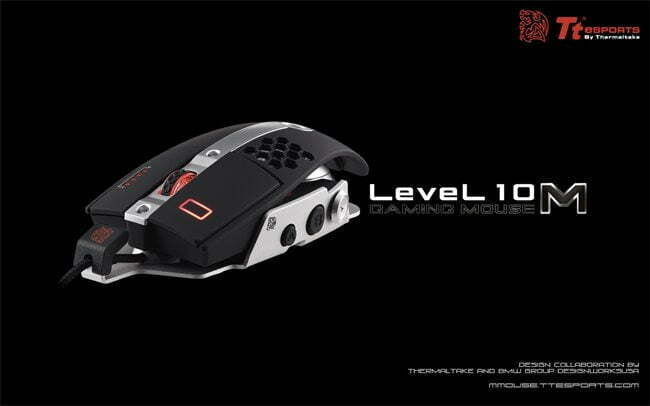 After several delays and a rather crucial design change, Thermaltake has finally kicked out the highly anticipated Level 10 M laser gaming mouse, designed by BMW Designworks (yes, that BMW). The Level 10 M is meant to enhance and complement the Level 10 line of peripherals and accessories. This is a premium series of products, which you might find a higher-end boutique PC manufacturer (Origin, Maingear, Digital Storm) using to construct their premium wares. Pair this gaming mouse with a keyboard from this best gaming keyboard list.
Just look at this thing. It's truly a work of art, in its black-on-chrome motif. You can also get the Level 10 mouse in army green and white, with a limited Edition candy red coming soon. The styling includes a relatively open-air design, so air flows underneath your hands to prevent perspiring. The base is aluminum and quite sturdy. It offers up to 7 programmable buttons, a 4-way HAT switch (quad-directional switch), an amazing and totally useless super high 8200dpi, and an option to customize the LED lighting in 4-different locations on the mouse.  Plus, the unit comes with an Allen wrench to make adjustments to both the height at the palm and tilt orientation (more on that in a bit). Level 10 uses the new Avago 9800 laser sensor on the laser side of things. The same sensor is also used in the impressive Gigabyte Aivia Krypton mouse. This is an updated version of the Avago 9500 used in the SteelSeries Sensei Fnatic mouse we reviewed at the beginning of the year.
The Level 10 M seems to be hitting on all cylinders: great looks, original design, choice of materials used, and a high-performance laser sensor. The unit also ships with a robust software suite that offers nearly identical features to most other gaming mice. You can adjust dpi sensitivity settings (4-setting options per profile), record macros, and save the 4-different profile. I don't particularly care for the look of the software. The main page is very busy and confusingly cluttered. It comes off, as lacking refinement and care. SteelSeries, Razer, Mad Catz, and Gigabyte all have this down. TteSports and Thermaltake should take some pointers.
Related: View the SteelSeries Apex Raw gaming keyboard review
Comfort and performance are similar letdowns. Let me stress, I love the way this mouse looks. Plus, the main left and right buttons feel better than most mice on the market. Beyond that…hmm… Well, again, the look…?! It's HOT! But it's just no fun to use. It caters to claw-style mouse grip only. There are no ergonomics in the slightest. There seems to be plenty of room for a thumb rest, but it didn't make the cut. That's too bad. I have tried endlessly to like the feel and performance. But it's not enjoyable. My thumbs keep hitting the overly sensitive side buttons. Moreover, placing DPI setting switches next to thumb buttons is not a good idea. Not smart!
Additionally, the laser sensor may be one of the best. But when paired with an uncomfortable rodent, all you get is sexy-looking vermin. The Avago 9800 is a super precise laser sensor. But if the lack of comfort hampers control, then all that precision is useless. The Gigabyte Aivia Krypton mouse makes much better use of the same sensor than the new SteelSeries MLG Sensei (review pending).
Thermaltake does make a few stabs at innovation. I mentioned the included Allen wrench for making comfort adjustments. This is similar to the included Allen wrench in the Mad Catz R.A.T. line of mice. But it doesn't compare to the work the mad felines have skillfully pioneered. The R.A.T.s house the wrench on the mouse. The Level 10 is kept in a foam mold, making it really easy to misplace. The wrench is only used to make adjustments in two places, and neither is useful. You can make the mouse taller/shorter or lean more to the left or right.
Related: Read the Tt eSports Challenger Ultimate gaming keyboard review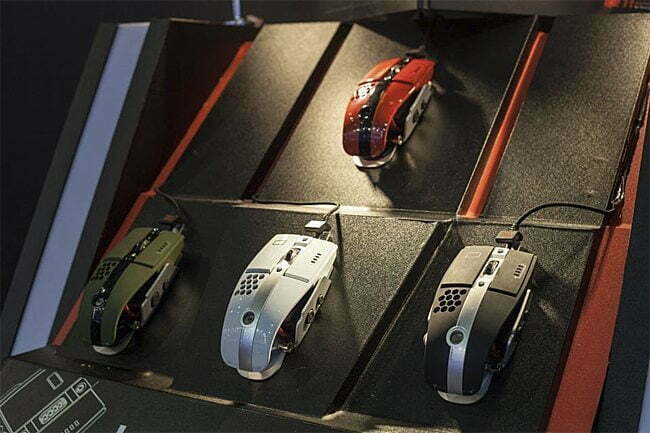 I can't tell you how disappointed I am in this product. I had such high hopes. My Level 10 PC case is one of the best and most innovative PC products to hit the enthusiast market in quite some time. It was ridiculously expensive and niche, sure. But it was and is awesome. The Level 10 M laser gaming mouse is priced right–so that's an improvement in the in-line. But everything else is well below the "10th level".
Editor Rating:
[Rating: 2.5/5]
Fair
Bottom Line: I wanted so badly to like the Level 10 mouse. I love the PC cases in this line. But the new BMW-designed gaming mouse is an unworthy lemon. I'd be on the phone 7 On Your Side if it were a car.
With that said, you'll want to check out the Tt eSports Volos gaming mouse instead.
Pros
Looks fantastic!!
Avago 9800 laser sensor
Buttons feel great
Cons
Uncomfortable
Poorly placed buttons
Overly sensitive buttons
Cluttered utility suite
If you're curious about more mouse functionalities, check out our info guides to learning about computer mice and what a mouse's sensor is.