Corded headphones are fine for sedentary activity. But when it comes to exercising you'll want a cordless solution. And one doesn't need to look any further than Tenqa's Fit Bluetooth headphones for working out.
They cost a mere $69 and provide up to 5.5 hours of playback on a single charge via the always ubiquitous microUSB plug. Although, the Optoma NuForce be sport3 Bluetooth headphones is quite nice, too, and are only $10 more. Pairing is ultra-easy with any Bluetooth-enabled smartphone and thanks to aptX compatibility, much if not all of the sound quality is retained. Speaking of sound quality, check out some of the best headphones on the market.
In the package, there is an assortment of tip sizes, all of which work with a special ear insert to help keep them in place during rigorous activity. It's effective at keeping them in place, but like any headphones, it will partially depend on the physical makeup of your ears, otherwise known as the contours. If you so choose you can ditch the stabilizers altogether, but since they never proved uncomfortable after more than an hour of use, I don't see why you'd want to.
Related: If you like these headphones, you might be interested in our Torque T103Z Headphones review.
Controls include a small power-up button located on the inside of the right headphone that is flanked by a volume rocker switch. Hold it down and you can skip or reverse tracks, which is denoted by a tone. But be warned, if a track isn't playing, or a track is taking some time to load (via Spotify), it will dial the last caller in your phone's past call list – in my case this happened with a Galaxy S4 from Samsung. That said, you can answer calls just by hitting any button, and chat using the built-in mic. When prompted, callers said they could hear me loud and clear – there is also a noise-canceling mic.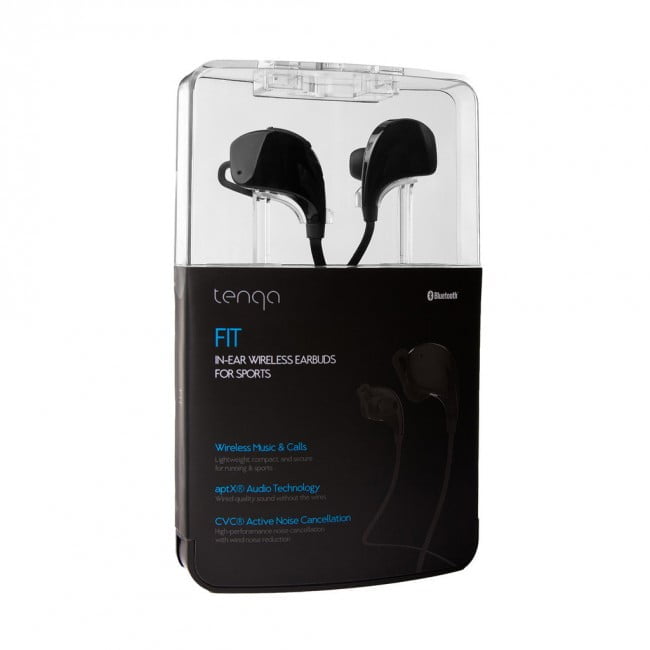 Tenqa says there is CVC (whatever that is) active noise cancelation in the works. And although I won't flat out dispute that they're attempting to do so, at no time did I notice the familiar inner ear sensation that comes with active noise-canceling headphones, such as displayed by Bose or Ultimate Ears.
Related: Also check out our Sony WH-1000XM3 review.
Sound quality-wise the Fit's are very impressive, especially given the price point of just $69.  Perhaps part of the answer lies in that I expected less from a pair of $70 headphones. Compared to Outdoor Tech's Adapt headphone adapter, the Fit's from Tenqa blow it away in both sound spectrum and altogether with quality. Keep in mind that my test was using Spotify at a normal streaming setting and by the very nature of Bluetooth some quality is inevitably lost.
In the gripe department, I can only point to the cord that connects the two speakers together. In addition to being slightly too short, the rubber finish of the cord tended to get caught on my neck just enough to jostle one of the earbuds free. So during my workout – keep in mind this was only during workouts – I continuously had to center the cord. I suggest pulling the cord center when you strap on the Fits, as this will prolong the time it takes until the next adjustment.
So, I think it's pretty clear. The Fits are one badass pair of Bluetooth headphones, especially in light of their low cost. The battery life is more than ample given their size and weight – by the way they're not encumbering weight-wise – and the sound quality is above and beyond even some corded headphones.
You can buy the Tenqa Fit's here.
Related Articles: