Just because it's Summertime doesn't mean the living is easy — despite what the now-decades-old song says. But for those of us who like to swim, or at least paddle around, the biggest problem is often boredom. Now, I'm obviously not talking about being in a public pool with hundreds of others, but when doing serious laps or exercising or even trying to "chill out" when it's just you and the water. But for chilling by the side, you'll want to try the Optoma NuForce BE Sport 3 Bluetooth headphones.

So short of humming to myself, I need some way to bring the tunes with me — and I wasn't raised stupid so bringing any device, mobile or otherwise, that can be fried from water won't do, especially a device like the Ultimate Ears 3D Printed UE11 in-ear monitor headphones. What I need is a waterproof MP3 player that I can take with me in the water. And by waterproof, I mean able to take some deep diving and not go all kablooey on me. And yeah I mean the earbuds too, unlike the iD America Spark Hi-Def in-ear earphones since their cord isn't detachable. And since I already have mobile audio devices (smartphone, tablet, laptop, etc.) up the wazoo — wouldn't hurt for it to be reasonably priced either. If you need help finding something that is just right for you, you can check out our review of the best earbuds on the market.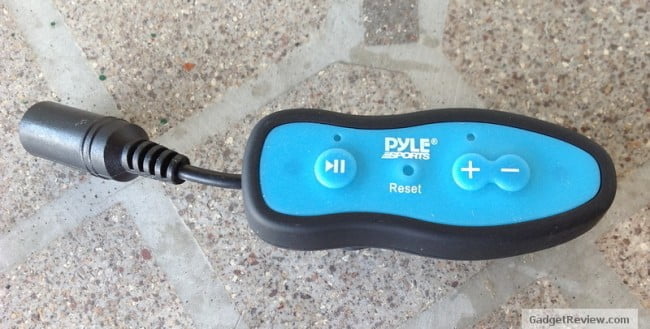 Looks like I must have been a product designer in my last life because Pyle Audio's Pyle Sports Waterproof MP3 Player does all that. Let's hit the specs first so I know what's what:  it's got soft-touch controls on one side of the player and there's a socket that takes a connector but can handle the wet. There are 4 gigabytes of solid-state memory that can be filled up with MP3 and WMA audio format music. The procedure is simple enough: you connect the Pyle Sports' USB socket via the special included USB cable to your computer and drop songs inside it when it shows up as a device on the desktop.  Being connected to the computer also takes care of the charging. When you're done, you eject the Pyle Sports and remove the USB cable. That's because this same mini-jack socket is used for plugging in the waterproof headphones.
Now building a waterproof player ain't all that hard, but making sure any connection socket that has to be used stays watertight can be. In this case, the Pyle Sports has only one socket — noted above — that handles both charging, audio file transfer, and headphones output. I'm guessing it will do the job (it's done 2 of 3 already, now for the headphones). But we'll see.
Related: If you like this device, you might be interested in our Rha T-20 In-Ear Headphones review.
Okay here I am at the poolside and what I have to figure out now is how you wear this MP3 player. It's fairly obvious — you put on a swimming cap to do it the easiest way and use the clip on the Pyle Sports to clamp it down. Since the clip rotates, you've some wiggle room in how you want to do this. There's no other real alternative, but since the chlorine in the water isn't good for hair anyway, what's the big deal in wearing a cap? Women do it all the time and you can get a cap that's cool looking enough not to make you feel weasely.
The headphones are plugged into the audio output socket — also sealed against water — and go into your ears. Because of the Pyle Sports placement, the wires from the headphones aren't going across your body where they can cause possible discomfort at the worst and annoyance at the best  (if I'm just lounging I can see clipping it to my trunks instead). And their "ear-hanger" design means that they'll stay put. But to be absolutely at the best here, I've already popped off the silicone earbuds and used slightly larger ones from those included so I could get the snuggest fit. I also cleaned out my ears first — hear that Mom, I'm still practicing good hygiene!
I also get that the included regular headphones are so you can use the player when not being submerged.
Related: For more water-resistant headphones, don't skip our Panasonic Hgs10-W Open Ear Bone Conduction Headphones review.
Now the small size of the Pyle Sports is both good and bad: the good is that you barely feel wearing it, but the bad is that the Pause/Play, Skip and Volume nubs are really small. If you've big fingers like me, it's tough to make contact with them by touch alone. Still, to be sensible, if you're going to be listening to them while swimming, you've already set the volume and started the tunes going so it's not a big deal.
The first thing I tried doing was taking a deep breath at the deep end and heading for the bottom of the pool. Where I hung out for about a half minute before returning to the surface. The Pyle Sports didn't sputter or explode on me, so that's all good. An hour later paddling around saw the same results. As far as the sound goes, the quality varies, depending on whether you're above or in the water. But it doesn't sound bad and considering where you're using it, the sound could be a lot worse and still better than acceptable when you consider where you're using it. By the way, I let the Pyle Sports and headphones air-dry for an hour once I was done with the water — no reason to take chances, right?
Editor's Rating:
[rating:4/5]
Great
Bottom line: Having spent time in the pool with the Pyle Sports Waterproof MP3 Player, I can say that their main purpose — providing music while being waterproofed against the water — functions well. Plus a full charge does give you easily over 5 hours of playing time (Pyle says you can get up to 7). As long as you don't dislike blue (as that's the only color it comes in), you'll like this $59 retail waterproof MP3 player.
Pros
Depth-proven to 3 meters
LEDs indicate charging/playback status

Cons
4GB storage only available size