Typists! Gamers! Lend me your eyes. Today I have another mechanical board upon which your probing digits can glide. Hmmm… Despite that sentence's open-ended possibilities of interpretation, it does hold true. Today I am putting another MaxKeyboard mechanical keyboard solution through the editorial meat grinder. This one is the Durandal G1NL Mechanical keyboard. It was attractive enough to catch our reckless eyeballing. So let's dive in and see how she feels. For more quality products, check out our list of the best gaming keyboards.
The Durandal G1NL is another sharp black keyboard. While it might not carry the holy mystique of the sword of the same name (owned by Charlemagne's paladin Roland, of course! –ed), it's definitely something to look at. This one is not glossy or shiny but a sort of black matte color. The odd shape on the corners and the individually backlit red keys make for a very cool and unique style all its own. The board packaging is simple but efficient and nicely put together. You get the keyboard and a CD for recording macros. Easy peasy!
For more keyboards with similar-looking aesthetics, read our Logitech G910 Orion Spark RGB mechanical gaming keyboard review, Rii RK100 review, and our ROCCAT ISKU illuminated gaming keyboard review.
Like the Coolermaster CM Trigger mechanical keyboard, the Durandal also makes use of Cherry MX Brown key switches. As I mentioned in the Trigger article, Cherry MX Brown switches bridge the gap between typists and gamers by catering to both with a noticeable bump or tactile feedback when a key is pressed. The Durandal delivers. The key switches do indeed produce a light bump, so you know you have hit the actuation point for the keys. Like nearly all mechanicals, you do not have to bottom out your key press for a given key to register. The Durandal deftly lends itself to speedy typists and lightening fast gaming sessions. If you crave that bump to help even out your fast-paced frag fiestas, the Durandal G1NL offers it up in heaping scoops.
Related: Read the Mad Catz S T R I K E 7 touch screen gaming keyboard review for another keyboard option
Related: Take a look at our Razer Blackwidow Ultimate 2013 mechanical gaming keyboard review
Additionally, this mechanical also enjoys 128k on-board memory for saving macros and profiles, laser engraved keycaps for longevity, a 2-port USB hub for plug 'n play ease, built-in 3.5mm connections for headphone and mic, removable hard plastic wrist rest, tilt feet underneath for added comfort and position, windows key disable function to keep you in the game and full N-key rollover on USB. N-Key rollover is the only oddball out in that feature set. Most mechanicals features a similar spec sheet.
With the help of the "FN" key, you can use F1-F4 as your media keys for play, pause, volume control, and track skipping. That's fine if you're not finicky or super lazy. But really, I see no reason not to include dedicated media keys. Let us hope MaxKeyboard here's the outcry of the lazy typist who adds dedicated media keys.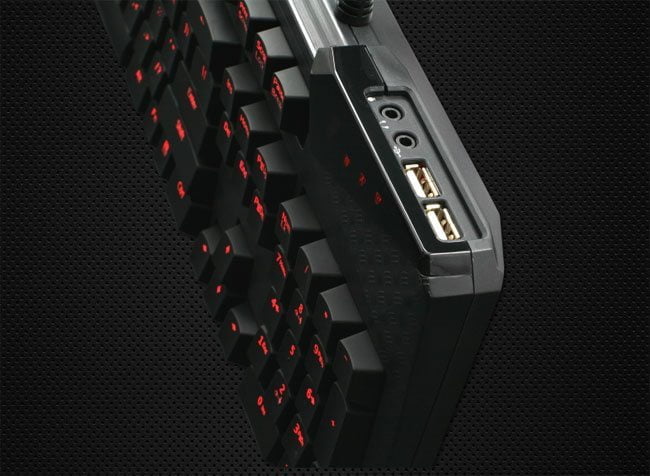 Should that stop you from giving the Durandal G1NL a spin? No! This mechanical keyboard is a delight to work on. The experience is very similar to the CoolerMaster CM Trigger. But the Durandal is a bit more concise. The wrist rest is thinner, but also hard plastic. There are no dedicated gaming or macro keys, so this, too, reduces the overall width of the board. I don't do a lot with macros, so the omission was negligible. The Durandal offers solid, highly responsive keys. All are very easy to reach. The rigid nature of the Cherry MX Brown key switches reduces typing mistakes while offering that tactile bump to let you know when a key press is registered. This is a mechanical board, so expect audible clicking with every key press. Some folks don't like that, light sleepers like my wife included.  But for those who don't mind or just demand the ease and responsiveness of a mechanical, you just simply can't go wrong with the Durandal G1NL mechanical keyboard.
Think of this as a more stylized and conservatively diminished version of the CM Trigger. Choosing the Durandal means trading those extra keys for a stylish Spartan look. But each is equally kickass! Alternatively, if you'd prefer a much simpler look. you might like the Logitech K811 Bluetooth easy-switch keyboard.
Editor Rating:
[Rating: 4.0/5]
Great
Bottom Line: The MaxKeyboard Durandal G1NL is another powerful contender on the mechanical circuit. It's comparable to the CM Trigger, with a few minor differences. Point being: this one comes highly recommended!
Pros
Responsive Cherry MX Brown tactile feedback keys
Easy macro recording software
2-port USB hub
Red backlighting on keys
Cons
Pricey
No dedicated media keys
You can buy the MaxKeyboard Tesoro Durandal G1NL Mechanical Keyboard at Amazon for $129.95